---
Alt-J – 'Relaxer' (Infectious/ PIAS)
What it is: The anticipated third album by the British trio which somehow managed to become one of the biggest new groups of the planet. And I'm pretty sure that ALT-J wondered more than once how this could have happened because their bastard mixture of arty electro/folk and hymnal math-rock is anything but easily accessible. It's packed with a lot of twists, turns and bizarre lyrics and that results in a truly unique sound. No matter what you think about these guys but the fact that they gotten so big with that sort of sound surely speaks for them. And Relaxer is easily the next step in their ongoing evolution.

Why to listen to it: Every ALT-J album is an adventure but also a certain challenge. And while the predecessor This Is All Yours felt like it was trying to tell a cohesive story, it almost feels as if the concept of Relaxer is the simple non-existence of it. Everything that was imaginable was tried out and that allowed these guys a maximum of creative freedom while not falling for the 'third album mistake' by suddenly getting a posh hit producer on board and only produce for big arenas. Yes, THE XX; I'm looking at you! Relaxer is still dominated by this special adventurous weirdness and surprising ideas. 3WW starts the LP in a gentle way, comes with an almost gospel-like twist and a guest appearance by WOLF ALICE singer Ellie Roswell. Expect a wild ride from here, including oddly spaced-out R&B with a brass section (In Cold Blood), a cinematic cover of THE ANIMALS' legendary House Of The Rising Sun, a tender duet between Joe Newman and MARIKA HACKMAN on Last Year and a string-drenched quite modie-score like piece like Adeline. 'Fuck you, I'll do what I wanna do' shouts Newman in the aggressive, almost industrial like Hit Me Like That Snare at the centre of the album which sums up the attitude pretty good. I mean, there's a church choir appearing at the end of the closing track Pleader. Come on! Relaxer is a testament of strength and self-confidence, one that shows that ALT-J remain a unique phenomenon in their own little world. Thank you for letting us in, guys. (Norman Fleischer)
---
Sleep Party People – 'Lingering' (Joyful Noise)
What it is: The fourth full-length by Danish songwriter Brian Batz and his bunny-masked alter ego SLEEP PARTY PEOPLE sees him establish the musical microcosm he continuously created over the past decade. Originating from a bedroom producer background and wrongly placed into the short-living 'chillwave' movement Batz slowly turned his alter ego into a full 5-piece band while also turning away from laptop beats straight towards a more organic instrumental approach. 2014's Floating LP already took a huge turn into that direction but its partly confusing nature left more questions than it answered and felt a bit indecisive. Thank god, Lingering sees Batz return to the strength of 2012's We Were Drifting On a Sad Song and finally feels like he's taking SLEEP PARTY PEOPLE to the well-deserved next level.

Why to listen to it: Labelling the music on Lingering as dream pop might be too easy as Batz and his bunny buddies aren't afraid to add a nocturnal and almost nightmarish twist to their sound. Batz' gentle voice is more confident than before as it guides us through dreamy musical landscapes that offer you a lot do discover, right from the hypnotic start of Figures and The Missing Spell (which features a choir of friends). Compared to its predecessor Batz and his gang keep the sound more accessible while still allowing it a fitting amount of cinematic complexity. The rumbling Limitations is a fitting example with his gloomy twists and turns. Still, right after it The Sound Of His Daughter shows a more gentle and delicate of SLEEP PARTY PEOPLE, proving that any dream can take different shapes. Other highlights include the epic, politically charged The Sun Will Open Its Core and the sensual We Are There Together, a collaboration with singer Beth Hirsch. Yes, it's THE Beth Hirsch from AIR's legendary 1998 single All I Need and it makes way too much sense why Batz brought her in for this track. From start to finish, Lingering is a wonderful cohesive journey, for all fans of shoegaze, atmospheric pop and intelligent songwriting. The dream is not over for SLEEP PARTY PEOPLE, it might just finally started. (Norman Fleischer)
---
Noga Erez – 'Off The Radar' (City Slang)
What it is: NOGA EREZ is a new electronic singer coming from Isreal. For long, the sacred land electronic scene was only the synonym of suave trance for a wild youth. In more recent years, and with elegance, artists like MOSCOMAN did spread some light on a more interesting Israeli electronic scene. NOGA EREZ is its electro-pop side, as she is already viewed as the Israeli version of M.I.A. Though, she's still to be seen as a newcomer as Off The Radar is her debut. Her music seems to be crafted for raw live energies, and she'll have to demonstrate her vitality on stage. We're especially curious to see if the carefully arranged electronic landscapes will stand on festival sound systems.
Why to listen to it: The album is a masterpiece of sound production – thanks to her friend composer and producer Ori Rousso. FLYING LOTUS and FRANK OCEAN are openly and rightfully cited as strong influences. The relative accessibility of the few singles released beforehand contrast with a more careful and complex approach here. For those who love sonic experimentations, Off the Radar is a very intriguing piece. And yet, EREZ' voice is used as a leading pathway in the middle of these beautiful sketchy landscapes. The whole piece is quite adventurous, being 15 tracks long with very different and ambitious production styles. Despite being still quite unknown, you can be sure that you'll hear from her many times again – as for a debut it's indeed, a Grand Debut. (Bastien Perroy)
---
Marika Hackman – 'I'm Not Your Man' (Sub Pop)
What it is: The second studio album by British singer/songwriter MARIKA HACKMAN marks a significantly change within the sound of the talented young lady. While 2015's debut We Slept At Least was carried by intimate and introspective tenderness, the follow-up is a record that transports the sound of liberation, spontaneity and collective joy. I'm Not Your Man clearly shows that HACKMAN enjoyed being on the road and playing with a band in front of her audience, rather than just composing little folk tunes in her bedroom. Her sophomore LP is a burst of confidence, clarity and adventurous creativity you can resist.
Why to listen to it: You immediately sense that the days of the delicate lullabies from her first full-length are mostly gone for good. Boyfriend starts the album with an edgier twist that is sensible in her voice, lyrics and attitude. A big element in that changing musical environment comes from her buddies THE BIG MOON who join HACKMAN as backing band on the album, giving it more drive and raw energy. Don't worry, there are still more introspective moments in melancholic songs like Gina's World, Round We Go and the delicate Cigarette which are dominated by the artist's tempting and hypnotic voice. But on the other hand you now get uplifting pieces like the SMITHS-infected single My Lover Cindy or the grungy Time's Been Reckless. The British newcomer embraces her love for 90s grunge and lo-fi alternative rock, changes her acoustic guitar more often to an electronic one while not forgetting about the emotional core of her music. I'm Not Your Man is another argument for this young lady's bright future and creative bravery. (Norman Fleischer)
---
Beach Fossils – 'Somersault' (Bayonet Records)
What it is: The third full-length by the Brookly-based indie-might go by the name Somersault but they could have also spelled it 'Summersault', just to underline the sunny nature of its content. While 2013'S Clash The Truth headed for a more experimental and adventurous direction, a wave of harmony runs through the latest BEACH FOSSILS album, making it a fitting companion for the upcoming months and a must-listen for all fans of REAL ESTATE, WILD NOTHING and ALVVAYS.
Why to listen to it: This Year starts Somersault with an uplifting vibe although it's a song about the endless loop of high expectations and the trouble of sticking up to them. But it sets the tone for the chilled-out vibe that runs through the rest of the record. SLOWDIVE's Rachel Goswell adds her special magic to the beloved Tangerine while rapper CITIES AVIV helps to turn Rise into a smooth piece of R&B pop that also comes with a saxophone solo. It's actually not the only surprising appearance of certain instruments since BEACH FOSSILS also used string arrangements, piano, harpsichord and flute on their new album which adds an extra note of class to tracks like Saint Ivy, Closer Everywhere and Social Jetlag. Lasting only 35 minutes, Somersaults provides truly enjoyable moments of laid back indie guitar pop for your next cruise around the city or a day at the beach. Take half an hour off and enjoy this sun-drenched little beauty right here. (Norman Fleischer)
---
Pixx – 'The Age Of Anxiety' (4AD)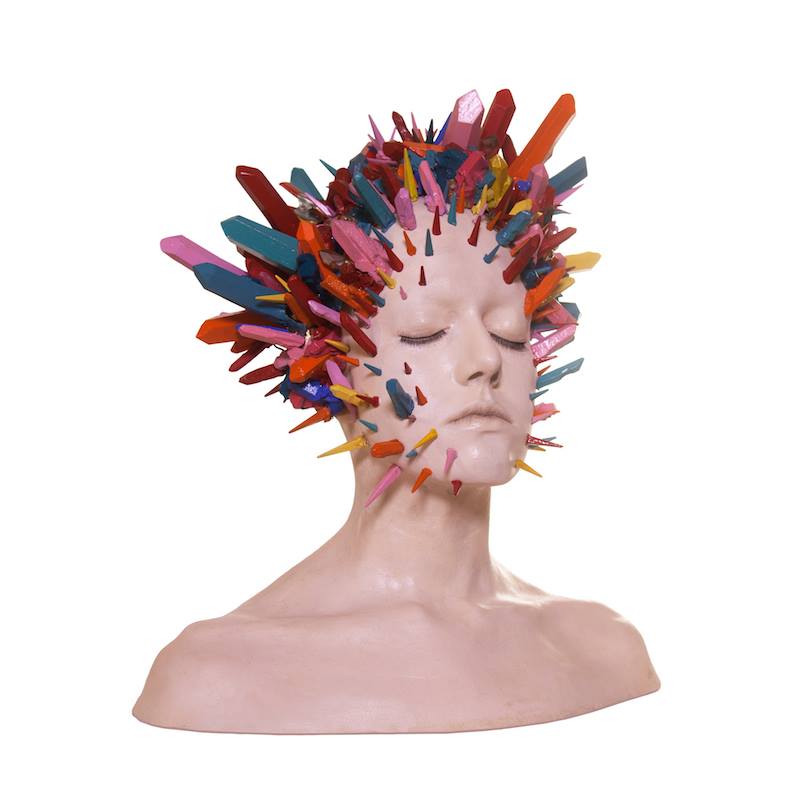 What it is: Two aesthetics merge into one in PIXX works. Real name Hannah Rodgers appeared in 2015 with her EP Fall In. Electronic blends with rockier layers to form soundscapes that could make you think of experimental formations like UNKLE. She claimed JONI MITCHELL and APHEX TWIN to be strong influences and you can definitely hear that strange mixture in there. She has yet much to demonstrate and this debut album could become an important springboard for her.
Why to listen to it:  As we said, It's really two very different aesthetics working together in this album. The first one is a quite classic popish rock and R&B aesthetic, really sticking to the ground. The singles taken out of The Age of Anxiety, like Grip, really demonstrate this energetic side of her. Other times, her voice elevates in the air, floating around in more ethereal vibes. Songs like Your Delight and Telescreen offer sweet pauses in the narrative. The themes of the album all come around the search for identity, but PIXX has surely already find one – musically speaking. Now, she'll have to demonstrate that her music is blooming on stage, in order to fully develop the sonic opportunities present in her debut. (Bastien Perroy)
---