[one_half last="no"]
[/one_half]
[one_half last="yes"]ARIEL PINK
pom pom
Release-Date: 17.11.2014
Label: 4AD
Tracklist:
P1 Plastic Raincoats in the Pig Parade
P2 White Freckles
P3 Four Shadows
P4 Lipstick
P5 Not Enough Violence
I1 Put Your Number in My Phone
I2 One Summer Night
I3 Nude Beach A Go-Go
I4 Goth Bomb
I5 Dinosaur Carebears
N1 Negativ Ed
N2 Sexual Athletics
N3 Jell-o
N4 Black Ballerina
K1 Picture Me Gone
K2 Exile On Frog Street
K3 Dayzed Inn Daydreams
NBHAP Rating: 4,3/5
[/one_half]
ARIEL PINK's latest offering is like wandering a dying fairground in the middle of the night. Everything is dripped in bright lights and glitz, a carefully-woven veil of joy, while the faces of clowns spin on their beams and threaten you with the vaguely terrifying promise of 'fun'. It's a sort of fairy floss nightmare; coated in sugar candy, sure, but writhing and seething underneath with tentacles and gnarled teeth. It's sexual and bestial, either deliciously freaky or freakishly delicious, or both. The cover art is like those off-kilter black wriggles that slide across your eyeballs from time to time, the ones that you can never quite catch, and this is an apt means of describing the album's gait; twisting and slipping from grasp like an eel, making you go a little-cross-eyed in the attempt.
With opening track Plastic Raincoats in the Pig Parade, ARIEL takes us gently by the hand and guides us along the Pink Brick Road, a walking cane twirling in one hand, a Mad-Hatter top hat in the other. He then pushes us off into the abyss on our pearly gondola, luring us down the chocolate river and directly into his basement, where we'll stay for the remainder of the adventure. Four Shadows is a robust marching tune, sinking back and swirling into dark grogginess like a swill of seething potion. Not Enough Violence is the first in a sequence of three fantastic tracks. It's gloomy and slightly grey, but with an urgency pumping in its veins, tapping into the brooding undercurrents of 2012's Mature Themes.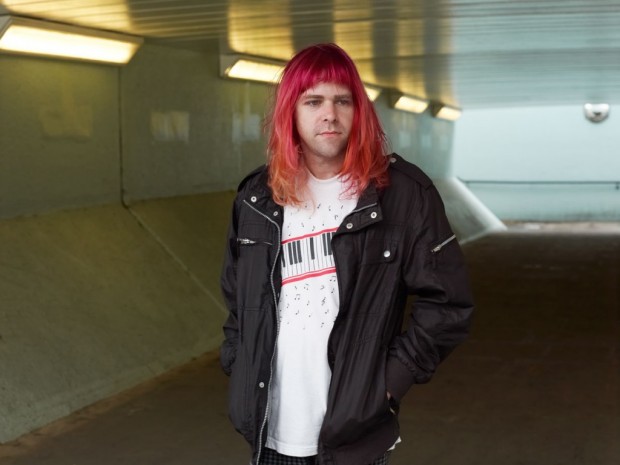 Put Your Number in My Phone was a deceptive first release from pom pom – it's by far the most accessible song on the record. But there's also a strange melancholy beneath the poppy overgrowth; apparent when watching the accompanying video, which coldly but brilliantly paints a portrait of the miserable Western shopping centre experience. It's tongue-in-cheek, of course, but thumbs its nose at superficiality in a wonderfully weird way, amplifying and stretching it all until a reflection can be seen in its bowels. One Summer Night is a surefire highlight, oozing juice down your chin when you bite in, like a fuzzy sonic peach. It's the moment when Willy Wonka tells you that everything in the room is edible and you drool a little and your eyes roll back and you spasm slightly, on the brink of a sensual meltdown.
As with all things PINK, there's a sufficient dose of creepiness throughout the record. Sexual diversion, don't call it perversion, he coos with a chorus of girls in Sexual Athletics. Perhaps the prime example, though, is the spoken-word scene in Black Ballerina, during which a jovial old fellow takes his bewildered grandson to LA's purported best strip club, and the kid gets berated for touching things he shouldn't. Black Ballerina features a bassline like an evil rubber duckie, leering in the bath when you're four years old and grinding itself against the ceramic. It's one of the best tracks on the record, leaving you licking imaginary whipped cream from your lips – while PINK asks you politely to take off your underwear and sings to you about elevators. PINK revels in his freakishness throughout the sprawling double-expanse of the record. It's as though he's giggling menacingly over your shoulder as the thing unravels, a gap-toothed man behind the counter of a candy store with a hidden stock of studded collars and whips beneath the register. The overall effect of pom pom is dizzying and disorienting; we reach out a hand in the swirl and there's nothing but symphonic riddles taunting us in the labyrinth. But this is how it goes with ARIEL PINK – you just have to sink back and trust him. Who was it that said you shouldn't take candy from strangers?
With its marbled swirl of sunshine pop and dark wooze, 'pom pom' is a sugar-dripped walk on the weird side; further proof that the only constants in the ARIEL PINK repertoire are lip-smacking wonder and delicious uncertainty.
—