[one_half last="no"]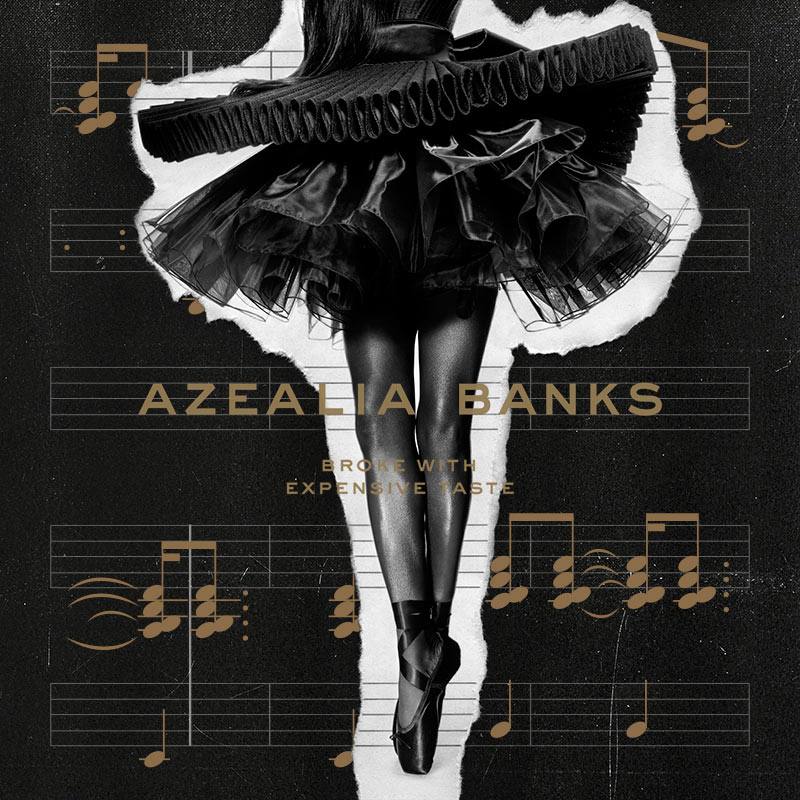 [/one_half]
[one_half last="yes"]AZEALIA BANKS
Broke With Expensive Taste
Release-Date: 07.11.2014
Label: Self-Released
Tracklist:
01. Idle Delilah
02. Gimme a Chance
03. Desperado
04. JFK (feat. Theophilus London)
05. 212 (feat. Lazy Jay)
06. Wallace / Zippyshare
07. Heavy Metal and Reflective
08. BBD
09. Ice Princess
10. Yung Rapunxel
11. Soda
12. Chasing Time
13. Luxury
14. Nude Beach A-Go-Go
15. Miss Amor
16. Miss Camaraderie

NBHAP Rating: 4,2/5
[/one_half]
After the hype
Let's face it. Despite its surprise release, the long awaited debut album by AZEALIA BANKS arrives a bit too late. Almost three years after her breakthrough debut track 212 it almost felt as if Broke With Expensive Taste would become rap music's Chinese Democracy. In the meantime, BANKS released countless singles, started multiple Twitter feuds (f.e. with Mr. 'Harlem Shake' BAAUER), collaborated with PHARRELL and parted ways with her major label far quicker than expected. You can't tame that lady – and that might be her biggest strength.
Top of the game
Whoever doubted the fact that AZEALIA BANKS is the new leading lady of the rap game will be proved wrong with this record. It's a testament of her talent. BANKS mixes fast and eclectic rap skills with a quite diversified flow and contemporary beats without chumming up too much with current trends. Broke With Expensive Taste thankfully doesn't deliver shiny EDM-hits but a deep and grooving mixture of dark electronic sounds with an undeniable house music undertone, funky groove and a protagonist on top of her game.
All hail to the queen
Idle Delilah starts the diversified debut with a percussive storm. The funky and bass-driven Gimme a Chance even comes with a latin-sounding finale. AZEALIA BANKS doesn't rely on just one genre. There's room for hard beats (Yung Rapunxel), tight house music (JFK, Soda) and even good old British 2-Step (Desperado) and catchy 60s pop flavour (Nude Beach A-Go-Go). She literally doesn't care and so do her raps. At any point she makes clear that she runs her business on her own. Do not fuck with her, she's the queen of all bitches. A welcomed alternative draft to such horrible things like Nicki Minaj.
Wild, independent and creative – AZEALIA BANKS and her furious debut 'Broke With Expensive Taste' make clear that she's in fact the new queen of rap music.
—