Rocking a retro-style Mullet and worn out Docs/Creeper-boots, Cat Clyde welcomes me warmly, into the Green Room (another word for the backstage, which she explained to me) of Berlin's Fluxbau. She radiates open and warm energy as she lounges by the faux-leather couch next to the window. Behind her, a window shows a peak of the Berlin Tower in the far, while the water of the Spree runs by steadily. Flooded with early evening light, the rather functionally furnished room is stacked with Guitar cases. Clutching her knee, Cat Clyde tells me a bit about her LP what touring life means to her.
Hunter's Trance
Haunting lyrics with minimalistic musical finesse brand the singer's second album Hunter's Trance. The record was not an easy birth, but a hard and long process, Cat tells me. Being outside in nature was the root of the singer's earthy and stripped back sounds. 'I get a lot of energy and I can really recharge my battery.' The expressive guitar melodies of the lead single 'Bird Bone' float, 'like driftwood in the ocean' over metaphorical lyrics, reflecting her love for the outdoors. 'Making music', Cat says, 'can also be recharging because I let a lot of stuff out, which leaves room for more.' Especially her velvety vocals, at times exploring raspy depth at others climbing the highest pitch, make her music go deep under the listener's skin, as I experienced in her very minimalistic and raw live performance.
Like A Rolling Stone
You are a solo artist, what would you say is the biggest difference between touring solo and touring with a band?
'Actually, I haven't toured with a band yet; fall will be my first band tour. Tonight I am performing in a duo now and it is a nice dynamic. Playing playing by myself is great but I just wanted a bit more. I am looking forward to it.'
You have quite the big tour of the States and Canada lined up. Do you enjoy being on the road for a long time?
'I do like touring. It is a lot of fun but it can be exhausting, too. I just moved into a new place in Quebec. It is a little cottage right by the river, I feel like before touring was really exhausting because I didn't have a place to live. The road was kind of home and that was just getting too much. Now that I have a place it feels a lot better to go on tour because know that I have a home to come back to and to recharge. That is really important I think.'
What are the best things and the worst things about life on the road?
'The best thing about being on tour is that you get to experience new places through a different viewpoint. It is very intimate and then you leave right away. You get an inside view into each place that you go to, but you're not a tourist so you are not just seeing the touristy thing that everybody goes to see. You meet local people and play at cool venues. It is a unique angle onto a place, a very small but interesting one that I would not get if I weren't touring.'
'But you don't get to see or experience a lot, which is kind of the negative side, of what's going on. I have been to a lot of places but I don't really know them. Every time when I am in California I want to see the Redwoods. I have been so close but I could never take some time off to go. The booking agent just gets you as many gigs as they can. While touring there really is not a lot of time to relax and if there is you just kind of want to lie down and stay in one spot for the day.'
What is one touring essential you could not live without?
'A good pair of shoes. If you don't have a good pair of shoes you are fucked. Ideally, the pair of shoes can do both, stage and after.'
Meet me Backstage
And regarding the backstage; what is one thing that you need?
'I really just like a little bit of lemon; water with some lemon.'
What would you say is the worst and the backstage that you have played at so far?
'I played this place in London in the wintertime and the whole venue did not have any heating. So it was freezing cold. I had to do the soundcheck in my winter coat because they refused to put heaters in the room. They did not give us any drinks either. I do not remember the name of the venue but it was not a good experience.'
'Gosh, there have been so many great venues I played. The good ones definitely outweigh the bad ones. I like the ones where there is tea and wine and some lemons maybe some ginger. And good lighting is really important. A good green room is the one you want to have in your home and just sit in.'
Do you notice any difference in the reception of American/European audiences?
'Definitely! I feel like audiences here are just more attentive. They really listen instead of being on the phone chatting. They are there to see you and hear you play. It is strange how people go to see shows of artists they really like and then just spend the time on their phones.'
What is one thing that drives you crazy when you play a gig?
'People filming all the time. Are you going to watch that at home, no! Sometimes I feel like phones should just be banned from concerts. I think that would make concerts more special and people would shut the fuck up.'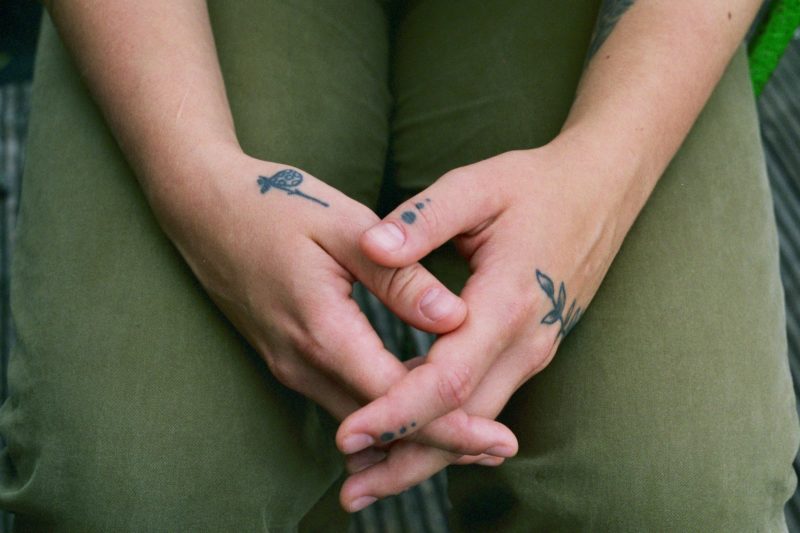 So, put on your comfiest shoes, buy some lemons and leave your phone at home for the next Cat Clyde gig, which surely won't need the additional entertainment.
All Photos by Liv Toerkell for NBHAP.
'Hunter's Trance' is out now via Cinematic Music Group.