On Thursday February 26th, after a day of snow, I traveled down to Eindhoven, The Netherlands to attend a festival called CROSS-LINX. An unusual concept that mixes (avant-garde) pop music and classical music. After having visited a number of festivals and underground/electronic concerts it was almost refreshing spend an evening where the number of dress shoes trumped the pairs of sneakers and where visitors younger than thirty did not make up for the majority of the festival population.
---
If anything it made me wonder what motivated people to attend CROSS LINX. When I read the line-up I was intrigued by names such as SON LUX, GLENN KOTCHE, and ANDREW BIRD and I have a feeling that many of those above thirty felt same way about Neil Finn (CROWDED HOUSE). But I'd love to be proven wrong.
THE NOTWIST
My night started tucked away in a upper corner of the big hall, listening to the Germans of THE NOTWIST who performed their 2002 album Neon Golden in its entirety for the second time in their career. I have rarely, or maybe even never, listened to a collection of song that was both so ahead of its time as well as rooted in the early 2000s. There are traces of guitar that bring me right back to my early teens, where all I could listen to were indie rock bands. But the band combines this with electronic soundscapes not unlike the ones I listen to on my way to work or during a night out. The guys from THE NOTWIST might have started even before I was born, and produced an album that was arguably ahead of his time when I was a teenager, Neon Golden has a sound that is still relevant today.
The six guys on stage were a treat to watch. Maybe it's because the band likes to do things a little different every time they do a show, but there was such an energy and excitement on stage that after a few songs I just really wanted to get up, get front and center, and dance. And from the division between bobbing heads and people that were on their phones or left after a few songs, half of my fellow CROSS-LINXers were on the same page. At one point, the band took us to an underground techno rave for a few minutes, after which the song Pilot ended with a polite applause from the audience. Did I mention it really was a waste we were all seated? The band obviously pulled out all the stops, with a wide array of instruments, sonic surprises (even for those that know Neon Golden inside and out) and a whirlwind of energy.
SON LUX
Next, I moved to the foyer of the complex, where the festival feeling was fuelled by pop-up bars selling things such as nachos and pies. With a beer in my hand and the wonderful smell of nachos surrounding me, I waited for SON LUX to start their set.
I personally believe that SON LUX deserves worldwide recognition (aside from critical acclaim). But also know that their music is not for everyone, and that's fine – but for what it's worth, I think they deserve the world.
SON LUX songs, as proven again on CROSS LINX, are so beautifully rhythmic without being predictable, are grand but so sensitive, and are almost defying the definitions of instrumental capability. Sure – many sounds originate from Ryan Lott's computer, but the way SON LUX's frontman uses the keys and his voice is truly something. The same goes for drummer Ian Chang and guitarist Rafiq Bhatia. Watch them closely and you will seriously wonder how it is possible to posses such a feeling for rhythm.
THIRD COAST PERCUSSION FT. GLENN KOTCHE
After being lead through hallways and a number of stairs, we end up in back of a smaller room, where GLENN KOTCHE is behind a drumset performing a rhythmic piece with obvious passion. Here is where my knowledge of music stops and the only thing I can do is listen and observe. After a few minutes KOTCHE calls on the four guys that form THIRD COAST PERCUSSION, one of the best percussion groups in this world according to the program booklet (and the Internet). The quartet from Chicago started on xylophone, and though I was intrigued by their musicality and the joy they seem to be having, I had little idea what to make of the piece. But as the music swelled, and other instruments came into play it became so interesting to watch that I forgot to question what I was listening to. The set ended with what I would coin a spectacular drum-off between GLENN KOTCHE and DAVID SKIDMORE.
NEIL FINN & GLENN KOTCHE'S UNLIMITED ORCHESTRA
With a set of over an hour, mixing classical compositions with existing songs, the NEIL FINN & GLENN KOTCHE'S UNLIMITED ORCHESTRA was the headliner of the festival. In the beginning of the article I wondered if a large number of visitors might have come to the festival to see NEIL FINN in action, and judging by the reaction from the crowd when the CROWDED HOUSE frontman announced certain songs, I think I might have been right. And though I know my classics ('HEE NOW HEE NOW DON'T DREAM ITS OVER') I'm not an NEIL FINN expert. What I mean by that is, that I don't know a lot of his work. And here's my only point of critique. I'm the first to admit I know little tot non about classical music, and maybe I have been listening to a lot fusion, but for the most part I was unable to distinguish where the mixing of pop and classic was happening. But isn't that exactly the point? That everything is done so well you cannot tell? Yes maybe, but I would love to have learned about how pieces were fused and how everything came to be. Having said that, all the musicians on stage succeeded in giving me the one thing music is really about: enjoyment. I was lucky enough to catch two songs with the truly gifted ANDREW BIRD, who, together with his violin, is a perfect CROSS LINX match. But after that I unfortunately had to run and catch a train home (this would be the right time to insert a 'Better Be Home Soon' joke, if you can think of one, contact me).
It's obvious that all the artists playing CROSS LINX are not in it for the money or the fame, but are passionate about making music, whether this is for fifty or fifty-thousand people.
CROSS LINX provides the perfect opportunity to get contact with forms of music you normally would not listen to.
I bet for some visitors these forms were found in the music of SON LUX, but for me it were the classical pieces. Another obvious observation was that all the musicians playing CROSS LINX have a musical talent I can only dream of, regardless of whether I fully understand the instrument they play, or the music they make. CROSS LINX is building bridges between genres that are otherwise an ocean apart, but I would have liked to have learned a little more about bridge, rather than only enjoying the trip.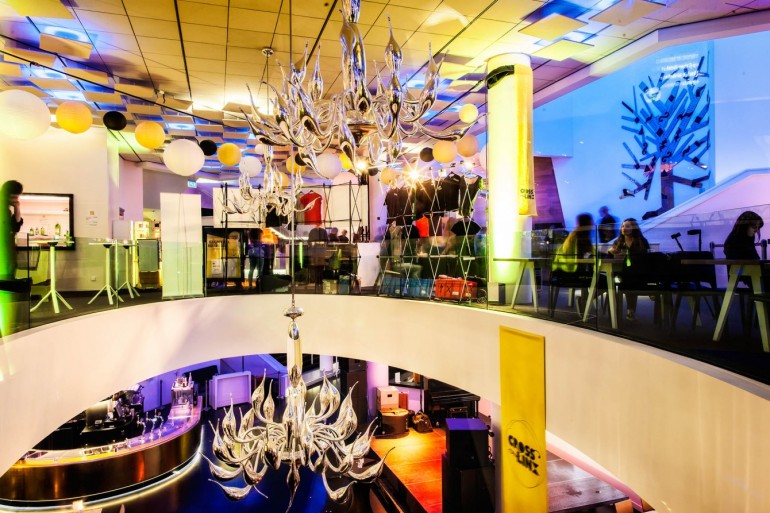 —-