A couple of months ago I was browsing Spofity, not really looking for anything specific and suddenly a unique distorted voice echoed through my headphones. That was Gugulethu Duma singing on intaka, a single off dumama+kechou's debut EP buffering juju. I fell in love immediately. In times when, if you do not put in the effort, all you hear are the same washed out synth-lines and the three riffs any alternative rock band can play, dumama+kechou hit a nerve. Gugulethu Duma and Kerim Melik Becker met in South Africa, but as luck had it, are currently residing in Berlin. That is where I meet the two musicians.
Intaka, Gugu tells me, is the name of a South African honeysucker bird. In her native tongue Xhosa, Gugulethu Duma sings the story of the intaka picking at dry branches in the wintertime without finding what it is looking for, until it turns to the sky and finds it there. The entire record buffering juju follows the narrative of a woman released from prison and should definitively be listened to without shuffling!
Bending the Rules
On the record, Gugu and Kerim play several traditional instruments as well as the instruments they built themselves. When working with traditional instruments, the musician tells me that he did get some tools from his studies around music relating to the African continent, but it was mainly his upbringing which influenced him to build his own instruments and approach music making differently. "It is an ongoing process, but I am taking things from my familial background – like from my father who is an Algerian jazz musician – and I find my own language in them. I like playing traditional instruments, but for me it is mostly about the expression, finding a way of conveying my own message, and how that resonates people. The most truthful act is to just work with what you have at hand."
"Yes, there really are no rules", Gugu agrees and tells me about the time Kerim found a tortoise shell on the beach and got very excited about making an instrument out of it. "When you play an instrument you built yourself, no one can say anything about the way you are playing it. That is what I am playing with", Kerim grins.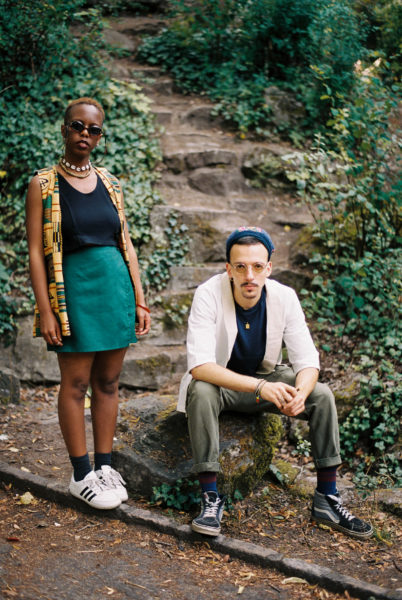 Divine Time
In African culture it is a very normal thing to build your own instruments. Across the continent from Algeria to South Africa, Kerim says, it is not necessarily the music or the instruments, but the shared thought patterns, which provide a common thread. "Music making is just approached in a different way. You always learn multiple instruments and are never just a guitarist for example."
As they tell me about the way they engage and resonate with instruments, finding and making them along their way, I notice how restricted the German industry is to such approaches. People – including myself – are hung up on perfecting their craft on one instrument holding themselves to standards that in the end do not mean anything. The outwardly expressed freedom and joy which is the leading line throughout dumama+kechou's buffering juju is something that is lacking many releases from the Euro-American-centered Sphere.
"Our music making approach is way more chaotic. But chaos has its own systems, it just requires you to surrender to divine time."
Sonic In(ter)vention
"German culture and creativity feel much less spontaneous and way more contemplative", Gugu notices, as well. "It is not a natural outburst of desperate expression." Kerim, who has been living in the city for most of his life says Berlin, being an international place, lacks a commonality of expression. "Germans have never had a strong culture of expression. When you compare this to other places like South Africa, where you genuinely have a common thread, a language, a culture of feeling, you notice that it is different here."
Spontaneity and reaction to one another are some of the core elements of the songwriting process of dumama+kechou. To keep this vibe going and to active their energy as musicians in the fatigue of live streaming concerts, they started playing jam sessions in Berlin's parks. "We got to a point where we were so unsatisfied by the lack of energy and connection on live streams that we had to find a different way to channel our energy and to deal with the hot mess of these times." At these Sonic In(ter)ventions anyone can join, bring their instruments or their energy feel a sense of togetherness.
"It is a freeing experience, being outside, playing music with and for people, dancing. We want to create little pockets of peace and inspiration like this one, especially in these times."
Energy Exchange
Four saxophones, a trombone, guitar, bass, and several drummers gathered last weekend at Tempelhofer Feld and played until nightfall for a growing audience of people listening and dancing. Set against the backdrop of the receding sun, the jam session conveyed an air of freedom and exchange. Kerim and Gugu are organizing these jams together with a couple of other musicians and invite anyone to join. Kerim, alternating between guitar and drums, and Gugu on the microphone, which she was more than happy to share with other singers around, resonated more positive energy than any live stream I have seen over the last couple of months.
When you watch Gugulethu Duma sing, it comes as a surprise that she was never considered the "voice in her family". "Everybody in my family SINGS," she tells me. Being part of a family of strong voices who sing in church but have always had other jobs regardless, it took some courage for Gugu to pursue her dream of being a singer-songwriter. "It did not make any sense to them at first", she laughs. "I mean, I studied choir in school and sang in church, but in my family, I was just another voice. Everyone had a voice."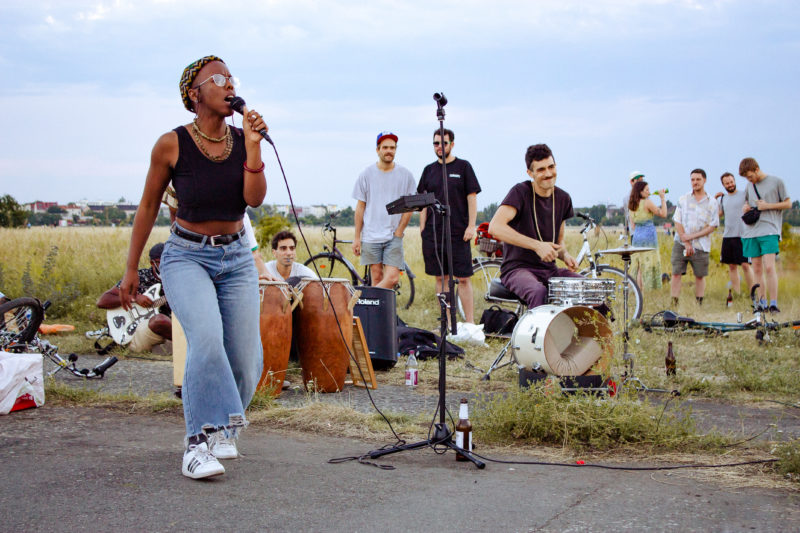 Meeting Madosini
Gugu started writing her first texts in English, trying to cope with "the shit of life through these very wordy and rhyme scheme driven poems". Influenced by the still very colonial educational system of South Africa, she and fellow students were mostly exposed to British poetry. "That was governing my songwriting process a lot." Things changed for Gugulethu, when she met Madosini, a treasured traditional South African artist.
"Madosini has a very raw relationship with music. She is this totally anti-colonial and multi-disciplinary person who can see right through your pain and make a song about it on the spot. It seems like she is calling me out and calling me in at the same time, but she is speaking about the broad human experience. She taught me a lot about songwriting and my own experience, but also the women, the people, the contained minds needing liberation."  
Singing in Xhosa
After meeting and learning from the legendary musician, Gugu turned towards writing in Xhosa. "English was the first language in school, but I lived in the Xhosa region and at home we sang Xhosa songs all the time. But in the educational system there were never any Xhosa essays or anything, for example." Madosini is, as Gugu calls her, a "Xhosa purist" and exclusively sings and writes in her native tongue. "That has made her life quite difficult because we live in a very colonized world, so if you do not read or write in English, the system will screw you over."
And that is what is currently happening to the artist. Medicine has been erased, overlooked, and neglected by the system, regardless of her cultural contributions. That is why the singer started an initiative raising money to build a stable home for the artist who carries so much of South African's musical legacy.
"We are trying to take her back to her family home and to make sure that she is taken care of at a place with running water and soil that can grow food. It is part of the Apartheid legacy that needs to be rectified. South African communities were entirely self-sustained, until people destroyed the systems in place creating poverty to have factory workers. We are trying to be a part of the journey towards battling these remainders of colonialism."
To join the fight and help the initiative click here.
Beyond Borders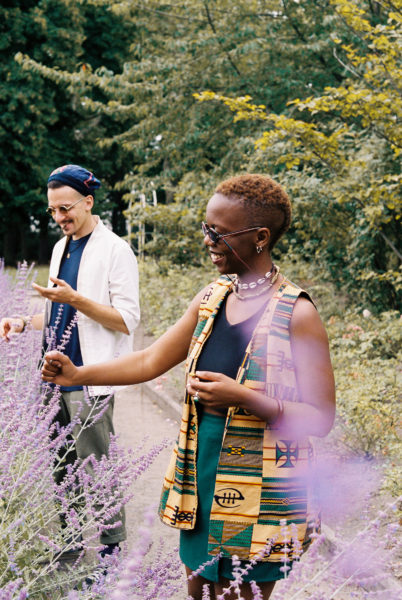 To move away from the Euro-American focus of the industry, we as a Berlin-based medium fall into sometimes as well, we have created a playlist working against the Western-centric neo-colonial structures of the music industry. The Beyond Borders playlist features musicians from different places singing in different languages that often go unheard by the mainstream discourse around music.
The playlist kicks off with dumama+kechou's contribution of some of the musical treasures from South Africa, like Letta Mbulu who was an activist during Apartheid and in the Civil Rights Movement and Umlilo a friend of the band and queer activist, whose song Toyi Toyi is about the South African protest culture (toyi-toyi-ing meaning as much as protesting). Malombo's Sangoma – meaning a "healer person" – blends influences from blues, punk, and folk of 70s South Africa. The other artists are Nono Nkoane, Nonku Phiri, Dion Monti, who produced the band's record, Busi Mhlongo, Sibusile Xaba, Freedom Groove, a track off the Keleketla! compilation, and SPAZA, who are on the same label as dumama+kechou. But SPAZA's self-titled record, Gugu and Kerim say, needs to be listened to front to back without distraction to really get the vibe. Many thanks go to dumama+kechou for introducing us to these amazing artists!
All Photos by Liv Toerkell.
buffering juju is out via Mushroom Hour Half Hour.