There is a monochrome painting leaning on the wall. It is beige. Just beige. Still, it speaks volumes. Ripples of paint circle in different directions following the lead of a bush that left its canvas long ago. Like small stones thrown into the water, the paint is frozen in its former dynamism. The textured nature of the paintings in Marta Cascales Alimbau's Barcelona studio corresponds a lot with her instrumental music when you think about it. Using the piano as her only material, the artist plays with dynamic layers of expression within their monochromia, the language of a single instrument.
I meet the composer and pianist on a Friday in March at, what is considered, very early morning on my Spanish clock. The paintings and sculptures in her bright and tall-windowed studio space are made by her sister Carla Cascales Alimbau. They are admittedly, what catches my eye at first. Leading me into the small but spacious studio, Marta explains that her sister stores her artworks in the studio and that she enjoys their presence in her songwriting space.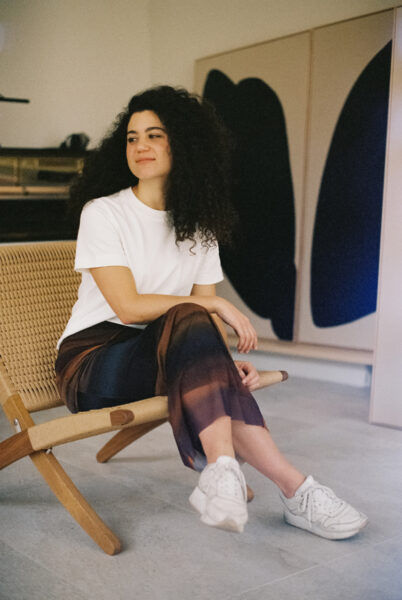 Natural Connection
On the day we meet, Marta just released a new single dedicated to her sister. Carla's Song is a minimalistic and tender monologue on the keys and carries the warmth and intimacy of their sisterly relationship. While they both work creatively, the two sisters move within very different mediums. "Our work has a natural connection. We grew up together and her art is connected to my music. We both pay a lot of attention to detail and share a minimalistic approach when trying to capture the essence of things", Marta explains as we sit down to talk.
When telling me about working with her sister, Marta beams. "The creative process has a magic to it and is about growing and sharing energy. Doing that with someone I love is very special."
Between Contemporary and Classical
Marta Cascales Alimbau's music engages with the visual aspect of the fine arts displayed in the studio. In a constant conversation with other artists, Marta recently released an EP Contradictions with singer Grauwi. Moving away from the classical, piano-driven approach of her solo releases, the EP shows the artist in a more contemporary setting. She describes the experience as exciting and enriching. Coming from a classical background, translating that formation into more contemporary and even pop-adjacent music opens new ways of engaging in creative dialogue.
In that conversation, Marta finds the strings like violin and cello to be her favorite dialogue partners. Being a string instrument at its core as well, the piano resonates with those perfectly.
"There is magic to classical music. It has no lyrics, and the instrumental creates a universe in which the listener has the freedom to imagine and to go deep into their emotions, memories, and thoughts. It lets me imagine in a freer way."
Musical Choreography
While there lies a certain beauty in the free flow of instrumental expression Marta writes based on a concrete emotion, poetic idea, or story. She continues, "I like to translate that into music. I do like the abstract part of it though. It makes music relatable. But lately, I felt the need to express more concrete things." This urge led her to recently start exploring her singing voice as an instrument.
Like a choreography, her creative expression bends familiar limbs and movements of the body into unfamiliar shapes, twists, and turns, ever eager to explore its boundaries and possibilities. Movement, not just across the dynamic range of the 88 keys of the piano but also of the body, is something that continuously inspires Marta. If it were not for the piano, she might have imagined herself becoming a choreographer. And indeed, there is a not-quite subtle connection between composing and choreographing. A choreography of notes, a dance of fingers on keys, a stage on the musical sheets, and a performance in the ears and minds of the people listening.
Love In the Key of C
Flooded in the early spring sun, shielded from the gaze of the public by thin white curtains, I failed to mention the centerpiece of the room. Lined with paintings and sculptures, one of the no less impressive pieces of art is the piano. After our conversation, Marta sits down at it and plays a few soft melodies. The warm and mellow sound immediately fills the entire room. The fullness and richness of its sound seem to reverberate in my bones, down to the marrow.
The piano in her studio has a special story. A love-at-first-sight kind of story. "When we opened the studio, I still had my old life piano and felt like it was time for a change. But it was a 'busqueda' [search] because I wanted something special." Marta Cascales Alimbau tells me that she tried a lot of pianos, new and secondhand, but failed to find one she liked. Then one day, while she was trying a mini grand piano for one hour, still indecisive whether that was the sound she wanted or not, she got a call from the local piano shop about a new arrival. "So, on the same day, I went to try that piano. I got there and played only the middle C. That was when I knew it. I played a bit more but it was already clear that this is the piano. I even cried a little. Amor a primera vista."
The Space Between will be released on March 29th as part of the Piano Day Vol. 2 Compilation via LEITER.
---
Every Monday, the NBHAP staff brings an exciting new artist to your attention alongside a 30-track-strong Introducing Playlist on Spotify. Feel invited to follow the playlist and give these talents a spin.
This time, we curated the playlist together with Marta Cascales Alimbau. Along with tracks from her new album, this week's update includes Hania Rani, Ólafur Arnalds, Natalia Lafourcade, and more. Tune in below.