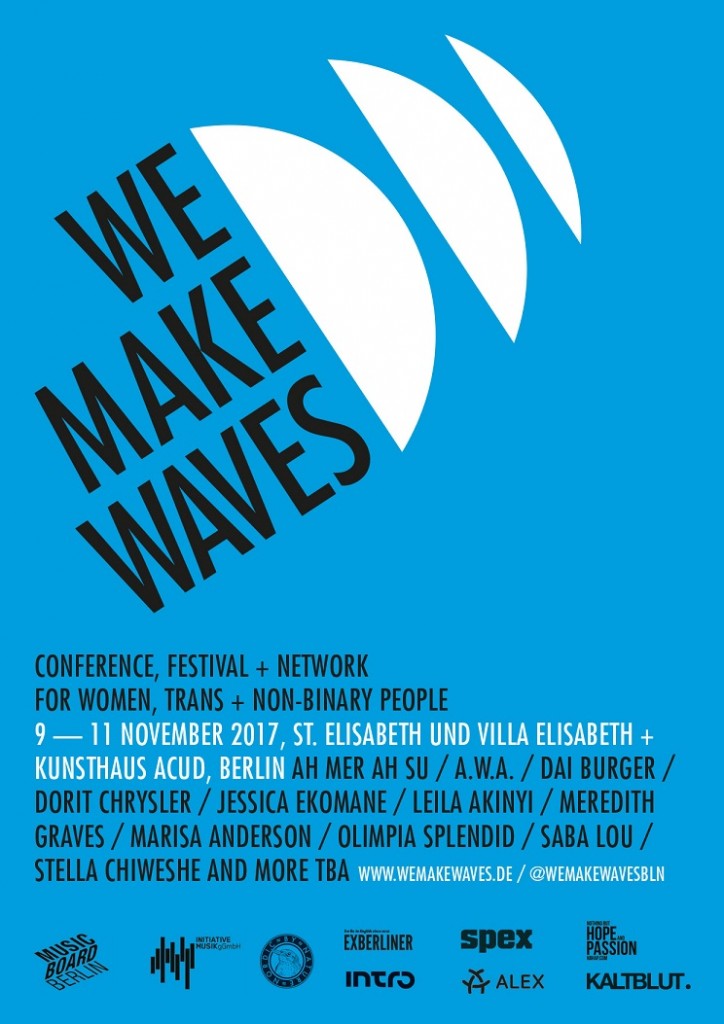 It's no news the music industry is dominated by the male sex and while many of us are just complaining about it, some people made the choice to actually DO something. With great pleasure NBHAP announces WE MAKE WAVES – a new festival format and conference to bring those togehther who are willing to take chances and look beyond the traditions of the creative industry. From November 9 to 11 the event will take place at St. Elisabeth, Villa Elisabeth and Acud to talk and celebrate new ideas, projects and music.
Artists, performers and activists are coming together to spread the word and share their thoughts on women in music and the still on going gender debate in the creative area. Besides great live performances by international power divas DAI BURGER, AH MER AH SU and MEREDITH GRAVES among many more, exclusive panels and workshops held by professionals from all around the world will take place to encourage cross-cultural and cross-genre partnerships for the future.
Speaking about future: priority number one must be the education of next generation talents to enhance their visions for contributing to a modern field in creative industries. Therefore WE MAKE WAVES will be hosting a youth empowerment camp for girls and gender-nonconforming kids from the ages of 9 to 16. The camp will offer its participants workshops and panels about production in studios and/or at home, songwriting, self promotion and more.
Sounds like there are a few very interesting days coming to Berlin! Platforms for people looking outside the box and giving chances for open minds are more than neccessary today. With a festival like this in our minds, we are already looking forward to cold November! Stay tuned about more information and check out the festival's website for a detailed list of workshops, panels and confirmed acts.
If WE MAKE WAVES caught your attenntion you can get your ticktes here.
—
WE MAKE WAVES – Official Homepage