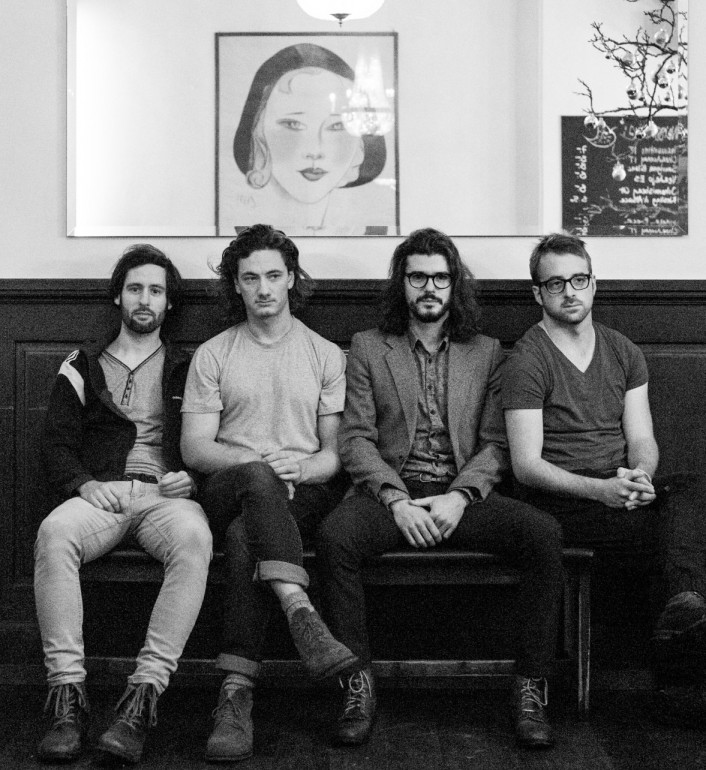 The element of 'post' is everywhere. According to countless scientists and philosophers we're heading straight to an era of 'post'-everything. Post-democratic, Post-capitalistic, Post-industrial – it almost feels as if the old prefix is used to define the somehow hard-to-definable. We live in an age of change were the old rules more and more don't apply anymore as familiar lines get blurrier every day. Still, it's kind of hard to out your finger on it or find a way to deal with it. Swiss outfit KAPNORTH still found a way and even managed to record an entire album based on this changing society. Dematerealize is more than just an album, it's a plea to a different understanding of how we should live together. And, of course, the band likes to label it as 'post-pop'.
'We are very bad at both describing our music genre-wise and putting thoughts into these kind of labels,' explain KAPNORTH to us when asked about hat genre choice. Still, they are looking for a different approach with their sound:
'In our views the pop culture has always tried to not make music a 'solo thing' and combined it with filming.  This merge of two artistic outputs is definitely something we wanted to try out and found very suitable to our sound. We clearly try to go our own paths but surely are not the avant-garde of any subgenre.'
The band that formed back in 2008 and released a first album called Thunder Lightning Storm in 2013 which NOTHING BUT HOPE AND PASSION labeled both – 'melancholy' and 'timelessness' back then. While the band's earlier work draw a lot of inspiration from traditional post-rock structures the sound of Dematerealize extends itself to various directions. From traditional songwriter folk, to math-rock, 'krauty' rhythms and almost soulful R&B-sounding tunes. KAPNORTH were inspired by ELBOW, THE NATIONAL and D'ANGELO for this album and even the recent rise of jazz-infected hip hop á la KENDRICK LAMAR might had an influence on the new LP. Maybe, that's the point of the whole 'post-pop'-aspect. There are no limitations anymore and therefore we should stop to think in these categories anyway.
Change starts in your mind and is inevitable
Aside from that approach, the themes of Dematerealize also deal with the necessity to change things in our society. KAPNORTH want society to step away from its material aspect and move towards a more emotional understanding of each other. Insight and realization are the two main steps it takes to reach that ambitious goal as the band tells us, even if it seems hard to start that overdue process of re-thinking our values and the way we live together.
'We believe that change starts in our minds. But it's not effective up until the moment when the feeling reaches our heart. There's so much talk going on a high political level as well on the streets of everyday life about for example how our climate is changing, resources are short, time is short, life goes by quickly and relationships are getting more difficult. '
The group's new LP acts as both – metaphor and message for what our world could be. It often speaks of beliefs. 'Some songs highlight moments, when someone loses something because of disbelief,' explains the group. 'Other moments speak of reaching a breakthrough once one starts to believe in something,' they state. Dematerealize deals exactly with those specific moments, persons or circumstances that might change your mind.
'A first step anyone can take is to try and search for something or someone he or she can love and put trust into the good of it. The distracting things around us are getting smaller, once we learn to become grateful, humble and focused. '
The long and winding road to realization
The new KAPNORTH album speaks of unconditional love in all its complexity, creates epic moments right next to intimate ones. It's definitely no record that instantly grabs your attention. You need to find time to explore its musical content and multiple ideas, something that is hard to find in mainstream music these days. Still, according to the band there's space for these things today as well, although it's hard to predict. 'We're not sure why but there often seems to be a precise time and place for alternative and progressive music, whereas 'easy to listen to-pop music' is always accepted and appreciated,' explains the band. Yes, the sound of KAPNORTH is difficult and it really bothers them when people state it might be too 'complicated' or 'depressing' but that's the burden of every progressive artists, right?
'We were at a Chily Gonzales concert last year and during the performance he spoke of how people don't like songs in minor key because it 'just feels too real'. That's maybe a very possible answer to explain the difficulty.'
Once again, we're dealing with 'realization' here and that's what Dematerealize is about, even in terms of its reception in the world. 'We were in no mood for yet another normal release,' states the band as they want to avoid the ordinary release strategies in these accelerated times. 'You invest years of work, no one talks about it after three months.' Maybe that's why they've given the songs of the LP to different filmmakers to have them create videos for them. They wanted to 'stretch the process of the promotion of the album title' and that's quite an interesting approach for it.
A band like KAPNORTH remains a perfect example of integrity and artistic ambition in an age where more and more artists tend to pick the easier and safer way. Yes, it might not lead you to the headliner slot of major festivals or into the TV commercials of big car companies but somebody has to do the 'dirty work', right? These guys remain a great hidden treasure of Europe's art rock scene and their new album, out on May the 1st via label Petite Machine Agency, is a highly recommended release for all those of you who'd like their music full of surprises and challengers. Open yourself for the unusual and we might shape that post pop-society to a better place.

—