"Sex Revolts: Gender, Rock und Rebellion" by Joy Press and Simon Reynolds
This wide-ranging analysis of the connection between gender and rock was first published over 25 years ago. 2020 saw the release of the first German edition, and the subject matter hasn't lost any of its relevance. Press and Reynolds reveal the misogyny of male artists like The Rolling Stones, The Doors, and many more – whether manifested as rejection or idealisation of 'femininity' – as well as present female artists and their different approaches to rock and rebellion (e. g. Joan Jett, Kate Bush, Patti Smith). But beware, rock may never sound the same way again: "While it hasn't interfered with our pleasure, we do notice that our easy sense of abandon is ever so slightly checked, our listening shadowed by what we've unearthed. Don't say we didn't warn you."
"Revenge of the She-Punks: A Feminist Music History from Poly Styrene to Pussy Riot" by Vivien Goldman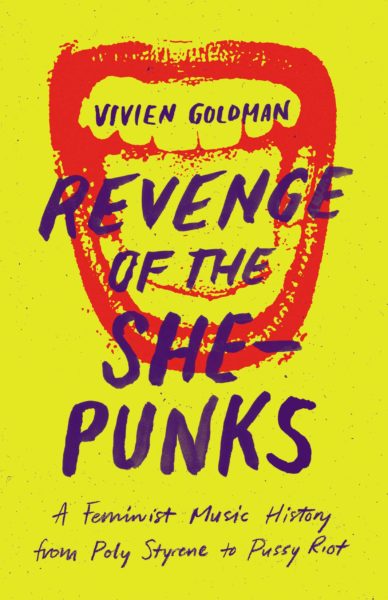 This illuminating survey of women in punk from the genre's beginnings in the 1970s to the present was published in 2019 and is divided into four chapters: Girly identity, money, love/unlove, and protest. Each chapter consists of an introductory playlist and an examination of the relation between the respective theme and female punks. I especially like the jumping across time and space and that 'punk' is used in a wide sense, because it results in a diverse and lively book. Listen to the entire playlist here:
"Naked at the Albert Hall: The Inside Story of Singing" by Tracey Thorn
This insightful exploration of singing includes personal memories and observations as well as chapters about anatomy, different perceptions, and depictions of singing and singers (e. g. in literature), auto-tune, and many more. Thorn's openness about her stage fright, the short portraits of different singers, and the interesting interviews (e. g. with Romy of The xx) prove furthermore that singing can bring both joy and sadness. You can check out the book's playlist here:
"33⅓ books" by Bloomsbury
33⅓ is a series of books focusing on music albums that has been published since 2003. Each volume is written by a different author, so there's much more than the already celebrated records and chronicles of the album's production. PJ Harvey's Rid of Me: A Story by Kate Schatz, for example, is a work of fiction based on the record while Hole's Live Through This by Anwen Crawford includes the effects the songs had on her and other women around the world. 152 books have already been published and they are the ultimate companion to your favourite records, not least because they're short and pocket-sized. Take a look at all the titles here.
Some really great autobiographical books
There are a lot of inspiring and informative books about the lives of musicians. Here are some of my personal favourites:
"Rat Girl: A Memoir" by Kristin Hersh
A formative year brilliantly captured by Hersh who is known especially for her work with Throwing Muses.
"Horror Stories: A Memoir" by Liz Phair
A moving collection of rather gloomy glimpses into Phair's life.
"Art Sex Music" by Cosey Fanni Tutti
A vivid account of the life of an innovative artist.
"Violence Girl: East L.A. Rage to Hollywood Stage, a Chicana Punk Story" by Alice Bag
An honest and energizing book about crossing boundaries.
"Face It: A Memoir" by Debbie Harry
A rich description of the roller-coaster life of the frontwoman of Blondie.
"Bedsit Disco Queen: How I grew up and tried to be a pop star" by Tracey Thorn
An interesting inside view of the ups and downs of Thorn's then 30-year pop career as a solo artist, with Marine Girls, Everything But the Girl and different collaborators.