When you listen to Minoa's debut record Forward, Backward, Start Again an image of an artist forms itself in your mind. Starting from the tender folky quality of the opener Something Special, to the noisier songs there is a certain tenderness that radiates from the vocals of Ina Klos. But don't take this the wrong way, I don't mean tenderness as in weakness. This is the tenderness of an artist who chooses to embrace soft sides and vulnerabilities, and mends them into powerful songs.
"To me, writing music is calming. I can catalyze so many emotions", Ina says when we sit down in Berlin's Körnerpark on a late summer evening. She orders an alcohol-free Moscow mule. "Most songs grew from moments when I was feeling bad, and I used my guitar to channel that. Writing music is like letting go of a part of my worry almost like cutting it out of my own body and putting it into the song." And listening to the record, this statement makes sense. No matter with what kind of emotion the song deals with, they are all delivered with such sensitivity to pace and rhythm rounded up by the haunting vibratos in Minoa's voice.
Slowing Down
Not Cool drags on with intentional lethargy intentionally slowing down and taking a moment to give the song some space to breathe. "In life, I generally feel stressed by so many things and try to work against that. To me speed usually means stress, which is probably why I find it hard being on time and even harder being early. I like slowness and harmony." That explains the unhurried pace that carries itself through Forward, Backward, Start Again. Stretched over six or seven minutes, Minoa allows her songs to take up the space they need at the pace they need.
"Writing and creating can be stressful too, if you put yourself under pressure to do so. I try to go with the flow and only write when I have something to say and accept the moments of silence", Ina says. She tells me about having writing phases in which she writes a song I a few days, whereas sometimes there is nothing there at all to draw from creatively. "Sometimes a wave hits and I surf on it for a while. Then I have to wait for the next one. The record is a collage of the last four years of my life."
Going in Circles
Forward, Backward, Start Again also refers to the relentless circle of life – pushing forward, falling back, and having to start again. The title is taken from a song called Strangers on which Minoa examines the separation of her parents. "It helped to write about it even if it happened ten years ago," she says. The song is part of the backwards the title refers to and looks into the artist's past.
"Forward is the goal. That is where I want to go", Minoa says with a spark in her eyes. There is no fear of the future in the determined artist, instead it is falling back that the singer fears. "Backward are the rocks that fall into your path and force you to start again. The album very much happened in that circle – making myself get back up again to work on it."
The Comforting Touch and the Threat
Minoa who went to music school for a few years but left it to move to Berlin writes her songs alone on guitar then the band comes in to flesh things out. The move to Berlin, she explains, was not as easy as expected. "I was overwhelmed by impressions and stimuli of the city. It inspired me a lot, but now I crave being back in nature." The fondness of the tranquility of nature is not a surprise, listening to the organically flowing pace and the slow heartbeat-like drums on the album there is a nature bound quality to the music. Fear of Failing for example threads slowly on the loop of the rhythm that Minoa created and in that contrasts the ever-hurried character of the German techno capital. Yet, Minoa manages to carve a niche.
In these moments of moving to a new city, relocating, the importance of connection is highlighted. Minoa adds a visual element to her music with the videos and photos for the singles which follow her unique musical style. On the single cover, the artist interacts with a golden hand that reaches for her. "The hand is the connecting point between me and the people I write about. It is sometimes threatening and sometimes tender, like a symbol of human relationships. It can be so beautiful, but so scary. That is why I chose the gold as well because it has this extravagant aristocratic touch, which can be negative and threatening as well."
"Sometimes it is the comforting hand and sometimes it is the inner devil. And I have to remind myself to rather be a friend to myself, than put myself down."
Fear of Failing
That self-reflection regarding the struggles and pains we inflict on ourselves, is another driving theme on the record. Minoa examines the emotions and thoughts of never feeling good enough on songs like Not Cool, Fear of Failing, and Who Are You?. In the end, she empowers and embraces herself and encourages listeners to do the same thing. While the latter song carries a certain musical lightness, Minoa ends the record on a heavy weight.
"Fear of Failing is about learning to trust your abilities. I am the person who knows best what I am capable of but at the same time I am my harshest critic."
That message is especially important to all the FLINTA people working in the creative industry – or any industry for that matter. "There is still a certain understanding that men belong on a stage and women don't", Minoa says over the last sips of her drink. She shakes her head about some conversations she had with men, friends and acquaintances, that probably most FLINTA people will be able to relate to. Even in 2022, it remains an important task to take up space in the industry and on the stages to bring change step by step. It is also a process like Forward, Backward, Start Again, that we are still engaging in.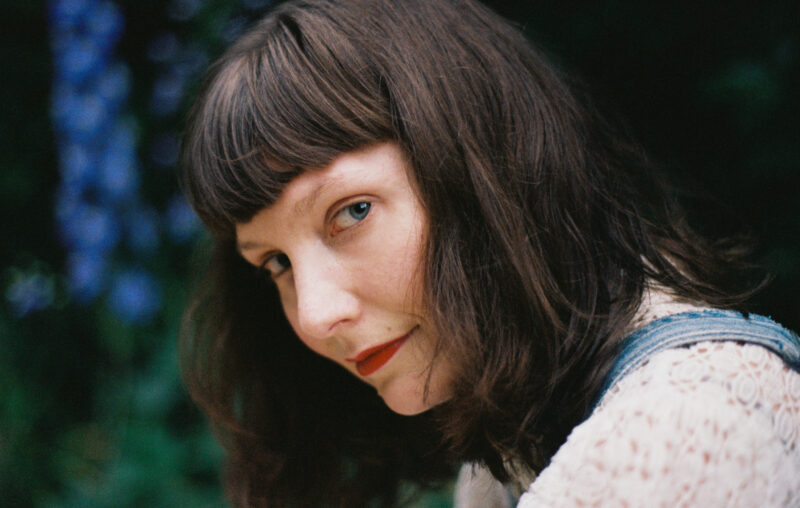 Photos by Liv Toerkell.
Forward, Backward, Start Again is out now via Listen Records. 
---
Every week the treasure hunt squad of the NBHAP staff brings an exciting new artist to your attention along with a 30-track-strong Introducing Playlist over on Spotify curated in collaboration with the featured artist. Feel invited to follow the playlist and give these talents a good spin.
This week's picks include brand new music from artists like Arny Margret, Luh'ra, and Elena Sterni. Come and hit the play button.