[one_half last="no"]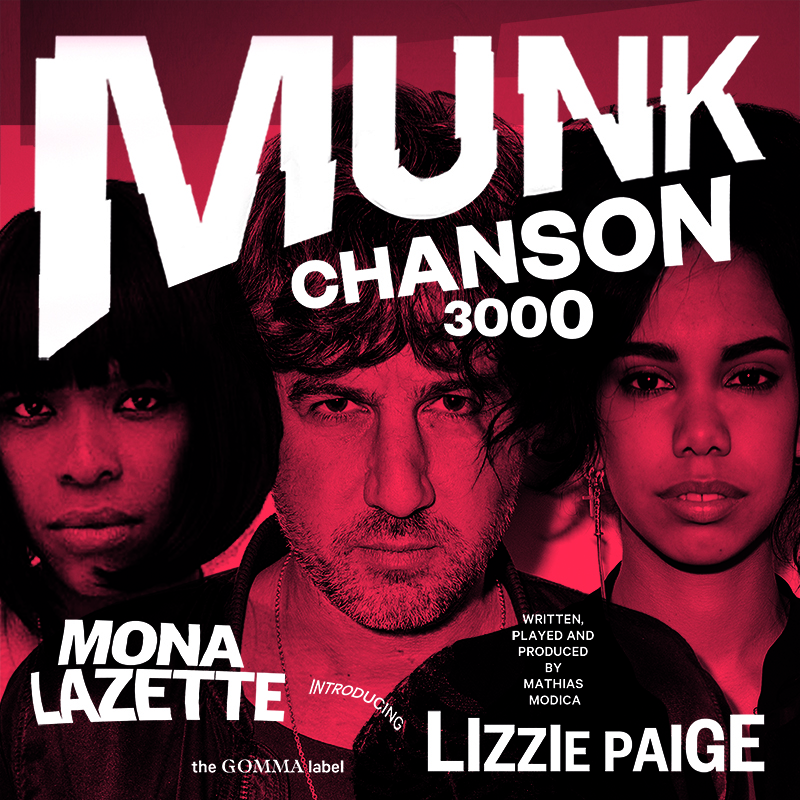 [/one_half]
[one_half last="yes"]MUNK
Chanson 3000
Release-Date: 27.10.2014
Label: Gomma
Tracklist:
01. Cartoon
02. Happiness Juice (feat. Mona Lazette)
03. The Beat (feat. Mona Lazette)
04. Southern Moon (feat. Lizzie Paige)
05. Deceiver (feat. Lizzie Paige)
06. Misterio
07. Transient Lover (feat. Lizzie Paige)
08. Intimate Stranger (feat. Mona Lazette)
09. What Do U Want From Me? (feat. Mona Lazette)
10. Analogue Attitude
11. Desire to Believe (feat. Mona Lazette & Lizzie Paige)
12. Grande Finale

NBHAP Rating: 3,3/5
[/one_half]
Munich's own James Murphy
There's a famous saying in German that no one is a prophet in his own country which basically means a person is mostly famous anywhere else but at the place he's coming from. Just ask the German Krautrock bands of the 60s and 70s. Gomma label-founder Mathias Modica aka MUNK shares a similar situation. Although he previously worked with WHOMADEWHO, James Murphy or FEIST he clearly still can't shake off the underground status in 2014. Thankfully, his new album got all the right arguments.
With a little help from the ladies
MUNK has always been about grooving disco funk, sometimes a bit slower, sometimes a bit more pulsating. Chanson 3000 marks his next attempt to invade dancefloors all over the world but not forgetting a soulful foundation. Modica found help in Austin /New York raised and now in Berlin living singer Lizzie Paige and Nigerian born and London raised vocalist Mona Lazette. These two women give his latest longplayer the special flavour it needs in order to separate itself from previous MUNK and Gomma releases.
Grooving, not outstanding
Chanson 3000 delivers a constantly grooving selection of funky disco beats. Modica is very keen on giving contemporary house music structures a more organic environment. The basslines are very oldschool and so are the percussive elements. Still, songs like Intimate Stranger or Deceiver are located far more in the hear and now than other tracks. Happiness Juice and Transient Lover deliver catchy pop moments while Analogue Attitude comes with a funky guitar in finest Nile Rodgers-style. Over the course of the whole album the new MUNK LP might be a bit too unilateral to really become outstanding but hey… it's still a proper disco record.
'Chanson 300', the latest longplayer by Gomma mastermind Mathias Modica aka MUNK, delivers solid dancefloor material with a clear nod to the genre's origins.
—