As we told you last week, we spent the weekend in Oslo at By:Larm, catching shows and reporting from the 20th edition of the Norwegian music festival. We had far too much fun, saw a bunch of amazing shows, both by new bands and some long-term favourites. But more importantly from you, the reader's, point of view, we also spent the three days chasing around Oslo grabbing interviews with some of the best new bands around. And you can see what they had to say below.
---
---
01. CODE WALK (DK)
So, how's your By:Larm been so far?
Søren: It's been really good. The DJ gig last night with SMERZ was really, really nice. We had a lot of Norwegian friends come out, it was a great party.
Jesper: Yeah! And we had a concert last night at Krøsset, which was an amazing experience. It's always a bit stressful with these really quick changeovers [at festivals], it's a lot of pressure. So it's a nice release when the concert actually goes well.
Was it your first time playing in Norway, as CODE WALK?
Jesper: Yeah, it actually was. It was nice in the club, to meet a lot of locals. We had a nice experience partying really closely, in a small cellar. It was cool.
Søren: Yeah, because By:Larm is such a small festival, for music business people mostly. But then we played the DJ gig afterwards, and that was more social. Felt more like our crowd, in a way.
You've only put out one single, and I guess outside of Copenhagen a lot of people might not know who you are. So introduce us to CODE WALK.
Søren: CODE WALK is an electronic project, which started in 2012 when me and Jesper met each other at an arts school where we both were studying electronic music. We actually also got to know SMERZ there, they were in the same school as us. So we pretty much started the journey all together. And we started our band after bonding over the music we liked. What we want to do is electronic music, where's there's something for the feet, but also for the head.
That's a great way of describing it.
Søren: Every track shouldn't just be for the club. It should also be something you can listen to in the evening.
Jesper: We also make a distinction between club music and headphone music. It's something we think about a lot: would this function in a nice chair, listening on headphones? Does it have enough detail, does it have enough mood to create a scenery? But that [the club] is also a big part of our music, we want to make people move.
And so you work and co-play with bands like SMERZ and CHINAH from home. Is there a really exciting scene in Copenhagen right now?
Søren: Yeah, I think so. The electronic scene is a lot better. I think in the last couple of years it's beginning to get a lot better. We also try to host parties. We're going to have a release party for the EP coming up in the middle of April.
Guess What what kind of a loose, slick sound, but I saw some clips from your live show and it had a much harder, more aggressive tone. So do both of those styles feel natural to your music?
Jesper: I think it's been a journey. We started out doing really aggressive stuff. It's been a long journey over these four years, or whatever it's been, and we've moved through different phases. Right now we're arriving at a sound that's kind of like Guess What, I guess you could call it round, slick, even minimalist. But I think we still have an interest in these aggressive sounds, and that levels of energy, a more techno sound.
Søren: I think if you make a lot of different music, it also has to have dynamics. If you have one track that is really funky, like Guess What, then the next one you have to do something else, like techno, four to the floor or something. So we try to mix it up. Try to create an atmosphere, a sound that we stick to, and move around in that sound. We're not that restricted by the rules of the genre. More by the atmosphere that we feel is our universe.
Cool, what's next? The EP is coming out soon, as you've said.
Søren: Yeah, it's coming out on our label, and a label called Ex Local, an English-based label, on vinyl and all streaming services. It's an EP with four tracks. I think we're showing the CODE WALK sound, but moving around a lot.
What's been your favourite moment of the festival so far?
Søren: When the power went off yesterday, at our DJ gig at Paul's Boutique. There way total silence for like two minutes, and people thought the gig was over. Then we put on Guess What, and the basement was banging to pieces. That was wonderful. A great moment.
And any other bands here you'd like to shout out?
Søren: People should check out our friends SMERZ, even though they're not officially playing here. Also TIRZAH, who's a really cool English girl, mixing genres. Some kind of pop elements, but with a lot from club music.
---
---
02. SHITKID (SWE)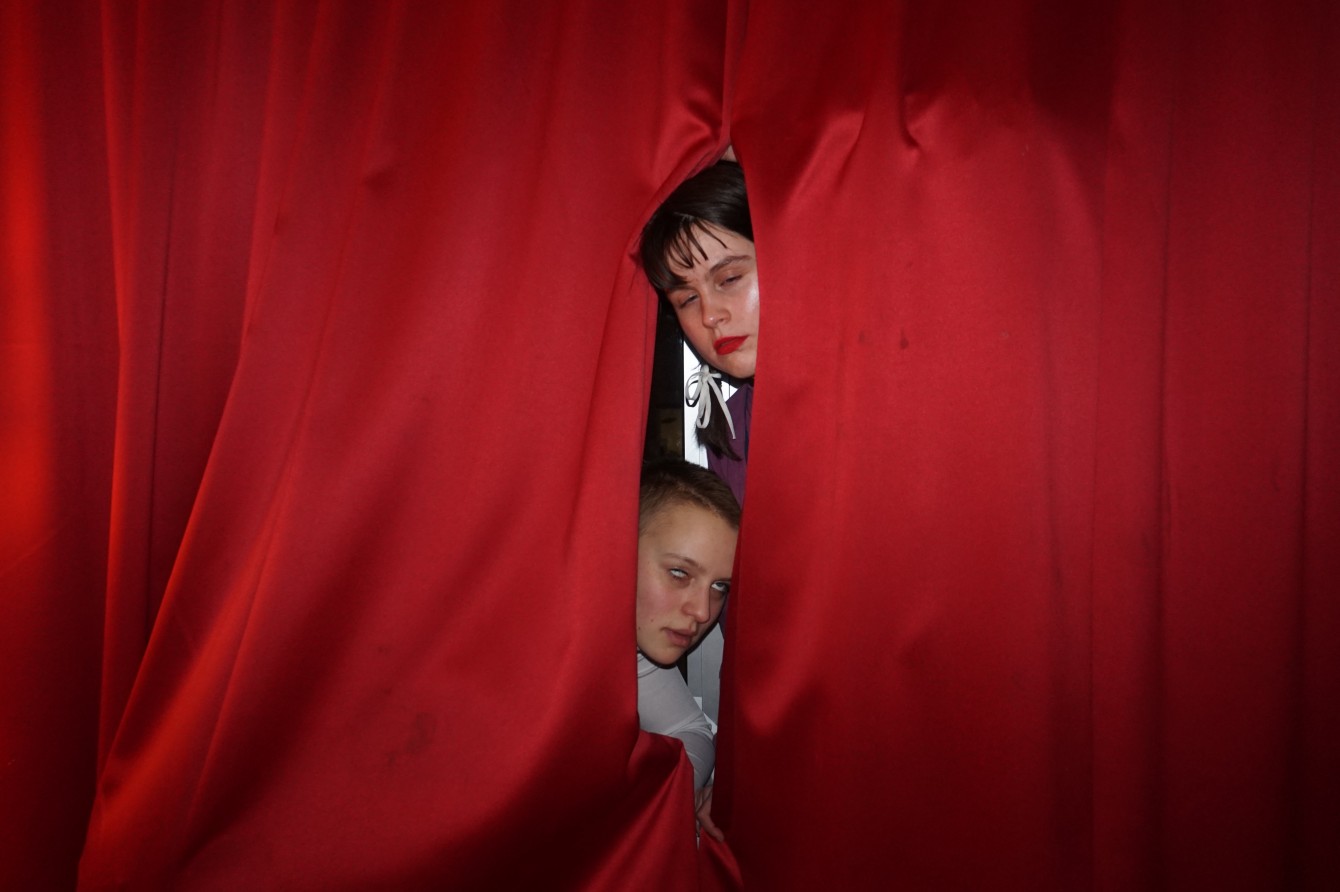 So, how has your By:Larm been so far?
It's been good. I really like this city, but it got really expensive. We just bought beer for 300NOK. But it's been good, it's really pretty here.
What's been your favourite moment so far, or what are you looking forward to?
We haven't been here for so long, just since this morning. Soundchecking went well, and we had some good food, those are the highlights. We're looking forward to playing, obviously, and watching AVANTGARDET and VIAGRA BOYS. That'll be nice.
The new EP has just come out, tell us about that.
It's got two of my favourite songs on it, and two of my least favourite songs. The two favourites will be on the album as well. Everybody seems to like it, so that's good.
And what are the album plans, is it in the works now?
We're waiting for the mixes to be done, and after that we'll know when it's going to be out. We're aiming for June, or sometime around June, but might be a little later now. I can't wait to get it out, cos I really want to show the cover. I really like the cover. And I really want it pressed as an LP on record. I think it's better than the EP too.
And onto the famous Daniel question, you were dissed by a guy called Daniel ('Not going to listen because of the name, thumbs down emoji') on Twitter for having the name SHITKID. Do you have a response to that?
Wasn't he a realtor? I think he should stick to being a realtor, and quit his twitter account. I'll have PNKSLM contact him.
Any others playing here that you'd like to tip?
I haven't seen many yet. I've seen VIAGRA BOYS, and they're nice. I'm gonna watch AVANTGARDET. I've not seen JOY yet either, and I'm going to see her, so that should be a show too, 'cos I've seen her Instagram account and it seems maxed out. And we're gonna see BABA STILTZ and party. It's on from 12 to 3, so it's probably gonna feel like a svartclub [A Swedish undergroud club]. Like a placebo svartclub.
---
---
3. SVØMMEBASSENG (NO)
[NOTE: due the fact that we did this interview in a super noisy room, it was super difficult to tell which member of Svømmebasseng said what, so all their answers are listed simply under Svømmebasseng. Sorry Svømmebasseng, blame it on the vent]
So, how has your By:Larm been?
It's been really great actually. We had a really good show at Gamla on Thursday night, and we've been checking out some really cool stuff. We saw ALEX CAMERON, the Australian guy, yesterday and that was really good. I like that everybody watched and took it super seriously, I feel like he was having fun with people. We saw him in Croatia and he played a cover of Summer In The City. But not this time, alas.
A new single, Blå Planet, dropped on February 3, so tell us about that.
It's the first song from our second album, that will be released in spring, on Playground Music. We really like that song, so we picked it to be the first single. A really dancy song, which is more of the sound of our out new album, it's a lot more dancy than the first. Way more representative of the new material we have, compared to our first album.
It's a whole new level?
Yeah, more synths, more disco-ish. More dynamic as well, in the composition. No title yet though.
So, what's been your favourite moment of the festival so far?
I would have to say it was when we played I guess. It's been our dream for the last three years, or a goal as least. It's great exposure to play at a showcase festival like this, so it's been great.
Any other bands playing here that you'd like to tip for the future?
CHAIN WALLET, I would say. Also JAKOB OGAWA. He's really great and he's on the same label as us.
---
---
04. MISS TATI (NO)
So, how has your By:Larm been so far?
It's been fantastic. When I was here two years ago I got a lot of hype, and I got booked for a lot of festivals the next summer. It helped a lot, because I only had a single out then. This time it's even more great, because I get to stand on the same stage as ERYKAH BADU and D'ANGELO, they've played at Sentrum Scene. So it's a dream come true, coming back to By:Larm and playing at the best stage in Oslo.
So your most recent single is 'Woman', which just dropped, can you tell us a little about that?
Woman is a track that is dedicated to all the ladies, and how important it is for men to respect us women, in the spirit of ARETHRA FRANKLIN and KELIS. It's the first rap that I ever wrote, and it's my girl power anthem, I can say.
Your press bills you as a 'tri-cultural child', as you have Angolan parents, were born in Portugal and then moved to Norway at a pretty young age. So how do you think that's influenced your sound and your music?
It's influenced me in many ways. First on the Portuguese side, with Portuguese blues, which is called fado. That made me fall in love with R'n'B. I love the melancholy, the nostalgia of that and jazz and hip-hop. The Angolan music, with the grooves and African drumming, it made me a sucker for grooves. The beat has to hit you in the hips and make your feet move. That's how I choose my direction, which songs I want to use.
And your album, if my sources are correct, is coming out pretty soon?
Yeah! It comes out as April reaches May. It's an album that I recorded live with my band. My drummer is my producer, but I also got the rest of the guys in the band to [help] co-produce. So it's super special because it has the signature of my band musicians. And my signature of course. I like to say, even though it sounds very clichéd, that it's a journey into my sound. It's a journey into my world. I love hearing it, so I hope others will!
Finally, anyone else playing By:Larm that you'd like to tip, that we should keep an eye on?
Ooh, a lot of people! Well, SIGRID, MYRA, of course SONDRE LERCHE. I'm just gonna watch the bands I'm playing with at Sentrum Scene, I don't have the time to be anywhere else! Also, 9 GRADER NORD. There are so many!
---
---
05. OFF BLOOM (DK)
So you guys emerged last year with the Love To Hate It EP, so how did your form? How was OFF BLOOM born?
Mads: The quick answer is that Alex and I had been making music together since we were 16, and never stopped. We both went to uni, but we never let go of it. Then I met Mette, at a theatre school in Denmark. I thought she was fucking amazing. We had this master class where she had to sing, and I just remember that really clearly, even still. That moment was like, we just need to do something with her. At that time we were mainly doing instrumental, experimental stuff. So we decided: let's do a feature, and let's do it with Mette, because she sounds fucking amazing, she has a really awesome JANIS JOPLIN vibe, with so much power and energy. So we did it and it was so much fun.
Alex: Also, we'd had this idea. We were basically doing electronic, experimental hip-hop. Instrumental hip-hop, inspired by HUDSON MOWHAWKE and the LuckyMe crew in Glasgow. That merged with krautrock from the seventies in Germany. And then we had this massive love for pop. So we had the idea of just colliding all those worlds together, and that eventually became out music. Which is where Mette was perfect.
Mads: And then she was also a fantastic writer, which made it even better. I guess it comes from the theatre background, having that soul in your personality. It makes a lot of difference when you sing.
Mette: For me, I wanted to be an actress, all along. So it was a huge experience to be invited into this music world, and writing songs. I'd never tried it before.
So it was a whole new thing for you?
Mette: It was a totally new thing! I'd been singing, but never made music in any way. But the guys were geniuses, and it was so much fun, it just was so natural. And after a couple of months, we just became a band, without really formally deciding it. It was just obviously the thing we needed to spend our lives doing, it was pretty clear.
Does it help performing, having that theatre background? If you want to be an actress, you're going to spend a lot of time on stage.
Mette: Definitely. I spent a lot of time on stage, I worked as an actress for a year almost, before we did this. I think it helps a lot. I enjoy performing a lot, and I think it's a fun way to look at it. To look at a concert like a theatre performance. In a lot of ways, it's the same thing, and it some interesting sides to it, to think of it like that.
Mads: You can also think of it in that way like the active musician and the passive audience. You can try to engage more in that, if you're aware of the fact that you can do that. I think it comes naturally to Mette, which makes it more fun, and makes us feel really secure onstage.
So you've got this really interesting sound, I thought of it as this mix of EDM synths and more flexible hip-hop and R'n'B rhythms.
Mads: It's funny, we've never thought of it like that. Our influences are mainly things like KRAFTWERK from the 70s, that thing where you have a thing that you really believe in and it sounds amazing and you can keep on doing that. We don't really listen to EDM or electronic music in that sense, more the old stuff, or stuff like HUDSON MOWHAWKE, LuckyMe Crew, CASHMERE CAT. Trying to do it in a gentle way, not so aggressive. But still with that true energy, that means something.
Alex: Funnily, we rarely use synths. Only a handful of times.
Mette: I think that people can't here that it's like a real instrument, like a pan flute or a sitar, that we've recorded.
Alex: Or Mette's voice, that we sampled out on a keyboard. We use it as a synth, but it's not a synth.
Mads: The fun thing about Falcon Eye, is that it's basically just drums, sitar and Mette's vocals. The wholes synth that's playing through the verse is Mette's vocal, that we sampled, and then played around with. So there are basically only three elements in that song.
Mette: And the pan flute.
Mads: And the pan flute. Which we also used in Love To Hate It. Kinda like a trademark kind of thing.
You did the video for Falcon Eye in Morocco, how was that as an experience?
Alex: It was awesome. Morocco is absolutely stunning. It was weird, we'd been in LA for a while. So we just flew in from LA, had one day in London, and then flew in to do Morocco to do the shoot. So we were absolutely knackered, we had to get up at the crack of dawn to get the sunlight. It was freezing too. But definitely worth it. The people that were involved in the video were all local people that were so nice, and embraced us, and had the best energy.
Mads: And we worked with Nadia, who did the Love To Hate It video, and we just get each other. It's great to do it with someone you believe in, because we think she has a cool idea of who we are, and we communicate really well.
And so, new single just out, how do the next few months look?
Mads: Pretty busy. We're touring and then we're finishing off a lot of songs. We have a lot of material; about two albums I think. But it's about finding out when we wanna release it and how we want to do that. I think it's interesting time right now in music, and album will only make sense if you're a fucking massive artist, and people will actually listen to all the songs. Otherwise people will only listen to the hits. So it's about how you can tell a story with an album, without throwing away songs.
Alex: So we'll be putting out a lot of stuff, over the coming months, but maybe just as individual songs, or some other way. We're not sure yet.
Mads: To answer your question: touring, then finalising and mixing.
And who's playing here that you'd like to tip?
Mette: We're going to see our friend SOLEIMA. And KIDD, a Danish rapper. They're gonna be sick, both of them, it's gonna be a party!
---
---
06. STRANGE HELLOS (NO)
How has your By:Larm been so far?
Odd Martin: It's been quite chill. We came in this morning and we just hung out, ate, had a soundcheck. We were lucky enough to have a soundcheck.
Birgitta: It's been great!
Odd Martin: And it's always fun to play at By:Larm. It's an annual thing. We've played here in different constellations before, and this was the first one with STRANGE HELLOS.
Which feeds nicely into my next question. You guys all have different bands, outside of STRANGE HELLOS. How did you all come together and how was the band born?
Birgitta: It was Odd Martin who had some synths, and he invited us to come to the studio.
Odd Martin: I had some songs basically, and I wanted to make something cool. I'd seen Birgitta with LUMIKIDE. Bergen is a really small town. It's kind of easy to just reach out to people, and ask them to come and jam for a bit. So we met in the studio and, and we wrote Broken Teenage Heart. We just started and recorded. I work in a studio, so we just had that studio to ourselves to play around in with big-sounding drums and noisy guitars. I wanted to make a mixture between TEENAGE FANCLUB and COCTEAU TWINS, or something like that.
There's so much energy in your music, it almost blasts you out of the speakers. Was that always the intention, to capture that powerful, energetic feeling?
Odd Martin: I don't think it was in the beginning. I think my vision was more jangly, more straightforward pop-power. Then I listened to PREFAB SPROUT, and I wanted to make it boosh like that, more 80s.
You're four singles in now, what's the situation on the album?
Birgitta: We're releasing it in September.
Odd Martin: It's coming out in September, and we're finishing it on May. We have all the songs but we haven't recorded them all.
What's been your favourite moment so far?
Birgitta: I think it was 30 mins ago, onstage when we played [At Sentrum Scene]. It was really fun.
Odd Martin: So good. So fun to watch people as well, because they seemed to like it. That's a good feeling.
And any other bands or acts here you'd like to tip?
Odd Martin: There are a lot of bands from Bergen. CHAIN WALLET, JUNK MACHINE. SOFT RIDE. So we're just name-dropping Bergen bands now. Bergen is very diverse, so there's a lot of cool stuff. SIGRID is great. MISS TATI too, we're going to watch her play in five minutes.
Birgitta: SONDRE LERCHE
---
---
07. F.N.Y (SWE)
So, how's your By:Larm been so far?
It's been super great! I haven't seen too many concerts, though I saw three yesterday, which was great.
Who did you catch?
9 GRADER NORD. They were so cool! They have some sort of connection to Sri Lanka, and they were playing these different kinds of flutes, and were such great instrumentalists. So that was really impressive. Then I saw SIGRID. She's so cool and energetic and I love her single. Then I saw JANICE. She was really good, although there weren't too many people in the audience unfortunately. But that's how it is.
So you started off with an English-language project, Nuoli, a few years ago, and took a break and then came back with F.N.Y. So what prompted that switch?
It was kind of an accident. I had the English project and then I got really tired and mad about the music industry, because it's really rough. You know the drill. So then I applied to Musikmakarna, a music school in Sweden. It's a really cool school, so basically what you do for two years is produce and write for others. And you get assignments and leads from different labels and you write towards them. And then I was writing with a Swedish artist called Nadja Evelina, and we tried writing in Swedish, and Ett Steg Fram was made. I sang the demo vocal, and then that became the vocal on the actual release. So it was kind of an accident, and that was the first song I ever wrote in Swedish. An after that I just continued, so Duktig was the second one, Ingenting was the third and then Fridhemsplan was the fourth. Now I have a lot of new songs ready to be released, so stay tuned.
A lot of the coverage of Duktig kind of focused on how sexually explicit the lyrics were, but I think a lot of people missed therefore how raw emotionally it was, and that's kind of a theme in all your music. What makes that raw emotion such a powerful songwriting topic for you?
I'm a very emotional person, I feel too much about almost everything. And I think when you write songs you find this feeling you want to write about, and then you make it bigger. So take that feeling, multiply it a thousand times and the write about it. So if you're an emotional person and you're taking those emotions and exaggerating them, it's gonna be a lot. Also, 2016 was a really shitty year for me, so I had a lot of great emotional topics that I could pick from. So that helps.
So, in Duktig, and in other songs, you generally use gender-neutral pronouns. Is that an important part for you, that you're creating these songs that aren't exclusionary?
It's quite interesting. I came out right after the EP was released, the same month. So when I wrote Duktig I really wanted it to be gender neutral. But after coming out, the songs I'm releasing now tend to have the pronoun 'she/her', more regularly. But I try to use no genders at all, so everyone can feel a link to the song. The next single that I'm gonna release is about a girl.
Yes, that next single Silvana, is out on March 10. So tell us about that.
So we were writing together, me, Nadja and Madelene. And we were talking about unrequited love, or when you fall in love with a friend of yours, or someone you're not supposed to fall in love with. And then you tell them about it, and then you tell them about it, and the person doesn't feel the same about you. I had a very specific story about a friend of mine, who thought was being really flirtatious, she was telling me I looked like Silvana [Imam] and she had a crush on her and so on. So we took that line and we wrote the song.
And so how does the rest of the year look? New single out next week, is there a new EP or album on the way?
There's gonna be a new EP, so we're going to release a couple of singles turning out in an EP. Silvana will be the first one from it, and we're planning to have four or five songs on the EP. Then I'm going to do a lot of live shows. Can't tell you too much, but there'll be a lot of live sets. And I'm coming back to Oslo as well, because I'm playing at Pride.
Any of the others playing here you'd like to tip?
I really like SKOTT, she's really cool and such a nice person as well. ASTRID S. SHITKID, love the name. 9 GRADER NORD, obviously, because I've been praising them.
---
---
Thanks to all the bands, artists, organisers, staff, basically everyone at By:Larm 2017.
All photos Austin Maloney