Bombay Bicycle Club – 'Everything Else Has Gone Wrong'
Sounds like … invigorating indie pop for the new decade.
It has been more than five years since the beloved London indie act Bombay Bicycle Club announced an indefinite hiatus, claiming to take a break as a band in order to focus on different individual projects. Indeed, busy and productive they have been: While bassist Ed Nash, alongside former band mate Suren de Saram on the drums, released his debut album under the name Toothless, lead vocalist Jack Steadman gave birth to his solo project Mr Jukes, dropping his debut record God First in 2017, which finds his charismatic voice surrounded by a diverse sound palette, exposing influences ranging from jazz, soul, R&B and electronica.
However, there still remain stories to be told for Bombay Bicycle Club as a complete act. Hailing their comeback with the energetic single Eat, Sleep, Wake (Nothing But You) earlier last summer, the four-piece does the best in their power to make us forget, they were ever off the radar in the past years. Introduced by alarming brass instruments and cemented by a throbbing bass line, the opener Get Up is a first ignition to a set of songs that at once invite to sink in and to sing along. In their best manner, the band delivers pop hymns like the title-giving Everything Else Has Gone Wrong, which evolves an enchanting mindset on a lyrical basis, fusing electronic and rock elements and leading into the resilient album punchline: "And yes I found my peace again / and yes I found my second wind". Hopeful and light-weighted as well are tracks such as Do You Feel Loved or the feel-good, clap-along Good Day. Ending on the almost solemn and organ-lead final Racing Stripes, Everything Else Has Gone Wrong tries sufficiently to leave a mark of musical optimism in times that couldn't be more diffuse and uncertain. It can only be hoped that the light-footedness of the set of songs will not obscure their sincere message. (Andreas Peters)
Stream It: ► Spotify / ► Apple Music / ► TIDAL
---
Algiers – 'There Is No Year'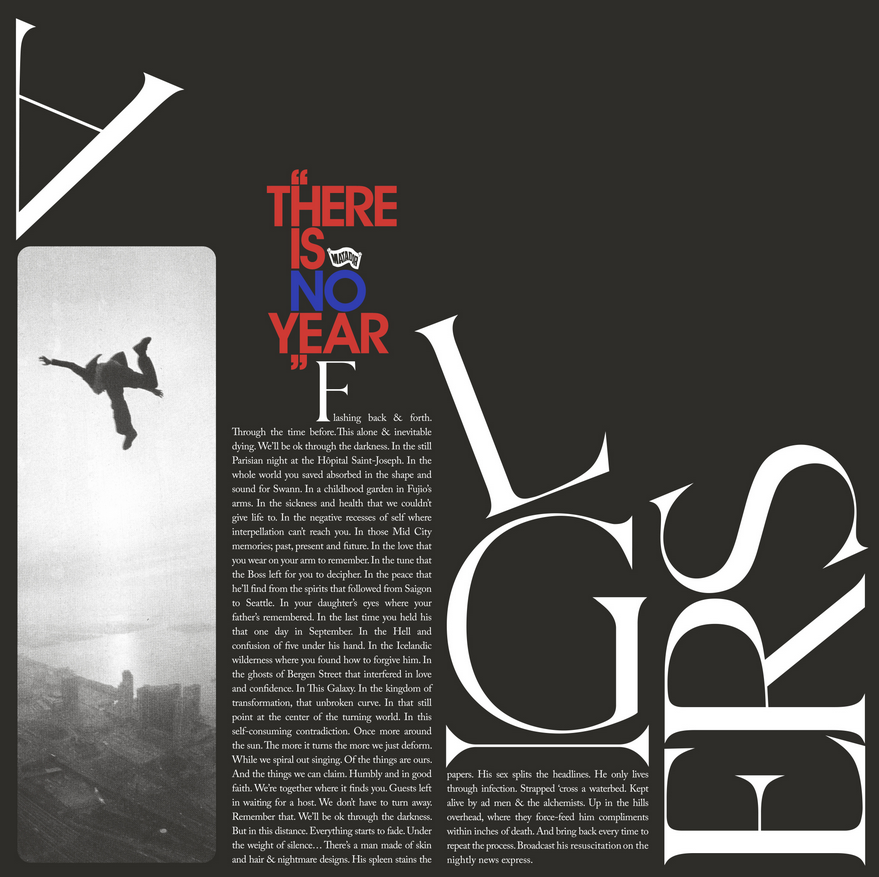 Sounds like …a much needed, politically charged wake-up call.
Having blinders on in these current troubled times may seem like a safe option, but only until the waves of turmoil hit you too hard and all of a sudden your comfort zone, denial and reassurance that everything is fine all fall into a black hole that you can't seem to climb out of. At least not without taking a closer look around you and evaluating the role you want to play in this rather doomed atmosphere that we are all confronted with on a daily basis. Luckily, Algiers have realized a long time ago that the power of speaking up for their beliefs and channeling their thoughts through their music, is the only way forward for them. Their new album There Is No Year is another extraordinary example of the band's ongoing musically bold, politically charged and challenging journey. Even the quieter moments of the record radiate a tangible sense of urgency that really make you listen closely. 
There is no note, lyric or vocal line on Algiers' third album that doesn't carry some kind of weight or adds further substance to what the band has to say. Elevating it to a new level with the songs on There Is No Year, the band seems to have found just the right balance in protesting the state of the world this time. Although the band's messages are often predominant at first, there is whole world of sonic subtleties worth paying attention to that add even more depth to the band's eclectic and genre-breaking output, easily shifting from roaring post punk to industrial influences, gospel and soul. And yes, they also manage to create a bunch of hooks that prevent the songs from sounding unwieldy or too heavy. Also thanks to the production by Randall Dunn (Sunn O))) and Ben Greenberg. Despite all the struggle and resistance that can be found on There Is No Year, the record isn't overloaded. It's biggest strength this time around might be its clarity when it comes to its urgent appeal to a common sense that needs to be activated again. (Annett Bonkowski)
Stream It: ► Spotify / ► Apple Music / ► TIDAL
---
Alice Boman – 'Dream On'
Sounds like … slow-burning, majestic soft classical pop.

"Who knows where the time goes?". It feels like we've lived with Alice Boman for a long time, and that's because we have – she released her debut EP Skisser back in 2013. But Boman, whose music often moves with the graceful rhythm and tempo of a slowly-burning candle, knows the value of time, and so resisted the temptation to cash in on the popularity of minor hits like Waiting, and rush out an album to capitalise. Instead, she took her time, so it's only now we're getting her debut album, Dream On.
The fact that she's spent so long putting this record together means that we can probably assume she's put a lot of thought and care into it, and if you listen to Dream On you do get the sense of Boman's philosophy soaked through the songs. When she released Everybody Hurts as a single earlier this way, she said "I also wanted this song to feel a bit encouraging despite the theme. A reminder to not take it to personally. All of us get hurt. And it's ok. You're ok". Dream On is often an album about accepting that traumas and troubles are part of life, everyone gets sad, and life is about making your peace with that fact. Alice Boman treats her songs like shelters from life's storms, little worlds she's made where she can unfurl her feelings and spin them into something with dreamlike beauty. The music around those stories makes for pretty houses for them to live in, with the songwriter and collaborators Patrik Berger and Fabian Prynn crafting a collection of majestically-detailed, softly-furnished classical pop songs, that walk the listener through a path that climbs up to a peak on the spectacular This Is Where It Ends. She took a while to get there, but on Dream On she delivers the vision she always promised. (Austin Maloney)
Stream It: ► Spotify / ► Apple Music / ► TIDAL
---
Mura Masa – 'R.Y.C'
Sounds like … house meets punk on Crossan's sophomore record.
In popculture, it's not very likely that an album title will reveal the kind of music that you're about to consume. Except in the case of Mura Masa's sophomore album R.Y.C., an abbreviation for Raw Youth Collage. The eleven songs are exactly what a collage, diary or scrapbook of today's youth would sound like when you'd put into music. On the first track, Alex Crossan already sings of the nostalgia that even 20year olds can feel about their not so long gone youth. While the producer takes over the vocal parts of more tracks than on his 2017 debut, he of course once again gathered the hottest talents of the UK and beyond on the follow-up. Georgia sings over Live Like We're Dancing's sleek house hook line, yet Slowthai sounds even more pissed off than usually on neo punk anthem Deal Wiv It. Ellie Rowsell's psychedelic and dreamy Teenage Headache Dreams shows how a Wolf Alice track would sound in a more danceable and enormous production.
The key-track on the album is Clairo's I Don't Think I Can Do This Again in which the artist singa about a breakup with highly distorted vocals alongside an almost EDM-like beat. R.Y.C. shows that Crossan changed the rap and R&B influences from his debut to a more guitar-heavy and distorted sound. He channels punk, in a different way to  producers before him. While he gives his guest vocalists a larger-than-life production, you can imagine how your favorite artists would sound like with a little twist. Crossan's biggest archivement on this album might be, that he gives his feature guests the atmosphere of their own, previous solo material but with a unique Mura Masa signature behind it. R.Y.C. sounds like the daily anxiety, hopelessness and apathy we all might feel towards the current state of the world – just with a guitar-heavy house beat on top of it. (Louisa Zimmer)
Stream It: ► Spotify / ► Apple Music / ► TIDAL
---
Of Montreal – 'UR FUN'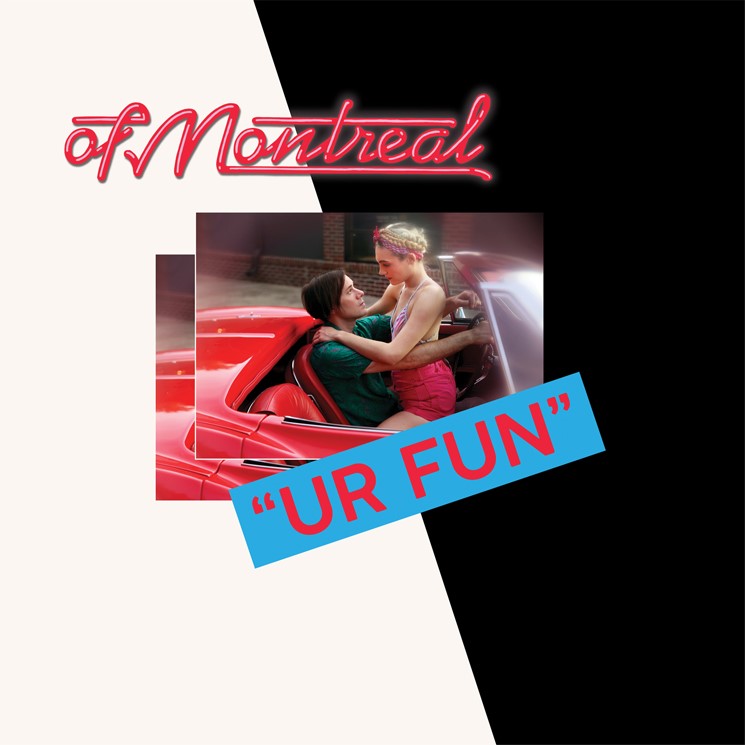 Sounds like … the euphoric highs and the emotional lows of the rollercoaster that is Kevin Barnes' life.
Would you read your diary out loud or share the intimate stories of the struggles you and your lover go through? Probably not. Yet, you have to admit that we all have those dramatic stories and diary entries that we are just too tempted to turn into catchy pop songs. Of Montreal follows their biographical debut with UR FUN and continues the story he picked up on the first record of falling in love with Christina, on this LP about staying in love. Kevin Barnes, the mastermind behind the project, lays his deepest emotions bare and invites us to join him and Christina making out in the car at the airport getting told off by a police officer, debating drug use during couples' therapy and lets us be part of the ups and downs any relationship goes through.
Revealing intimate feelings on this public diary speaks to the courage of the singer. Unafraid he lets a vulnerable side shine through on 'Polyaneurism', singing of the conflicts a polyamourous relationship can face. Bedded in catchy choruses and danceable synth-tracks, which sound like something running on the 80s charts, he declares the depth of his love, takes on totalitarianism and indulges in the childish recklessness on 'Get God's Attention By Being An Atheist'. Between glistering synths and nostalgic disco sounds, Barnes knits his true gems. Those are usually not the ones dripping of overly cheerful synthesizers but the brooding works of a musician who, like all of us, is not always in a bright mood. 'Carmellas of Your Love' for example does not need the sparkling synths to sound like something crackling out of a retro stereo. 'Deliberate Self-Harm' contrasts the shallow dance-pop track 'St. Sebastian' with its quiet melancholic energy and numbed feel. UR FUN certainly is as much fun as a bumpy roller coaster ride. Some love the speeding carefree highs some the depths that pinch your stomach deep inside. However, whether you're in it for a throwback disco party or the matured emotion Kevin Barnes displays throughout, it is worth joining the ride. (Liv Toerkell)
Stream It ► Spotify / ► Apple Music / ► TIDAL
---