Altın Gün – 'Aşk'
Sounds like … a tribute to Anatolian psychedelic rock.

Altın Gün are releasing their fifth record in five years carrying on the legacy of '70s Anatolian psychedelic rock and folk traditions. After the electronic sound of the previous two records (Yol and Âlem), the six-piece is now returning with Aşk. Mimicking the retro sound of the 70s Anatolian psychedelic rock classics that inspire their sound, the band uses vintage equipment and a live-like approach to recording. The result is an energy-laden but nonetheless detail-oriented record that impresses with its dynamic range. It varies from ballads to psych-rock hard-hitters like the opening track Badi Sabah Olmadan on which singer Erdinç Ecevit Yıldız's voice shape-shifts from howls to soft timbers. Leading the vocals and driving the tightly knit unit of instruments is his electric baglama or saz. Another standout track is Su Sızıyor on which Merve Daşdemir's Turkish vocals take on an almost percussive nature in their pronunciation.
Straying from the loud psych rock nature of the opener and Kalk Gidelim is the song Güzelliğin On Para Etmez originally written by the poet Âşik Veysel. The minimalist ballad centers on the emotive voice of Erdinç Ecevit Yıldız accompanied by gently picked strings and quiet synth interplays. Following the recent disaster of the earthquake hitting large regions in Turkey, Syria, and Kurdistan, the band continues to donate all the single-release revenue to relief funds. The pain and renewed need for community support give the song as well as the album a new urgency. Aşk translates to love. And it is a record that radiates a deep-rooted passion for musical tradition and expression and continues conversations with Turkish artists like Basış Manço (on Çıt Çıt Çedene) and Veysel. Aşk is a return to what Altın Gün do best. (Liv Toerkell)
Stream It: ► Spotify / ► TIDAL / ► Apple Music / ► Bandcamp
---
Adi Oasis – 'Lotus Glow'
Sounds like … personal, political and irresistibly groovy.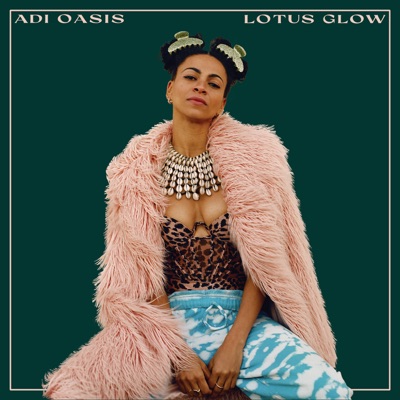 Bassist and singer Adi Oasis describes her debut record Lotus Glow as her story. The lotus flower becomes a metaphor for growing out of the mud, out of the dirt, and finally rising to full shine. Like she disclaims alongside Chicago-based soul artist Jamila Woods on Red to Violet; "It's our turn". The track is an ode to Black women's power and beauty. Adi Oasis includes her family ties and honors her French/Creole identity by featuring her aunt speaking Creole towards the end of the track. Empowerment, resilience, rebirth, and female sexuality are core themes of the record that is the most political so far.
Musically, it is rooted in Adi Oasis' love for funk and '60s soul. Knowing her bass like the back of her hand, the artist engages in dialogue with a range of instruments and artists like KIRBY and J.Hoard. On Get It Got It, a letter to a younger self, an urgent trumpet solo takes the torch from the driving bassline. And on the minimal funk track, Dumpalltheguns, percussion takes over. While musically never anything but smooth and groovy, the lyrics of the album give it political context. The singer criticizes and calls out the gun culture and the continued violence that Black people face and mournfully dissects the way society treats Black women and women of Color on Marigold. Thriving to empower, Adi Oasis includes an ode to inspiring Black women like Serena Williams and her grandmother Sidonie. The Water is a tribute to her Martiniquais roots and includes vocal samples from Adi Oasis' family. Personal, political, and irresistibly groovy, Lotus Glow is a strong debut by a prolific artist. (Liv Toerkell)
Stream It: ► Spotify / ► TIDAL / ► Apple Music / ► Bandcamp
---
Kosaya Gora – 'Kosogor'
Sounds like … an enigmatic quest for form and identity.

Mountains are rarely something one would call oblique, and if it happens you can be sure there is an enigma involved. Kosaya Gora, the Russian equivalent of that expression and name to a new indie project by acclaimed electronic artist / singer Kedr Livanskiy and experimental producer / visual artist Flaty builds on that notion. Kosogor is their first full-length as a duo and showcases a unique sonic journey for both of them, heading into a multilingual descent into folk-inspired dream-pop scapes, channeled by Livanskiy's alluring vocal performance.
Recorded in a mobile studio throughout remote villages in their native Russia, Kosogor is as much an embrace of each of their pasts, as it presents a wild and wide experimentation of new sonic directions. Livanskiy explains: "When quarantine came… it became important to immerse ourselves in the meditative. So we jammed without a deliberate idea, and it turned out so well and easily that we realized that we could arrange it". And indeed it is hard to pinpoint what makes up the essential experience of Kosogor if not the free-range quest for discovery and widening sonic curiosity. There is a strong presence of synth-pop moods swirling all around the record and nods to '60s psychedelic folk and a strong DIY spirit, as tracks such as Tell Me Dove or Lesnoi Tsar showcase. While the mood is one of space-inspired bleakness, strong dramatic electronic bits dance on the surface of pieces like V Pole Na Vole or Muzika Voln, whereas Empty Realm, Te Slova or Dust take us into more guitar-based synth-pop realms. Imagine Mazzy Star sharing a car with Portishead on the way to pick up Nick Drake along the way to their mutual rehearsal cabin somewhere in the deserted woods. The experience of Kosogor, in the end, is a unique one and worth the ride, remembering the traces of a forgotten youth, reimagined again and again. (Andreas Peters)
Stream It: ► Spotify / ► TIDAL / ► Apple Music / ► Bandcamp
---
M83 – 'Fantasy'
Sounds like … a cinematic outburst of energy and positive indie-pop megalomania.
Two decades of releases and constant evolution has shaped M83 from a weird twisted space-rock project in its early days to a global indie pop institution that pretty much skyrocketed during the past decade, following the release of the acclaimed 2011 double album Hurry Up, We're Dreaming and it's decade-defining hit for the ages, Midnight City. For mastermind Anthony Gonzalez it has been a difficult time because the sudden rise to stardom wasn't always a pleasant one. Following scores for Tom-Cruise-starring blockbuster movies as well as smaller ones, a project for Cirque Du Soleil as well as musical tributes to old TV show music (2016's Junk album) and retro video games (2019's DSVII) Gonzalez now makes an overdue return to the essence of M83. Fantasy did, in many ways, become that mandatory back-to-the-roots record many artists release after such a long time. Gonzalez specifically recalls his 2005 album Before The Dawn Heals Us as an inspiration. Although that record was a bit noisier and rougher there is definitely a parallel vision sensible here. Fantasy comes with a more organic "live feeling", carried by mighty synths, drums, heavy guitar walls, and a prominent and confident Gonzalez who – for the first time ever – does the major vocal work on an M83 album as if finally coming to terms with his role.
Starting the record with the sound of a pure and gentle acoustic guitar on Water Deep is a fitting statement to underline the character. But rest assured, the familiar cinematic synth pads are coming in quite easily and take you back to the larger-than-life fantasy world of M83. "Beyond adventure" is a fitting mantra that Gonzalez shouts in the lead single Oceans Niagara, which comes with a driving krautrock-infused spirit (anyone else hearing a bit of NEU! in here?). Right after that, the powerful Amnesia is an uplifting life-embracing M83 anthem. It's pure euphoria and megalomania in its most charming form and there's barely a band around who can maneuver through such kitschy territory in the dignified manner of Gonzalez and his fellow musicians. They invite you to let yourself fall into this escapist bubble of warmth and love, whether it's in form of an epic power ballad (Us And The Rest), an ambient/folk/country tune (Radar, Far Gone), or some synth-retro-pop vibes (Deceiver). On the title track, Gonzalez and his band even head for 80s e-funk territory. Well, how about that? Fantasy is an album that manages to capture the essence of the M83 sound. It feels like a best-of but also works like a fitting introduction to this magical microcosm. In a comforting and confident way, Anthony Gonzalez finally found his place, made peace with the past, and created his most personal record to date. M83 are still dreaming big. (Norman Fleischer)
Stream It: ► Spotify / ► TIDAL / ► Apple Music / ► Bandcamp
---
Unknown Mortal Orchestra – 'V'
Sounds like … the tempting blows of psychedelic paradise.
"Rise and shine, it's a wonderful day", Unknown Mortal Orchestra's mastermind Ruban Nielson calls out at one point in the second song Guilty Pleasures and this is a truth that lies at the very heart of their fifth record, consequently titled merely V. However, the scarcity stops right there, as this new double album, following 2015's Multi-Love and 2018's Sex & Food, is an overarching and at times excessive compendium of fourteen songs that follows Nielson to the haze of his childhood past spent with his siblings around hotel complexes, as his parents were gigging in show bands along the Pacific and in East Asia. 
There is an appeal to Unknown Mortal Orchestra that goes beyond their genius band name and it is indeed hard to pinpoint if it is their melodious thrill, their ingenious balance of lo-fi psychedelic haze and garage rock allures, or the overall mood of seeing the world through a delusional fog. However that may be, there is happiness from seemingly sad music and V is yet another fitting example of how that formula applies. The Garden presents a funky intro to the affair and sparks with vibrant electric guitar finesse and a gloom-drenched spectrum, issued through a UMO-typical fuzzy distortion. That vibe, reminding of a fusion of Khruangbin and Tame Impala, persists unsurprisingly, but if you look at songs such as Meshuggah or That Life, there is an upbeat spirit that won't quit, raising the groove level to a new extent transcending their melodious game to a new level and exposing the influence of Hawaiian music that V represents for Ruban Nielson. The particular appeal of V then lies in that exact fusion of psych-funk strands, an inward look inside towards the sentimental world of childhood fantasia, expressed in the blur of lo-fi over-distorted singing bits. There is an extension of sorts, and the feeling of "does it need to be that long?" But once you're past that impression, you quickly realize that the stretch is necessary, for it is the breadth of vision and nostalgia that makes V the sonic experience that it is. (Andreas Peters)
Stream It: ► Spotify / ► TIDAL / ► Apple Music / ► Bandcamp
---
Mary Anne's Polar Rig – 'Makes You Wonder'
Sounds like … a thrilling indie-rock re-imagination.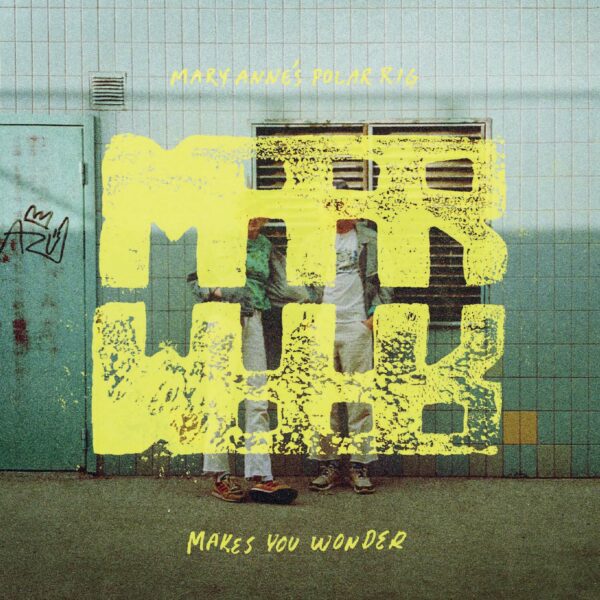 The name of Swedish indie newcomers Mary Anne's Polar Rig goes back to a mining site, meanwhile a hotel, on the arctic island Svalbard and sounds like it could take a few blows – as does the music that the duo around Malin Hofvander and Harald Ingvarsson showcases on their rough and fierce rock record Makes You Wonder. Beginning as Hofvanders dream to front a rock'n roll band, she and Ingvarsson developed out of the Malmö indie scene to debut with the torment of their debut Makes You Happy. The band reassembled after that, turned into a duo from a four-piece, and signed to the Stockholm label Rama Lama Records. Makes You Wonder is the logical progression, giving their songs more room to breathe, although the rollercoaster-ish sonic thunderstorm still roams through it all. Promised.
Dopamine Detox sets the rhythm with all fierce intensity and electric blow, verbalizing the toxic effects of social media with a convincing twist: "Do you wanna go, wanna go, wanna go, wanna go, wanna go / Offline with me?" How wouldn't say yes to that immediately, amidst that kind of thunderous affection? As Summer Girl takes the stream in more calm waters, Instead Of This cranks up the tempo up a sweet notch, heading headfirst into a febrile state of self-examination: "And I tried to love me / But I can't so how do we do this / I mean, c'mon, how do you / Live with yourself". The strength of Makes You Wonder lies in pairing these gusty and wild frequencies with the soulful note of pieces like the following It Goes, in fusing the roaring rock episodes with cooling down, yet progressive ballads. That tune might just be one of the strongest, rising out of its seemingly soothing shell, cracking open like a bird's egg. If, up to now, one has been feeling the reminiscence of the recent Grammy-famed Wet Leg, this is the level of brilliance that sets them apart, with all due respect. As the epically stretching Life In The City and Beautiful Mess ring in the close of Makes You Wonder there remains little left that one could miss in an album. This has been fun, and who would want that to stop? (Andreas Peters)
Stream It: ► Spotify / ► TIDAL / ► Apple Music / ► Bandcamp
---
Eddie Chacon – 'Sundown'
Sounds like … warm summer nights, curated by a late-blooming soul.
Everybody loves a good comeback story and Eddie Chacon's return to music surely delivers a satisfying one. 30 years ago he peaked on the charts globally as part of the soul-pop duo Charles & Eddie with their tune Would I Lie To You. Chacon was playing in various formations back then and he was anything but a manufactured one-hit-wonder but the turmoil of the music industry left the whole world with that impression and he stepped away from music for more than two decades. Meeting acclaimed producer/musician John Carroll Kirby (who previously worked with Frank Ocean, Solange, Connan Mockasin, and a few more) in 2019 was a lucky coincidence at first but a life-changing experience for the troubled soul in his late 50s. In Kirby, he found the musical partner he missed for so long and he found the confidence in his voice and songwriting that was lacking for years. Their joint 2020 album Pleasure, Joy, and Happiness was actually meant to be a swan song, bringing closure to Chacon's music career. But following universal praise from fans and critics it turned out that retirement is off the table for now – and their second album Sundown is a stunning testament that this refreshing joint venture wasn't a lucky shot.
More than their debut, the follow-up is carried by hypnotizing moods. In October 2021, Eddie Chacon and John Carroll Kirby decamped to Ibiza for two weeks. They rented the island's only Fender Rhodes from one of the local rave crews and started working in a pretty reduced setting, enjoying the sun and water in-between sessions. And yes, that's the vibe we're getting on their sophomore album. Sundown feels like a warm summer breeze, late nights on the patio with a bottle of red wine, and sensual evenings of intimacy and tenderness. Kirby's distinctive spaced-out yacht sound is more prominent this time while Chacon's voice feels like an additional instrument to play with but in a good way. On the title track, he repeats the word "Sundown" like a mantra while we imagine the sun setting along the coast. There are a few poppier moments on the record Comes And Goes or the surprisingly funky Holy Hell but most of the time these eight songs lose themselves in their free spirit. Additional contributions come from Logan Hone (flutes and saxophones), Elizabeth Lea (trombone), Will Logan (drums), and David Leach (percussion) – and they all define this summery sound in a very satisfying way. Still surprised by his own return, Eddie Chacon puts it best when he says "With 'Pleasure, Joy, and Happiness', we poured the foundation and now we're expanding into new rooms." And I wouldn't mind following this architectural adventure in the next years. At the age of 59, Eddie Chacon sounds as fresh as he sounds wise – and he provides the perfect album for the upcoming spring and summer season. (Norman Fleischer)
Stream It: ► Spotify / ► TIDAL / ► Apple Music / ► Bandcamp
---
Mammal Hands – 'Gift From The Trees'
Sounds like … a meeting point of many influences.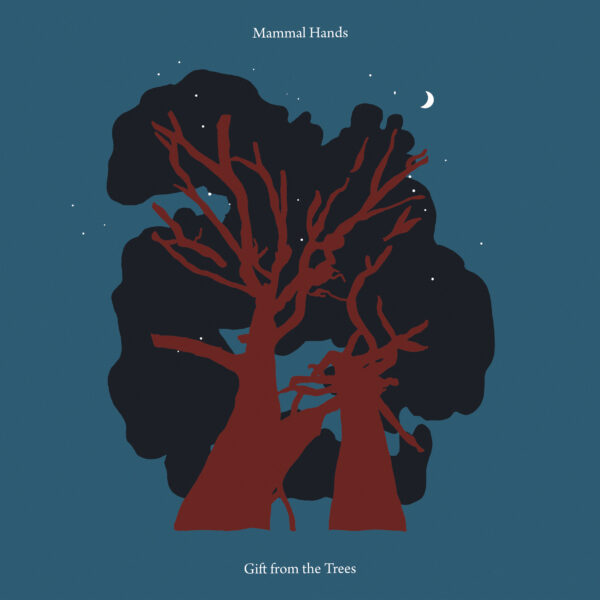 Mammal Hands have returned to the scene with their fifth album Gift from the Trees. The title offers a nod to the natural world and a beautiful preview emphasizes the importance of our connection to nature – particularly what we can discover within it. These ideas can be unearthed within the music itself, where there is an appealing organic flow to melodies amongst lush and balanced soundscapes. These rich and immersive tracks arise out of synchronous creative processes, with jamming instrumental to their work. The group have described themselves has having reached a point of "collective resonance", where playing and writing can feel telepathic due to the way that they are able to reach those improvisational spaces together.
Of all the tracks, Labyrinth sees the atmosphere change most noticeably, accelerating quickly into a state of raw energy, whilst retaining a captivating and hypnotic rhythm. It slows somewhat but never loses its focussed intensity before rebuilding to new peaks. Similarly, on (Intro) Dimu, each note seems to carry significant weight, conjuring vivid cinematic scenes. Throughout, the album offers ambient nuance whilst retaining the dynamic and exciting. Genre-blurring and thrilling, they expertly complement the electronic with the acoustic and the contemporary with the classical. (Elana Shapiro)
Stream It: ► Spotify / ► TIDAL / ► Apple Music / ► Bandcamp