Angel Olsen – 'Big Time'
Sounds like … a Mid-Western affair with loss and love.
By revisiting the review of 2020's Whole New Mess, Angel Olsen did not stray thematically on Big Time but through performance and instrumentation. Healing, grieving, loving are still the focal points of this release. Olsen explores a wider range of genre, expanding further outward the singer-songwriter – tradition where she's been wrongfully placed by many journalists throughout her past records, and adds her standing in country, Hollywood sound, and Americana. The album's title emphasises not only the musical development – it mirrors the many 'big times' like coming out, death, new love and pandemic life, the Missourian singer lived through in the past two years.
When we're thrown into grief, a source of relief can be memory or gratitude. Opener All The Good Times as well as the two following songs tend to that part of healing. The title track, Olsen dwells in the joy of connection and Dream Thing questions what the past has made out of the unknown other. Through the ten tracks, the record becomes more introspective and inquiring about life's substance. Ghost On asks: I know I have my own remorse / I often overthink, of course- / The past is with us it plays a part / How can we change it? How do we start?, and finds the answer on Right Now by reminding us to be ourselves in the present moments, no matter how painful that might be. This is also what Angel Olsen urges us to remember with Big Time about her work and persona while she's gaining more recognition and success: just because we adjust, learn, and change with the experiences coming our way, there are parts that we are made off that show in our (artistic) expression and future choices. Even though, "Woe is me" sometimes, it is not what needs to define ourselves every day. (Anna Stich)
Stream It: ► Spotify / ► Apple Music / ► Bandcamp
---
Stars – 'From Capelton Hill'
Sounds like … the sentimental return of the Canadian indie-pop legends.
Ironically, Montreal's Stars never made it to larger-scaled fame in their two decade-long existence, but always remained the fairly underrated indie insiders with a knack for retro-tinged songs of agony and sentimental candour. As that may be regarded either a shame or a precious exception in today's hype-worn music industry, Stars are still around doing what they do best, and that simple fact is a blessing in itself. On From Capelton Hill, their ninth record and first new music in five years, the indie-pop collective returns to the band's "founding principles", and the outcome feels like a tender return to the group's finest material to date.
Capelton Hill itself refers to an area around North Hatley in Quebec and as one might have guessed, it is a place whose ties with the bandmates trace back to the late 1800's, when vocalist Torquil Campbell's grandfather built houses in the area. "Capelton Hill is a place where things in my mind, in my life, they've never changed. And yet it will go", Campbell states. That devotional air is a sentiment that rings throughout From Capelton Hill, be it the synth-pop instrumentation on opener Palmistry, the 80's pop allusions on Patterns or the tender arrangements on the landmark track Capelton Hill. Stars have always known how to capture the sound of nostalgia and pensive longing, but in these songs their craft has found a new expression, breathing life into the very idea of decay. From the gloomy peaks of That Girl to the disco-infected (with some nods to Arcade Fire) Build A Fire up to the synths-laden power ballad Hoping, From Capelton Hill exposes how the Canadian six-piece ascend the ladder to artistic brilliance in their own terms. (Andreas Peters)
Stream It: ► Spotify / ► Apple Music / ► Bandcamp
---
Horsegirl – '
Versions of Modern Performance

'

Sounds like …high school will never end.
Horsegirl have built their rehearsal space in the graveyard of post-punk, and that's alright; there's enough Sonic Youth for everyone. Their songs veer freely between Pixies, The Breeders, and everything in between, creating a sludgy post-punk sound that's equal parts familiar and refreshing. There's an interesting push and pull within this music: One half of Horsegirl seems to veer towards the off-the-cut quality of something like "Surfer Rosa"or "The Velvet Underground and Nico", while the other half leans into a poppier direction, making pointed eye contact with Spotify playlists and listener counts. Consequently, the riffs are dirty but never too dirty, the songs loose but never unstructured, the melodies rough yet always considered. Horsegirl have listened to a lot of Post Punk, and they have listened well.
So what about their own identity? Horsegirl's music has a distinct drunk after class vibe, a despondent cool that does not sound enviable. Pressnotes claim that two thirds of the band are in their first semester, while one has just finished High School (genuinely: congrats), and it's not surprising in the least.  In their most successful moments, the songs conjure images of empty roads and overcast skies, of bad sex and needless drinking. The Fall Of Horsegirl sounds like the soundtrack to the worst house party you have ever been to, red plastic cups and cut supplies included. Their songs are expertly drawn snapshots of bitterness and rebellion, perched between elation and exhaustion, of being young while expected to grow up. (Nils Heutehaus)
Stream It: ► Spotify / ► Apple Music / ► Bandcamp
---
Marta Knight – '
Strange Times Forever

'

Sounds like … soft dreaming in the clouds.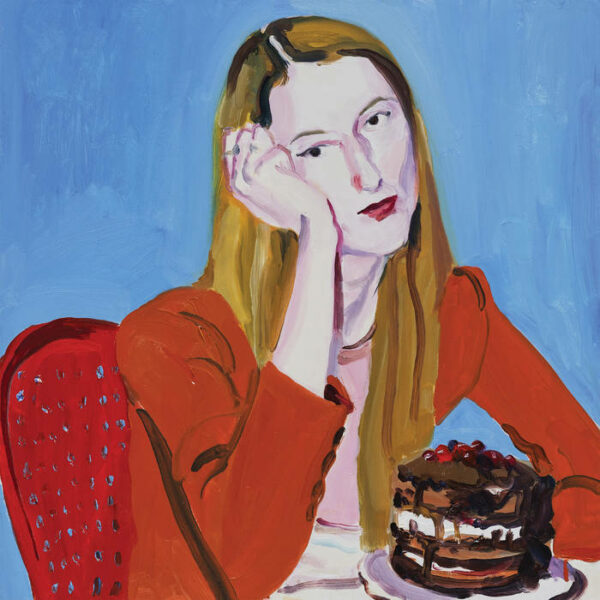 Listen to Marta Knight's debut album Strange Times Forever and feel time slow down as you embark on an unrushed journey through complex thoughts and feelings. Initially, she wished to title the album 'Patience', explaining that it describes the way she made it, "I want to do many, many things, but I also want to do them well", but ultimately she chose Strange Times Forever, a title equally fitting, given the mystifying aura exuded.
On the album, you get a true sense of her story-telling capabilities. With an Ellie Goulding-esque appreciation for romantic melodrama, she guides you through fairy tales that don't always have a happy ending. Lyrics are deeply evocative, weaving intricate narratives, and allowing an unguarded insight into Knight's most profound contemplations and emotions. Courageously vulnerable, she shares her take on the world, on love and on mental health, amongst other things, without fear, earnest in her passions, and honest in her troubles.
Knight's sound has changed noticeably from on her earlier single and EP releases, travelling much further into the electro-pop soundverse. There are still plenty of folk and indie influences evident, but production gives it a distinct and renewed tone. On the album, she worked alongside the likes of Pau Riutort, Jordi Matas, and Heba Kadry, to manifest its genre-bending and authentic sound. Nostalgic and wistful, the album feels almost meant to be a solo, introspective listening experience. It is why there is so much free space left for pensive reflection and absorbed dreaming. (Elana Shapiro)
Stream It ► Spotify / ► Apple Music / ► Bandcamp
---