Beach House – 'Once Twice Melody'
Sounds like … ethereal sensations in playful waves of shadow and light.

Listening to Beach House oftentimes feels like stepping into a mystical universe where ethereal sensations steadily unfold into new dimensions. The phenomenal world right being there in front of you on a widescreen with the music heavily leaning into a feeling of vastness that is fed by playful waves of shadow and light. Now returning with their eighth album to date, the Baltimore duo engages once more with the dreamy, nuanced rhapsody only they seem to deliver so well with their refined artistry. Once Twice Melody is inviting the listener into a larger than life world that provides haziness as much as comfort with the songs serving as little time capsules. Presented in four chapters, the album features eighteen tracks altogether – picking us up "out in the summer sun" with warm synths and acoustic guitars on the album's opening track only to take us on a journey into the night sky over the course of the album flowing into a sea of spellbinding strings on the closing track Modern Love Stories where "the universe collects us".
Once Twice Melody is an abundance of radiant textures and cryptic lyrics whose appeal lies in their almost intangible nature if it wasn't for Legrand's smoky, hushed vocals that create immediate proximity again. For the first time, Victoria Legrand and Alex Scally have produced an album entirely themselves carrying out their eclectic vision of mid-tempo bliss and contemplative, balanced songs on a mood board full of references to the night time in all its beauty and dark secrets we can only hear if we listen closely. Beach House have without a doubt perfected this enigmatic setting throughout their career they so gracefully move around in – venturing forth with subtle tweaks and new impulses along the way, but staying true to their essence to a great extent. There is great comfort in that. Like a dark tinged sky that offers endless possibilities if you are willing to look for the sparks in it. (Annett Bonkowski)
Stream It: ► Spotify / ► Apple Music / ► Bandcamp
---
Shout Out Louds – 'House'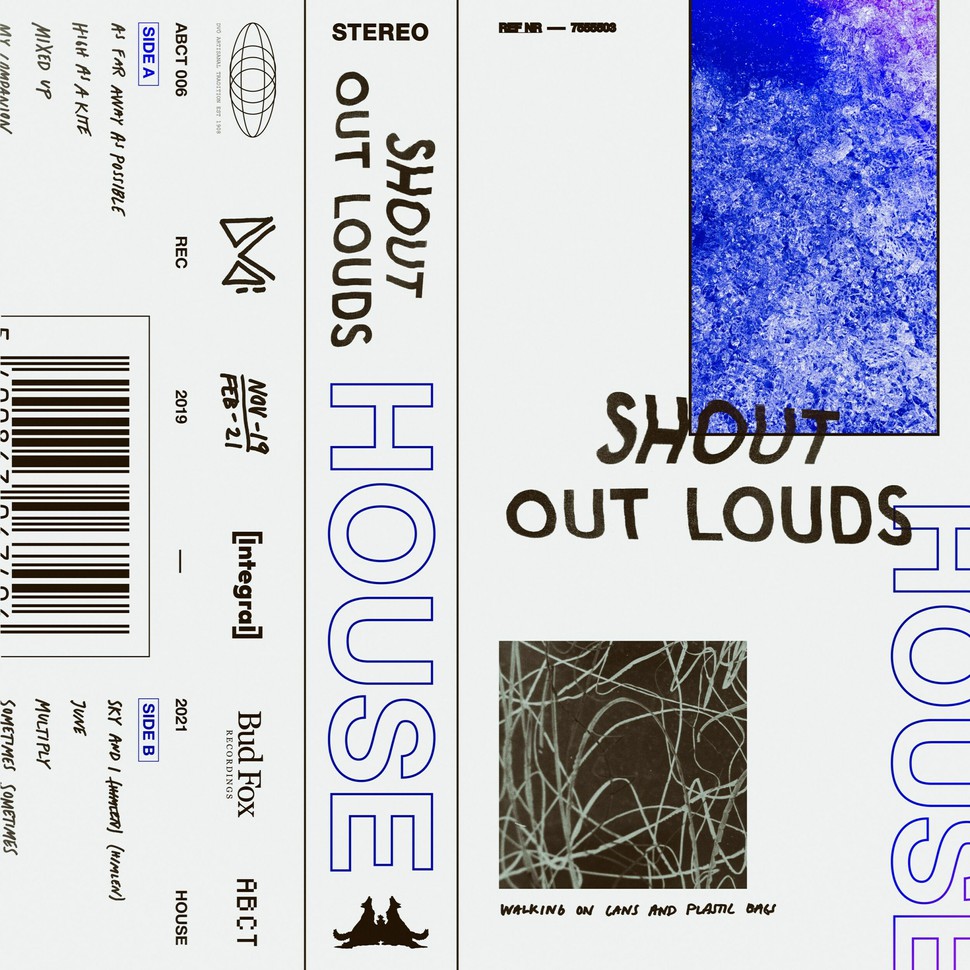 Sounds like … the young Swedish indie hearts remain restless despite growing older.
It's hard to believe that Sweden's Shout Out Louds have been around for twenty years now. They still feel and sound like the fresh, carefree bunch of indie teens that you want to hang around with on a Friday night; except they are already in their 40s now, got kids and well… are technically adults. But there's a youthful agelessness that surrounds their music and it's a joy to see them sill delivering that spirit with dignity and quality. Although they've gotten a bit softer compared to the early wild days of their debut Howl Howl Gaff Gaff their songwriting and storytelling is as good as it has ever been and House is a prove of that. In some way the group's sixth studio album marks a return to their early DIY-roots due to the reduced nature of its recording. Peter Bjorn And John's very own Björn Yttling returned as a producer following their first collaboration on 2007's Our Ill Wills and the whole sound is a bit rawer compared to 2017's Ease Your Mind which marked quite an opulent step for the four Swedes. This time the guitars return to the foreground but the sweet pop harmonies are not forgotten at all. Add their sense for warm melancholia to the recipe and you get finest Shout Out Louds material, perfectly captured in the opening As Far Away As Possible which plays with that regular lifelong dream of escapism that we all have sometimes, especially during the past two years of Covid. Who can resist Adam Olenius when he dreams of "Breaking free in fields running away from our losses", right?
Following the more melancholic vibe of High As A Kite songs like Mixed Up and My Companion add a bit speed to the equation. The band also keeps the lovely tradition alive of having keyboarder Bebban Stenborg take over lead vocals for at least one track and in this case it's the wonderful Sky And I (Himlen) which perfectly captures the feeling of having the best night out and not wanting to come down yet. "Let me stay here forever / Let me get lost in time," Stenborg suggests and who are we to disagree, right? The only complain about House might be its reduced length as it marks the shortest Shout Out Louds album to date with only eight songs. But maybe that suits the pure and intimate nature of the record that doesn't want to overload things. In a charming and delightful way the group addresses matters as mental unrest, growing older while your hearts remain young, the fragility of love with a certain aspect of realism. It's the nicest musical guide towards adulthood and I personally can't think of better companions to soundtrack that step in such a delightful and charming way. Please, please, please, don't stop anytime soon. (Norman Fleischer)
Stream It: ► Spotify / ► Apple Music
---
Methyl Ethel – 'Are You Haunted?'
Sounds like … making friends with your hauntings.

Are You Haunted? is the title of Methyl Ethel's fourth album. Jake Webb, the artist behind the moniker, deals with his personal ghosts on the record. "There are these spirits, memoirs of our old selves, our younger selves, parents, generations whose past deeds, actions, successes and failure shape us," he says about the record. It is shaped by the meditation on the past, and an introspective examination of their traces on today's psyche. Born out of the pandemic's moments of silence, Are You Haunted? Combines the heavy themes of mortality, temporality, and a prevailing melancholy with music that conveys those emotions. The smooth synth arrangements of Proof are interlaced with an upbeat chorus featuring the indie pop singer Stella Donnelly.
the instrumentation shimmers with clear production as we are used to it from Methyl Ethel. But they have an additional note of somber seriousness. Something To Worry About drags its beat along the trademark pained vocals of Jake Webb but within its heaviness finds light in the shape of the bright keys. Matters is a fast-paced art disco track that strikes a different chord. Its steady bassline give it a groovy touch and let it break out of the melancholy of the record.  Likewise, Neon Cheap draws from Talking Heads like new wave styles. Methyl Ethel balances between melancholia and hopefulness and does so artfully. Are You Haunted? Is the kind of record that fits into the saddest and into the happiest moments – a bittersweet euphoria that not many artists strike as well as Methyl Ethel. Ending on the fuzzy In A Minute, Sublime, Jake Webb answers the question with; yes, we are haunted but maybe it is more of a matter of how we deal with the ghosts inhabiting us. (Liv Toerkell)
Stream It: ► Spotify / ► Apple Music / ► Bandcamp
---
Hurray For The Riff Raff – 'Life On Earth'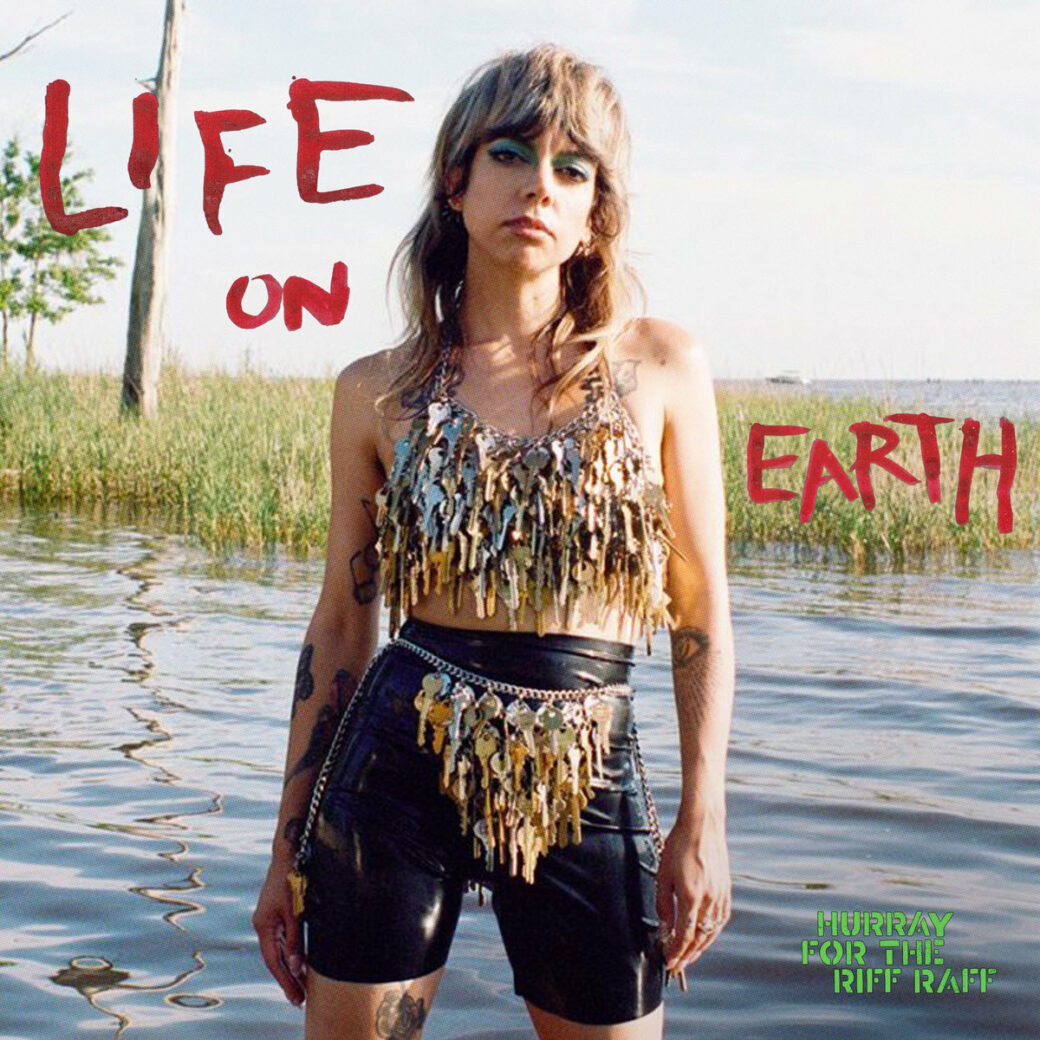 Sounds like … a vibrant exploration of the art of survival.

That our world was by all means never a place of lasting comfort and security is an understanding that the Corona pandemic helped to realise in a quick blow of events somewhen about two years ago, isn't that so? It is quite fitting then that the new record of Hurray For The Riff Raff (aka Alynda Segarra) should deal on her new record Life On Earth with the theme of survival of the living species on earth. Her Nonesuch Records debut, the Bronx-born and New-Orleans-based singer-songwriter, carves out eleven "nature punk" songs about "thriving, not just surviving, while disaster is happening". The result is quite an appealing one.
"The wolves have arrived at your door", sings Segarra on the opening Wolves, and "it's not safe at home anymore". It is that spirit that fuels the new pieces on the record, and yet it is not with haste and angst that she delivers her message. As the synths of the premier track fade out and into vibrant alt-pop follow-up Pierced Arrows, there sure is urgency at work and still there is an intimate connection Segarra manages to craft. Rhododendron is a more folk-fused piece which nevertheless carries the punk spirit of the others and is about "learning to adapt, and being open to the wisdom of your landscape", according to Segarra. The title track Life On Earth then paints an expansive and meditative landscape actually, taking us down into the heart of silence. Nightqueen rises out of that very same spirit, whereas the second-to-last Saga once more cranks up the noise and rhythm of it all. In the end, as bold as the conception of Life On Earth may present itself, Hurray For The Riff Raff sure have passed the bar here, delivering a work that not only depicts the heart of the struggle, but more importantly, the art of survival. (Andreas Peters)
Stream It: ► Spotify / ► Apple Music / ► Bandcamp
---
Metronomy – 'Small World'
Sounds like … a more mature and reflective side of the indie-pop darlings.
As a fellow 00s indie kid who's approaching the age of 40 I can relate to Joseph Mount's obsession with aging and how to deal with it in an appropriate way. That is especially tricky when you run a band like Metronomy who always represented the tongue-in-cheek fun-loving side of their generation. And although Small World might show the most mature and mellow side of Mount's songwriting it's still pretty much a Metronomy record in its core, one that mixes goofiness with emotional honesty, all packed in beautiful little pop miracles. Written and recorded during the first year of the global pandemic it sees Mount returning to the simple pleasures of life, embracing nature, his family and the fact that it's okay to accept calmness in your life. Small World is a record about the people closest to your heart and how you face them in this existential rollercoaster ride called life. "It was fun, what I did / got a job, had some kids / see you in the abyss," Mount ironically sums up his life in the romantic opening track Life And Death which already sets the mood for what's about to follow. And although things get a bit more uplifting in the following singles Things Will Be Fine and It's Good To Be Back there's a certain nostalgic melancholia in them which the band isn't even hiding anymore.
Compared to their last albums, Small World feels way more like an organic band album where the synthesizers take a step beat in favour of a more analogue sound, just like on 2014's Love Letters. By doing that Mount's increased skills as songwriter and arranger are put into the spotlight, resulting in some of his strongest moments so far like I Lost My Mind which almost feels like a progressive nod to early Radiohead days. In the more optimistic moments like Love Factory and Right On Time sound like a forgotten glam pop band from the 70s and it's a fascinating new direction which was teased before on their records but was never as prominent like on this one. Hold Me Tight comes with a surprise on-point guest spot by Porridge Radio leader Dana Margolin which also works pretty fine. With nine songs, Small World remains a pretty short affair but compared to 2019's Metronomy Forever it also feels like there are no unnecessary filler tracks on the album this time. Everything feels at the right place and maybe that's just the sort of album we can all use right now. You can't stop aging and you can't stop the change that comes with it – Joseph Mount embraces that fact and now opens up the Metronomy cosmos to something way more sonic and profound. If this is a first glimpse into the future of the band, their best years might just lie ahead of us. (Norman Fleischer)
Stream It: ► Spotify / ► Apple Music / ► Bandcamp
---
Etran De L'Air – 'Agadez '
Sounds like … the desert blues of the future.
Agadez is the name of the origin town of the band Etran De L'Aïr. Located in central Niger, the group honors their home ground and musical tradition on the sophomore record with the same title. As a collective bound by the common locality and family ties, the band came together in the 90s when the members were barely teens. Etran De L'Aïr take their band name from the mountain region in Northern Niger. It translates to "Stars of the Air" and resembles the nomadic and ambitious spirit of the band. Playing events and gigs across the region, the band gathered a following in the local circles and released their debut album No.1 in 2018. Bandleader Moussa "Abindi" Ibra says "there is nowhere in Agadez we haven't played". It makes sense that their album carries the title of their hometown.
Fusing traditional elements from Malian Blues and Congolese soukous with three electric guitars and psychedelic surf vibes, they bring the spirit of the Desert Blues into the future. Within the record, they combine a myriad of influences. Finishing strong on the upbeat Karade Marhane and Tarha Warghey Ichile, there are also more restrained efforts to be found like Alhaire and Nak Deranine. While each track features a distinct vibe, the rhythm driven by bass and drums and the creative bluesy fingerpicking on electric guitars give the record coherence. With Agadez, the band moves forward and opens new musical opportunities, while honoring their roots. (Liv Toerkell)
Stream It ► Spotify / ► Apple Music / ► Bandcamp
---