Metronomy – 'Metronomy Forever'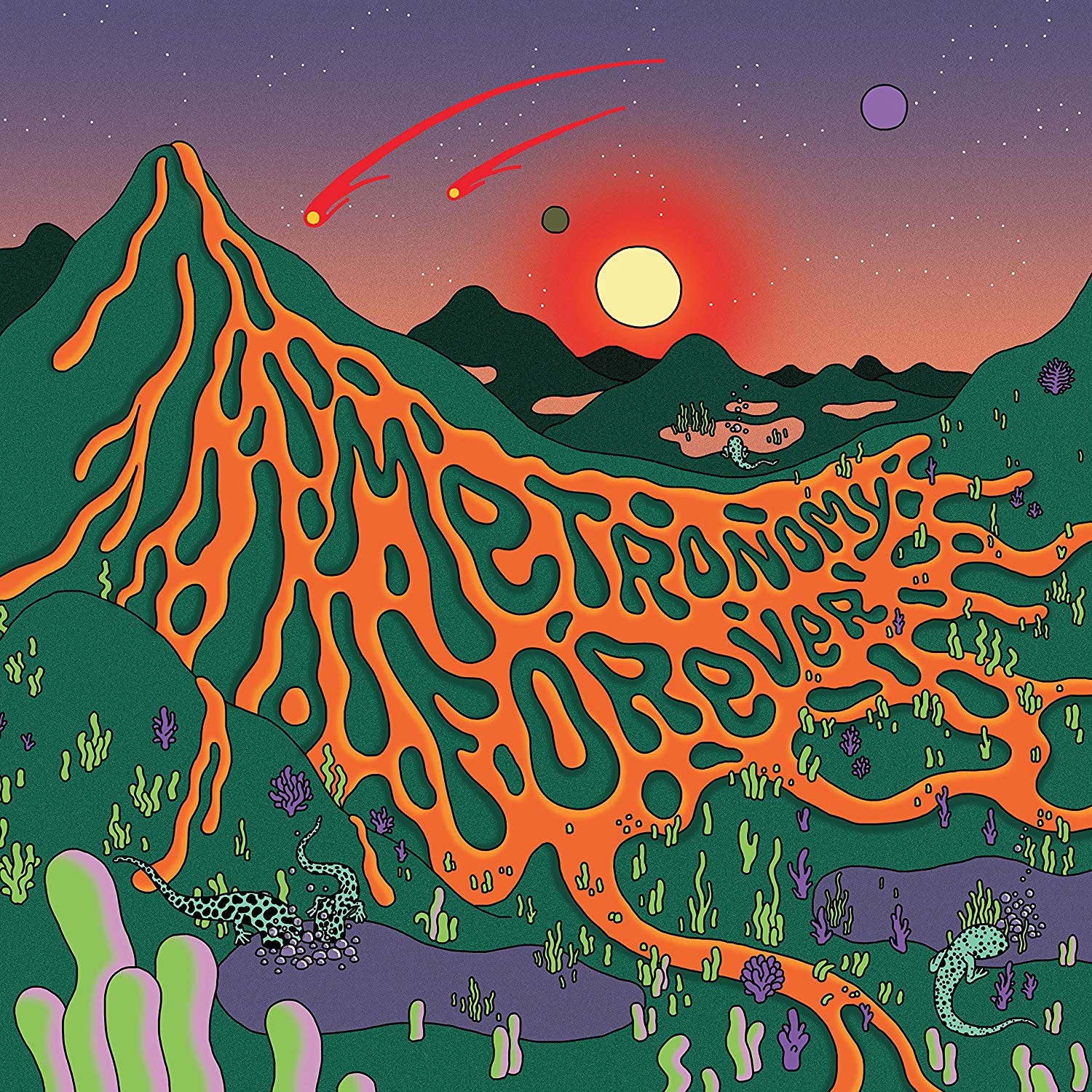 Sounds like … the late night after party, following a decade full of indie-pop hits.
It's not all about the hits, isn't it? However they are the ones that you automatically think of when it comes to Metronomy – From Love Letters to The Bay, from Heartbreaker to The Looks. Over the past decade Joseph Mount and his flexible line-up of fellow musicians managed to deliver more than one indie-pop floorfiller and are still a force to measure with even when many other bands of their generation already vanished. So, it's probably a mixture of confidence and sedateness that made Mount call their sixth album Metronomy Forever. It's a funny idea for a title because despite naming it that way this is actually not a typical Metronomy album. The band remains unpredictable and well, on the other hand that somehow makes it a typical Metronomy album after all. Bam! Following 2016's underrated Summer '08 album Mount moved to the English countryside, fleet the big city life and later helped crafting Robyn's triumphant comeback album Honey, something that you also sense on this album. It's a bit mellower, a bit more introverted and less 'in your face' like its predecessor. It also got something to do with the changing circumstances of Mount's life who appears to be in peace with everything right now. And while a lot of great art is born out of conflict, it can be pretty challenging to get there without it.
So, Metronomy Forever is not about the big hits although they are still there. Insecurity is a groovy rocker, Salted Caramel Ice Cream a funky smasher and the odd Sex Emoji even recalls the band's earlier even more obscure days. But in-between the 17-track long album is packed with interludes, sketches and small ambient textures that give those indie-pop a bit more space this time. For example, the nightly groove of Lately is followed by the gentle beat of the nocturnal instrumental Lying Low and Forever Is A Long Time which sees Mount heading for even more ghostly ambient experiments. It takes more than six minutes before his voice returns in the chilled The Light and that's something pretty new to the Metronomy cosmos but it helps the listener and forces you to take your time with the album. Of course, he could have also compromised the whole thing down to the 10 essential single candidates but it's an interesting choice to not go for the 'business as usual' way here. It gives the record more depth, musicality and a certain introverted darkness in the end. While Summer 08 was a pretty pure party record this one works as an after hour companion piece that might need a few spins to unravel its full potential. Moves like this are the reason why Metronomy actually deserve to last 'forever' as every album invites the listener to go on a new and surprising pop adventure. (Norman Fleischer)
Stream Now: ► Spotify / ► Apple Music / ► TIDAL
---
Charli XCX – 'Charli'
Sounds like … mainstream and experimental pop walking hand in hand into a brighter future.

Since the beginning of her career the name Charli XCX stands for loud, bold 'in-your-face'-bops filled with tongue in cheek lyricism and scream out loud choruses.  Not just her collaborations I Love It with Swedish electropop duo Icona Pop or Fancy featuring Aussie rapper Iggy Azalea turned the British singer into an international phenomenon, but also solo tracks like Boom Clap or, most recently, Boys. Throughout the years Charli XCX learned the rules of hit making, but decided not to play entirely by them. Her production is smoothly, ready for airplay, but the structures of her works after 2014's Sucker got more experimental, even futuristic. Her 2017 released mixtapes NUMBER 1 ANGEL and POP 2 proved the singer's ability to enhance the terminology of modern pop music. The sound got harder, more detailed in specific electronic elements. Perhaps even weirder for some listeners.
Today Charli XCX presents her third full-length album, self-titled CHARLI. It marks another rebellious phase in the artist's career for the same reason: On the album, she presents a collection of few perfectly produced, danceable anthems ready to climb the charts, mixed up with enormously experimental tracks for which an airplay audience might need some poppers to dive in. Still, even some lighter tracks like Blame It On Your Love or Gone are offering some exquisite pop vibes, but do not have the easiness of a Katy Perry song. Thank God for that! Charli XCX improved her creation for challenging pop music. Hopefully, she guides us into a future where pop is not associated with dull and lame taste in music anymore. In addition to the sound, CHARLI impresses with a whole gang of collaborators like Troye Sivan, Sky Ferreira, HAIM, Lizzo or Kim Petras amongst others. It might seem like a lot to take in – but CHARLI is a rollercoaster of emotions and sounds that is worth the ride. (Kai Hermann)
Stream Now: ► Spotify / ► Apple Music / ► TIDAL
---
Alex Cameron – 'Miami Memory'
Sounds like … the Australian pop maestro satirising toxic masculinity once again, but with a healthy female and Americana influence.
There aren't many performers out there like Alex Cameron. His commitment to the character as a sleazy, hyper-masculine, down-and-out loser over his first two albums Jumping the Shark and Forced Witness has been a sight to behold, backed up by his live performances and music videos. In interviews, however, Cameron is clear that he is playing a persona to explore some of the outdated attitudes typically men still employ to this day, and in satirising it, proving how ridiculous these all-too-real guys still are.
Since Cameron's last record, however, he has moved to New York to be with partner Jemima Kirke, who has formed a strong influence over the artist's work. The former Girls actress has directed and starred in Cameron's more recent videos as well as proving to be a major inspiration over her spouse's latest record Miami Memory. For the first time, Alex Cameron is singing in the first person on tracks such as Stepdad, Miami Memory or Too Far. He still finds time to explore other perspectives, however, such as the brilliant Far From Born Again, which celebrates female sex workers, or Bad For the Boys which distils all the toxic masculinity Alex Cameron has repeatedly lamented over his career into a single dive-bar rock track. Once again, he proves he is one of the most intelligent and engaging songwriters and performers out there. (Adam Turner-Heffer)
Stream Now: ► Spotify / ► Apple Music / ► TIDAL
---
Devendra Banhart – 'Ma'
Sounds like … a gentle whisper of sorrow and love dedicated to the concept of motherhood.
Devendra Banhart is a man of many talents. The poet, painter and musician is now delivering his tenth studio album with the sophisticated, beautiful Ma where he shifts his artistic attention back to his musical endeavours. Recorded in Big Sur and Los Angeles, California there is one central theme floating above the overall thirteen tracks which is the concept of motherhood. It wouldn't be a Devendra Banhart album though if he was only exploring it in a traditional sense. Despite clear references to his relationship with his own mother, Banhart seemingly prefers to approach the motherly qualities in everyone and everything instead adding a motherly dimension to the album that stretches far beyond the the literal sense of the word mother to a much more universal theme that connects with a spiritual outlook on life and the concept of motherhood. For example, when Banhart sings about his motherland Venezuela in Abre Las Manos and addresses the country's difficult political situation. 
The feelings being unveiled on Ma evolve around love, loss, pain and joy – sometimes optimistic and comforting, sometimes reflective and mournful. Banhart's compositions often refrain from specifics in favor of a universality while he is exploring the meaning of life in a serious, but also playful manner. This universality is also noticeable in the languages he is using to express his thoughts switching from English to Spanish, Portugues and even Japanese in the new songs as well as inviting guests like Cate Le Bon or Vashti Bunyan along to his journey on Ma. Probably the most distinguishing quality is the tender soundscape Banhart created with the help of longtime collaborator Noah Georgeson. The gentle, intimate storytelling is paired with a melodic simplicity that feels minimalistic and leisurely throughout the whole album and still the songs's beauty is accompanied by gorgeous instrumentation like strings woodwinds and brass that emphasize Banhart's ability as a songwriter making the album drift more and more into a kind of chamber pop atmosphere. Unagitated on the surface for the most part, but revealing a remarkable eloquence and sense for aesthetics and longing underneath that closely whispers into the listener's ears. Once again, Banhart has proved to be a real master of blending immediacy with subtle, mesmerizing textures while adding the necessary twists and turns to his music. (Annett Bonkowski)
Stream Now: ► Spotify / ► Apple Music / ► TIDAL
---
(Sandy) Alex G – 'House Of Sugar'
Sounds like… pop meets shoegaze meets singer-songwriter.
With five self-released albums before signing to Domino, there has been a cult following surrounding (Sandy) Alex G.  Groups of music fans are the proof that Facebook is (not) completly dead yet, but still well and alive. With (Sandy) Alex G 666posting the Philadelphia artist even has a group dedicated to him. The meme madness around him will probably just grow with the release of House of Sugar, his third album released through Domino. It is an album that seems more accessible than his previous records.
Within 12 songs, Giannascoli proves how diverse and manifold modern songwriting can be. While Walk Away and Taking are a modern-take on shoegaze melodies, Hope effortlessly sounds like an early song of Elliott Smith. The track is the rare opportunity to hear his vocals clearer than usually. Southern Sky  is more folk-induced, while Gretel is a hauntingly melancholic and intense pop song. Bad Man is hyper indie pop with screeching synthesizer and Giannascoli's unique high-pitch voice. At the end of the album, Crime and In My Arms deliver the perfect low-key vibes. With its weirdo mixture of ballads, hyperpop and slacker anthems, House Of Sugar is the perfect album for (Sandy) Alex G ultras and new followes of the growing cult. With both melancholic and distorting vibes, it is also the perfect album for the upcoming darker months. (Louisa Zimmer)
Stream Now: ► Spotify / ► Apple Music / ► TIDAL
---