Elbow – 'Giants Of All Sizes'
Sounds like … the most majestic form of the Brexit blues.
Enough is enough! Even for a band like Elbow. For twenty years the band from Manchester has been something like the odd observer that stands in the shady background to take a closer look at all the intimate and obscure stories that happened in their home country. They spread hope in desperate moments, embrace the audience with a big bear hug from singer Guy Garvey and tell you that everything's gonna be okay in the end; like a drunk mate that taps on your shoulder. But in the age of Brexit even Elbow have the right to be pissed … about their country, the politicians and the people who fail to stand up for the good. But of course, the Mancunians wouldn't dare to record an angry punk record, they pack their frustration in musical beauty and pretty much defines their eight full-length Giants Of All Sizes. "And I don't know Jesus anymore," sings Garvey in the first lines of the epic opening song Dexter & Sinister. The beat is heavy, the guitars hang like big black clouds on the whole scenery, documenting the impending doom that might follow. However, after the rumbling start the sun breaks through the clouds and the second half of this song shows that not everything is lost. From now on light and dark go hand in hand into this uncertain future.
Seven Veils delivers the hopeful and uplifting Elbow we've all come to love over the past seven records. Empire is a smooth tongue-in-cheek reflection in the downfall of their home country and only someone like Guy Garvey can make the end of the once so great British Empire sound so relaxing. We're all fucked? So shall it be. We're gonna get through this together. In-between the anger returns in the bluesy White Noise White Heat as Garvey sings "I was born with a trust that didn't survive". The heaviness suits these guys and it surely helps to make this record a diverse listening experience. In-between they return to the oddness of their early records (The Delayed 3:15) and celebrate their love for wonderful string compositions (My Trouble) before ultimately ending on a positive note in the haunting closing song Weightless. In all this chaos, all this hostility and all this uncertainty there is still hope for all of us. And there are not many bands like Elbow who are so precisely capable of transporting exactly this feeling. Their discography remains flawless with Giants Of All Sizes, making them one of the few remaining constants of musical quality in this crumbling empire. (Norman Fleischer)
Stream Now: ► Spotify / ► Apple Music / ► TIDAL
---
Big Thief – 'Two Hands'
Sounds like … the most vital band of the last five years releasing their most direct and impactful masterpiece yet. 
Earlier this year, the Brooklyn-via-Texas-Via-California-via-Tel Aviv indie-folk quartet Big Thief released arguably the album of the year in U.F.O.F. It remains, only a few months later, a delicately layered and airy work, featuring some of the band's best songs to date adding to an already impressive back catalogue. At the time, the group hinted that they had an entire album's worth of material ready to go, however, it still became a wonderful surprise that they were to release a second, "spiritually linked" album in 2019.
The result is Two Hands, an album that stands toe-to-toe in terms of quality as their May release, though sonically and physically is quite distinct. Recorded a week after U.F.O.F, they swapped the leafy surroundings of Washington State for the brutal desert of Texas to record their follow-up, and the difference feels palpable. In lead single Not, they produced perhaps the finest song of 2019, an urgent, driving and thrilling track which will prove hard to beat in the dwindling months of this decade's denouement. However, surrounded by two other excellent tracks – Shoulders – and Wolf – it somehow becomes even more worthy in context of the album. Elsewhere, the songs here feel at their most immediate since their debut Masterpiece, while still retaining an individuality across their four albums that is unheard of in much music these days. All this proves is Big Thief are the most important act to come out of the latter half of this decade. (Adam Turner-Heffer)
Stream Now: ► Spotify / ► Apple Music / ► TIDAL
---
Kim Gordon – 'No Home Recording'
Sounds like … another exciting refusal to be conventional and predictable.
For more than 40 years now, Kim Gordon is making important and enrichening contributions, whether it's to the world of music, art, fashion, literature or film. Originally starting out as a visual artist with her first solo exhibition in 1981, Gordon became most famous with the legendary noise rock band Sonic Youth. And although their end in 2011 was unplanned and unexpected, it was a chance for Gordon to start again and pursue all kinds of work, not just music. She held art exhibitions, published a memoir, appeared in series and films and also started Body/Head with Bill Nace, a project that brought her closer to her no wave beginnings.
On No Home Record, her first ever solo record, Gordon goes further back to her roots of minimal instrumentation and collages of words from everyday life. The album sounds like driving through Los Angeles at night, the city Gordon has returned to after spending most of her life on the East Coast. But it's not a relaxing and comfortable drive as cultural criticism permeates the lyrics (e. g. allusions to the city's homelessness in Sketch Artist or the city's mass of billboards and signs in Get Yr Life Back) and restlessness and nervousness infuse the sound (with the exception of the tender Earthquake). You always wonder what happens next. Maybe even more than in her earlier work, Gordon pushes the boundaries of music (and music videos) with her multidisciplinary approach (the album's title was inspired by No Home Movie by Chantal Akerman, for example) and that turns No Home Record into a surprising and exciting album. (Jessi Schmitte)
Stream Now: ► Spotify / ► Apple Music / ► TIDAL
---
Allah-Las – 'LAHS'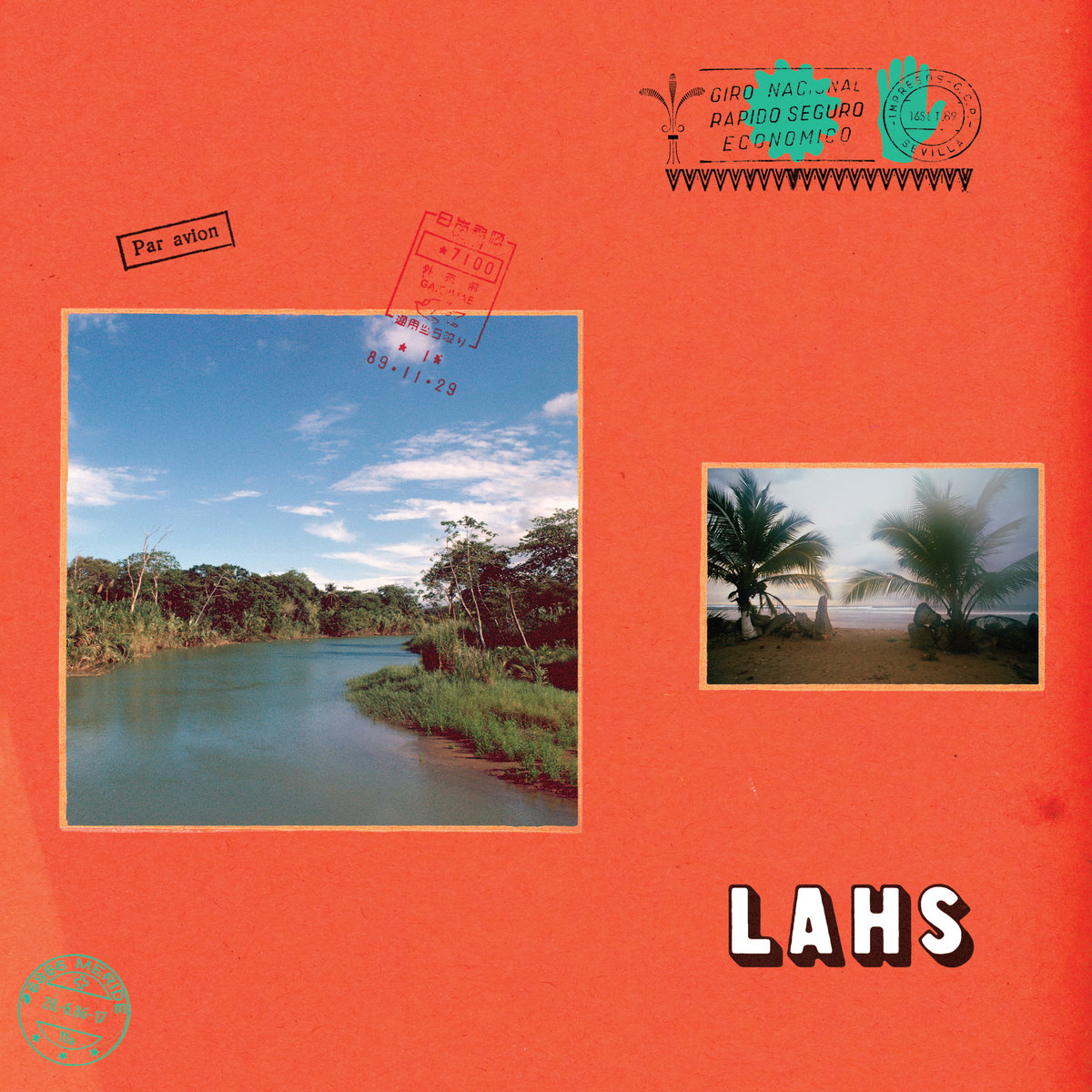 Sounds like … a musical postcard from the LA summer.

LA – somewhere between glitter-in-the-gutter vibe, sunburns, the Doors, and the turbulence of Brazilian street markets, the fourth Allah-Las record seems to fit in. LAHS is an LP packed with sunny surf vibes, unhurried melodies, and an overall laid-back style honoring the band's hometown. Conveying the international melting pot of the town and their extended travels over the last year, the Las are not only singing in English but also in Portuguese and dabble in Spanish. But let's start at the top. The opener Holding Pattern sets the mood for the entire album and sums the energy up pretty well.
The fuzzy guitar work draws on psychedelic folk influences still, the single borders on the pop genre, more in the Beatles kind of interpretation of the term than the contemporary. The unhurried guitar strums and the bendy pedal steel project the haze of an overly sunny day by the beach. The instrumental track Houston has a stronger underlying beat but also relies on the guitar to lead the conversation. Gently drifting by, the single has a, somewhat surf rock inspired, mellow groove. Royal Blues does not have anything to do with blues, instead, it rather feels like a 60s soul single that had one too many Piña Coladas. From the beginning to the end, LAHS follows one sound scheme. Even the reggae-rock beat of Keeping It Dry falls into the sunny surf vibe of the Allah–Las. This might be more of an album for the summer time, but as it is summer mostly all year around in LA, the October release makes sense. Pack this one on your next summer vacation or listen to it to distract yourself from the rainy days lying ahead. (Liv Toerkell)
Stream Now: ► Spotify / ► Apple Music / ► TIDAL
---
GENTS – 'Human Connection'
Sounds like … shimmering futuristic nostalgia with 90s flavor.
In an age of technological hyperspeed we are all looking for guidance in some form and maybe sometimes it's not the worst idea to take a look at the past in order to get a clearer vision for the future. On their sophomore album Danish musicians Niels Fejrskov Juhl and Theis Vesterløkke are searching for the Human Connection in the digital age by channelling the past in various forms. Especially on the musical level it feels like this album is fallen out of time, feeling like a forgotten pop gem of the late 80s or early 90s. Opening track Horrorscope greets the listener with warm and soft synthesizer patterns, a smooth breakbeat and a tender house piano that used to be quite common in this day and age. Think of Pet Shop Boys, Human League and New Order during their 1993 Republic era and you'll get an idea of what to expect from the GENTS record..
On nine songs the duo unravels sugar-coated synthpop with laidback beats and soothing vocals. Tracks like One Little World and Right On Time come with a natural feeling of nostalgia, especially if you happen to grow up with that sort of sound. Still, despite that fact there is an undeniable modernity in this music as well. Emotional Facelift also adds a modern R&B take and autotune to the equation but that feels more like a natural conclusion than a forced effect. GENTS can't shake off a feeling of sentimentality, a longing for something true and honest in those weird times. Human Connection isn't afraid of big gestures and a certain cheesiness but even if you that aspect aside it's quite honest and authentic. The floating and trippy pop of GENTS is an attempt to remind us of things we might have lost along the way. And yes, that also includes certain aspects of popular music. If you are looking for a more traditional attempt towards pop this record might save your season. (Norman Fleischer)
Stream Now: ► Spotify / ► Apple Music / ► TIDAL
---