Father John Misty – 'God's Favorite Customer'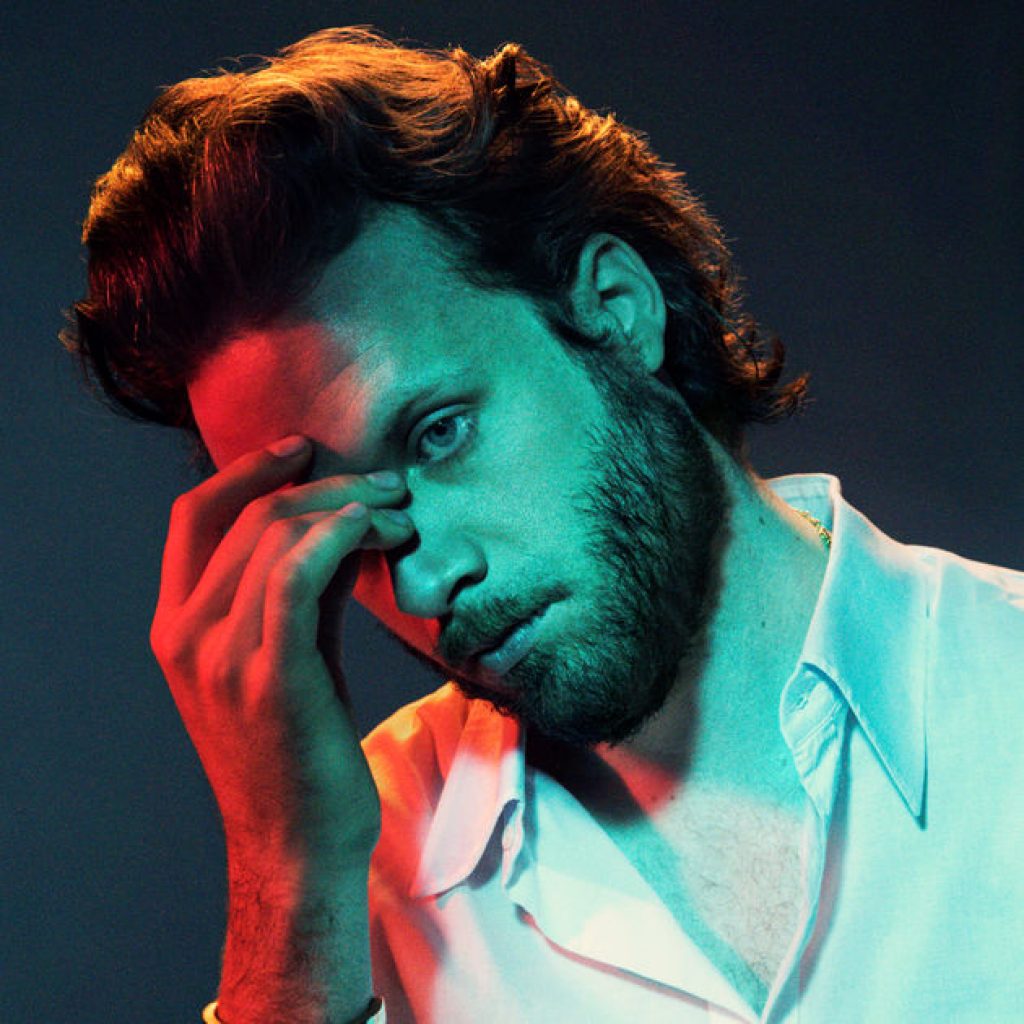 Ruthless candour, sheer heartbreak and a painful self-discovery. Tillman continues to amaze with examining himself under the microscope.
There has truly never been anything superficial about Josh Tillman and his elaborate, witty and touching songs throughout his career as his alter ego Father John Misty. Whether he is thought-provoking and addresses worldly as well as socio-political issues as on last year's release Pure Comedy or writing an amount of incredibly touching, but at the same time humorous songs about love as on I Love You, Honeybear – Father John Misty is digging deep and even underneath all the sarcasm, we fell in love with, brutally honest. It always seems a little hard to predict which path Tillman is heading down next musically and he certainly hasn't wasted any time by putting out his latest collection of songs God's Favorite Customer only about a year after the overwhelming magnificence of exploring the world and a whole lot of dystopian visions on Pure Comedy that was much needed to make sense of the chaos.
On God's Favorite Customer, Tillman continues to look closely, but his mindset is much more introspective and the overall narrative evolves around his personal quest for meaning in times of heartbreak, despair and depression that surely has left a few marks on his soul. While Pure Comedy painted the bigger picture and beautifully crafted metaphors were swirling around trying to grasp the broken state of the world, Father John Misty opens up and lets us catch a glimpse of his innermost beliefs in a very immediate way this time around. Not without displaying another heavy dose of profound insights that are crushing, yet achingly beautiful on a whole other level. The brokenness, the moments of tender love, the fears – they all portray the grand vulnerability Tillman is willing to share as a part of finding his way back to love after spending two months alone in a hotel to write the songs and get rid of the morbid thoughts along the way. By doing so, God's Favorite Customer once more highlights Tillman's abilities as a multifaceted songwriter and surely as one of the most notable of his generation. (Annett Bonkowski)
Song to get you started: Just Dumb Enough To Try
Stream it now: ► Spotify / ► Apple Music / ► TIDAL
---
Ben Howard – 'Noonday Dream'
In the past four years since his last LP I Forget Where We Were, the beloved British songwriter kept developing his sound, away from acoustic folk towards post-rock and ambient influenced styles, ultimately resulting in this musical treasure.
In 2018 there's not much left from the surfing sunny boy with the beautiful soothing voice, melancholic melodies and his acoustic guitar. Ben Howard isn't interested in pleasing the stereotype; he has matured, and with him his music. The only thing continuing is his skilled handling with the guitar, which is sometimes barely recognizable on the new record. This time the artists experiments a lot with effects, distortions and reverb as his acoustic guitar often gets replaced or supported by an electric guitar. Also his singing style has significantly changed since his 2012 debut LP Every Kingdom. Back than his voice was much lighter and his singing clear and focused on lyrics and stories.
On Noonday Dream he's almost mumbling and sings with a deeper tone, wich slightly moves the lyrics to the background. It's more about creating a feeling than about telling stories. Completed by some droning synths and the driving drums, the album discovers quiet new and interesting sound spaces, in whom it sometimes appears to loose itself. But that might just be the point of it, right? The album opener Nicas Libres At Dusk perfectly catches the vibe of the record and opens the door to a unique and beautiful sound experience, which surely is a nice place to get lost and watch the raindrops do little races on a train's window, for example. It surely nice to see Ben Howard free himself from any mainstream pop ambitions with this album. He has earned himself that step. (Elia Schick)
Song to get you started: Nicas Libres At Dusk
Stream it now: ► Spotify / ► Apple Music  / ► TIDAL
---
LUMP – 'LUMP'
The collaborative effort by Laura Marling and Mike Lindsay of Tunng is an ambitious and joyful reflection on life in the 21st century.
25 years ago Britpoppers Blur were pretty on-point when they realized that 'modern life is rubbish' and in many ways it gotten worse over the past decades. 'Rubbish' might not be the best word here but if Laura Marling and Mike Lindsay would have been in need for an alternative title for the album of their project LUMP it could have been Modern Life Is Ridiculous. Because in these little stories the two acclaimed British artists address the existential nonsense we're often facing these days. LUMP is packed with intimate anthems about the mundane absurdity of individualism, humanity's desire to step out of the crowd and our constant escape from our own meaninglessness. And yes, only a voice like Marling could make these themes still sound quite charming. When the two musicians first met in the summer of 2016 their introduction happened just at the right time as Lindsay was working on a new project that needed a singer to express what he wanted to express.
On seven songs LUMP unfold gentle alternative folk gems, carried by reduced and still quite cinematic sounds, tender electronica, playful guitars and Marling's voice as the narrator. Late To The Flight starts the record in a lovely way but comes with a beautiful build-up as Marling sings such wonderful lines like 'You look like a crooner in crisis'. Over the years the songwriter established herself as an artist that wants to be anything but your ordinary 'girl with an acoustic guitar,' Inspired by early-20th-century surrealism and the absurdist poetry of people like Edward Lear the lyrics on this album are inspired by a critical and also quite ironic look on what we call 'modern life'. The nocturnal lead single Curse Of The Contemporary is a perfect example for that as she sings 'If you should be bored in California / I'm sure I'm not the first to warn ya.' The fact that Marling and Lindsay also add the production credits as a spoken-words ambient piece at the end of the record also works as a meta method of human's desire to be visible. This is a great and slightly odd little alternative pop gem that deserves to be heard by a lot of people. It would surely help this weird planet. (Norman Fleischer)
Song to get you started: Curse Of The Contemporary
Stream it now: ► Spotify / ► Apple Music / ► TIDAL
---
Oneohtrix Point Never – 'Age Of'
Coming off the back of his excellent soundtrack for Good Time, Daniel Lopatin returns with yet another masterful slice of electronic weirdness.
At this point Daniel Lopatin, better known as Oneohtrix Point Never, is on something of a Paul Thomas Anderson level of mastery of his shape-shifting craft. Since 2011's break through record Replica, Lopatin have consistently amazed and surprised, like a magician pulling increasingly impressive tricks out of his hat, with his latest Age Of being no different. Amazingly, it has been three full years since his last epic, Garden of Delete, but over that time Lopatin continues to add more excitement and intrigue to his records, which are headphone masterpieces, with his recent work on the OST for Good Time being a prime example.
So what's new this time?  Effectively, this is Lopatin's ballads album, the first to prominently feature his vocals as he croons over harpsichords and other space age sounds in ways even Justin Vernon would be jealous. After several recent collaborations with the likes of FKA Twigs and David Byrne, Age Of also sees OPN at its most collaborative, with James Blake providing piano and additional production and mixing duties here, as well as the likes of Prurient and Anohni sharing their incredible vocal talents too. Simply put, Age Of is the soundtrack to the sci-fi epic you never knew you needed so much, proving once again that Lopatin is not only at the top of his game, but of the whole experimental electronic genre. (Adam Turner-Heffer)
Song to get you started: Black Snow
Stream it now: ► Spotify / ► Apple Music / ► TIDAL
---
Warmduscher – 'Whale City'
Fat White Family's brother band Warmduscher deliver a weird but worthwhile second album.
There aren't many bands who have the enormous musical outcome that Fat White Family have. They don't only release music via their main project, but also with bands such as The Moonlandingz or Insecure Men. And of course there's only Warmduscher, who now release their second album Whale City. The quintet around The Saulcano aka Saul Adamczewski (one half of Insecure Men) initially formed on New Year's Eve 2014 for a house party and released their debut Khaki Tears in 2015 via Trashmouth Records. Even the first track Standing On The Corner is a filthy lo-fi anthem that just oozes of a crazy rock'n'roll atmosphere. 1000 Whispers couldn't be more different, it's a chilled ballad which could be easily used for a waltz.
While The Sweet Smell of Florida has a sing-a-long chorus that every other band longs for, I Got Friends is a wild punk track. The title track Whale City on the other hand sums up the mixture of punk, rock with the lo-fi atmosphere of the whole record. The last track Summertime Tears is easily the most beautiful track on the whole album. To a surf rock melody and an outstanding guitar solo Adamczweski blasts out the beautiful but heart-aching words 'Your tears remind me of summer'. Warmduscher's Whale City might not be the right introduction to the weird but wonderful Fat White Family cosmos, but it's a worthwhile  summer record that fans of FWF and their crazy offspring bands will enjoy. (Louisa Zimmer)
Song to get you started: Standing On The Corner
Stream it now: ► Spotify / ► Apple Music / ► TIDAL
---