First Aid Kit – 'Palomino'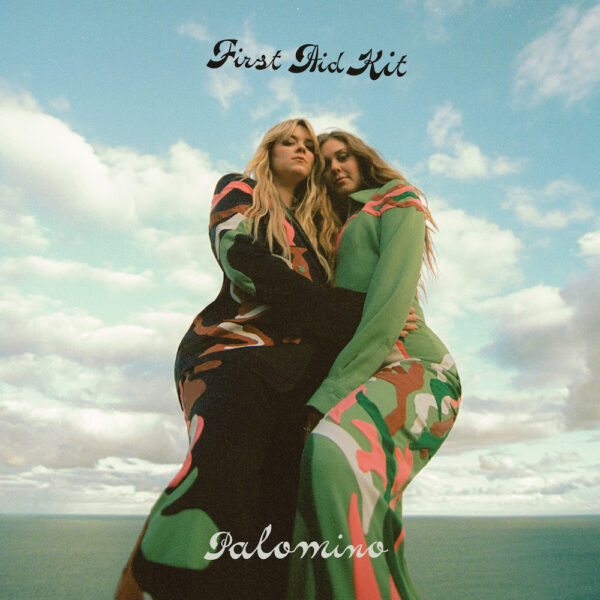 Sounds like… strength in heartbreak.
So anew and continuously convincing the door to freedom opened for First Aid Kit. Their fifth record Palomino charges into the unfamiliar truth, the unknown joy of the future with conviction. Klara and Johanna Söderberg hover like the Fool between idiocy and wisdom, rationalism and trust.
On Palomino, the duo moves through pop-country-disco with their familiar singer-songwriter honesty and melting harmonies. Self-worth pulls at the same string as matters of heart and when it's released it flings open all paths. On Angel, they find power in experiencing both sides now: "You've been staring at your mirror / Trying to make a picture clearer / But angel, can't you see who's in front of you? So give me love and gimme compassion / Self forgiveness and gimme some passion / I love you even if you don't love me". There are several reviews of this album quoting these lyrics to contrast the juxtaposition of sadness and upbeat instrumentation. To me, the assurance in one's self knowing that you're courageous enough to love someone without being loved back is of significance here. While standing securely in your own worth, this is the sweet spot I am edging towards. Another example is The Last One, unafraid to ask for what they desire – "You have lit this glowing ember / Hesitation kills the spark / I need a cure, a fix, a pure conviction". First Aid Kit are unpretentious about the things they've learned from the past and its affairs as on Wild Horses II. Palomino affirms that you can rewrite the story if you wanted to. As they synchronize on A Feeling That Never Came, the two women demonstrate that you have to integrate a lesson first and foremost for yourself to let it ring for others. (Anna Stich)
Stream / Purchase ► Spotify / ► Apple Music / ► TIDAL
---
Phoenix – 'Alpha Zulu'
Sounds like … a sophisticated and playful pop gem with a twist.
Visits at the museum can be both – inspiring and tiring at the same time. Full of curiosity, we tend to stroll through endless corridors soaking up a pile of knowledge from the past while trying to connect the dots in the present. An ambitious adventure that echoes in the corner of our minds. While being surrounded by a great amount of art can be overwhelming at times, it certainly also unlocks its magic. French pop maestros Phoenix might know one or two things about the latter. Over two decades into their creative journey as notably one of France's biggest indie pop bands to date, the sophisticated four piece band or longtime friends and brothers showcase their special bond across the ten new tracks of their 7th full length album Alpha Zulu. Ticking off the boxes of "recording inside of a museum" on their band's résumé, Alpha Zulu mainly came to life in the prestigious Musée des Arts Decoratifs inside the Louvre during the trying times of the pandemic. Despite a certain sense of longing clearly being visible throughout the album, the dominating sentiment carries an effortlessness across the many hooks and vivid nuances that fill the record with a contagious playfulness that has been at the band's creative core since day one.
Instead of being intimidated by artifacts and documents of past times, Phoenix have managed to capture a newfound spark in the makeshift studio. The band's interpretation of the 2022 Zeitgeist is sophisticated as it is seductive. Despite the emotional weight and trauma of isolation and loss that struck the band members prior to recording – with their longtime collaborator and friend Philippe Zdar passing away in 2019, the songs' vivid character is the album's driving force without overshadowing the intimate and thoughtful notion of songs like Winter Solstice. Somehow Phoenix have managed to come up with an album that easily overcomes the collective estrangement and instead, affectionately reminds us of life's contours and textures. Across the new songs, Phoenix are brave enough to stick to their artistic integrity and even surprise with their first ever guest contributor Ezra Koenig (Vampire Weekend) lending his vocals to Tonight all while delivering a true piece of joie de vivre along the way. (Annett Bonkowski)
Stream / Purchase ► Spotify / ► Apple Music / ► TIDAL
---
The Haunted Youth – 'Dawn Of The Freak'
Sounds like … the hazy sound of late 00's blogosphere dream pop is back after all.
Nostalgia can be a tricky friend when it comes to music. As it often feels like everything has been done before popular music feels like an endless sea of references. There is nothing generally wrong about that but it often comes down to the question whether you're actually picking up the nods to the past or not … and whether you are actually aware of that past. As an old indie music lover in his late 30s I can't help but smile a bit about the comeback of "indie sleaze" and "tumblr pop", which is happening right now according to a few media outlets. Whether you label it wishful thinking or a desperate attempt to create a clickbaiting story is up to you – but Belgian songwriter Joachim Liebens definitely understands how to puh the right buttons of an my middle-aged indie heart with his project The Haunted Youth ever since his first single Teen Rebel showed up in my inbox back in early 2021. Warm melancholia, dreamy guitars and that sweet spot between Slowdive and The Cure – that's what this song was all about and that's the path Liebens and his band also chose for their debut album Dawn Of The Freak.
Fans of early 2010s dream pop will get those references – DIIV, Wild Nothing, Beach Fossils and also Lower Dens might come to your mind while you're experiencing this lovely little selection of songs Liebens crafted together. Most of them have already been released in the past one and a half years, including the dazzling Shadows and the epic escapism anthem ode Gone, which is already an outstanding highlight in the still quite fresh back catalogue of the Belgian band. They perfectly recreate that feeling of longing, redemption, and guidance in a world that continues to drift into chaos. Lyrically, Dawn Of The Freak isn't a subtle affair as the young songwriter keeps things obvious and relatable. Sometimes feels a bit cringy but then again: I try to remember the emo moments of my twenties and that lets him get away with songs like I Feel Like Shit And I Wanna Die and its universal mantras like "I've got too many demons in my mind / I feel like nothing ever goes my way / I think I'm leaving here today". There is a raw and honest darkness that lies underneath these songs and while you have to admit that this record is one giant call-back to a past era you also have to bow down to the brilliant songwriting, great melodies and a perfect understanding on how to let these ingredients sound exactly the way they do in the end. The Haunted Youth created a record that feels like I've known it for years and that's truly a rare thing to say these days. (Norman Fleischer)
Stream / Purchase ► Spotify / ► Apple Music / ► TIDAL / ► Bandcamp
---
John Moods – 'The Great Design'
Sounds like … shimmering pop melodies for musical dreamers.
For the past ten years Jonathan Jarzyna has been a restless artistic force in the Berlin underground scene and beyond, mainly as leader of beloved independent art pop collective Fenster but also through his solo alias John Moods. Lately, he's giving his own musical ambitions more space as his third solo LP The Great Design arrives a little more than a year after its predecessor, So Sweet So Nice. And while many people tend to focus on the "artsy Neukölln" aspect of the Fenster cosmos it's easy to overlook the fact that Mr. Moods is a brilliant and an underrated composer of profound pop music. In terms of harmonies and sound design he is not interested in today's commercialized understanding of popular music, instead The Great Design leans towards the glory days of 80s pop and soft rock, a territory, which the songwriter navigates comfortably. So, if you're not afraid of some cheesy Phil Collins keyboard sounds and kitschy moments then welcome to the shimmering microcosm of John Moods.
These eight new tracks follow its predecessor but they also see the artist dive even further into his distinct sound. Anyone opens the album with slow rolling synth sounds as Moods' fragile voice gently unravels its strength to deliver an uplifting message; "But I can't leave it all alone." Such A Thrill is another truly fine piece of yacht pop that comes with a playful guitar and warm summer breeze vibes also found on It Ain't Your Time. On Atlantic Station John Moods heads towards the dance floor adding a quirky flute solo (played by Martha Rose) to the pumping tune. There are also a few sweet instrumental moments on the record like the synthpop-tinged Awfully Close ending in a majestic saxophone solo. The song Just Playing, on the other side, sounds like a forgotten Tangerine Dream gem. The reduced title-track shows that this John Moods' musical comfortzone. The Great Design is a must-listen experience for lovers of old-fashioned pop songs, and the testament of a songwriter who hasn't reached his artistic peak yet. (Norman Fleischer)
Stream / Purchase ► Spotify / ► Apple Music / ► TIDAL / ► Bandcamp
---
Warhaus – 'Ha Ha Heartbreak'
Sounds like … grooving oneself out of a tormenting heartbreak. 
The entire history of pop music may be written around the notion that love is a serious thing.  Warhaus' Maarten Devoldere (whom most of you may know as one of the chief creatives of Balthazar) has gone through the eye of the storm and has centered his third record on the pains of falling out of love and transforming into another person in the course of the process. Fittingly titled Ha Ha Heartbreak, the body of ten songs finds the moody songwriter digging into vulnerable sentiments, kind of journaling himself out of the love and towards redemption and becoming the "better person".
This album is an attempt "to go deeper into myself", Maarten explains in our recent interview and there is no doubt about that at all. Stripping off his artist persona of the first two albums, Ha Ha Heartbreak does not shy away from honest and radical confrontation with the past. However, the Warhaus signature sort of remains, when looking at the seductive blend of groovy sonic territory (although with more orchestral attitude) and a Leonard Cohen-esque gloomy spirit. The second track When I Am With You might be a fitting example here, altering from jaunty "I could be your baby" chants to contrasting darkish verses, performed in exquisite melancholic fashion. There is little nostalgia to be found in the notion of a bygone love and if, it is expressed in terms of the character, trying to sing himself back into the relationship as he does on the title track Open Window ("Girl, it's in the future we belong / I know it's in the future we belong"). By no means chronological, the record burrows through the various stages of pain, stubbornness, acceptance, and eventually newfound hope. It is a bold document and a serious stride for the Belgian songwriter heading into new terrain. (Andreas Peters)
Stream / Purchase: ► Spotify / ► Apple Music / ► TIDAL
---
Weyes Blood – 'And In The Darkness, Hearts Aglow'
Sounds like … captivating and pensive folk-pop for dark times.
There has been a lot on Natalie Mering's mind. Understandably so. Trying to navigate through the present apocalyptic feeling of uncertainty and discomfort, the L.A. based singer-songwriter is expressing her thoughtful reflections of her personal world as well as the bigger picture of it all on her marvelous new album And In The Darkness, Hearts Aglow. Strangely enough, the narrative that runs all throughout the new songs is comforting in these dark times we're facing today. Weyes Blood doesn't come across as a preacher of her own understanding of the world, but instead she is addressing all the issues – big and small – in an almost subtle and abstract way making the vagueness of it all dissolve the fact that the topics she is singing about are quite dark and existential. The album's most valuable quality and powerful image lies in its poetic title And In The Darkness, Hearts Aglow as well as the fitting artwork – Mering's heart getting cracked open while still radiating light. Almost as if she is saying, no matter how bad it gets, there is still hope somewhere deep down inside. It is only a wound when you to try to cover it up.
The idea of an accompanying open letter for her new album shows just how much digging and soul-searching Weyes Blood has been doing in recent years and ultimately explains the pensive nature of the new songs that have refined her songwriting skills even more since 2019s breakthrough predecessor Titanic Rising. Mering's way of conveying her feelings, fear of loneliness and desire for love and human connection in this world sound like an elegant and grand gesture embedded in her trademark folk-pop-soundscape. There is no need or time for anger or bitterness. Weyes Blood perfectly expresses that in the tender and heartfelt first single It's Not Just Me, It's Everybody – addressing the shared sorrow that is hovering above all of us after the past couple of years: 'Has a time ever been more revealing that the people are hurting?' In the process of making this album, Mering has raised a lot of questions which sometimes is more rewarding than the quest for actual answers or solutions. The collection of songs on And In The Darkness, Hearts Aglow is transcendent and powerful and serves as a guiding light in the midst of all the disillusionment we are facing today. And there is more to come from Weyes Blood with the album only being part two of a trilogy. (Annett Bonkowski)
Stream / Purchase ► Spotify / ► Apple Music / ► TIDAL / ► Bandcamp
---
Bad Hammer – 'End Of An Age'
Sounds like … a sparkling little goth pop jewel.
Change is a crucial part of nature and whenever it occurs, there is a brief moment where the old has died and whatever happens next isn't quite defined yet. I'd like to think that Bad Hammer provided the perfect soundtrack for that sweet spot with their haunting debut album. End Of An Age is a record dedicated to the power of change, including all the good and bad aspects that come with it. Berlin-based musicians Lisa Klinkhammer and Johannes Badzura dwell in the solitude of sombre despair, while also embracing the freedom that comes with that darkness. And in the middle of that existential haze they also managed to create some really sweet pop gems. Well, that's not the worst exclamation mark you can set with your first full-length. Riding on a mighty drum computer the duo creates dark wave anthems in the tradition of groups like Boy Harsher, Chromatics and Tuvaband. Reverbed guitars, echoes, and ghostly vocal redemptions meet poignant synthesizer melodies – so if you happen to be a fan of that niche you'll immediately fall in love with this album.
Opening track Everyday sets the perfect gloomy tone and sees Klinkhammer dealing with the loss of a close friend. Things get a bit more uplifting on the floating Call Me, which manages to get stuck in one's head. Bad Hammer are good big choruses with Klinkhammer delivering in a style that reminds of Kate Bush. On top of it you get memorable hooks like "Come on baby sue me right in the court of love" … that's the stuff we came for. Bad Hammer aren't trying to reinvent the wheel here, instead you're getting references to the heydays of gloomy 80s pop in high frequency. But it's that dedication to the subgenre and its specific sound design that these two internalized. It makes this album so joyful. Despite all the doom and gloom it deals with, you can still sense an element of hope. End Of An Age is one of this winter's easily overlooked alternative pop treasures so make sure you give it a spin. (Norman Fleischer)
To be released on November 25.
---
EVÎN

– 'It Wasn't Even For You' (EP)

Sounds like … nostalgic memory of better days.

A sound that is imprinted with profound melancholy. Accompanied by acoustic guitars, synths, and the breathy voice of Evin Kücükali. On her new record, It wasn't even for you, listeners follow Evîn's personal memory process. Growing up in Germany in a family of Laz and Kurdish immigrants, and with her father working as a political journalist and activist, the artist acquired a sense of political awareness and engagement at a very young age. Connection to roots, representation, and empowerment but also a critical take on societal injustices, resonate in her music since Evîn's debut On My Way. 
Music can have a big impact on society and Evîn is fully aware of that power. Therefore, part of the music video for golden days was shot with children in Dolapdere, a district in Istanbul. They are sitting next to the singer, playing cards, laughing together, and pointing out: look where we come from, what our culture sounds like. Evîn's roots are reflected in her music with the intention of authentic representation and connecting old with new. She unites her love for traditional instruments like the darbuka in golden days and studies of jazz vocals at the Conservatory of Dresden, bringing vivid DnB related beats on Yare, to then recitative on My Song. Accompanied by a single acoustic guitar, time seems to stand still on the track. Being born into two cultures can be heart-rending, but also a chance to process memories and build bridges. In It wasn't even for you Evîn takes us on a musical journey to manifestation, empowerment and healing. (Alexandra Gulzarova)
To be released on November 25.
---
Want more thoughts on our favourite records? Head over to previous recaps right here.