Garbage – 'No Gods No Masters'
Sounds like … a familiar but also fresh way to turn anger and frustration into energy.
Since their self-titled debut in 1995, which is one of my favourite records, Garbage address rather dark and uncomfortable topics and combine them with catchy melodies and a mix of genres. The quartet's strength to turn feeling powerless and like an outsider into highly empowering songs is obvious from their very first single Vow onwards. For her lyrics, frontwoman Shirley Manson draws inspiration from own experiences as well as from the world around her and has become an advocate for more honesty and darkness in pop culture.
During their long career, Garbage have fluctuated between mainstream and alternative, between being a crucial part or ahead of their time and being dated. They have profited from the popularity of (female) alternative music in the 90s and suffered from 9/11 and the following rise of conservatism. Luckily, they have never strayed much from their above-mentioned formula throughout the years but have rather perfected it and seem to have strengthened themselves. No Gods No Masters, their seventh and most straightforward record so far, serves as proof: Manson's lyrics have become a lot bolder and more complex, and they find their counterpart in a dense sound which is easily switching between light and heavy, between beautiful and brutal. While introspection (e. g. Wolves, Uncomfortably Me), a desire for revenge (A Woman Destroyed), the rejection of (religious) authorities (The Men Who Rule the World, No Gods No Masters, Waiting for God) and the mocking of societal expectations and constraints (Godhead) have always been present in Garbage, this politically explicit approach is new (although it was strongly hinted at by 2017's excellent standalone single No Horses). No Gods No Masters is "a critique of the rise of capitalist short-sightedness, racism, sexism and misogyny across the world", a record the band felt they had to make. The resulting 11 songs still sound familiar but also fresh, invigorating and progressive and they – once again – manage to turn anger and frustration into energy. That is much-needed right now. (Jessi Schmitte)
Stream It: ► Spotify / ► Apple Music
---
Chloe Foy – 'Where Shall We Begin'
Sounds like … the winds of redemption gently breezing through your hair.

It is one thing when an artist works all he has towards a debut release, but quite another if you can experience the beauty of that struggle through every fibre of every song. The latter does hold true for the Gloucestershire-via-Manchester songwriter Chloe Foy on her debut Where Shall We Begin, finally arriving this day. "This album has come out of a decade of hard graft", the musician shares, "dealing with the fallout of a huge bereavement in my most formative years". For a debut, these ten songs, also working through the grief of losing her father at a young age, are remarkably pure and well-crafted, equipped with a poetic lyricism and a sense for haunting melodies that hit hard, especially when you make yourself aware of the backdrop of their genesis.
Inspired by songwriters of the likes of Gillian Welch or Tyler Ramsay, Where Shall We Begin presents itself as a melodious affair and it does not fail to get a grip on you, as early as on the opening title song. Tenderly orchestrated and with a pensive mood, this soother quickly evolves into a swelling choral that sparks with a reassuring spirit. Work Of Art then gleams with a more driven rhythmic framework, yet soothing and warm in its essence. "It's time to let go", Foy sings on here and that line does capture the spirit of it all, as she is trying to face her giants once more and move on. Where Shall We Begin is a series of snapshots of that struggle and the answer is "right here", as if all of your struggles were long behind you. "These songs are my most inner and deepest secrets. The kind of things I only express to those closest to me, but for some reason in song, I can be open with the world", the songwriter shares and her songs stand as a solemn statement for that progress. While on that road, she does delve into moody trips like on Asylum, a gloomy and yet soothing affair, or on Bones, which is haunting and heading into a melodious core, intensely gripping and compassionate. All the while, Where Shall We Begin does not cease to create the flow which can make you passionate about an album, as the pieces neatly fit together, bound by a desire speaking out of every tune. To achieve that with a debut is truly remarkable and is something that does not come by very often. (Andreas Peters)
Stream It: ► Spotify / ► Apple Music / ► Bandcamp
---
Azure Ray – 'Remedy'
Sounds like … musical remedy for the heartbroken.

Remedy is the first record the duo Azure Ray release in ten years. Maria Taylor and Orenda Fink started out making alt-rock music but shaped by the tragic event of the loss of Taylor's partner, the band explored dream-like soundscapes. Now, ten years after the last release, Azure Ray still use music as a way of dealing with trauma and despair. Yet, Remedy is not music for the heartbroken – or maybe it is, but for the ones who are ready to let go of grieving and find remedy.
What could be interpreted as sad songs conveys a hopeful note, like the stripped back The Swan. The melodic guitar-picking shows a musical silver lining of hope. With underlying string arrangements, the layered vocals encourage to go through lengths for love because "you can do anything if you have something to lose". Songs like the dreamy Phantom Lover and Already Written are based on sadness but unlike the touching 29 Palms, they do not leave you with a lump in your throat. 29 Palms sounds like the necessary ode to the lost love, and yes, this one is as sad as it is beautiful. Azure Ray come back with a record that sounds like Remedy from suffering. The minimal instrumentation is arranged with a dramatic arc and the vocals shift between croons and whispers – Azure Ray are a quiet thunder. (Liv Toerkell)
Stream It: ► Spotify / ► Apple Music / ► Bandcamp
---
White Flowers – 'Day By Day'
Sounds like … bewitching and sparkling shoegaze diamonds against the despair.
Oh, you sweet British North and your ongoing inspiration for countless generations of great musicians. Despite not being the cosiest place on Earth the infamous small town misery has resulted in many wonderful bands throughout the years and White Flowers are the latest new act to channel the bleak melancholia of this region and put it into haunting songs. Following art studies in London Joey Cobb and Katie Drew moved back to their home town Preston and that step really shaped their sound. The fact that they live and compose their music in an abandoned textile mill might help here as well. The ten songs on their debut album Day By Day channel the bleakness and turn it into something surprisingly hopeful and dream-like. There's a bit Beach House in their music but they also enjoy the noisy guitars of My Bloody Valentine and electronic sample affinity of Burial. The opening Night Drive might also remind you of Slowdive so that's the musical premise we're talking about right here.
The two shy musicians unravel a lush and hazy sound texture and cohesive sound design where all songs morph into one dazzling story. The tender waltz of Daylight is an early highlight on the record while Help Me Help Myself surprises the listener with a mighty chorus. The title-track however takes a slow tumbling jazzy twist and partly reminds you a bit of the early Portishead recordings. It's one of these songs that could go on and on forever (and it's already clocking around the 6 minute mark), thanks to the stunning vocal work of Drew who really functions as a guiding light in this one. White Flowers really understood how to turn the dark bleakness of our current times into something beautiful. Day By Day surely is not an album that reinvents the wheel but if you happen to be a fan of old-fashioned dreamy shoegaze then this might easily be one of the finest records you can experience right now. (Norman Fleischer)
Stream It: ► Spotify / ► Apple Music / ► Bandcamp
---
Iris – 'Love And Other Disasters'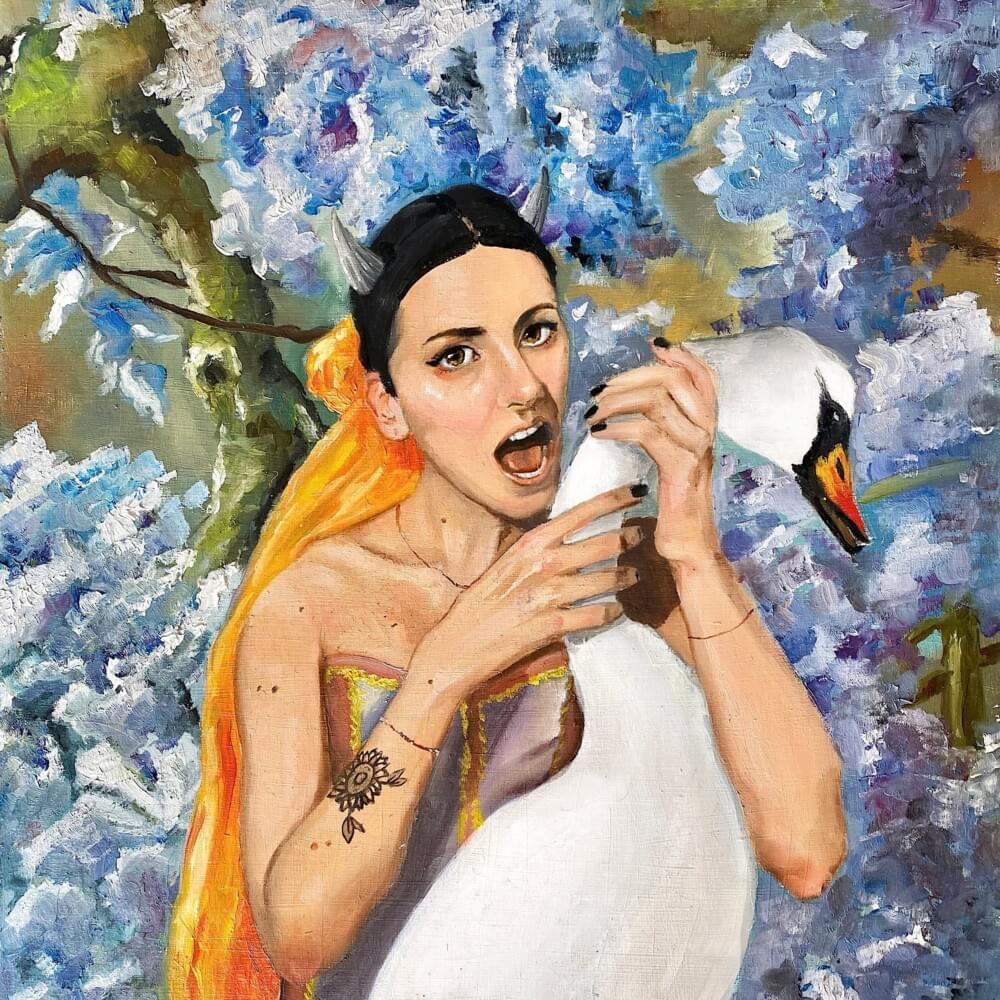 Sounds like … anticipation, celebration and lamentation all rolled into one.
Norwegian singer iris has never previously shied away from the fact that she presents herself as a somewhat delicate being – both of her 2019 EP's introduced us to an artist who was seemingly only ever moments away from breaking, after all. But, while that feeling hasn't been truly shaken away on her debut album, Love And Other Disasters, it does seem like a switch has been flicked.There's a shift from the impish, almost apologetically shy artist, to one who is owning their flaws, accepting disaster, and embracing whatever comes their way. There are still darker moments, as evidenced on the tragic lead single Lavender and Heaven or the desolate ballad the end of the world, but they lurk in the shadows of emphatic, punchier pop songs such as To be mine (is to lose your mind) or Voodoo Voodoo (featuring Nordic compatriate SKAAR).
Elsewhere, there's dramatic beauty on Crawl For Me and sanguine heart-break on ROBOTLOVER, which perfectly encapsulates the feeling of utter emotional drain felt after a failed relationship.Even the imaginatively titled interludes speak volumes of Iris' innate ability to capture emotion through her music, as potent as they are brief. "They are just things written in a moment when I feel intense pain or intense joy," iris explains. "I don't know exactly what I was feeling when I wrote them – I just know it was hard to breathe, I just needed to get it out of my body." There's a quirky crossover with the artwork here, apparently depicting iris "draining a swan of it's gentle beauty". Collectively, Love And Other Disasters is a bold crossover into a more directly pop sound than before, but it's a move that's been done with conviction. With a focus on sharing rather than sparing her emotions, iris sits at the forefront of a growing body of young female artists who squeeze the messiness out of life, proud of the full-bodied juice that results. (Dan Cromb)
Stream It ► Spotify / ► Apple Music
---