Kevin Morby – 'This Is A Photograph'
Sounds like … an ode to life and all its (hidden) beauty.

The mystery of time and its elusiveness sooner or later sneaks up on all of us. Always roaming around in the back of our minds. When we try to reach for it, another moment has passed. Past, present and future all tumbling and blurring into one before our eyes. Kevin Morby's latest album This Is A Photograph – his seventh full length album to  is a vibrant and thoughtful examination of the passing of time and our own appreciation of life. Curiously asking 'How does one sail on the waves of time?' in the song Bittersweet, TN – a folk ballad featuring Morby and Erin Rae on vocals. A line that gracefully captures the album's leitmotif and quietly guides us towards the album's broader exploration of how life and its unpredictability constantly challenge us. While 2020's Sundowner leaned towards introspectiveness and served as an homage to Morby's home town of Kansas City, This Is A Photograph is much more complex musically and a reflection of his time in Memphis. Across his previous albums, Morby has established a reputation as a songwriter that immerses into different places, soaking up their energy and releasing it through his own songs. Always connecting to them on a deeper level while figuring out his own (creative) path along the way. With Memphis serving as the prestigious backdrop to his songs this time, Kevin Morby's latest work not only feels eclectic, but most of all heartfelt and life-affirming – paying homage to the city of Memphis throughout the album while writing his own personal history.
Setting up a makeshift studio in a Memphis hotel, Morby's fascination with the city's rich musical history and its legends led him on a contemplative journey through the past, but always with one foot connected to the present moment which make the songs feel so direct and accessible. Making sense of the present while reflecting on time and age, an abundance of personal memories and thoughts permeate these new songs that came to life with Morby's longtime collaborator Sam Cohen on production duty. It would have been easy to simply wallow in the feeling of nostalgia alone with the soundscape being deeply embedded in Americana, folk, rock and blues, but This Is A Photograph impressively sets out to celebrate the present moment as well. Offering high energy anthems like the title track or the lively track Rock Bottom as well as a sweet ode to his partner Katie Crutchfield (Waxahatchee) and a time in which they will both live on in each other's songs (Stop Before I Cry). If it wasn't for Kevin Morby's own family, This Is A Photograph would probably never have happened in the way it did. Triggered by an evening of looking at old family photos and a previous health scare in the family, the weight of life and death became the album's key element on Morby's latest creative journey. In a time when uncertainty and anxiety prevail, This Is A Photograph is the perfect reminder to look the present moment in the eye and try to see the beauty in life. (Annett Bonkowski)
Stream It: ► Spotify / ► Apple Music / ► Bandcamp
---
Florence + The Machine – '
Dance Fever

'

Sounds like … reimagining the open endings of life.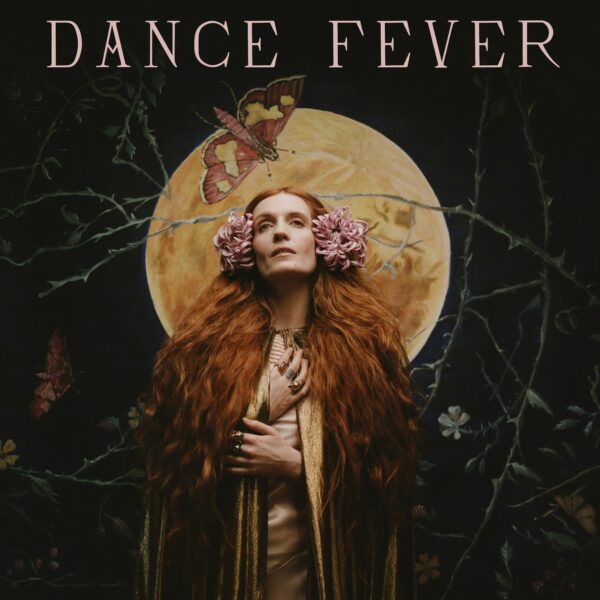 Florence + The Machine's Dance Fever will be on many top lists at the end of the year. It is a celebration of music and love, of hurt and turning points. It is a monumental comeback after 2018's High as Hope and a new beginning that not only Florence Welch but everyone has been yearning for. It also presents a moment of redefinition in theme and artistic journey. Dance Fever will quite certainly surpass her previous albums in concept, thoroughness, and outlook.
The first single King opens on familiar terrain in Welch's work by addressing how as women we need to claim space to be accepted as multitudes and to be the recognised rulers of our world. Considering that the US is still debating if a woman should be allowed to make decisions about her own body, it is still as blazingly important to cry out in song about it. This is followed by Free and Choreomania which exists as a pair – one about freeing the mind of overwhelming by leaning into movement and the other about having no choice but doing so, even if it kills you. The dance frenzy that raged in different places during the 14th century and which has been referenced frequently since we've started to experience our own pandemic, inspired the album's title. If you have ever been to a Florence + The Machine concert you know how the London singer will move, run, and dance as if her life depends on it. The track also describes the cinematic moments of life that will only be recognised in retrospect. Back in Town strikes the heart so softly and straight-forwardly: "Carry on slowly torturing each other cause it's always the same / I came for the pleasure but I stayed for the pain".

Girls Against God is just as painfully honest, examining how we have conditioned ourselves to resist the people and things who could give us the most What a thing to admit that when someone looks at me with real love, I don't like it very much / Kinda makes me feel like I'm being crushed / Is there something you'd like to discuss? This is also a topic on The Bomb, another delicate rendition where Welch's voice shines so brightly: "If I was free to love you, you wouldn't want me, would you? Unavailability is the only thing that turns you on / Come here baby, tell me that I'm wrong". There is no song that doesn't have a righteous place on Dance Fever and though, they all deal with different, heavy parts of life, each leaves the outcome undecided. The record demonstrates that our thoughts and ideas dictate how we perceive and feel so when we can hold sway of our minds, every path is open. Musically, the album does not venture out of previous territories but because it is so tight-knit and well-woven, there is no need to bang on about not taking risks. There are choirs, drums, clapping, and spoken words – everything needed for an heart-opening ritual. (Anna-Katharina Stich)
Stream It: ► Spotify / ► Apple Music
---
Lucas Laufen – 'Weathering'
Sounds like … sweet folk vibes meet subtle neo-classical realms.

Entering the musical cosmos of Lucas Laufen has something of a dualistic experience of the two worlds the Berlin-based songwriter lives in. Both channeling the sweet winds of the wild Australian coast as well as enquiring the vast sensibilities of the European continent, which he has chosen as his home, the music of the Australian folk artist is as much a nostalgic recollection of the simplicity of acoustic beauty, as it is a tender documentation of modern times' fragilities. Following his 2019 blissful debut I Know Where Silence Lives, the songwriter has crafted another beautiful set of nine songs, collected on his sophomore record Weathering.
No doubt a record that would have turned out differently if not for the pandemic era, Weathering is another proof of Lucas Laufen's knack for soothing and tranquil moments, but takes the down-to-earth folk spirit of his predecessor a bit further, having the artist draw on folk and neo-classical influences alike. That that combination is a bliss in itself shows as early as on the opening track Cabin Fever, which captures the melancholic despair of lockdown confinement in a hushed and incredibly soothing manner, fusing soft guitar pickings and piano arrangements. Title track Weathering and the following Time Took Tolls find Laufen down with his signature folk setting – the latter one channeling how we are missing "the here and now" in "constantly looking for the next big thing" – as Blue crafts a delightful atmospheric realm. Indeed, there is even more room to breathe on Weathering than on the 2019 debut, and there is even space for the all-instrumental piece Heaven On The Hill, which one might call an "interlude" – but if we're totally honest, this might just be the heart of the record, a tender melodic flow on keys. It's still good that the singer takes on his voice again on the following tracks, like he does on In Cologne or the heart-wrenching I Don't Believe In Loss. In the end, Weathering is about all of these feelings: hope and despair, pain and bliss, comfort and hardships. And it sings about them in the stretch that they deserve. (Andreas Peters)
Stream It: ► Spotify / ► Apple Music
---
Mallrat – '
Butterfly Blue

'

Sounds like … some chart-topping pop.
Mallrat promised that this would be the pop album of 2022 and she certainly delivered. Gentle and light in some moments, edgy and ethereal in others, Butterfly Blue feels like an album which matches any mood, fits into any setting, and appeals to any audience. There is no track more well-suited to open an album like Butterfly Blue than Wish On An Eyelash. It is a sort of 59 second sample of the whimsical beauty and catchy melodies that define Mallrat's developed sound and it is the perfect way to kick off the captivating, alt-pop album.
Whilst Butterfly Blue certainly shows off a more emotive side to the Australia-based talent's song writing and lyricism, it is also a very easy listen. Different atmospheres are flitted between and contrasting moods are created quickly and zealously, somehow allowing that you can carve out your own listening experience, in a way which is pleasant and enjoyable. Additionally, and essentially, the quality of instrumentals, vocals, and production cannot be faulted. There is enough experimentation to keep it exciting, poppy synths, and comfortable harmonies, alongside a collaboration with the likes of Azealia Banks on Surprise Me whose rapped verse adds yet another element to the album's totally quirky tapestry. It is difficult to believe that it is a debut album, given its maturity and complexity, but made easier by the number of single releases which preceded it. Nevertheless, the potential of the Australian seems vast and we will enjoy this whilst eagerly awaiting whatever may come next. (Elana Shapiro)
Stream It: ► Spotify / ► Apple Music
---