Michael Kiwanuka – 'KIWANUKA'
Sounds like … stories of personal truth told with a new found confidence.

Who am I? What am I doing? Where is my place? These are questions, perhaps everyone is struggling with in their lives at one point or another. The longing for an identity that speaks to us, guides us through life and lets us be who we really are. Not someone who society thinks we should be. Usually, it's a fairly long journey to figure out our place in this world with a lot of self-doubts that need to be overcome. It's a very personal struggle, too. One that you can't simply dodge, even with a successful career going on like Michael Kiwanuka's rise to one of contemporary soul music's biggest talents. With Kiwanuka, he returns with a self-titled record for a good reason. It shows the new found confidence this beautifully textured album bears inside and most of all a much more visible certainty of having made personal progress without neglecting Kiwanuka's Ugandan roots. Appearing gracefully and proud on the cover artwork in an almost royal manner demonstrating courage, he seems to have overcome past personal issues that have been holding him back to explore his identity even further. The new songs on Kiwanuka tell a tale of an artist who has made peace with who he is and is ready to show the world all the remarkable things he is capable of even more so. 
On his third album to date, Michael Kiwanuka embodies a sense of belonging and courage that is met with an openness to acknowledge his most vulnerable side at the same time. It is a flowing blend of rich musical textures that portray Kiwanuka's multifaceted skills and allow the London born singer-songwriter to dive much deeper down the line of his soul(mate) heroes from the 60s and 70s. The overall feeling of nostalgia and classic moments is not stuck in the past, though. The tangibly blossoming layers of sound display a great deal of love to experiment, melting the opulence of choirs and strings with fuzzy guitars, electronica and Afrobeats as well. All while bringing political issues from the past right back into the present, too, as in the song Hero where Kiwanuka pays his respect to the Civil Rights movement. Reminding us that the struggle is far from being over. Working together with Danger Mouse and Inflo once again on Kiwanuka, the album unfolds a personal, yet also very universal story and truth that we are eager to see developing further in the future. (Annett Bonkowski)
Stream Now: ► Spotify / ► Apple Music / ► TIDAL
---
Sudan Archives – 'Athena'
Sounds like … the smooth and opulent love odes even Aphrodite would be jealous of.
After the success of her first two EPs, the LA-based violinist/singer Brittney Parks known as Sudan Archives has now moved on to album territory. Both Sink as well as the self-titled EP laid the groundwork for the debut with her unique melting of R&B grooves, staccato violin melodies, and soft layered vocals. A tribute to powerful women, Parks poses naked as Athena on the cover auguring that every piece of herself will be exposed on this record.
The opening lines of Did Ya Know ("I realised I lost my mind / When I was a little girl I thought I could rule the world") sit at the heart of the necessary debates woven around black futurism, women in office and the need for diversity in more and more facets of life. Parks carries a determination throughout the record of coming clean, of releasing experiences, and questioning the contradictions we have grown up to believe. While the two singles Confessions and Glorious (featuring rapper D-Eight) are the catchiest songs of the album offering the perfect fusion of drumbeats and sharp lyrics, the gentler tones of Iceland Moss and Honey counterbalance with just as much intensity. The musical growth Sudan Archives displays is thriving on the dualities which have ruled her life. Born twin and therefore in direct comparison to her sister – Parks takes her own perspective of being a woman loving, creating, and struggling and opposes it with the external perception of who she is supposed to be moulded by history and culture. The result is a complete liberation of build-up tensions and artistic fears, the definition of what a debut album should do. (Anna Stich)
Stream Now: ► Spotify / ► Apple Music / ► TIDAL
---
Half Moon Run – 'A Blemish In The Great Light'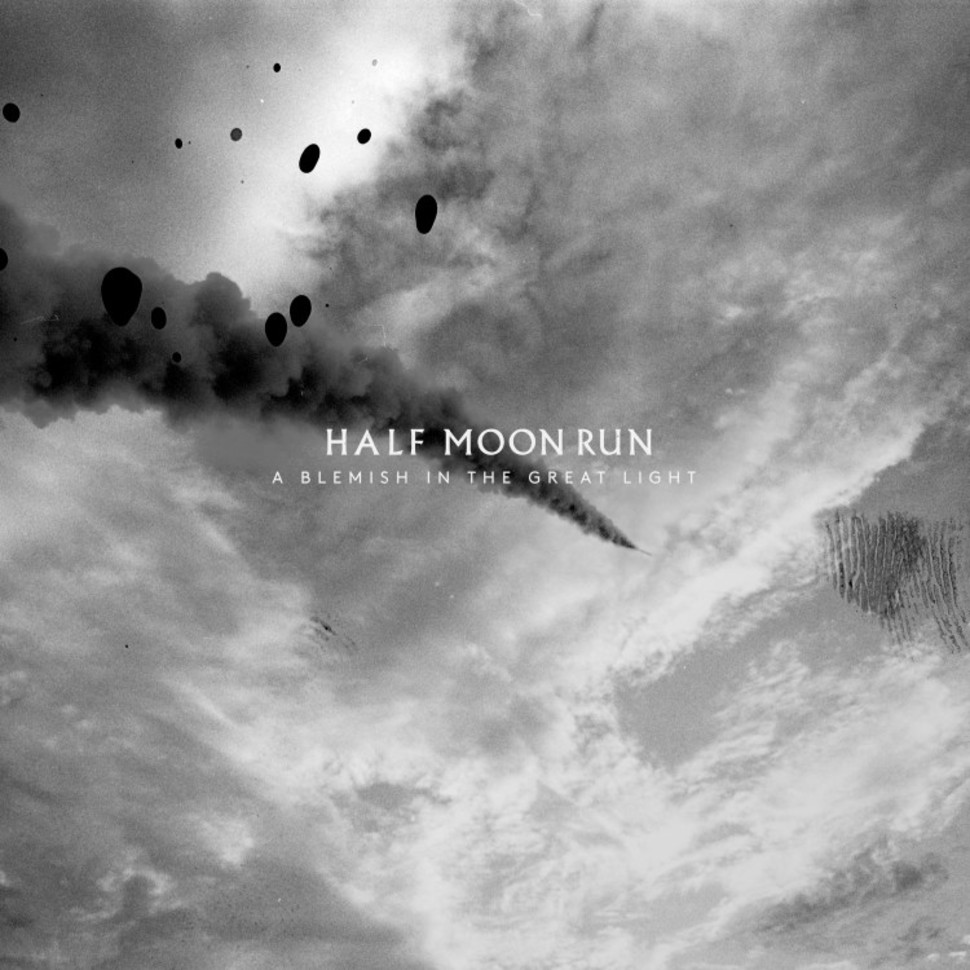 Sounds like … an experimental take on good old folk music.

In a time when 'dark' and 'melancholic' are words I use more often in reviews than 'cheerful', isn't it nice to have a record every once in a while that has a feel good factor? Here is one for you. Half Moon Run's third LP A Blemish in the Great Light, is a light-hearted and sweet album somewhere between folk and alt-pop. The three-piece of classically trained musicians admit to going a bit more experimental with this LP, yet stick to their general sound scheme. There is probably not one word I could say, which would capture the entire piece in one. The record takes a different turn with each song but projects a strangely cohesive image of a band in musical unison. Going in with the folky first bars of 'Then Again', the song turns from campfire-style to complex arrangement of nervously fiddling violins. Using retro-style synth, some tracks sound like 80s-revivals, whereas the mostly acoustic guitar strums rather evoke an earthy vibe. 'Natural Disaster' is a catchy folk track at its best, while the laid-back 'Black Diamond' interprets the long-lasting friendship between acoustic guitar and piano melodies newly.
'Yani's Song' at first seems like a simple affair but when you listen closely the multiple layers of fingerpicked guitars, passionate Spanish-guitar-style arrangements, and the choir of the three voices, add several dimensions to the track. Towards the end of the LP, Half Moon Run tug even more on the borders of experimentation with the seven-minute-long 'Razorblade', which starts disguised as a catchy pop singe but goes rouge towards the end. The screeching electronic guitar and the acoustic picking go in heavenly dissonance and reflect the aching vocal's pained expression. Following it is 'Undercuts', an acoustic cinematic piano melody, which is served ready for the big screen soundtracks. The album's order is essential to the listening experience here as the songs slowly evolve. So turn off the shuffle button, to fit the pieces of the puzzle Half Moon Run's acrobatic and intelligently composed LP is together to one complete musical image. (Liv Toerkell)
Stream Now: ► Spotify / ► Apple Music / ► TIDAL
---
A Winged Victory For The Sullen – 'The Undivided Five'
Sounds like … crispy clear air in the early morning hours.

The Duo based around Dustin O'Halloran and Adam Wiltzie, who are both known for their engagement in film music, release their first original work in six years. Whoever listened to A Winged Victory for The Sullen, won't wonder, why the film industry has kept them busy with recording scores. The delicate ambient sound constructions the two craft are of cinematic level and immediately evoke vivid imagery. So does the new release The Undivided Five. Its ethereal arrangements project the image of a mountain top layered in the morning's fog in those few moments before sunrise, when you are unsure of what lies ahead; the night or the day.
Inspired by pioneer abstract painter Hilma af Klint and her group of five women, who regularly joined forces to connect with spirits through séances, the number reflects onto the LP. The single songs melt into one musical painting that is best enjoyed as a whole piece of art. Yet, it is music that with its shy and restrained arrangements can be mistaken for background melodies. But the Duo pose an invitation to those who are willing to pay more attention and invite them into their world of utterly fine-tuned details and nuances. 'A Minor Fifth is Made Of Phantoms' and 'Adios, Florida' are some of those tracks. Beginning with a quiet ethereal shimmer of synths and sweeping strings, the mellowness soon swells into an all-consuming wave of sounds moving in playful patterns that leave you clinging on the edge waiting for the next note the Duo hit. The ten-minute opener 'Our Lord Debussy' shows the level of skill with which the musicians handle their tools, once again. Influenced by the grand and complex arrangements of the composer, A Winged Victory for The Sullen work these into the song. 'The Haunted Victorian Pencil' is the polar opposite. Its beautifully weird and organic piano melodies tinkle along playfully until cut short after only a minute and a half. The Undivided Five contains different musical characters fused into one cohesive record that should be listened to closely. And what lies ahead for these musicians, is definitely the bright light of a new day. (Liv Toerkell)
Stream Now: ► Spotify / ► Apple Music / ► TIDAL
---
Black Marble – 'Bigger Than Life'
Sounds like … a new shell for the familiar pop-minded sound of Black Marble. 
Moving can be terrifying and liberating at the same time. You can start over in a new city, meet new people, find new favorite bars and coffee shops and make new experiences. Black Marble's third studio album stands under the impression the singer Chris Stewart collected when he relocated from New York all the way to LA. Inspired by the new setting and the new conditions of life he found in California, the album Bigger Than Life captures those sentiments with catchy synth-arrangements. Conveying the ambiguity between the sunny vibes of the town and the chaotic star struck scene, Stewart responds to the cacophony of modern living with this musical outpouring.
From the first bar to the last, there is a clear theme to the songs. The bright retro-tinged synth lines sound like something born and raised in the 80s. Yet, the singer's vocals contrast the cheerful mood many songs have with fuzzy laconic vocals hearably bearing the weight of living in the madness. The opening track 'Never Tell' is a gentle awakening and slowly guides you into the album's mood with rather minimalistic electronic compositions. Drawing on the celebrity theme, 'One Eye Open' tells the tale of the ambiguity with which we meet famous people – we admire them yet, we would enjoy their downfall. Or as the artist put it; the stars are somewhat of 'sacrificial lambs' having to sleep with one eye open. Especially in the vocals, Black Marble has transformed. He refrains from heavily indulging in reverb and instead gives his voice a natural sounding tremor. The resonating hums project warmth, as well, as they do have an unsettling angst-ridden touch. Over the staccato drum beats, which almost sound like something from the 80s techno scene, the vocals add a numbing feel – like the hot sun relentlessly burning down over the hills of LA. From sparkling synth to gloomy vocals, Bigger Than Life bears many opposites, but one thing is clear; it is a pop-minded ode to the artist's newly found hometown. (Liv Toerkell)
Stream Now: ► Spotify / ► Apple Music / ► TIDAL
---