Robyn – 'Honey'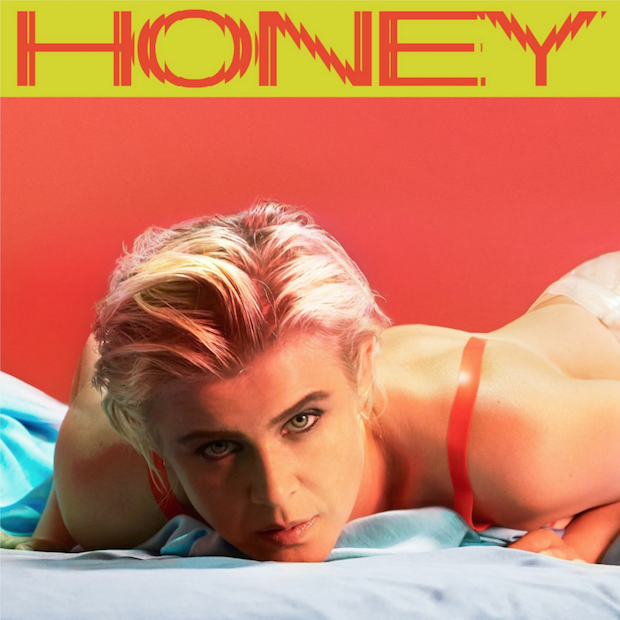 The high priestess of Scandinavian pop unravels her first solo LP in eight years.
When pain hits directly from heart to feet, lifting your arms up in the air because this beat is so easy and right to dance along, you know there must be a Robyn song playing nearby. Our holy mother of sad but uplifting dance-pop is finally back with new material! Excluding mixtapes and collaborations, Honey is her first album in almost a decade – following the Swedish singer's 2010 bomb masterpiece Body Talk. For those who are hoping for another set full of urban hits, you shall not be disappointed: Honey might not continue its forerunner's path, but Robyn did not lose any of her cool (to no surprise). All nine tracks present a new collection in our Robyn memorabilia of retro-modern pop. First single and opener Missing U proved already once more the Swedish goddess talent for timeless tunes. Equally to the title track, which some might even remember from one of the final episodes of HBO's hit-series Girls in 2017. Producer, actress and writer Lena Dunham asked the artist herself to contribute new material for the show, this year the song finally got released for all of us.
Another highlight is Human Being, a soft, yet danceable collaboration with Swedish artist Zhala – the only act signed to Robyn's Konichiwa Records apart from Robyn herself. Indeed, most tracks on Honey are reduced and no loud anthems, but feel more relaxed. Imagine having an after party added to a full night of clubbing – the Swedish pop heroine serves us a soundtrack to come down again. It even seems like she did not forget about her former work either: listen closely to Because It's In The Music and you will find a sample which throws you right back to 2010. A very nice surprise appears also in closing track Ever Again – a playful 90`s orientated piece with a typical Robyn-message full of emotional power. With an irresistible ending to move your body one last time. So all in all: thanks mum for another great work of art! (Kai Hermann)
Song to get you started: Honey
Stream it now: ► Spotify / ► Apple Music / ► TIDAL
---
Laura Gibson – 'Goners'
One of contemporary music's most underrated songwriters delivers another highly fulfilling record.
Grief! It's a mighty word and it probably crossed each of your paths at least once in the past. Sooner or later it's knocking on everyone's door, facing us with the essential question: How to deal with it? Laura Gibson's fifth studio album is the record that might help you with this. It surely helped her. 'Potential future grief forces me to reckon with past grief' the singer/songwriter explains the premise of this album. The starting point is the death of her father at the age of 14 but the current state of society and US politics might also have an effect. However, despite the bleak theme (which isn't exactly new territory for Mrs Gibson) their is a hopeful notion in Goners, something that feels more like a well-thought and mature reflection than just miserable mourning. 'The future is dim but at least it's clear' she sings in the tender ballad Marjory which sums up this feeling pretty good.
Laura Gibson's songwriting got better and better throughout the years and Goners is another step forward from the predecessor Empire Builder. Especially the instrumental part slides further towards perfection. Whether it's the more tender and reduced moments like the atmospheric opener I Carry Water and the acoustic guitar focussed Slow Joke Grin or the slightly more epic ones like the grooving Domestication or the hidden hit single treasure Tenderness – everything appears to be right at place. The string parts by Kyleen King (Stephen Malkmus) as well as the horns from Kelly Pratt (St. Vincent, Father John Misty) add a level of depths and beauty to these tales of despair, loss and the coping with sadness. Gibson's voice is the fragile yet confident kit to keep it all together and carry the listener from dark to light and eventually also back. Not everything is lost in the world as long as you speak about these feelings and are able to share them with others and learn from them. 'Hope can be a hook' Laura Gibson sings in the sinister waltz Clemency and that's just one you don't want to let go after experiencing this marvellous record. (Norman Fleischer)
Song to get you started: Tenderness
Stream it now: ► Spotify / ► Apple Music  / ► TIDAL
---
Thom Yorke – 'Suspiria: Music for the Luca Guadagnino Film'
The Radiohead frontman turns in a stunning, spooky and mysterious soundtrack befitting the film it accompanies.
One of the qualities that can often be overlooked when discussing Thom Yorke's fairly incredible back catalogue is how sinister his music can be. There are famous examples, such as Karma Police or Knives Out but it's not always the first word that people think of when discussing Thom Yorke's music, be it solo or in Radiohead, even though there is a creepiness (meant positively here) in everything he touches. So in that regard, Yorke is the perfect choice to create the soundtrack for Luca Guadagnino (Call Me By Your Name)'s latest film, the remake of the Italo-Horror classic Suspiria a film which prides itself on its sinister creepiness.
While film soundtracks can be an odd experience without the context of the accompanying picture, which is released next month, Yorke is a big enough name that anything he releases is to be met with some degree of excitement and anticipation, so his Suspiria OST will be consumed regardless, much like Yorke's bandmate Johnny Greenwood's score work. As expected, this is yet another piece of gorgeous work from Yorke, which is equal parts unsettling and glorious, just as Guadagnino's remake anticipates to be. Even without seeing the film, this is a dreamy landscape in which Thom Yorke has carved out some of his most delicate pieces – which is saying a lot for him at this stage in his career. (Adam Turner-Heffer)
Song to get you started: Suspirium
Stream it now: ► Spotify / ► Apple Music / ► TIDAL
---
Soap&Skin – 'From Gas To Solid/You Are My Friend'
Nevermind the longer silence: Anja Plaschg just remained still but she's always been there on the top shelf of challenging art pop.

Given the quick rise of Anja Plaschg and her songwriting moniker Soap & Skin from 2009's debut Lovetune For Vacuum to 2012's Narrow, it's been quite a time of silence around the Austrian singer since then. Occasional guest appearances and singular appearances assured though, that Plaschg is always capable of creating something outstanding. One simply had to stay patient. Now, with From Gas to Solid/You are my Friend, Plaschg presents an album that she talks about as being a shelter; "something soothing" even. Which sounds a little too peaceful at first, not very typical for the introverted but always dangerously vivid musical world Plaschg has created for herself. And of course it's not just a happy place, this album. These songs reflect the quick changes of aggregate phases depicted in the title as much as the welcoming warmth of a simple and thankful: You are my Friend. It's become a shallow thing to say but indeed, this record presents Soap&Skin in a more mature outlook.
The art of this record is how its songs feel deeply fractured at times but never seem to disintegrate. With Italy Plaschg granted an early insight into the more lighter, uplifting aspects. It's almost childlike, but always with an element of menace lurking somewhere in the distance. In that, it's typical for this record. 'what's about starvation?/we're heading for the guns/a word about a nation/ready to jump' sings Plaschg already in This Day, setting the unsettling tone for a more mature but nothing less troubled record. Often, the richness of the sound and the broadness, the sheer palette of sounds even resembles Sigur Rós (Heal). Athom exercises in dark electronica similar to German collaborators Apparat, Surrounded is THE epic, breathtaking middle piece, Foot Chamber introduces the gothic inspired art rock that is always somewhere in there in Plaschg's music and a cover of Louis Armstrong's What A Wonderful World closes From Gas To Solid… on a conciliatory note. The way there leads through dark territory, needless to say. The beauty of Soap&Skin is a fragile one, always has been. It's equal parts furious, battling with anxiety and pain and, that might be clearer now than it has been in the past, full of bits of simple, momentary bliss. (Henning Grabow)
Song to get you started: Surrounded
Stream it now: ► Spotify / ► Apple Music / ► TIDAL
---
Klaus Johann Grobe – 'Du Bist So Symmetrisch'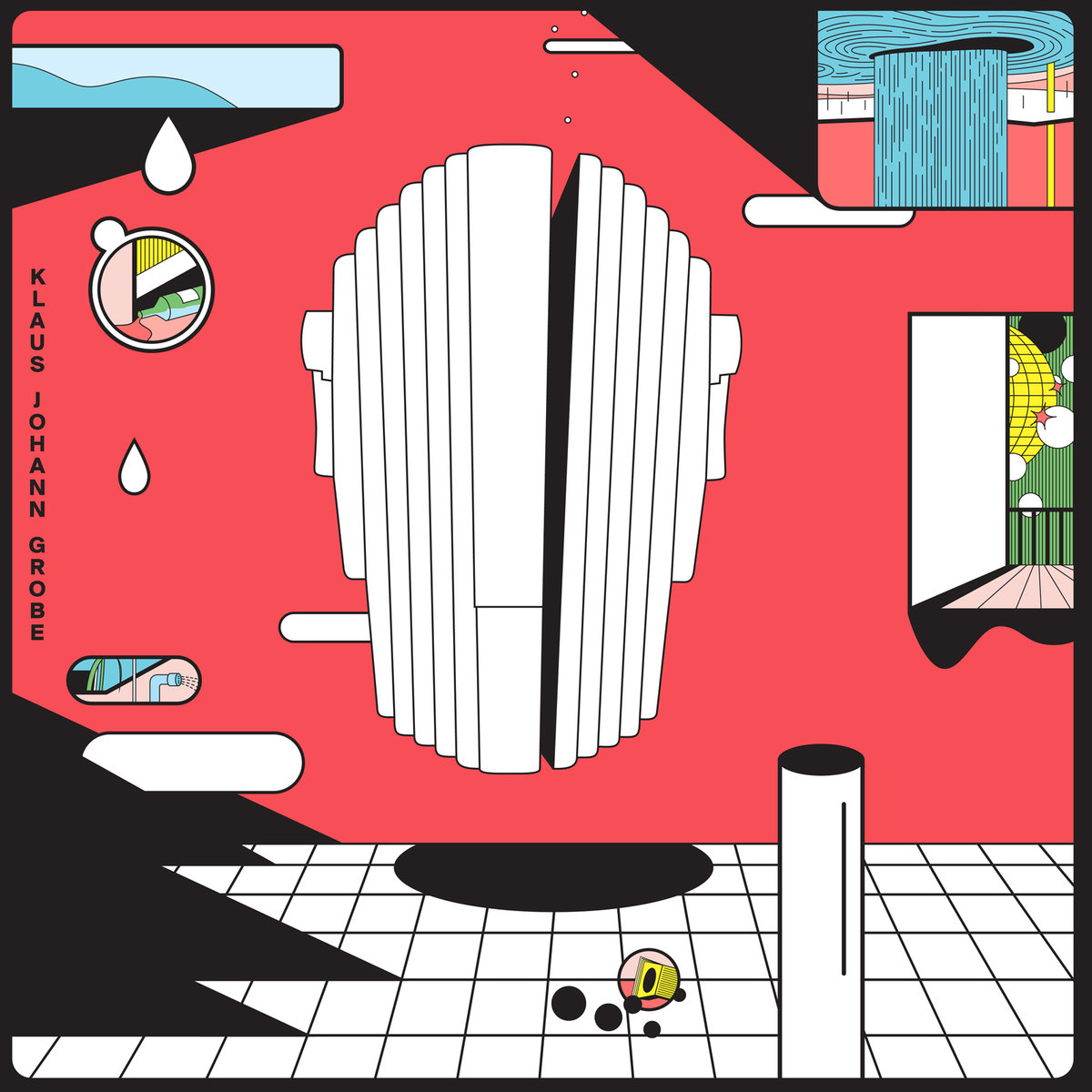 The dynamic duo from Switzerland take their loveable kraut pop to the dancefloor.
Right from the beginning of their unlikely career, Klaus Johann Grobe transcended the typical boundaries of German-singing bands. Out of their home country Swiss, Sevi Landolt and David Bachmann blatantly conquered international markets already with their first singles and are now presenting their third record for the Chicago based Trouble In Mind Records. That, and their recent support activity for Temples, Unknown Mortal Orchestra or The Growlers, proves, that with Klaus Johann Grobe, there is finally a band again that is German enough to sound funny and exotic for foreign ears but is also good enough to gather rightful attention. Du Bist So Symmetrisch ('You're so symmetrical') is a logical and irresistible next step on that path.
Discogedanken ('disco thoughts') is a careless jump into the pool of psychedelic disco that is to come and a first hint on the extended sound of Klaus Johann Grobe: Bass, drums and voice are a given, new are a lot more synthie and guitar lines. Luckily, they don't start to rule the scenery. The funk is still primarily based on the rhythm section. Nonetheless, the new, stronger emphasis on melodic elements aside the singing adds a lot of pop flavour to the often rather krautish scaffolding. Of course the emphasis on structure, repetition and patterns is still the heartbeat of Klaus Johann Grobe. Landolt and Bachmann wrap their irresistible groove around some crude but at times hilarious and entertaining ideas. You stand in awe of Der König, then you slide through Von Gestern, Watte in Meinem Kopf and Out Of Reach without noticing the time passing and before you realize, the dreamy Zu Spät leads the way into the finishing, once more disco-vibes emanating An Diesem Abend. If there is such a thing like Giorgio Moroder presents krautpop, then Klaus Johann Grobe are top of that class. Join them swinging already! (Henning Grabow)
Song to get you started: Out Of Reach
Stream it now: ► Spotify / ► Apple Music / ► TIDAL
---