Rosa Anschütz – 'Goldener Strom'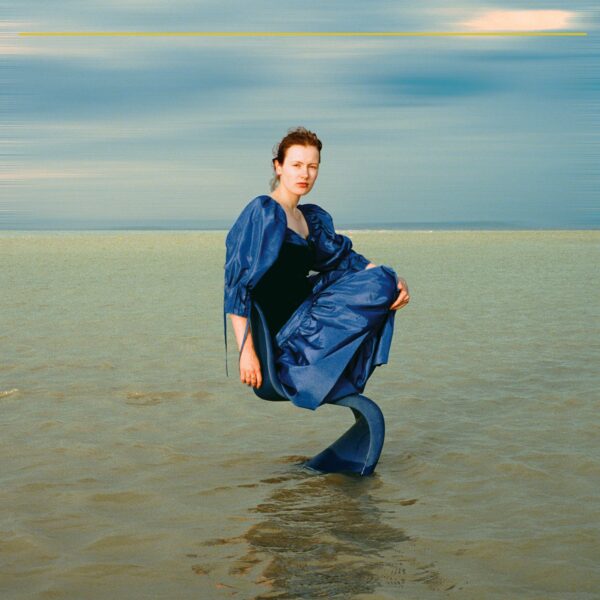 Sounds like … where conceptual art meets industrial techno.

Rosa Anschütz' music sounds like contemporary performance dance. It bends its body of instruments and vocals in unexpected ways, twists and turns at its own groove, always aesthetic, inspiring in its unique strangeness. The dance starts with the erratic movements of the underground techno worthy Their Blood. The industrial beat propels sweaty nights in dark techno halls onto the stage of the album. Goldener Strom, the title of the record means golden stream and the record does have something stream like in its forward pushing avant-garde electronica. In a stream of consciousness manner, the singer and producer takes you by the hand and guides you through the strange conceptual exhibition of her sophomore record.
There is the minimal Intuitive that has the quiet power to fill up an entire room with just a few notes. It grows slowly, led by the contemplative vocal layers of Rosa Anschütz but it never breaks the surface. Like a beautifully shimmering creature trapped underwater, it repeatedly seems like it is about to break through the surface, but it is that restrained production that gives it an eerie character of anticipation. We never get to see what is sleeping underneath. The quiet performance of Intuitive comes to a rough end when the fast-paced beat of Buddy kicks in. Goldener Strom is music for dancing in underground rooms, music that can be turned up to eardrum shattering basses, while just as well finding its place in a contemporary exhibition of concept art. "Ich folge dem goldenen Strom", Rosa Anschütz sings on the title track. And Goldener Strom is a document of that stream guiding the artist, pushing her forward, with bulletproof creative intuition. (Liv Toerkell)
Stream It: ► Spotify / ► Apple Music / ► Bandcamp
---
HAAi – 'Baby, We're Ascending'
Sounds like … frantic elevation.
When a debut album is this highly anticipated after such a short time, the artist behind it, HAAi's Teneil Throssell, is surely on the best path. The record carries a sense of -right time, right place- with the right amount of character and work poured into it. By placing the release on one of the most renowned electronic labels Mute, Baby We're Ascending enters the world with an added expectancy, and triumphs.
Setting the tone with distortions and chaos, Channels throws the listener into the ascending space, Throssell establishes on thirteen tracks. There is barely a track on the album that doesn't veer and exalt established movement with the force of vigorous basslines, downtempo warping and tight techno beats. Bodies Of Water introduces HAAi as a singer: In the forest / Lay bodies of water / By the cool of the lake / A sordid ache / You could run or stay / The water never scared you – the last sentence turning into reverbed background noise. This smoothly unfolds into another lyrical piece by poet, model, and activist Kai-Isaiah Jamal. Their recent short film Bold Echoes proclaims a shared sentiment of Throssell's and how she presents herself on the record: Blessed are the mouths that can't be shut, the breath that can't be hushed / Blessed are the girls who trust their intuition and were made in their own vision. There is an insatiable craving in being heard, seen, and recognised fully as human through their artistic strengths. Alexis Taylor feature Louder Always Better, reminiscent of Nicolas Jaar early work paired with uncontrollable breakbeat, and Biggest Mood Ever, pop turned chaos, which follow couldn't scream insatiability more stentorian. The collaborations on Baby, We're Ascending propel it also into a wider space of electronic audiences by featuring Jon Hopkins on the title track. In many regards, HAAi manifests the promise given – a star rising. (Anna-Katharina Stich)
Stream It: ► Spotify / ► Apple Music / ► Bandcamp
---
Just Mustard – 'Heart Under'
Sounds like … music for when you feel like you're drowning.

There are certain rules in place on how to play an instrument. Just Mustard took them and locked them away in a drawer while working on their new record. Heart Under pushes the band's ambient experimental rock sound to another level. Guitars that sound like violins from a horror film or like pure destruction push the intensity of the record to the utmost. "It felt like being under water, something very heavy", the five-piece describe the emotional state that influenced the record. And the dragging arrangements, at times noisy, and times eerily fuzzy like a creepy dream, are combined with the vocals by Katie Ball. Like smoke dancing under a single neon tube in a gloomy underground room, her clear timber contrasts the distorted instrumentation beautifully.
On I Am You she chants her lines over and over again while the instruments peaks in a noisy explosion just to disappear again letting the voice fall onto a warm bed of silence for the last verses. Blue Chalk is a more minimalistic affair. The vocals echo as if over the vast emptiness of a cold battlefield until drum beat mimicking an aggressively beating heart takes them by the hand. The off-kilter combination of the two tempos feels odd but Just Mustard seem to come from an emotional place where it is about feeling something at all to defeat lingering emptiness. A strange feeling is better than none at all. Heart Under is not a record that was made in the best of times. It is a hard-hitting document of emotional despair in a decaying world, isolation, and personal struggle. It is not pretty, it is breathtaking. The band condenses emotions to ten songs coming from the darkest corners, from somewhere underground or underwater, and it connects to the listener at exactly that point. Just Mustard's dark industrial art rock might just be the music we need to feed our soul right now. (Liv Toerkell)
Stream It: ► Spotify / ► Apple Music / ► Bandcamp
---
Marina Satti – 'Yenna'
Sounds like … musical intersections.
When the first bars of distorted electronic strings on Yiati Pouli M' melt into an operatic polyphony of vocals. The ghostly mood evokes morning dew on the Bosporus riverside. Marina Satti opens her long-awaited debut record with a stripped back cover version of the Greek traditional song from Crete. The tradition of her island home resonates into her musical output. Whether it is through revised, echoed, and distorted vocals of classical songs, or the pop diva incarnations of the singer on Pali. The unique cultural and musical intersection of Greece echoes in every note of the singer's debut record YENNA.
As a Sudanese-Greek woman, Marina Satti navigates cultural intersections with ease. Kritiko embraces Anatolian grooves, Ase Me Na Figo merges trap and electronica topped by the sweet hazy timber of the Greek verses. The singer's background in polyphonic choirs, which she also pursues through her side project Fonés, influences the way she sings and arranges even pop songs. Ponos Krifos the layered vocals at different pitches match the instrumentation as if singing in one choir. But YENNA is the most fascinating, when the instrumentation is put on a hold and the songs are carried by the singer's classically trained voice alone. Nani's haunting vocalization goes under the skin and has somewhat of a theatrical performance character that will make you feel the emotions regardless of your understanding of the Greek language. Satti does not merge opposites but finds their commonalities and somehow manages to release a record that features heavy trap beats and operatic a Capella choir style outpourings and excite audience for both a like. YENNA is a record of ultimate creative exploration of oneself, tradition, and the beautiful geo-cultural intersection of Greece and Marina Satti. (Liv Toerkell)
Stream It ► Spotify / ► Apple Music
---