Run The Jewels – 'RTJ 4'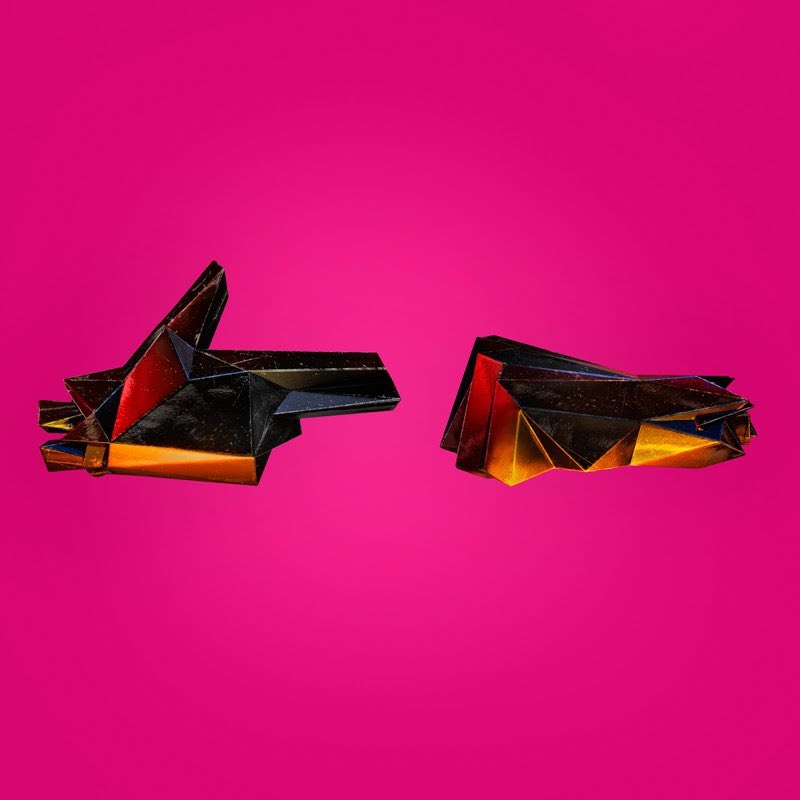 Sounds like … uplifting battle anthems for America's current collapse.
The ironic thing about good timing is that you often can't time it. When Killer Mike and El-P were planning to release their anticipated fourth full-length they surely didn't expect it to arrive in the middle of their home country falling apart, suffering heavily from two diseases – Covid-19 and racism. However, there isn't a better band to soundtrack the overdue uproar than Run The Jewels. Because these two have never been about simply shouting 'fuck the police', they want a constructive and organized revolution, one that finally frees the underprivileged from the chains of capitalistic supremacy. They are angry, they are pissed but they're not about burning the wrong homes down, they are about building a better world with aggressive determination. "Ready to mob at these fuckin' Charlatans," shouts El-P in the opening Yankee And The Brave (Ep. 4). The mission statement is clear: Run The Jewels are back, they are pissed and they are ready to mess those in charge holding the underprivileged down. They are still quite bossy and there's a big charm about their battle rap vibes, but it's the social commentary when these guys add an extra load of accuracy  to their raps. "Look at all those slave masters, posing on your dollar" is such a key line that stucks with the listener. The fact that the track it belongs to (JU$T) features Pharrell Williams and Rage Against The Machine's Zack de la Rocha only underlines their state in the game.
Run The Jewels are about catchy punchlines, an irresistible flow and also beats that hit as hard as they can but there's also this openness and honesty that emotionally touches the listener. There's a true goosebumbs moment in the sinister Walking In The Snow which is already quite bleak but then suddenly Killer Mike whispers "I can't breathe", the words that are currently getting iconic following the death of George Floyd. Speaking of timing, right? Josh Homme (on guitar) and the marvellos Mavis Staples (on vocals) make an appearance on Pulling The Pin and they add a special bluesy magic to it. Kille Mike and El-P are set out to give the voiceless and voice and they use their larger than life charm to do that in the most efficient way. A Few Words For The Firing Squad is one hell of an epic statement to finish this, like the cinematic closing track you play when the credits are rolling. These are dark days for the once so glorious United States Of America. The impending downfall of the country that's now visible to each and every one will be fought upon the backs of the innocent. Run The Jewels give these people the voice the usually don't get, they address the anger and hate towards those who deserve it. We're in the middle of a historic moment and RTJ 4 might be an almost historical document here about the American reality in the year 2020. Now, it's up to the people to turn this protest into something way more profound. May these songs sharpen their fighting spirit. (Norman Fleischer)
Stream It: ► Spotify / ► Apple Music / ► Free Download
---
Muzz – 'Muzz'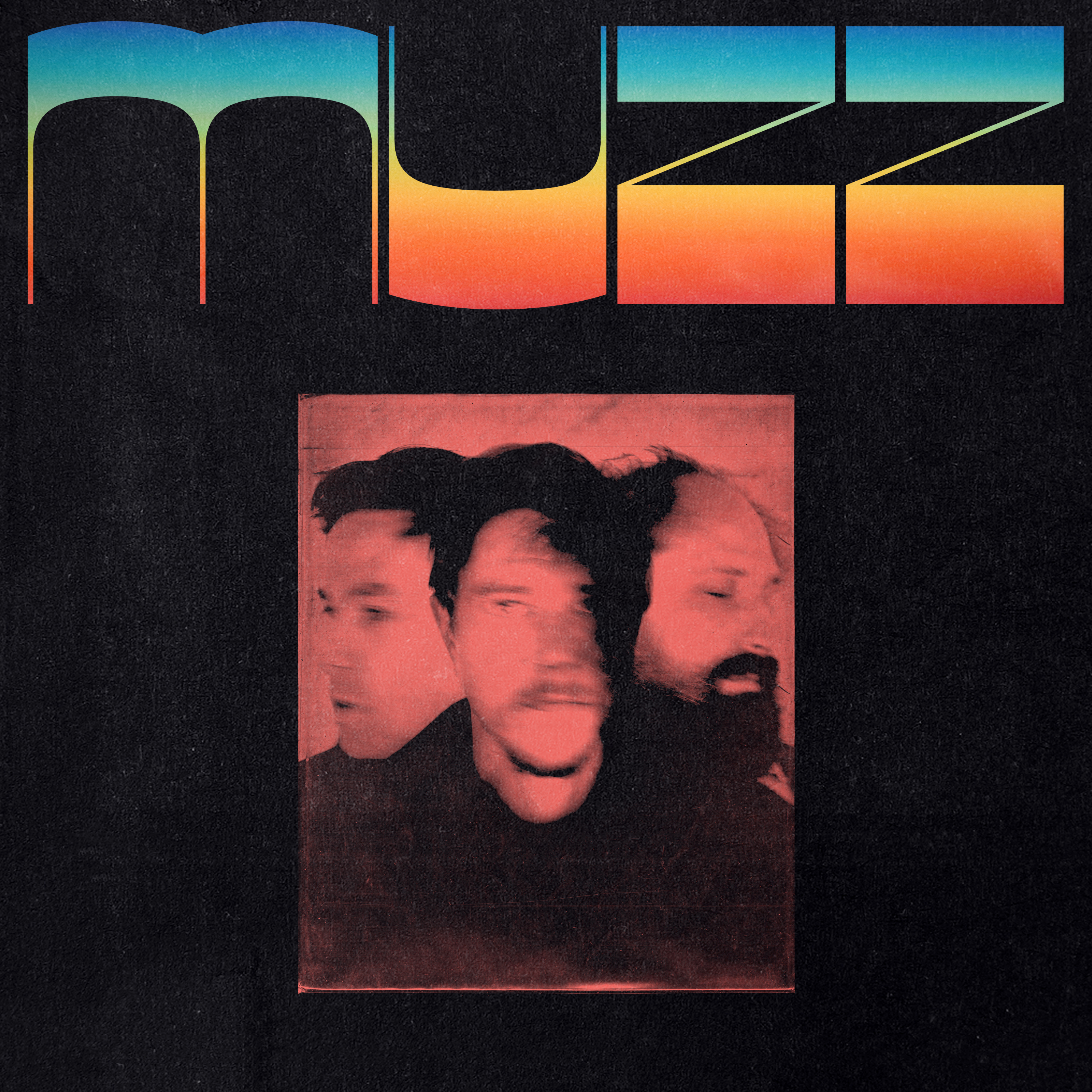 Sounds like … the pretty sounds of an ugly meltdown.
In case you were wondering why these faces and names sound familiar to you: Muzz consists of Josh Kaufmann of Bonny Light Horseman fame (and longtime The National producer), Fleet Foxes' tour drummer Matt Barrick and Interpol frontman Paul Banks. When discussing a project by a group of well-established musicians, one tends to focus on individual contributions, instead of seeing the music as more than the sum of its parts. The most impressive feature of Muzz' self-titled debut is how effortlessly it coasts above such tendencies. It is a highly idiosyncratic record, easy to listen to but full of weird ideas and strange detours.
The music here would best be described as "Gothic Americana". Muzz deploy lead piano, angular guitar licks and gorgeous horn embellishments to create thick, detailed soundscapes, all squarely set in mid-tempo. This is a far cry from the razor-sharp Single-A-Minute-approach Bloc Party or, well, Interpol were known for fifteen years ago. Those are patient songs, pretty and mannered that don't rush towards a climax but glide along until they decide to fade away. And yet there is a palpable sense of unease about the whole thing. Banks has, in a very Paul-Banks-sort-of-move, refused to elaborate on the music, but conceded that mental health may be a recurring theme. It makes perfect sense, since Muzz' debut sounds like the very pretty soundtrack to a mental unraveling. Take Red Western Sky as an example: Built on chugging guitar, pretty piano chords and a groovy beat, it is far and away the closest Muzz come to the dancefloor. Yet Banks' lyrics seem to reference the apocalypse, mental illness and the 1973 film The Wicker Man. The music adds a feeling of restlessness, constantly working up to resolve itself only to start again. Elsewhere, Knuckleduster drops a galloping rhythm and gnarly guitar to establish a dry, western-ish sound, only to completely fall apart in its second half, ripped apart by Banks' screeching riffs. Opener Bad Feeling floats on janky chords and laid-back vocals just long enough to become threatening. Muzz never fully commit to freaking out their listeners, but they establish a sense of uneasiness that stays below the surface yet is hard to shake. (Nils Heutehaus)
Stream It: ► Spotify / ► Apple Music / ► Bandcamp
---
Hinds – 'The Prettiest Curse'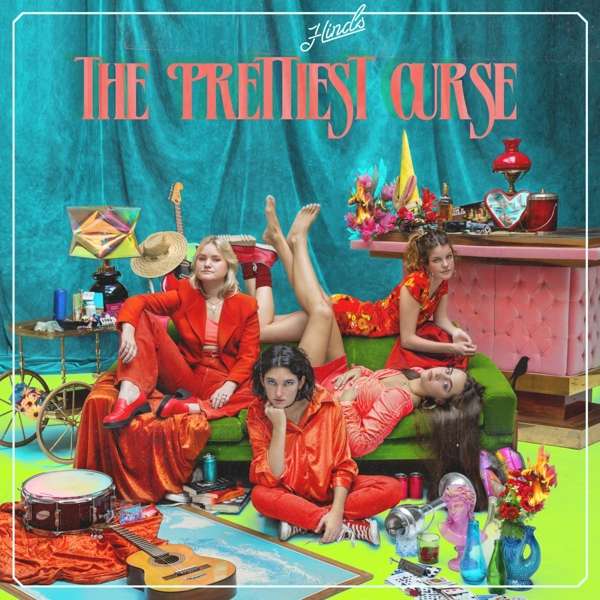 Sounds like … a forceful rush of bold indie power.

For all the enthusiastic energy and the alluring appeal that the Madrid-based indie pop outfit Hinds is able to express with their music, the four-piece always has managed the charm of a raw, unfinished stance. The Prettiest Curse, their third record to date is no different in that respect and gleams with a lo-fi garage sound that assembles together vibrant feel-good choruses, catchy guitar riffs and an even bolder attitude that show how much they have grown since their last record in 2018, I Don't Run. Along with the lyrical growth comes perhaps a more clear sound that reminds one less of the likes of their grand role models The Strokes and leaves more room for what these women actually have to say.
Getting it started with Good Bad Times, a forceful and vibrant pop anthem, leading into the cheeky Just Like Kids (Miau) which openly attacks sexist male behaviour and criticises the deceptive music industry and, as well, society as a whole. The song lines "You're too pink to be admired / And to punk to be desired" may well exemplify that attitude here. Yet, there are more subtle notes on The Prettiest Curse as well. For instance on the sweet ballad Come Back and Love Me <3, which finds Hinds returning to their Spanish roots, both lyrically and instrumentally. Fronted by a tender Spanish guitar pattern and the soft voice of frontwoman Carlotta Cosials. The rough-edged sound is taken up again on the following guitar-drenched Take Me Back and The Play, which celebrate all the enthusiasm of a good rock sound. This Moment Forever then closes it off with a wistful sense of nostalgia and severity and gives the record quite a pensive final touch. On this record, Hinds have well succeeded to strip off their initial feel-good-vibe and transform their musical enthusiasm into empowering pieces that are confronting harsh realities and yet, spread the feeling of comfort and reassurance. (Andreas Peters)
Stream It: ► Spotify / ► Apple Music / ► Bandcamp
---
Sports Team – 'Deep Down Happy'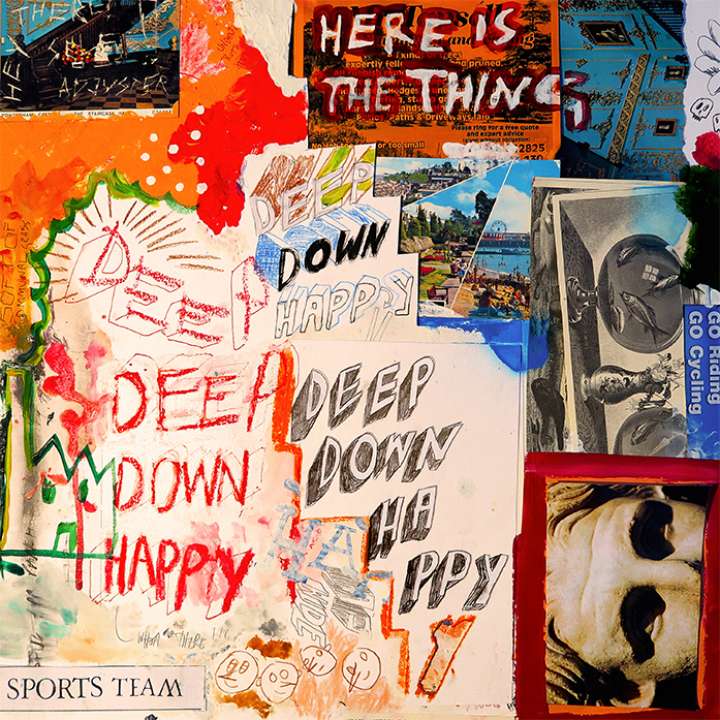 Sounds like … what the festival summer of 2020 could've felt and sounded like. 
Thanks to simultaneously irritating and compelling live shows, the London six-piece Sports Team gained the reputation as indie's next big thing in the last years. After having released several singles and EP 'Winter Nets' in 2018, this year was supposed to lead them to even bigger venues in the UK. Despite a back-and-forth with the release date, their debut Deep Down Happy wasn't hindered by the pandemic. Featuring previous released and much-acclaimed singles such as Kutcher or The Races, the record seems to be rather a best of than a debut. In under 40 minutes, the band illustrates their journey from studying in Cambridge, over moving to London and eventually touring up to 120 concerts a year. With their trademark sound – jangly guitar riffs and singer Alex Rice's witty tongue – the band reminds us of how this year's festival season could have sounded and felt like: energetic, joyous and incentive.
What's remarkable about Sports Team isn't their sound in particular but rather their talent in conjuring a certain attitude. It's a happy-go-lucky feeling that sounds like a never-ending summer with your friends in rehearsal spaces, or alternatively, moshpits. Yet, there's a hence of angriness lying above their lively songs : This avant-garde is still the same/ Go to Goldsmiths and they dye their fringes/ Just to know they've made it only/ When they sign the rights to Sony' they sing in Camel Chew despite having a college degree and major label deal themselves. In opening track Lander they sign about packed lunches and legal aspirations. However, it seems as if Sports Team might be as exclusive as the scenarios they're creating within their music. They have been criticized priorly for their middle class background with young British college graduates being their target group. This discussion might be as old as indie music itself, though. But sometimes music is just about having a good time with your mates, whether that's in a pub or a festival moshpit. Sports Team deliver a perfectly fitting soundtrack to remind us of these more joyful and easy-going days. (Louisa Zimmer)
Stream It: ► Spotify / ► Apple Music / ► Bandcamp
---
Jennifer Touch – 'Behind The Wall'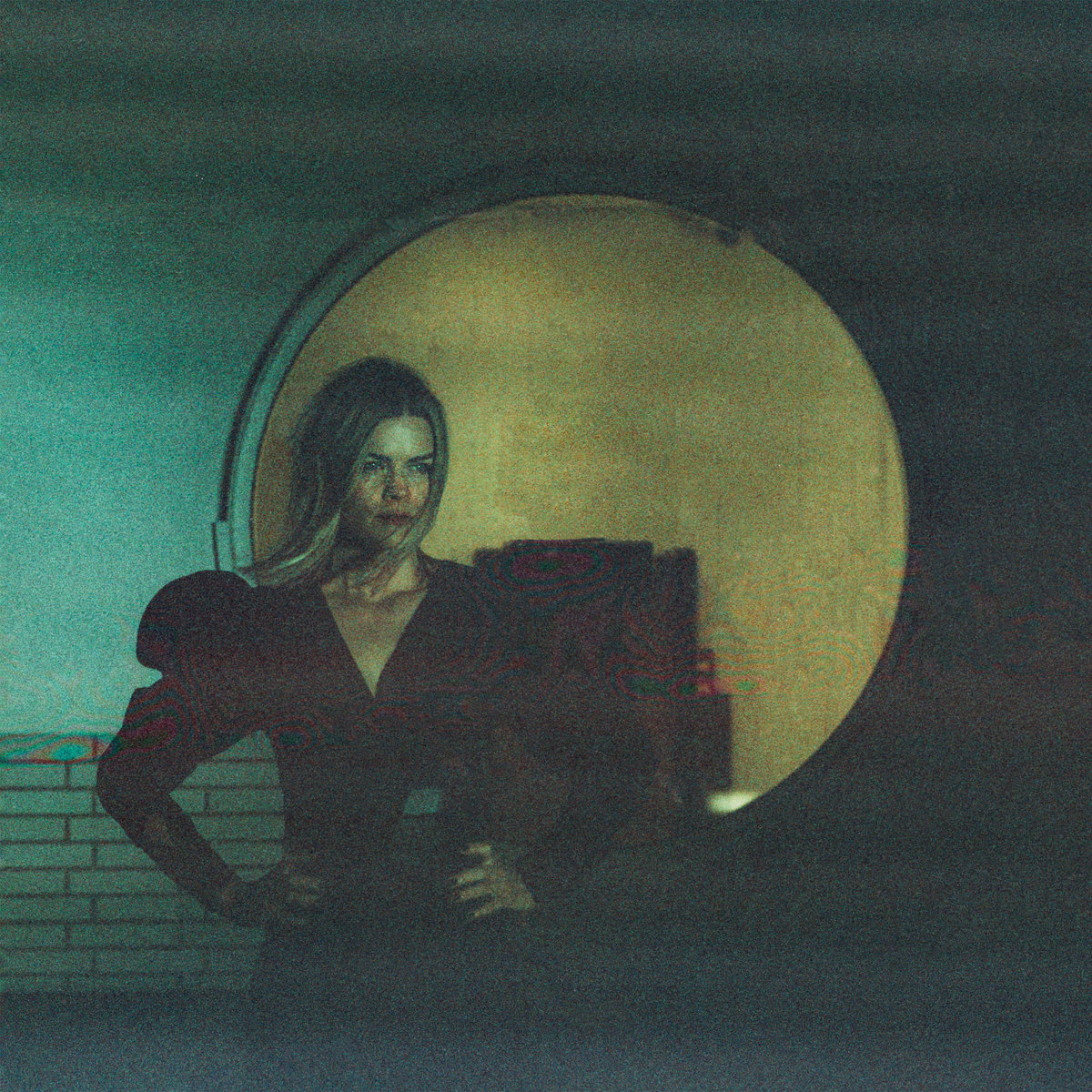 Sounds like … attending a hypnotizing dark wave party in the early 80s.
If you grew up with the sound of the 80s and fell in love with it in an early age it's almost impossible to entirely free yourself from its captivating spirit. Trust me, I'm speaking from experience. That's one reason why I strongly connect with the sound and vision of German artist Jennifer Touch. We both share East German roots (she also grew up in Dresden like me) and later moved to Berlin and are infected by the sound of these days. Depeche Mode, New Order, The Human League – the cold, industrial vibe of late GDR-despair and the misery of the first days following the fall of the wall really shaped an entire generation, especially with the high times of 90s rave following all of this. All of these influences are sensible in the music of Jennifer Touch which fearlessly waltzes between dark club floors, cold industrial areas and shimmering indie lo-fi charm. Her first full-length Behind The Wall is a testament of that variety of influences and while her first more techno-based releases were more designed for dark basement dancefloors this record shows different aspects of her music.
Of course, the beat is still a key element in the music of Jennifer Touch. Tracks like Attic and Teflon deliver that irresistible nocturnal groove while a pumping song like I Love You, Let's Go really reminds you of bands like Boy Harsher. There are also elements of post-punk sensible in her music, for example in the opening of the Joy Division-referencing Iggy's Sight. In-Between these mighty floorfillers Jennifer Touch creates adventurous spaces you wouldn't expect in the first place. The bewitching Daria, for example, a hypnotic collage of textures vocal layers is a nice alternativ while the trippy Your Dawn sees her riding on ambient sound patterns. All in all it's that raw lo-fi charm that makes the music so emotional. The sounds feels pure, analogue, sometimes a bit off and really shows an artist who internalized the methods and the patterns of the music she grew up to. Similar to the early work of Russian electronic queen Kedr Livanskiy Jennifer Touch recreates a feeling that leaves the listener with a sense of nostalgia as if this album was indeed recorded sometimes around 1983. And even if you only share a slight interest in that I highly recommend you to give Behind The Wall a spin. (Norman Fleischer)
Stream It ► Spotify / ► Apple Music / ► Bandcamp
---