Soccer Mommy – 'Sometimes, Forever'
Sounds like … unsettling but beautiful musical interpretation of 21st century angst.

It is rumored that gen z is the most depressed generation and Soccer Mommy's latest release embodies the harrowing emptiness that seems to haunt the youth. Sophie Allison, who released her debut and breakthrough record when she was just twenty got to feel the broad spectrum of what it means to be in the spotlight. Coming from melancholic bedroom pop, her third album Sometimes, Forever sounds like a dark tunnel through the subconscious. Working with more electronic beats – muffled, muted, claustrophobic sounding arrangements that remind of Portishead and peers – the record shows a new palette of the artist.
Soccer Mommy's music has always had an edge, a quality that crawls underneath the skin and tickles the angst that we have tucked away somewhere. With her laconic vocals and personal lyrics, the singer and songwriter leads those emotions to light. Sometimes, Forever can be a cathartic experience if used right, if used wrong it can be devastatingly sad. Yet, sonically it proves a more nuanced approach to the bedroom pop of the singer we were used to. Tapping heavily into electronics on songs like Unholy Affliction and Darkness Forever, there is a distinct new image of the artist forming. Spraying out her grim feelings about fame on the closer Still, she sings "I lost myself to a dream" and "I miss feeling like a person". Whether those sentences are inspired by her increasing fame or by pandemic loneliness remains to be discerned, yet the song and the album do their job. Soccer Mommy's third record is if anything an elaborate and forward-thinking artefact of 21st century youth angst. (Liv Toerkell)
Stream It: ► Spotify / ► Apple Music / ► Bandcamp
---
MUNA – 'MUNA'
Sounds like … all the life-embracing queer pop euphoria you'll need this summer.
Although it partly felt like MUNA popped out of nothing when they signed as one of the first acts to Phoebe Bridgers' Saddest Factory Records label last year the trio from LA actually got a ten-year long history, including two major albums but with limited success. In many ways, their inescapable 2021 single Silk Chiffon (featuring their label boss) was the starting point of a new chapter, a coup of confidence, and an embracement of their own identity as queer females and artists. One year later the early 00s college pop charm of Silk Chiffon is still destined to stuck in your head all day and it's a fitting choice to open the band's self-titled third album. But if you thought Katie Gavin, Naomi McPherson and Josette Maskin would follow that pattern the following What I Want activates the power mode and heads for an entirely different anthem. Expect slick hyperpop mode in the style of Charli XCX and Rina Sawayama on this one as Gavin delivers one memorable line after the other. "I want to hit it hard /  I want to dance in the middle of a gay bar." Yes, gurrrl! Runner's High follows a similar surprising path and adds break beats and industrial noise twists to the equation. What the heck?
Next to the already mentioned hyperpop inspirations there's also a few references to the high times of Shania Twain and pre-folklore Taylor Swift on the album, manifested in the form of country-infected ballads Kind Of Girl and Handle Me. There's a subtle melancholia and an urgent feeling of longing in the songs on MUNA, all delivered via cathartic pop energy. No Idea hits you hard with a massive kick drum and lots of autotune craziness while Anything But Me rides on a pumping arpeggiator bassline that does remind me a bit of Robyn's Dancing On My Own. Well, expect that Gavin and her gang aren't really alone. This album is not only an inspiring celebration of queer identify (according to a recent interview the group is hoping to ignite lots of lesbian intercourse with this record) but also an ode to their lifelong friendship that went through lots of highs and lows. Like a moth heading towards the light the music of MUNA needed to be in the limelight of popular culture. This is the album that will take them there and you better jump on that bandwagon before it hits lightspeed, folks! (Norman Fleischer)
Stream It: ► Spotify / ► Apple Music / ► Bandcamp
---
Regina Spektor – '
Home, Before and After

'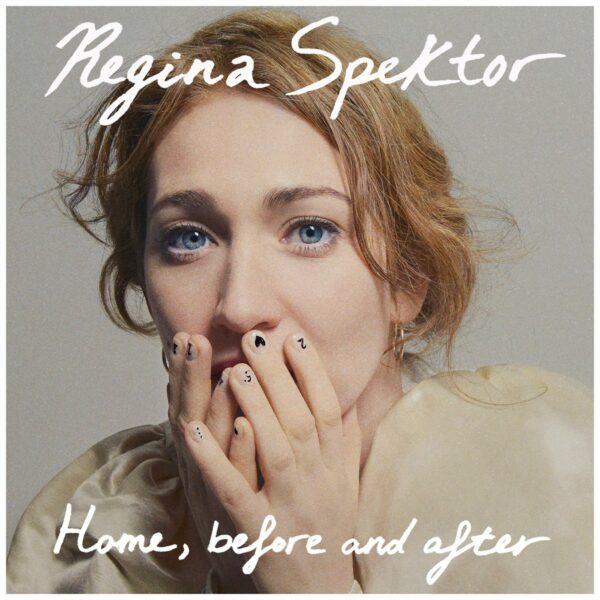 Sounds like… clear song writing and melodic twisting without anything to prove.
Since her debut 11:11 in 2001, Regina Spektor has cut herself a niche close enough to centre to be noticed but still out far enough to fly under the radar. Her eighth album presents and believes in the same simplicity and world building she established over the years so that the ten tracks can be sung along after a few listens without feeling repetitive. Thematically love and loss; musically, amplification and stillness go hand in hand on Home, Before And After. Spektor's sense of theatrical presentation leading to the big questions in life are placed neatly in every day life.
Becoming All Alone describes an evening in the pub with God, taking itself as seriously as light-heartedly moves into Up the Mountain. It is a standout track which frantically intensifies in volume, mirroring the process of getting closer to an insight about the world or ourselves which eventually screams at us so we can no longer ignore it. The blending of well-known style and experimentation on this record is emphasised through song choice as well – Raindrops and Loveology have been played at concerts times before which is a joy for long-time fans. Coin is a perfect example of the Spektorian approach – a first person narrator layering their story with dialogue adjoined to effective piano chords evolving into a larger arrangements, and ending in an universal truth: "So I took my last coin and I gave it to you / You smiled and said, 'Oh, you shouldn't have' / But your eyes spoke louder than your mouth/ Your eyes said thank you, your eyes said love / Love is enough / Of a reason to stay". Home, Before And After is a classic Regina Spektor album which showcases her unique imagination and perspective without compromising the will to try something new. (Anna Stich)
Stream It: ► Spotify / ► Apple Music
---
Field Guides – '
Ginkgo

'

Sounds like … brainy and existentialist indie-pop.
Field Guides is the stage name of Brooklyn-based artist Benedict Kupstas – and artist really describes the extensive measures the much-travelled and experienced musician and songwriter lays on his creative craft. Having shared stages with the likes of David Byrne, as well has having toured internationally with Young Jean Lee's Theater Company in the critically acclaimed show We're Gonna Die, Ginkgo is Kupstas' third album under the Field Guides moniker, and it solidifies the genre-bending core of the multi-talented artist; while it may just be one of the most rare, unsuspected and surprising musical happenings of 2022. So, you better brace yourself for this.
As a solemn strings section unveils the brooding sentiments of Ginkgo, the words "this is just a place / and you are just a song" set the mood to open with Judee At The Delaware Water Gap (A Prelude) and it is with stunning sentimentality and impressive depth that this one directs our gaze into a miraculous abyss. As the mood shifts from nods to the gloomy hills of Nick Cave, the melancholy of The Slow Show to a Seabear-ish mellow playfulness (just look out for Agios Sillas), one cannot help but feel a particular mythological feel there is to Ginkgo. And it is not just the impression that the record plunges deep under the surface, invoking themes like mental illness and the anxieties of the Anthropocene, but in the very soothing and transformative erosions of the musical design of the record itself. Just take the wind chime beginning of Cicadas In The Lemon Trees, which lead right to a touching interplay between the sombre deep voice of Benedict Kupstas and a female counterpart. It does make sense, that the arboreal theme of the cover and the record's title, pulls through the record like a thread, for it is these substantial roots the record chooses to burrow, making Ginkgo a collection of songs that by far exceed the realm of metaphoric beauty. (Andreas Peters)
Stream It: ► Spotify / ► Apple Music / ► Bandcamp
---
Naima Bock – 'Giant Palm'
Sounds like … a sincere and wholesome experience.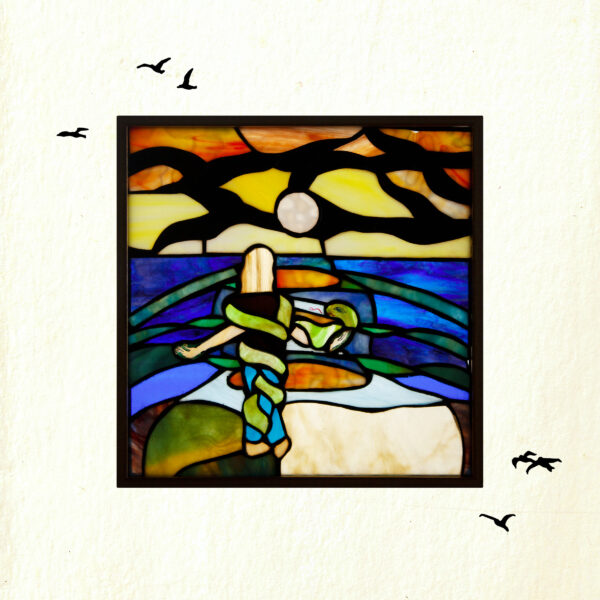 As Giant Palm, the title and opening track of Naima Bock's debut, begins to roll out, one cannot help but feel the joyous inventive spirit unfolding in its folky-psychedelic design. And as far-reaching as the scope of her impressive first LP are the sources the singer-songwriter draws inspiration from. Born in Glastonbury to a Brazilian father and a Greek mother, Naima spent her early childhood in Brazil before eventually returning to various homes in South-East London. Fusing European folk traditions with Brazilian standards, she has found her very own unique form of expression – one that is worth following.
As the experimental gusts of Giant Palm fade into black, Toll begins and it explores a more traditional edge for sure. As soothing guitar picking aligns with flights of flute melodies, Naima Bock's voice bridges from tender moments to more hasted cracks, added by the sounds of angsty violins. Traditional folky vibes, such as in the first half of Working, meet up with jazzy, soulful adjustments, as in the second half of the same song and the joy of Giant Palm lies in reading these diverse ranges of influence and getting caught by surprise once you think you figured out what you are listening to. There are very soothing acoustic ballads such as Natural, jazzy and off-beat gems like Campervan, ethereal pieces such as Dim Dum, up to the free-style final O Morro, providing a worthy end to the musical voyage of Giant Palm, which is indeed a huge one, opening itself up to the wide wonders of the world. (Andreas Peters)
Stream It ► Spotify / ► Apple Music / ► Bandcamp
---