Strand Of Oaks – 'In Heaven'
Sounds like … anthemic musings for the afterlife.

In Heaven is the title of the eighth studio album of Strand Of Oaks, the moniker of singer-lyricist-guitarist Tim Showalter. With that, the imagined semantic framework couldn't really amount to a much larger scope, and yet it turns out that the follow-up to 2019's Eraserland quite matches the celestial and majestic associations as it dives deep into very human reflections on love, loss and enlightenment. Rooted in experiences of personal loss, Showalter quitting drinking and the subsequent move with his wife from Philadelphia to Austin, Texas, In Heaven is as much about melancholic musings about the nature of life as it unfolds a reverie of what could be. "I wanted to strive for something greater than what I thought I was capable of", Showalter has stated prior to the release. That probably already sums up the whole affair quite neatly.
The imminent and rushing Galacticana might reassure us "I don't want to drag you down", when indeed it pulls you right into the stream of melodious guitars that almost seem to swallow the uplifting sense that resonate in Showalter's vocal performance. The spirits stay high, however deep the waters that have to be waded through, as the adjacent Easter highlights: "Can I stop the boat from sinking / Look you can see the shore / Loudly leaving / The current world". Not free from a distinct pathos, which is though carefully implemented into the anthemic musings and framed into powerful melodic cores, the songs of In Heaven aim for a meaning beyond the existential dreads of this life. Hurry for instance, a real slow burner, showcases such metaphysical regards, when it phrases "Till our bodies go back to the water / Till the fire burns to the sea / This world's not meant for me", resulting in a dissolution of the noisy build-up of the music itself. 
These musings, spiritual as they might come across, are pillared onto nothing less than the manifest of sound itself and Showalter does not fall short in narrowing down the magic that the process of creating this record holds in store for him: "In Heaven was created with so much love and my greatest hope is that it connects with people and provides a momentary space for reflection, joy, catharsis and whatever else someone might be looking for in their life. Music is magic and I feel like the luckiest person in the world that I'm allowed to share it." The notion of loss and a sense of despair however vibrates through the fibres In Heaven, including some notable losses in music, such as John Prine, Jeff Buckley, and Jimi Hendrix, which all have an appearance here (as in Jimi & Stan). Still, the prospect of gleaming hope and even regained strength remains the upper force eventually. In the end, In Heaven is about transcending one's own mortal chambers and move toward a heightened sense of vitality. (Andreas Peters)
Stream It: ► Spotify / ► Apple Music / ► Bandcamp
---
Audiobooks – 'Astro Tough'
Sounds like … a wild mixture of catchy experimental pop to make you feel uncomfortable
These days getting surprised and actually shook-up by music appears to be a rare happening. And then there's a band like Audiobooks and an album like Astro Tough which is a lot of things … but most of it one of 2021's most intense, crazy and unpredictable albums. So, if you happen to be in an "Come on, surprise me!", make sure to give this one a spin because producer David Wrench and lyricist and singer Evangeline Ling invite you to an extraordinary musical reflection on everyday absurdities. Their 2018 debut Now! (in a minute) already was a confusing and critically praised piece of freak pop, the follow-up is a bit more defined, yet still crazy enough. It's a record fuelled by the energy of its protagonist, mostly Ling who delivers more of a spoken word performance here, placed in a similar territory between Dry Cleaning's Florence Shaw or Sleaford Mods' Jason Williamson, yet totally boss of her own game. Wrench on the other hand has worked with Frank Ocean, The XX, David Byrne and Caribou before so he knows how to wrestle with different musical worlds and that's exactly what Astro Tough does.
Opening track The Doll unleashes a pumping beat and an intense story about a young girl and her lost doll. You actually keep listening to the story as the beat slowly intensifies in the background. The words of Ling are on point, sometimes the stories are a bit simpler like LaLaLa It's The Good Life and Black Lipstick which focus on a wild night out but often they get intense and even make the listener uncomfortable from time to time. Blue Tits is such a song, one that deals with explicit thoughts and our sexualized society. This one's a lot but it makes you listen. Same goes for a song like Driven By Beef on which Ling aggressively screams and shouts as she's reaching her own physical edge, it appears. While there's a lot of pumping techno vibes on many tracks Auidobooks also head for more conventional territory every now and then. The English Manipulator flirts with dub music while He Called Me Bambi comes as a psychedelic piece of folk rock. A song like the 80s-infected First Move could have also worked on an early Pet Shop Boys album. And they even leave room for a power ballad like Farmer which ends the record in quite an epic form. At the end you might be thinking "What the hell was that?" but that's the whole fascination of this intense album. It's a testament of great storytelling, artistic dedication, stubbornness and the physical aspect of music. Like the whole world this really screams for a physical real life experience – and maybe it's a good sign that it arrives right now then, am I right? (Norman Fleischer)
Stream It: ► Spotify / ► Apple Music / ► Bandcamp
---
Tirzah – 'Colourgrade'
Sounds like … a futuristic RnB language exploring emotions of motherhood.
Londoner artist Tirzah speaks her own musical language. Between experimental RnB, and sci-fi electronica, and intimate heartfelt lyrics she creates a world of her own. Listening to her sophomore record Colourgrade feels like a trip through unexplored territory. Her arrangements sound off kilter, they follow their own rules, and speak in unfamiliar tongues, but that is part of what makes this artist so intriguing. The first two tracks introduce to the mood of the record. Colourgrade and Tectonic are unhurried tracks driven by electronic instrumentation. Spacy and unhurried the beat evolves over experimental elements like electronic gimmicks and distorted vocals.
Yet amidst the electronic layering creating the alien soundscape for the record, it is Tirzah's utterly human voice and lyrics that touch. Living at the intersection of artificial and natural, the artist clears her throat as if in hesitation on Beating creating intimacy, as if you were in the studio with her. In warm voice she sings off the astonishment of creating new life. The personal lyrics on Colourgrade explore the euphoria on Beating and Sleeping and exhaustion of motherhood, on Send Me. The latter is a gentle recovery song, accepting that it takes time. Each track on Colourgrade is different from the previous, in fact, different from anything you have ever heard before. At her own pace and in her own language, Tirzah creates music that is refreshingly different and progressive sounding with such ease and unpretentious effortlessness as if music were the air the artist breathes. (Liv Toerkell)
Stream It ► Spotify / ► Apple Music / ► Bandcamp
---
Kedr Livanskiy – 'Liminal Soul'
Sounds like … the Russian queen of experimental electro pop is heading for new territory
Russian producer Kedr Livanskiy remains hard to define with a sound that easily bounces back and fourth between adventurous electronic experiments, sweet pop melodies and a certain techno-DNA. It feels like she's working on the establishment of her own niche right in the danger zone between underground and pop. Her third studio album continues to define that niche and further sharpens Kedr Livanskiy's sound. While 2017's wonderful debut Ariadna was still quite a lo-fi DIY affair, the follow up – Your Turn from 2019 – saw Livanskiy stepping up her game with slicker production and a more defined sound. Liminal Soul now wants to build a more substantial bridge between those two worlds, mixing abstract sound designs with straight melodies and more profound songwriting attempt. During the production process Livanskiy's vocals were used sparingly and worked more like a gentler element in a larger production tapestry. On the other side she also performs with new confidence.
Single Stars Light Up is a fine example here as it feeks as if the Russian artist performs a duet with herself. Tracks like My Invisible add a certain hyperpop vibe to the equation while a fluffy and pretty light-hearted pop song like Boy feels like new territory for the musician. But one she managed to walk quite confidently. Songs like Night and the floating Teardrop head a bit back to the early days of Ariadna, unleashing an almost transcendental character as well as similar sounds. There's still a certain odd vibe to the music of Kedr Livanskiy, a very own charm and sense of imperfection that grounds the music. It's a form of deconstructed romanticism if you like and for the untrained ear the Russian language still brings a special fascination. Kedr Livanskiy is still growing as an artist, she remains unpredictable and quite unique. You instantly sense that it's here, even if she's entering new musical territory. If you happen to be a fan of brave and adventurous synth pop make sure to listen to Liminal Soul and fall for the infectious spell. (Norman Fleischer)
Stream It: ► Spotify / ► Apple Music / ► Bandcamp
---
Boy Scouts – 'Wayfinder'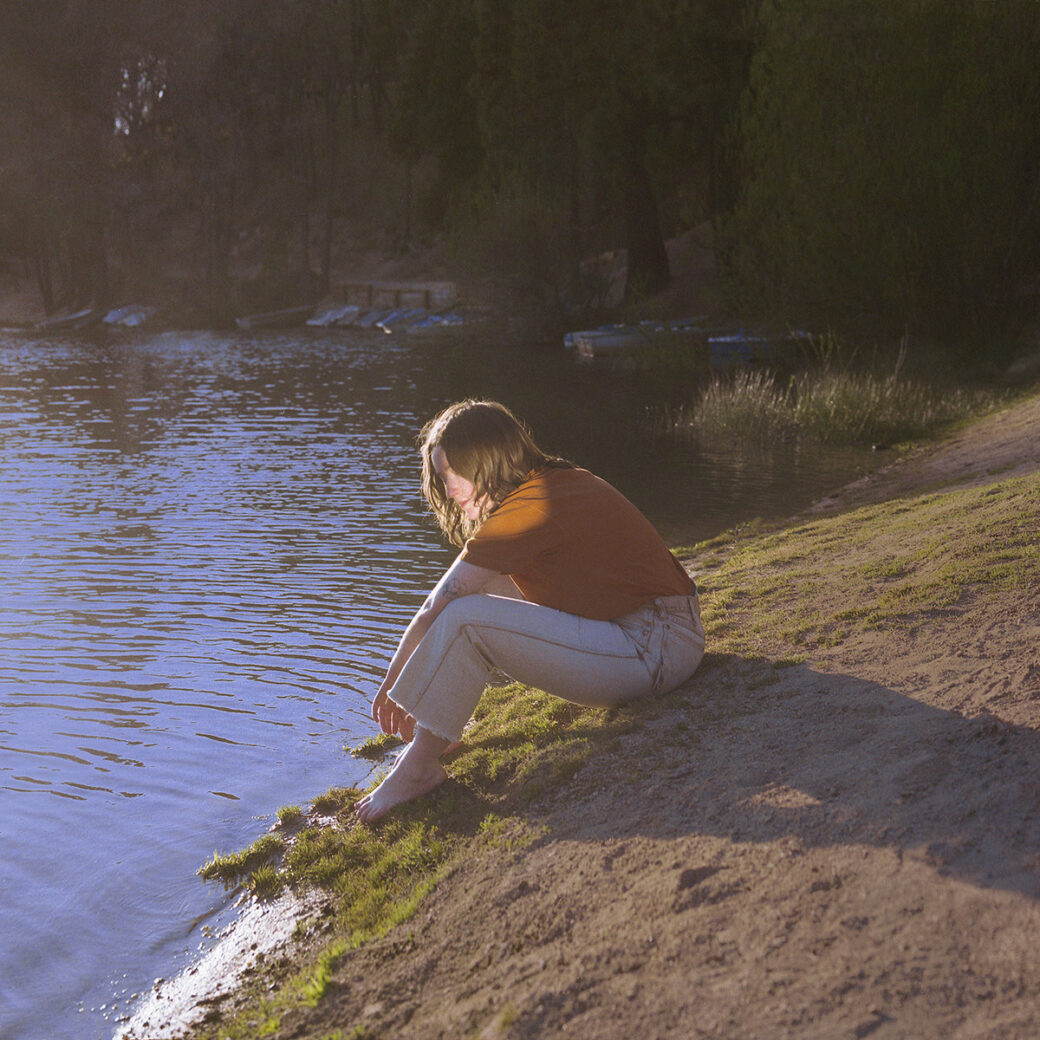 Sounds like … folk-rock rooted in nature and nostalgia.

The Oakland-based singer Taylor Vick, aka Boy Scout, takes us on a musical camping adventure with her on her second LP Wayfinder. The ten songs shift from star-gazing nocturnal melancholia, to intimately observant of daily rituals like cooking coffee on a camping cooker, and to euphoric observations of the beauties of nature. Rooted in midtempo folk-rock, Wayfinder follows in the melody-driven footsteps of the gentle debut Free Company. With less electronic guitar the emphasis lies on the vocal harmonies, like on the stripped back Charlotte. The song tells the story of a 50-year-old love story. Guitar and vocals carry the song throughout and only the last bars have a few other instruments gently fading in.
Wayfinder dwells on the bittersweetness of life. Observed in a wry manner on the self-ironic lament That's Life Honey, Boy Scout engages in a fantasy of engineering a painless exitence inspired by a George Saunders short story. "I'd figure out how to rewire my brain / if only I had the money", Taylor Vick sings. Her minimalist balladeer style incorporates sweeping violins on The Floor and Cello on Didn't I, as well as the use of classical organ to enhance the cinematic vibe of her musical output. Wayfinder is a gentle companion for sleepless nights, lonely lunch hours, and nostalgic train rides through the countryside. (Liv Toerkell)
Stream It: ► Spotify / ► Apple Music / ► Bandcamp
---