The Go! Team – 'Get Up Sequences Part One'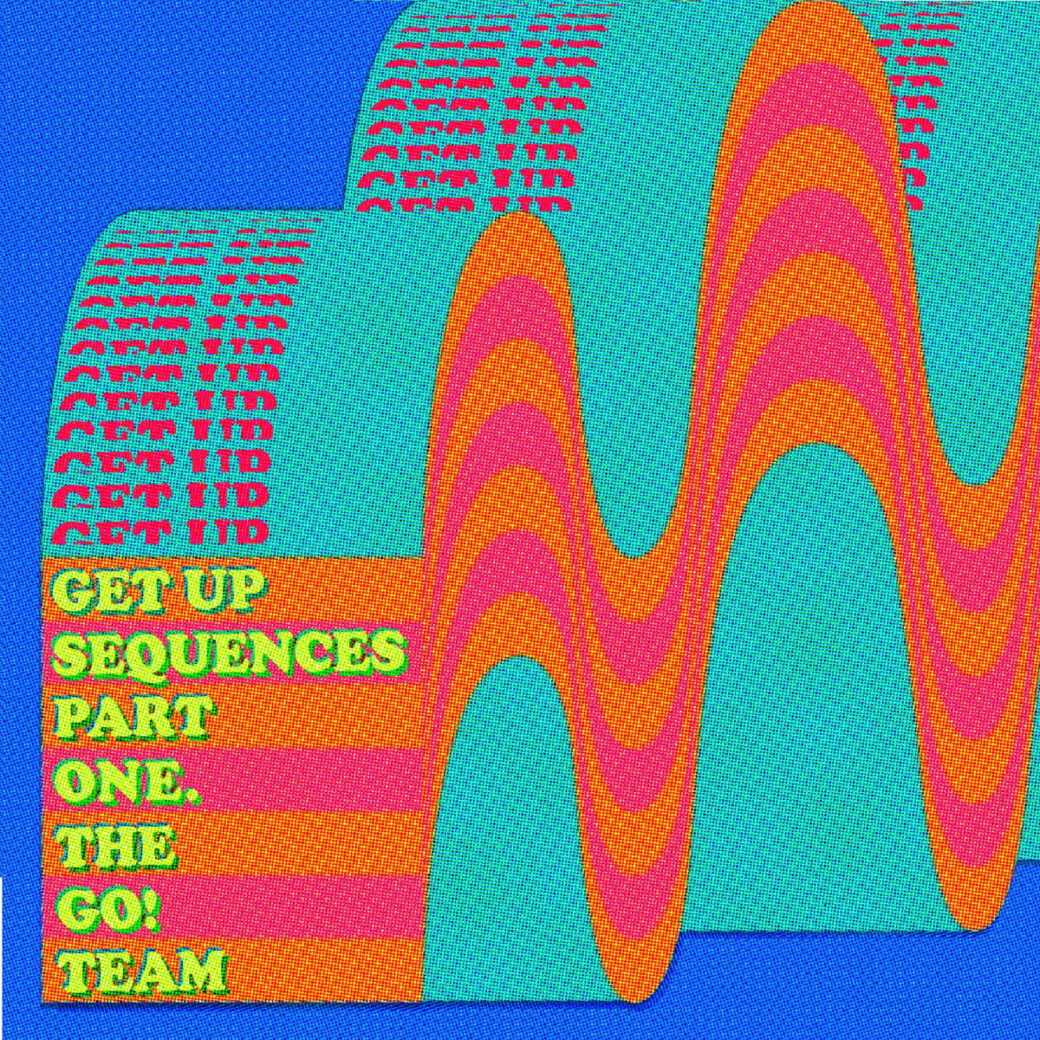 Sounds like … positive energy and a well-blended genre mix.

The Go! Team already convey the upbeat and motivational energy of their music in the band name. Starting out in 2004, the core of the Brighton-originated quartet stuck to making music together. On their latest record The Get Up Sequence Part One, the band hones their musical tradition of mixing a wide range of genres. You cannot really put a finger onto any of the songs. Multiple layers of instruments, melodies, and vocals intertwine to intricately maximalist woven soundscapes showcasing the band's knack for arranging instrumentation in a rich, yet not overwhelming manner.
Singer/rapper Ninja, drummer Simone Odaranile, bass player Adam Hutchison, guitarist and singer Niadzi Muzira, and the founder of the band Ian Parton show their multiple facets from the first notes of the opener Let The Seasons Work. The track starts on a lo-fi stereo crackling before the drums and guitar kick in – indie grunge rock riffs merged with flutes, strings, and 80s synths. Each of the songs contains a myriad of musical elements. Cookie Scene makes the unusual combination of flutes accompanying old school rap verses work and spices everything up with a groovy bass line. Each track is full of different elements all channeling the positive upbeat energy of The Go! Team. This matches Parton's philosophy of making music and living life curating it to "surround yourself with the good shit and filter out the bollocks. So, for me The Go! Team is that idea in music form." The Get Up Sequences are a colorful record with different musical directions explored within the matter of single songs. Yet, the band manages to do that without sounding too chaotic and overwhelming – that is the real challenge. The record is crowded in the best way, like a Where is Waldo image made up of instruments. You can stare at it for ages, discovering more and more things until you finally find the silver lining.  (Liv Toerkell)
Stream It: ► Spotify / ► Apple Music / ► Bandcamp
---
Desperate Journalist – 'Maximum Sorrow!'
Sounds like … world weariness painted in kaleidoscopic colours.
No, nothing's fine at all. Especially now that the world is slowly waking up from the lethargy Covid-pandemic we realize that not much as changed. Political leadership has let us down, especially young people and those working in the creative culture industry, society is torn apart, the planet is still suffering and the hopes for a drastic societal shift are already torn down by the claws of hyper-capitalism. Here to remind us are the fabulous Desperate Journalist who return just in time with their fourth full-length which is fittingly titled Maximum Sorrow! And although the themes of the beloved British post-punkers are still circling around the desolation of existence, disillusion of big city life and the overall lack of perspective for the millennial generation it's not an entirely bleak affair. While the band's last album – 2019's In The Search For The Miraculous – was quite a heavy affair singer Jo Bevan and her band were aiming for something more kaleidoscopic and a sound that varied in tone and texture, resulting in their most surprising album yet. Desperate Journalist stick to their gloomy post-punk roots but are keen to add a few new aspects to their music. Opening with the sparse Formaldehyde is such a bold and unexpected move because that song feels more like a reprise than an intro. Then comes lead single Fault which is definitely one of the best tracks the band ever recorded. The bassline of bandmate Simon Drowner is massive here and pushes the entire track forward, creating a goth funk maelstrom.
Personality Girlfriend adds a lighter but still very bittersweet pop groove to the equation with Bevan singing "I'm a mess of history with a sincere desire for you to like me." Armageddon is a gloomy steam rolling that's rolling and tumbling in a very hypnotizing way before ending in furious guitar storm. Ironically there's a song named Utopia which is following quite quickly. That might be the most optimistic moment on the album but if you take a closer look at the lyrics in it. It's lovely to see how the lockdown isolation recording scenario "forced" Desperate Journalist to look into new structures and sounds. Luckily they place those new musical elements in a very subtle way. Everything You Wanted is pretty disco in the end but of course it isn't interested in shaking of its new wave roots. And of course, the urgency in Jo Bevan's vocal performance is still as magical as it has been for the past seven, eight years. Despite all the doom and gloom within these songs Maximum Sorrow! actually adds new colours to the microcosm of the still way too underrated group. It's a more thoughtful, more mature and more ambitious record that underlines Desperate Journalists' status as one of guitar music's finest new bands of the recent past. They are ready for the next step, consider this album their job application for it. Now, the rest of the world simply needs to listen. (Norman Fleischer)
Stream It: ► Spotify / ► Apple Music / ► Bandcamp
---
Tyler, The Creator – 'Call Me If You Get Lost'
Sounds like … a mixtape simultaneously made in the past and the future.
Tyler, the Creator is shapeshifting again. Over the past decade, he has shown that it is possible to exist in the industry while presenting opposing ideas at every turn, changing attitude as well as mindset and being successful at it each time. Call Me If You Get Lost, intended mixtape in homage to Gangsta Grillz and platform for DJ Drama himself, introduces himself as Tyler Baudelaire, a pastel globetrotter reflecting on his possessions and obsessions, his love life and growth through past and present. The record is layered with all the genres he has introduced to his audience over the last five albums, though less pop than the previous IGOR, Call Me still carries the be-who-you-wanna-be and look-at-my-weird-life – essence.
A famous quote by the poet Charles Baudelaire, inspiration for this album's character, says: "Life has but one true charm: the charm of the game. But what if we're indifferent to whether we win or lose." After the conceptual approach of IGOR and earning a Grammy for it, Call Me feels more playful and loose in its execution. With all its topics and references, the record could have been too much of everything without enough direction but Tyler, the Creator, acting as artist as well as producer (with additional help by Jay Versace and Jamie xx) ties it into a neat selection of recurrences and reflection. There are many features (9 out of 16 tracks) which, in comparison to Flower Boy, don't take centre stage but guide the listener and heighten the collaborative mixtape-feel. CORSO, LEMONHEAD with 42 Dugg, HOT WIND BLOWS featuring Lil Wayne, RUNITUP with Teezo Touchdown, and JUGGERNAUT adding two more legends, Lil Uzi Vert and Pharrell Williams, to the list are all rap, all flexing about the yachts, the Rolls Royce and to stay on theme traveling Europe. But beside all the flaunting, there are moments where real contemplation and personal truth come through. On BLESSED Tyler expresses gratitude for his fortune in music and life.
MANIFESTO reunites Odd Future member Domo Genesis as he examines his stand on being cancelled and the Black Lives Matter movement. MOMMA TALK was accessible through a phone number before the record's release and is a love rant by Tyler's mother about how protective she is of her child. Unreciprocated love is the theme of the two longest songs of the record: SWEET / I THOUGHT YOU WANTED TO DANCE featuring Brent Faiyaz and Fana Hues is in sound reminiscent of Flower Boy's See You Again and WILSHIRE battles with falling in love with a friend's partner. Outstanding for me is MASSA because it does not only evoke the Yonkers-flow but also reckons with the time it came out, revealing that his mother lived in a shelter when the single dropped and how his new-earned fame gave him the possibility to get her out. Still standing with the misunderstood and summarising his own path, he raps: "I'm grateful, you n**** hateful, you eat at me, you got a plate full / You can't relate to these things I say to these instrumentals / Whether it's wealth talk or shit that's painful". Tyler Baudelaire doesn't seem to care about the outcome but about the journey and the message, just like his chosen idol. Call Me If You Get Lost debuted at No. 1 on the album charts so even if it doesn't matter if you win or lose, Tyler, the Creator is certainly winning. (Anna-Katharina Stich)
Stream It: ► Spotify / ► Apple Music
---
Gaspard Augé – 'Escapades'
Sounds like … cinematic disco glam from a galaxy far, far away
After 15 years of joint world-conquering French house rock and roll the unstoppable Justice machine needed a break and for a band such a moment usually resulted in musical solo adventures. Xavier De Rosnay and Gaspard Augé are still very much best buds as they claim but especially Augé needed to head on his journey – and what an epic one Escapades has become! The twelve instrumental tracks see the French producer creating the musical soundtrack to an imaginary film (although he might still release a full featured one considering all the high quality teaser clips he already released). Drenched in a certain vintage cinemascope vibe his solo album feels like a mixture of familiar French house, Spaghetti Western, italo disco, prog rock and even classical baroque. The intro really sounds like the theme to a Saturday afternoon TV sci-fi series from the early 80s. Then Force Majeure takes the sound to full disco glam territory, including a funky bassline and sharp synths. That's pretty close to the Justice sound and same goes for Rocambole. But hey, it's still an Ed Banger album after all.
Later on, Gaspard Augé experiments a bit more. Europa is quite melodic and laidback while Pentacle takes a progressive twist. Hey! speeds up the album again and unravels an unstoppable hurricane of "arpeggiator meets choir" … it's like the Giorgio Moroder and Ennio Morricone collaboration that never happened in real life. Despite its beautiful and very analogue production Escapades is actually not heading for perfection in the same manner like Justice usually do. According to Augé the whole album was pretty much recorded in two weeks. Maybe there's also a few nods to the freshly split Daft Punk in there (Belladone) but there are plenty of musical references you can spot throughout the album if you happen to be a fanatic lover of good old fashioned pop. Escapades is a slick and very emotional affair, a retro-disco adventure with pop appeal and a large amount of romanticism. By heading for the past and towards his own childhood the French artist turned his first solo project into a very personal journey and it's such a joy for the listener to witness it. (Norman Fleischer)
Stream It: ► Spotify / ► Apple Music / ► Bandcamp
---
Hiss Golden Messenger – 'Quietly Blowing It'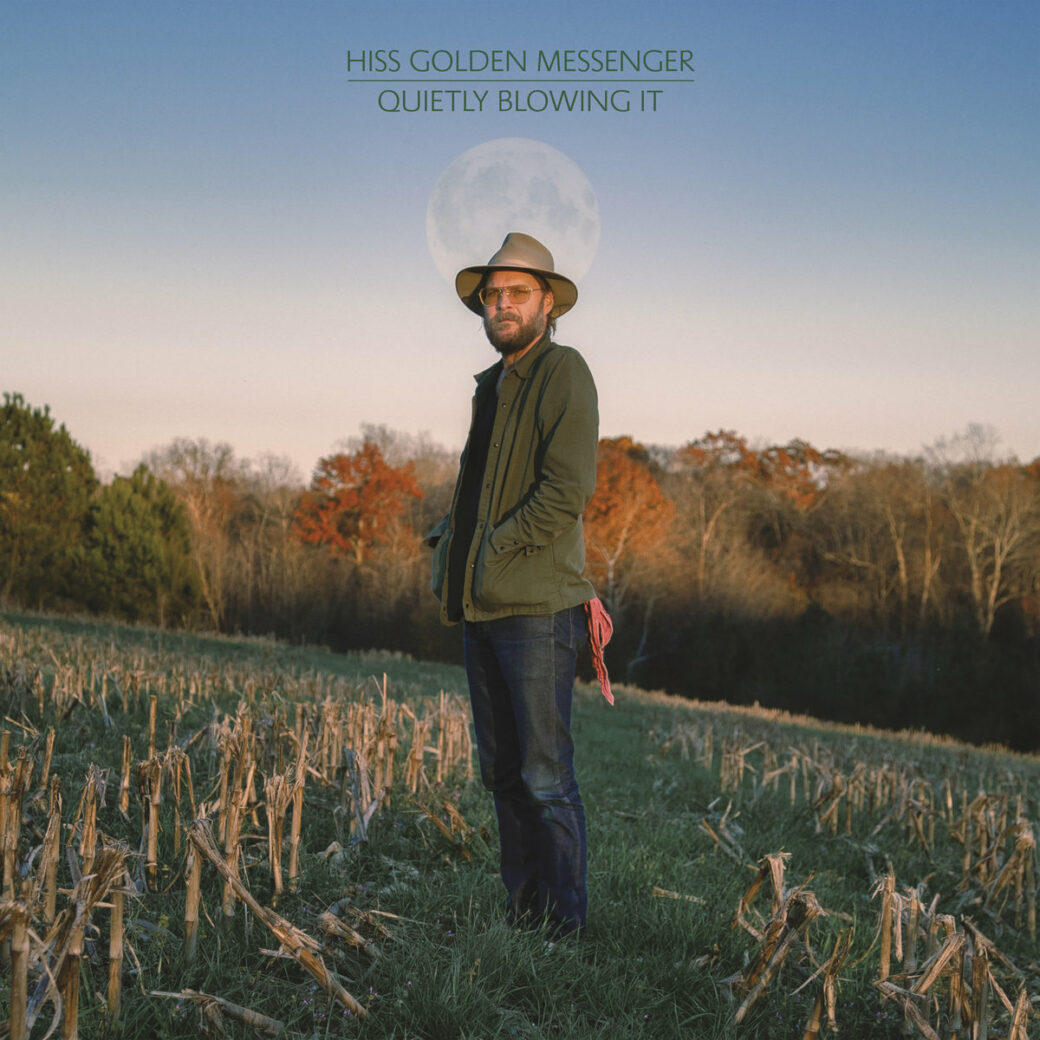 Sounds like … a sincere evaluation of hope and light.
Hiss Golden Messenger, the Americana project of band leader and songwriter M.C. Taylor have been digging up sensitive song creations for over a decade and as much as seven albums now, but the follow-up to the celebrated 2019 record Terms Of Surrender, going by the title of Quietly Blowing It, takes their art of crafty, heartfelt and sincere folk music to yet another level. This "feels like the most personal album that I've made", Taylor states, assuring that he is "not trying to explain anything to anyone except myself". Bold remarks to adorn an anticipated record like this, but they stand the test of sound, indeed, as the eleven new pieces are about to show.
Quietly Blowing It is as intimate and introspective one might expect after the first chords of the opening Way Back In The Way Back. Musically touching on influences of gospel, southern soul, indie folk, country, as well as hints of blues, jazz and rock leanings, there is a deep familiarity in the songs that manage to delve into more melancholic realms such as on the atmospheric title song Quietly Blowing It or the jazzy If It Comes In The Morning and yet pulls of more upbeat bluesy tunes like Mighty Dollar or Hardlytown. There is yet consistency in all of that, as songwriter Taylor reflects on themes of growing older, finding new hope and meaning in life, the role of family, identity, self-healing and reconstructing the brokenness of this world. Most fittingly, this aspiration is expressed on the final Sanctuary: "Jubilee / Find me / Steady with your hope now / That little light's gotta last a while". A fitting message in these days, don't you think? (Andreas Peters)
Stream It ► Spotify / ► Apple Music / ► Bandcamp
---