Trentemøller – 'Obverse'
Sounds like … the Danish dark wave expert dives even deeper into the nocturnal abyss.
Freeing yourself from any commercial pressure and expectations is a luxurious state not many artists can achieve in their careers. It takes guts to not head for familiar territory, the most obvious solutions and even break with your audience in order to extend your own artistic understanding. Anders Trentemøller is trained in that constant expanding of his musical cosmos, moving his sound away from his techno origins ever since and into new dark territory with every release. However, just when you thought he'd already gone far enough this fifth full-length makes an even bolder move into new worlds. Obverse sees the Danish multi-instrumentalist free his sound from any boundaries and heads into more abstract and unpredictable territory. Created under the premise of not performing it live at all the tracks of Trentemøller's new album seem to just go with the flow, inviting the listener to expect the unexpected, even for his standards. Flickering sounds, surprising build-ups, distorted noises, unexpected twists and a partly for him surprisingly spare musical surrounding make Obverse the most challenging but also fascinating Trentemøller release so far.
The dragging beat of the opening Cold Comfort already hints on the records direction. Noise and ambience fight each other, framed by Rachel Goswell of Slowdive who is another fabulous addition to Trentemøller's already pretty impressive history of featured vocalists. the song spreads a ghostly atmosphere that continues on the following tracks. From the urgent bassline of Church Of Trees to the reduced guitar play of the Lina Tullgren-featuring In The Garden – there's a lot happening on each track while they also create a well-working homogeneity throughout the entire album. Foggy Figures is another wonderful example for that. First you expect the Dane to stick with the sparse guitar play and the experimental loop before a surprising break beat takes the song to totally different territory. Other songs like Trnt and Sleeper appear to be going with their natural musical flow and it's a pretty wonderful thing to experience. Even the record's only actual pop moment – Try A Little with Warpaint's jennylee – works in the context of Obverse. By liberating his music from conventional structures Anders Trentemøller created something more subtle and intuitive, inviting the listener to dive even deeper into this dark world he carefully built up over the past years. (Noman Fleischer)
Stream Now: ► Spotify / ► Apple Music / ► TIDAL
---
Girl Band – 'The Talkies'
Sounds like … all your worst nightmares coming back to haunt you after a 2-year hiatus.
Dublin noise-rock quartet Girl Band probably couldn't have picked a better time to return. In the four years since their debut record Holding Hands With Jamie, Fall-influenced, noisy post-punk has slowly become the zeitgeist and especially in Ireland's capital thanks to Fontaines D.C and The Murder Capital. While Girl Band are far more abrasive than those two, they are cut from a similar cloth, with both their younger contemporaries citing Girl Band as a major inspiration in putting Dublin's punk scene on the map.
The band's brief hiatus was down to frontman Dara Kiely's deteriorating health, but the time in which they left the door open may, in fact, do them a favour on return record The Talkies. It is simultaneously a claustrophobic and atmospheric nightmare, capturing all of the band's famed intensity while also improving on their sound. Self-recorded in a "Shining-esque" manor, Girl Band re-creates the spirit of their hosts on tracks such as 'Going Norway' or 'Shoulderblades'. Track lengths differentiate at a disorientating rate to create a tense listening experience, all building to the album's terrific denouement Prefab Castle/Event. While its a stretch to call this at times distressing piece of music "enjoyable", it is as thrilling as an expertly paced horror film, and it is a pleasure to have Girl Band back. (Adam Turner-Heffer)
Stream Now: ► Spotify / ► Apple Music / ► TIDAL
---
Temples – 'Hot Motion'
Sounds like … still the best version of glam-psychedelic you can get these days

To be honest: The overall image of Temples is not something that immediately clicked with me. It all seemed a little too forced, too pre-thought to me back in 2014 when their debut Sun Structures drowned dancefloors throughout Europe in long curls and jeans jackets. But even then I had to admit that the songs are pretty good. Melting 60s psychedelic, 70s glam and a more recent pop attitude into something that is still fun enough to listen to is an accomplishment. More so, because Hot Motion now is already Temples' third record and these kind of century-crossing formulas normally are overdone pretty soon. But to kick off a record with songs like Hot Motion and You're Either on Something is just further proof of good songwriting. And like always, there's something brooding inside these songs that elevates them from being sheer nostalgia caricatures.
Whereas the last record Volcano exercised in creating depth where there often was too little, Hot Motion now seems to expert in creating a shiny surface reminiscent of their debut – but it's just a trap. Underneath, there's a lot going on and it's not all that pretty. The more Krautrock-infused Not Quite the Same or the sudden breaks in Monuments are just some of the moments of irritation, holding back the sometimes a little too self-indulgent spirit of Temples. Singer James Bagshaw's voice of course still favors the big gesture, the production is nice and grainy and it all sounds like Anton Newcombe joined The Darkness. It doesn't all have to make sense but this is the third Temples-record that can hardly be ignored. (Henning Grabow)
Stream Now: ► Spotify / ► Apple Music / ► TIDAL
---
Lucy Kruger & The Lost Boys – 'Sleeping Tapes For Some Girls'
Sounds like … music for late nights and early mornings. 
Like a gentle ocean breeze in a warm summer night, Lucy Kruger & The Lost Boys' sophomore album slowly crawls down your spine. Sleeping Tapes for Some Girls is a telling name and already the minimalistic opening track The Ocean at Night sets the mood for the LP. With sparse instrumentation and whispered vocals it floats in a state somewhere between dreaming and waking. The pensive lyrics tell stories through Lucy Kruger's lullaby-style voice, dark and deep or sweetly crooned. Originated from South Africa, the singer just relocated to Berlin, the album though was still written in her home country.
Nicola's Lullaby is a tender single and a lullaby in the most straightforward meaning. Echoing along the dreamy soundscape, Kruger sings the listener to sleep. She conjures a mood somewhere between insomnia and swift could-drifting dreams. Showing a darker and gloomy side on Mary, the singer's dynamic vocals tell the unsettling story of a love affair. 'I am made of stone' her voice resonates alongside the steely guitar arrangements. Half A Woman turns another page. The layered chants and the underlying dark synth-lines make this one the quietest war anthem of all. The drums swell up and down pushing the single forward. 'Inside this song is a small war' Lucy Kruger says about it – a vibe she surely worked into the music well. Sleeping Tapes for Some Girls is music for the quiet moments. For the moments when the mattress of your bed turns into a lilo gently floating far away from the reality on the waves of dream-rich sleep. Like a flower, the record slowly unfolds over the course of several listens. Unhurried, it will dance along, change, and grow with every note. (Liv Toerkell)
Stream Now: ► Spotify / ► Apple Music / ► TIDAL
---
Automatic – 'Signal'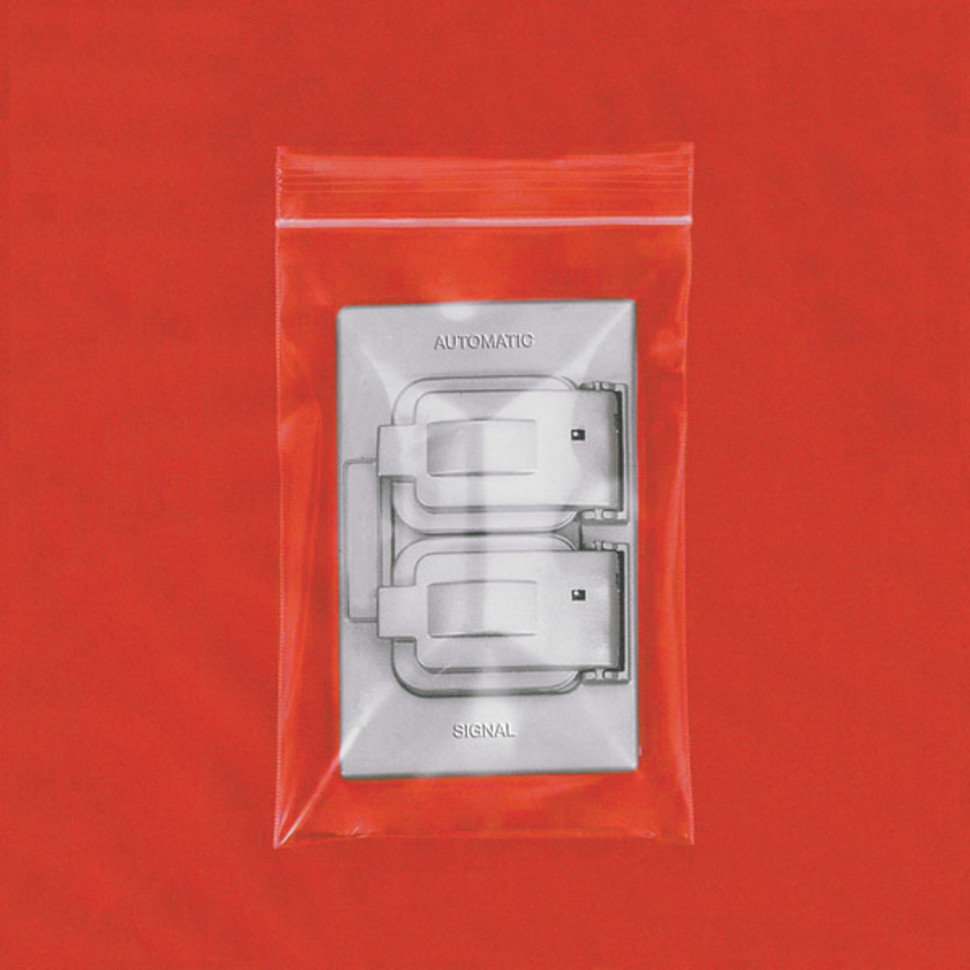 Sounds like … electronic post-punk gasoline for the 21st century machine. 
Surrounded by technology, the Internet, the climate crisis, and the pitfalls of capitalism, the 21st century does not make for the sweetest of inspirations. So LA-bases trio Automatic do not even try to sugarcoat it; the world is pretty fucked up and we translate that into music, seems to be their motto. Fusing synth-heavy electronica with post-punk attitudes, the female power group creates a motoric and unique sound. Without the warmth guitars usually bring into the mix, they do not fuzz the tracks out to endless crashing riffs but arrange sharp-edged progressions of pumping basslines, relentless drums, and dystopian synth-lines.
Signal is the band's debut work and an album that speaks of the clear and uncompromised vision of the musicians. A silver lining of emotionless vocals and cold electronic beats runs through the record. Matching to the dark and futuristic sounds, the lyrics speak of the anxiety and alienation of 21st century life. The title track discusses the 'machinery of life' in which 'it is not enough to be alive' with unsettling creepy whispers. The steady and motoric beat from the slashing drums and the funky bassline, complement the laconic voices with mechanical-liveliness. Too Much Money explores the downsides of capitalist systems and social media with punk-tinged vocals. Ice-y synth-lines and pumping bass melt into distorted sound elements. The songs all have similar sound aesthetics, an Automatic character. Yet, Calling It stands out. The electrifying heavy synthesizers flicker like whips of lightning on the retina in a crowded club and make this single a dizzying all-consuming ode to the overwhelming influences of modern living. (Liv Toerkell)
Stream Now: ► Spotify / ► Apple Music / ► TIDAL
---