Dear Panama,
I can't seem to think of you in anything other than nautical terms. Set in the Lone Star Valley, in the remote forests of Tasmania's north-east, your location's given name begins to set the scene of your dinner party; you're a burrowed clearing between the trees, a gem buried into the glorious topsoil, an island. Approaching you as a bead in a string of beat-up cars, the curve of the gravel road feels like a bridge, a ferry ride into the oasis. I don't believe there are many places in this world that carry such a magical aura as the one that tinges your periphery. Huge black galahs spread wings like sails overhead as we pull through your front gates as if to say, welcome back, kiddywinks.
It's your friends that make you the special gathering that you are, Panama. Spanning the entire age spectrum, silver-haired couples pitch tents beside hip young city folk, barefoot children and dreadlocked waifs. There's leopard print, glitter, floaty greens and skinny jeans. The diversity is matched by the food on offer, which is cooked by hand and sprinkled with soul; from blueberry smoothies to smoked tofu tacos to wallaby gozlemes, the atmosphere is full of rich sensory pleasures. You lavish us in treats, Panama. Did we mention that you also brew your own cider on site?
Of course, some of your most important embellishments  are the swathe of musical acts that swing from your wrists. This year's instalment included guests of all distinctions, from illustrious internationals to mainland river-crossers and the best of the island's local offerings. To preserve our magical time together, Panama, I wanted to let you know what tickled me.
Saturday saw the unveiling of your main stage lineup. As twilight crept to darkness, BOMBINO really swooped in to capture us. Hailing from Niger, Omara 'Bombino' Moctar roared and blew like a desert wind, pulling the fingers of the trees and the shoulders of the crowd into an uncontrollable shiver with his fretboard acrobatics. Singing in his native Tuareg tongue of Tamashek, the set resounded with that inexplicable sense of wordlessness, speaking with a palette of sonic brushstrokes. Chests swelled and cheeks crinkled in all of the right corners as feet rose to a stomp – an all-out ruckus that left joy plastered across the faces of musicians and audience alike.
Sunday morning, for those that snuck away from the technicolour wormhole of the Bedouin Club (and the lure of the roving tequila bar), was an early rise to quiet sunshine. Hundreds flocked to the field for a group yoga session, fingertips stretching in unison toward a cloudless canvas. By early afternoon the famous Panama clothes swap was underway, mountains of mingled fabrics being sifted and sorted through by earnest participants while The Kids Space brimmed with floppy hair and overalls, the festival's tinier attendees having their faces painted and galloping about in glitter.
It was the ladies of your lineup that stole the show on the second day. International headliner SHARON VAN ETTEN was completely gorgeous. Taking to the stage just after the sun's descent, the setting couldn't have been any more perfect for her dusky voice. The musicians rotated both between instruments and on and off the stage; as a result, we were treated to a plethora of sounds which included VAN ETTEN's acoustic solo rendition of an as-yet-unfinished track. Perhaps the most stunning thing about this musician is her intuitive feel for harmony, and her fellow singer was a breathtaking match. The whole thing continuously built and metamorphosed to the point of goosebumps, and it felt as though the surrounding trees had wrapped us all up in a nocturnal embrace, pulling us tight to its chest.
Homecoming sensation COURTNEY BARNETT was nothing short of jawdropping. From playing open mic shows in the tucked-away bars of Hobart to selling out shows in major cities the globe over, her trajectory over the past two years has been the stuff of legends. After catching her in concert, it's evident this comes down to a hell of a lot more than luck. BARNETT launched straight into a killer set of driving bass and howling guitar licks, Docs stomping the stage as she hollered out infamously deadpan lyrics. For a classic three-piece setup the sound was like a robust belly, full of fuzz and static. She was thundered down by audience appreciation, including the weekend's first crowdsurfers. One particularly excited fan breached the banks of the front row to reach the stage, dancing in circles and squeezing in a kiss before being chased back into the swarm. I was similarly excited, sidling over to the merch tent afterwards to remind her of the time that we hung out in Berlin and say a hearty NBHAP hello.
From there your party devolved into a tangled-up writhing of hedonistic pleasures, from cabaret curiousities to live bands to DJs inside the marquee. Apparently the early hours of the morning were met with a stage takeover during which the clothes of most of those in attendance were ripped off, but who am I to tell?
You were wonderful, Panama. Until our paths meet again!
With love,
NOTHING BUT HOPE AND PASSION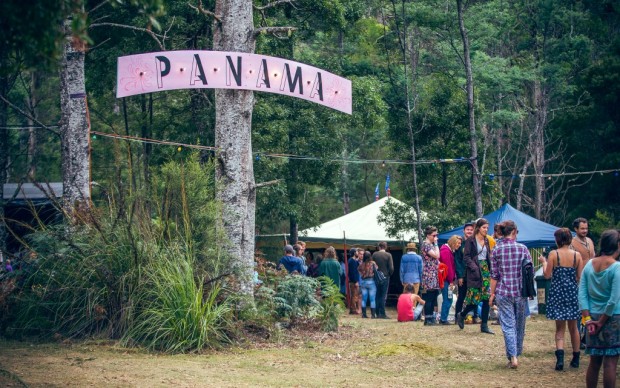 All images taken by and courtesy of the fantastic Phil Kitt.
—