IDLES – 'Crawler'
Sounds like … the boys are back in full fighting mode!
What a ride it has been for IDLES: three albums in, the Brighton quintet has changed from underground darlings to arena-filling mainstream success and has been given every label from post-punk saviours to middle class opportunists. Whatever you think of the ride, you can't deny it has been bumpy. Crawler, the second IDLES album in 14 months, feels very much like a direct reaction to this. Where the preceding Ultra Mono doubled down on brute force and simple slogans, Crawler feels like a band patiently and soberly reflecting on who they are, what they do and where they're going. This means that the album sounds surprising, diverse, and pretty un-Idles in a few places, and it results in the most varied, creative and fun Idles album since Joy As An Act Of Resistance. Opener MTT 420 RR sounds as if Colossus got into rehab, but what the song lacks in bite and rawness it makes up for with a solemn ambience that sounds sad and a bit creepy. Soundwise, the easiest way to describe Crawler is that IDLES took the motorik beats of Ultra Mono and treated them with the same attention to detail and sonic experimentation that made Joy… such a singular experience.
The songs sway and burst, but the predominant mood is that of a night that has been going on for too long, of the hangover that arrives even before bedtime, of dirty sodium light and muffled voices. Car Crash chucks and revs on a Krautock-y beat, but where the IDLES of the past would have crescendoed the song into oblivion, they decide to ride the groove here, creating a more subtle tension. Special mention to producer Kenny Beats, who presents the song in a spacy and well-levelled soundscape that is a far cry from the brickwall sound of Ultra Mono. The introduction of synth, acoustic guitar and ambient soundscapes present a lot of challenges for a band known for their rawness and directness, but everything sounds purposeful and of the same source. The main player, again, finally, is singer Joe Talbot, who is asked to do a lot and delivers a lot more. Where in the past one could have gotten the impression that the charismatic frontman was running out of things to say, the sparser and trickier melodies on Crawler allow him to be more poetic, more versatile, and also more funny. This, also, deserves special mention: After the humourless teeth-grind of Ultra Mono, Crawler, despite being pretty dark and sad overall, is a very funny album at times. This is not to say that everything is new and fancy: The lads are still fond of the big sing-along lines, are still big fans of The Hives, and still do the duelling guitar thing that still hasn't gotten old four albums in. But it feels again like it's in service of something, like the band is hungry and giddy again. The titular Crawler refers to someone who has been beat down but still keeps going. IDLES sound like the farthest thing from it. Welcome back boys. It feels like you never left. (Nils Heutehaus)
Stream It: ► Spotify / ► Apple Music / ► Bandcamp
---
Courtney Barnett – 'Things Take Time, Take Time'
Sounds like … unhurried indie folk odes to the small things in life.

There is something about Courtney Barnett's twangy vocal performance that just always touches. Her laconic observations of mundane things point to a bigger picture and her timber carries a natural nostalgia within it. The Australian singer releases her third record Things Take Time, Take Time and it is an ode to paying attention to the small pleasures of life and allowing oneself to take time to cope. In collaboration with the drummer and producer Stella Mozgawa, the musician created the ten-track record over the past two years. Marked by the emotional experience and struggles of the pandemic, the record explores themes of loneliness and caring for one another without being a tragic pandemic album.
Courtney Barnett's secret weapon is the wit that she sprinkles into her songwriting. The relatable lyrics are rooted in everyday experiences and intimate examinations of the singer's feelings. "I drag a chair to the wind and watch what is going on", she sings on the opener Rae Street. Folk-tinged indie rock, the singer layers guitars with warm keys and a backyard kind of natural sounding voice. Things Take Time, Take Time is an utterly human record and allows for a wide range of emotions and for none at the same time. If You Don't Hear From Me Tonight is a gentle confession of a lover, Take It Day By Day is the often much needed encouragement and support of a friend in hard times and Before You Gotta Go doesn't let a loved one go with the last words being words of anger. Overall, Courtney Barnett's daydreamy lethargy easily weaves a net of folky rock to sink into. Things Take Time, Take Time is one of the musician's most intimate outputs and her sincere and unpretentious style is as refreshing as always. (Liv Toerkell)
Stream It: ► Spotify / ► Apple Music / ► Bandcamp
---
Damon Albarn – 'The Nearer The Fountain, More Purer The Stream Flows'
Sounds like … an intimate wrestling with the doom and gloom of our times.
It says a lot about the current state of the United Kingdom when one of the country's most renowned cultural ambassadors recently gained Icelandic citizenship and doesn't have much hope for his former home in general. Well, Damon Albarn wasn't exactly the type of frontman that waved the Union Jack back in the heydays of 90s Britpop anyway and if you listen carefully to 2018's second The Good, The Bad & The Queen album Merrie Land that shouldn't surprise you at all. In a time of crisis turning away from the catastrophe and heading inwards is a suitable coping mechanism and his second solo album The Nearer The Fountain, More Pure The Stream Flows is exactly that. It also tells a story of rebirth and hope as the restless artist explains. Originally the record was intended as an orchestral piece that was inspired by Iceland's unique landscapes but during the Covid lockdown of 2020 he found himself on a 'dark journey' as he calls it and turned these sketches into songs that might partly be cryptic but also some of his most personal work of the past thirty years. The Nearer The Fountain… picks up the melancholic notion of Albarn's first solo LP, 2014's wonderful Everyday Robots, but takes it into even abstracter and partly bleaker territory. The opening title-track sets the mood right and embraces the listener with tender string textures.
"Am I imprisoned on this island?," Albarn asks at the beginning of The Cormorant, one of the darkest moments on the record. His voice is partly cracking, you can hear a new sense of vulnerability but partly also his age. The youthful days of Parklife might be gone but Damon Albarn's pop sensibility is still there (you just have to take a closer look at the recent Gorillaz releases for that) and on a song like Royal Morning Blue you can hear it as this sweet ode to escapism lifts the mood only to get followed by the twisted jazzy instrumental Combustion. Yes, he's really playing with the ebb and flow of human emotions here. Albarn invites us to an adventurous journey of expansive orchestral arrangements, fragile melodies, field recordings and experiments like the stunning instrumental piece Esja which is another testament of how much he as evolved as an artist over the past decades. Darkness To Light invites the listener to a sinister waltz while the playful trumpet in The Tower Of Montevideo really makes the nostalgic pictures Albarn paints with his lyrics come alive in your head. The Nearer The Fountain, More Pure The Stream Flows invites the audience to walk through the darkness along with the protagonist in order to arrive at a hopefully better place. "The particles are joyous as they alight on your skin," is the last line Damon Albarn sings on the album and yes, hope appears to be still an option. You just have to look elsewhere for it, apparently. (Norman Fleischer)
Stream It: ► Spotify / ► Apple Music
---
Jon Hopkins – 'Music For Psychedelic Therapy'
Sounds like… one of many paths to environmental awareness.
Jon Hopkins has always managed to combine the immediate with the bigger picture in his work which in itself is a challenge that isn't achieved by aiming at it but by letting go off any objective in the first place. For Music For Psychedelic Therapy, Hopkins spend time in the Tayos Cave of Ecuador and let his experience settle and filter for two years – the result is a spacious and rhizomatic, personal and universal experience, even if you're not under the influence of consciousness-expanding substances that has nothing to do with his ambitious techno experiments on the celebrated 2018 predecessor Singularity .
The usage of psychedelic drugs to treat mental health problems is becoming a wider discussed as well as researched topic ranging from articles about ayahuasca-tourism to statistics concerning LSD treatments against addiction and PTSD. But other elements which might be important for therapeutic efficiency like setting an atmosphere for the patient to open up, have been only implied, at least in the Western appliance of it. Music For Psychedelic Therapy is an example on how to create a soundscape which realises these conditions. While truly listening to the combinations of waterfalls, bird song, strings, piano and humming electronical sounds, one becomes aware of the paradox that one life means everything and nothing, that the world is constantly changing and that nature's is encompassment, even in a city like London where Hopkins put the pieces together. On the last song Sit Around The Fire, the only words of the album, are from a 70s recording from the psychologist and spiritual teacher Ram Dass reminds us to "Quiet the mind and open the heart" and "You don't loneliness cause you couldn't possibly be alone", it is the perfect way to release you back into the world while sinking deeper into your own heart. Jon Hopkins unites the ambient and classical genre, the meditative and electronic sound as well as the outside and the inside journeys we take to learn who we can be. (Anna-Katharina Stich)
Stream It: ► Spotify / ► Apple Music / ► Bandcamp
---
Dave Gahan & Soulsavers – 'Imposter'
Sounds like … a personal blues rock reflection by one of pop's most beloved voices.
Over the past ten years, Dave Gahan's musical relationship with Rich Machin of Soulsavers blossomed from a brief love affair to a project that's as important to the renowned alternative music icon as his main band Depeche Mode. Following their first two joint albums The Light The Dead See (2012) and Angels & Ghosts (2015) Imposter completes this special trilogy which saw Gahan fully embracing his love for bluesy rock and gospel and gave him a much needed spiritual home besides his arena-filling main band. Following an extensive tour to the group's latest record Spirit Gahan felt quite burned out and wasn't really sure where to head next. In conversations with Machin he started talking about the songs that shaped him as an artist and songwriter, the ones that were there for him during the darkest times and that made him carry on. From Bob Dylan to Cat Power, from PJ Harvey to Mark Lanegan (who actually introduced Gahan to Soulsavers) – suddenly Gahan found himself revisiting some of these tracks and the idea of a covers album was born. And although that sounds like a typical lockdown idea the whole record was actually envisioned before the pandemic (but the release obviously held back for various reasons).
Unlike their last two albums which saw Gahan and Machin working separately on the songs, divided by the Atlantic Ocean, the recording of Imposter was actually done live as a ten-member band at the legendary Shangri-La Recording Studio in Malibu, California in November of 2019. That detail in production is definitely sensible in the record's vibe which differs from its two predecessors due to that playful 'one take' vibe that runs through these twelve songs. The 1965 evergreen The Dark End Of The Street which was famously covered by Aretha Franklin and Elvis Costello before is perfect crooning intro for Gahan whose voice fits those old fashioned nostalgic pop tunes pretty well. James Shelton's Lilac Wine from 1950 is another prime example here which sees the singer in a reduced and pretty much acoustic setting that suits him as well and so is his tender take on Charles Chaplin's Smile from 1954 . It's a joy to see the established performer play with the possibilities of his own voice. Of course, he can't help but imitate Mark Lanegan a bit on his slow bluesy version of Strange Religion but than two tracks later he's up to unleash the sexy, sensual blues rocker in the band's take on I Held My Baby Last Night from 1952. There's also room for distorted guitars and Gahan's infamous screaming which you mostly remember from Depeche Mode concerts. Rich Machin and the Soulsavers gang are doing their best by giving their frontman the best possible set-up in which he can make these songs that are close to his hart his own. According to the press release Imposter is meant to be an album that tells Dave Gahan's story through the songs of others and that approach is especially entertaining since he didn't picked the most popular tracks from the past 70 years. But even the more popular ones – like Neil Young's A Man Needs A Maid and Elvis' indestructible Always On My Mind – a delivered with dignity and a nice little twist. Despite the heaviness that my have travelled along with Gahan's life every now and then, Imposter is an album that spreads love and hope for a better tomorrow. Maybe that release delay wasn't the worst idea, after all. (Norman Fleischer)
Stream It ► Spotify / ► Apple Music
---
Pip Blom – 'Welcome Break'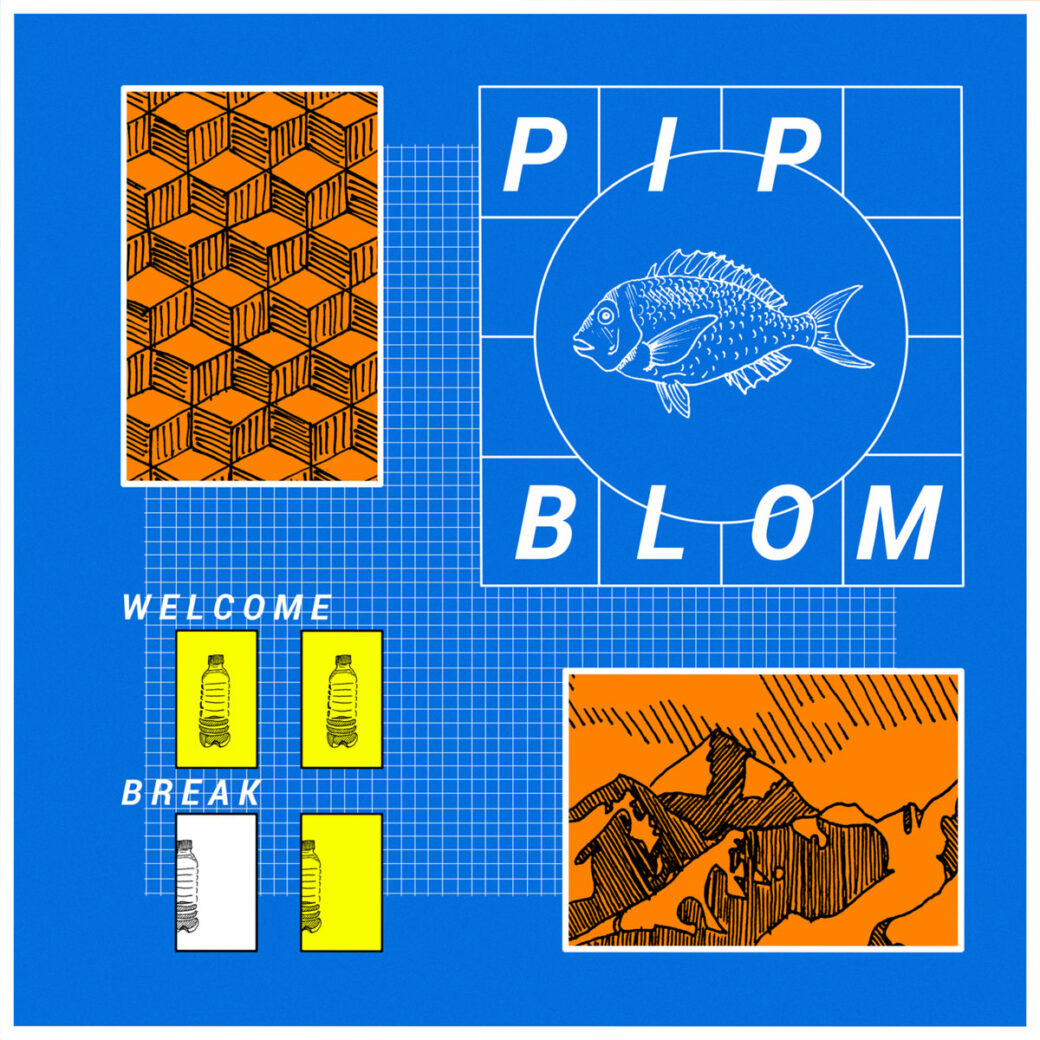 Sounds like … a whirlwind of self-assurance that is here to stay.
Pip Blom's indie pop debut album Boat had its first anniversary last year in May and three shows in Rotterdam were planned to celebrate the occasion. A pandemic interfered, but the quartet – enthusiastic and creative as ever – put together an alternative tour: Frontwoman Pip and her father drove around the Netherlands to deliver all the Dutch orders of the Boat Deluxe Box and took pictures of the happy receivers on Instagram. This serves as a prime example of one of the band's strengths: With a hands-on approach, they navigate through chaos, negativity and cynicism and are able to spread feel-good vibes. This attitude also shows in the fact that they took over the production of their second album Welcome Break (the title refers to the British motorway service stations of the same name), the 'self-assured older sibling' to their 'fresh-faced' debut.
And Pip Blom still have the ability to write incredibly catchy and varied tunes: Punchy songs with sing-along choruses (e. g. You Don't Want This, Keep It Together) take turns with melancholic and more revealing tracks (It Should Have Been Fun, Holiday). One of the album's highlights is I Love the City, a song about their experiences with extensive touring: While Pip usually focusses on the melodies and doesn't want to think and talk about the lyrics too much, I Love the City lets us take a look behind the well-known light-hearted and humorous side of Pip Blom and their joy of playing live (which you can see in the video for their latest single I Know I'm Not Easy to Like). Thematically and sonically, the songs on Welcome Break are more nuanced than those on its predecessor (also because of a more dynamic use of guitarist and Pip's brother Tender's additional vocals), but they sound just as effortless, and that's really a more than welcome break. (Jessi Schmitte)
Stream It ► Spotify / ► Apple Music / ► Bandcamp
---