It's late August now but this year it feels like summer indeed doesn't seem to fade. Some trees or meadows may look like autumn is in full swing but the sun is still burning. It's somehow strange to say that for a German. The last time we had such an amazingly long period of warmth is 15 (yes, f i f t e e n) years ago. I do remember the incredibly long and hot summer days of 2003 as if they passed by only yesterday. When the heat reached its peak I happened to be lost deep down south in Bavaria. Thank God I'm in Cologne now where sunny days are backed with good music, talks and workshops from August 29 to September 2. The c/o pop Festival is deeply rooted in and connected with Cologne. It takes place at the heart of the city as much as it's part of it. Just take Saturday's free program 'Super-Samstag' as an example: Lots of free concerts of Cologne-based bands (e.g. AKWUAR) and beyond (e.g. Floral Shop) that take place at unusual places like bicycle shops or backyards places where besides the gigs regular life happens. What first might appear strange will become super natural within seconds. Intentional festival attendees and passer-by form a collaborative crowd and plans for the day suddenly change. As often is the case in Cologne, sooner rather than later words and beer are exchanged and new friends are found.
There's incredibly much to see at this year's edition of the c/o pop Festival. The diversity of the program is striking. Checking all the different formats taking place at various locations across the city makes you wonder how this ambitious festival could actually be brought to life. But it does happen. Each year. In the midst of Cologne – besides everything else that is usually happening there. It's hard work that pays off. Side note: The amount of big or even bigger names may have decreased but, honestly, the line-up only seems to profit from that. c/o pop has by now become a festival for music lovers. A dedicate crowd and people who want to be part of that – even if it's spontaneously. The program worships artists and relevant topics. The accompanying convention thus deals, for instance, with the 'future of spaces' – a hot topic that is under discussion in many metropolises of the world. The workshops, on the other hand, reach out their hand to young talents in order to support their understanding of autotune and creating remixes (so technology is an issue), the power of social media (performance and influence) and crowdfunding (marketing) etc. The diversity of the program makes it truly hard for us to pick a representative selection of events as there is so much going on worth a mention. Still, we think that the festival is subtitled with a fantastic theme we'd like to share with you: Good reasons to celebrate. The reasons for celebration are basically a good number of performance premieres as well as record label jubilees. So it's all about premieres and jubilees in our preliminary report.

1. Sam Vance-Law
Reason to celebrate: First-ever solo performance in North-Rhine Westphalia.
When & where: Stadtgarten, Friday, August 31, 7.45-8.30 PM
It's been a bit of a hard time for the indie (folk) loving folks in North-Rhine Westphalia so far. We've all watched and heard about Sam Vance-Law; that Canadian poster boy who has his roots in classical music and British choir. Well, thank God he's turned to indie pop music! Having out his humorous but nonetheless seriously important solo record on Caroline since March, he's already toured a lot across the country. However, and that's shocking, he never had a solo show in NRW. Still, we know it's awfully pleasant to watch Sam Vance-Law perform his chamber pop tunes and telling stories about his life with a voice that one could listen to all night long. And probably even longer. Since he's been living in Berlin for quite a while now he also speaks a bit of German, but – let's be honest – we really wish him to continue telling his stories in that decadent, warm-hearted English that makes us smile, giggle and fall for him. We're happy to attend Sam's first-ever NRW show in Cologne and we're sure you are, too.
2. Left Hand Island
Reason to celebrate: First-ever public performance.
When & where: Gewölbe, Saturday, September 1, 7.45-8.30 PM
The Gewölbe, located directly under a railway station, has an excellent and well-versed tradition if it comes to acts practising electronic music. The hot French newcomer Agar Agar will be hosting a gig at that darkish and rough place soon whereas acts like Urban Homes or Kölsch etc. already paid a visit. So it's only fair enough to have Left Hand Island celebrate their first ever public performance at this gracious place. Left Hand Island are a side project of Georg Conrad from Coma and Wolfgang Paris from the indie pop outfit GOLF. It's been kind of a loose project: The work on the Pluto EP which includes three songs in total is the result of exchanging ideas. The duo is not active on Facebook or other social media platforms. And their fabulous and catchy 3-track EP has only ever been released online. So, Left Hand Island really needed to be discovered by dedicated lovers of electronic pop. Indeed, Pluto turned out to be one of this year's finest collaborations in electronic pop. It's fun, catchy and makes us want more. So here is hope that their 45 minute set includes maybe even more new songs set for a future release. NBHAP would sure appreciate the continuation of Left Hand Island and therefore recommends the duo's first ever public performance at Gewölbe.
3. Jungstötter
Reason to celebrate: First-ever performance in North-Rhine Westphalia.
When & where: Britney, Saturday, September 1, 8.45-9.30 PM
As part of: c/o pop Cardinal Sessions w/ Messer and Gewalt.
Jungstötter is a name that sounds first strange and soon after somewhat familiar. 'Does it ring a bell?' some of you might ask themselves. Well, it sure does. Jungstötter is the new musical project of Fabian Altstötter (so, quite obviously, the exchange of alt (old) for jung (young) is a play on words) who once was the singer of a promising indie band called Sizarr. Sizarr released two critically acclaimed and fantastic sounding records between 2012 and 2015. But I, for example, remember first taking notice of the band when they played support shows for James Mercer's beloved side project Broken Bells. Sizarr played a support slot at the Gloria Theatre and literally the whole crowd went like 'wow, what's that shit?'. Sizarr managed to sound unique and if the world and business had been fair with and to them they'd be playing gigs all around the world now. Unfortunately, that did not happen and the band vanished. One of Sizarr's great ingredients was Fabian's voice and vocal performance. Although Jungstötter already played a few shows, there is no music online to this date. However, it's said to sound much more minimal and relies on Fabian's vocal performance. Hence, we're happy to attend Jungstötters first ever performance in NRW and welcome him back to the music scene. His voice is definitely one to look out for at this year's c/o pop Festival!
4. Staatsakt Record Label Gala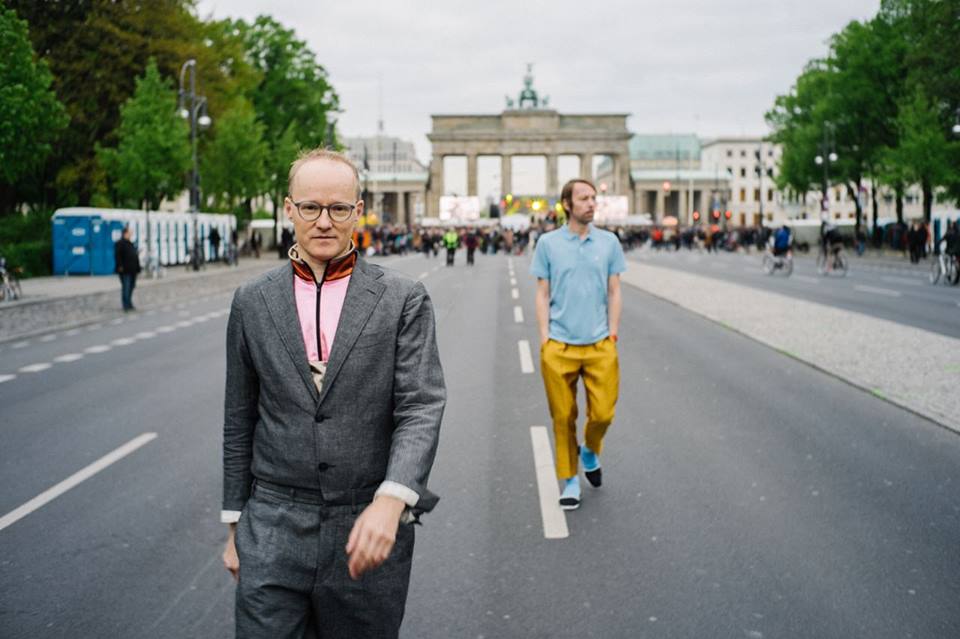 Reason to celebrate: 15 years of Staatsakt.
When & where: Gloria Theater, Saturday, September 1, 9-10.30 PM
w/ songs and performances from Die Sterne, PeterLicht, Ja, Panik etc.
Wow. Congratulations first. Happy Birthday to 15 years of Staatsakt – one of our favourite labels. Known for its 'state of the nation' write-ups each Sunday on Facebook, home to our favourite Austrian band Ja, Panik, home to the grand-dame of elegant tristesse Christiane Rösinger, home to the fun punk pop boys of Chuckamuck and the best drummer on Earth aka Chris Imler (and so much more), Staatsakt is a label with great taste and stories. We don't fully know what to expect from that evening we recommend to you in this article. Little is known. Sure, it's going to include and feature songs and performances of acts signed to Staatsakt, but – as we know the label – there'll be just more. And we know it's going to be great. During the past 15 years Staatsakt succeeded to become one of Germany's most relevant voices in indie pop, not being afraid to also bring in the politics of pop. That's why Staatsakt should always be heard – especially at their own label gala at c/o pop. As far as we know, Chris Imler, PeterLicht and Andreas Spechtl as well as many other are onboard, so a great night out at this gracious theatre in the heart of Cologne is guaranteed. Meet us there. We love galas.
5. Coma
Reason to celebrate: 25th jubilee of the Kompakt record label.
When & where: Studio 672, Sunday, September 2, 2.30-3.15 AM
As part of: 25 years of Kompakt w/ Michael Mayer, Tobias Thomas, Rheinhard Voigt (live), T.Raumschmiere (live), Rex The Dog (live), Justus Köhncke etc.
Once again: First of all congratulations to 25 years of Kompakt. During the past quarter of the century, Kompakt has grown to become an institution for electronic pop. The label houses many artists and is known for its parties, events and regularly releases. The Total compilation series helps define electronic music's state of the art and the sound of Kompakt still influences the sound of the city and beyond – even the Pet Shop Boys are big fans and once released a collaboration with Sam Taylor-Wood on the label. One of Kompakt's classiest signings is Coma. Coma consist of Marius Bubat and Georg Conrad. The duo have their own studio in Cologne and released their defining debut LP In Technicolor in 2013 and the follow-up This Side of Paradise two years later. Besides, Conrad works as producer and sound designer (eg. LIA LIA) and Bubat is on tour being responsible for Roosevelt's live sound. Their live shows, on the other hand, are terrific audio-visual experiences. Slightly comparable to how Kraftwerk handle things, each song that Coma perform is accompanied by a colourful video projection. Bubat plays electronic and drums whereas Conrad also handles the bass. Coma live is always a great experience and therefore we're lucky enough to once again have the chance to witness their audio-visual show late at night at a terribly small location for a dedicated crowd.