---
Depeche Mode – 'Spirit' (Columbia Records)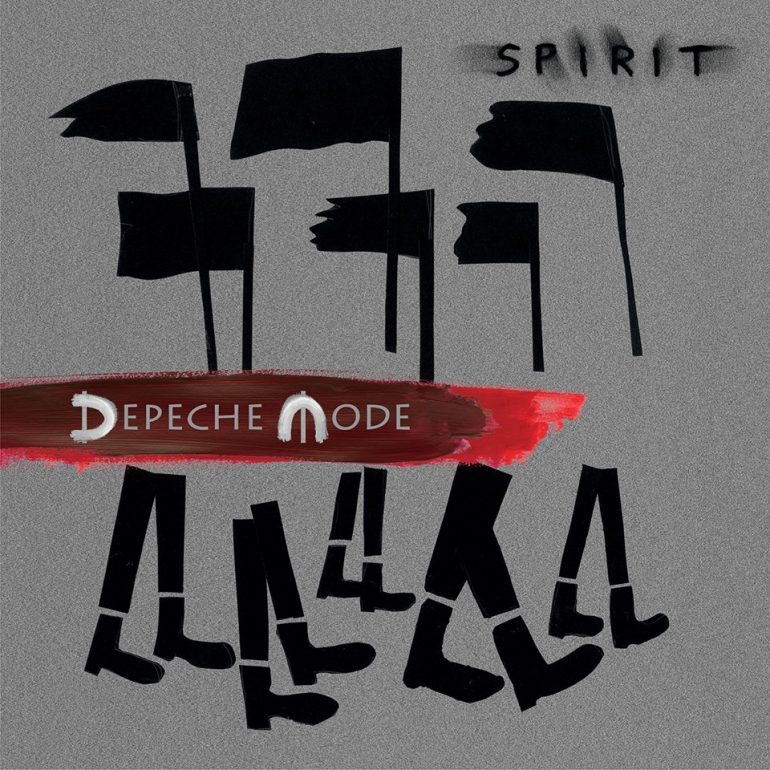 What it is: The 14th full-length by the synthpop dinosaurs who celebrate their good old habit of delivering a new album every four years for the past 25 years. Still, a few things are different on Spirit. It's the first album with producer James Ford (ARCTIC MONKEYS, FLORENCE + THE MACHINE) after the Ben Hillier trilogy and it also shows a radical new politically side from Gahan, Gore and Fletcher. In the wake of current societal events, Spirit surprises with a not that subtle call to action as the band leaves the spiritual and religious metaphors of the past three decades behind to visit  a lyrical field they haven't addressed since Everything Counts and People Are People back in the early 80s. These circumstances show how screwed up things are right now (btw, it's also the first DEPECHE MODE record to actually feature the F-word itself).
Why to listen to it: It's the same problem as always. DEPECHE MODE fans will listen to this one anyway while those who aren't familiar with their music should probably pick a more important one from the band's discography. Still, Spirit turns out to probably be their best album since 2001's critically underrated Exciter. James Ford managed to sharpen and reduce their sound to a certain essence that puts the songs itself in the foreground while the Hillier records always had the tendency to loose themselves in their own ambitions and sounds. Going Backwards starts the album with sharp drums and an urgent piano as Gahan confirms 'We have not evolved'. Yes humanity, the elder statesmen of synthpop make sure that the message isn't subtle this time. They call for a riot (Where's The Revolution?), sing about lynch law (The Worst Crime), take the side of the working class (Poorman) while also calling to 'pull the trigger' against certain political leaders (Scum). Although the LP was written before Trump's election it's quite easy to get an image here. Aside from the surprising lyrical change, producer Ford adds his SIMIAN MOBILE DISCO-trained techno skills to the DEPECHE MODE magic, giving it a certain fresh and hypnotic groove every now and then (The spherical Cover Me is one highlight). Spirit almost feels like the missing link between 1990's Violator and Songs Of Faith And Devotion from 1993, the one that was never recorded. And although especially Martin Gore's solo tunes got a pretty bleak perspective this time ('Our conscious is bankrupt, we're fucked' in the closing track Fail) the result leaves you hopeful in a bizarre way and ready to stand your ground and change things. It's the right album at the right time – for society and the band who's apparently not ready to retire yet. (Norman Fleischer)
---
Real Estate – 'In Mind' (Domino Records)
What it is: In Mind, the fourth full-length record from REAL ESTATE. Hailing from the suburbia of New Jersey, the four-piece band came to be known as the vanguard of a movement of jangly, dreamy guitar pop bands that also spawned acts like DIIV, BEACH FOSSILS, WILD NOTHING and – former bandmate – DUCKTAILS. Writing densely atmospheric mid-tempo pieces, their first two albums Real Estate and especially Days went on to become considerable successes with critics, establishing the band as a household name in the genre. 2014's Atlas saw the band collaborating with keyboardist Matt Kallman and stripping away layers of haze, slowly moving away from the lo-fi aesthetic of their earlier work and approaching a more cleared-out sound. But as the band matured, so did the side projects of singer Martin Courtney, bassist Alex Bleeker, and guitarist Matt Mondanile – in the end, the latter decided to pursue his side project DUCKTAILS full-time, leaving REAL ESTATE with the task to replace the man behind the single most distinctive element of their music.
Why to listen to it: Surprisingly, not that much has changed with the departure of Mondanile. It seems like the change in line-up gave REAL ESTATE the possibility to whole-heartedly embrace the progression in sound that Atlas had hinted at: opener and first single Darling is easily the most straight-forward song the band have ever written, flanking the polyphonic guitar playing of Courtney and new member Julian Lynch with subtle patches of bright synthesizers. Where Mondanile had relied on hypnotic cascades of flanging reverb tails, Lynch instead introduces an occasional distorted guitar tone into the equation, giving Serve the Song and Two Arrows a level of edge previously unknown with the band. However, with this increased sense of linearity, REAL ESTATE have lost some of their sun-infused doziness, leaving songs like White Light or the Alex Bleeker-fronted Diamonds Eyes with a strange saccharine touch. In the end, In Mind is at its most convincing when the band dare to move into experimental territory in terms of sound and arrangement and add new texture: a rare electronic kit on atmospheric Time, a weighty piano intro on closer Saturday or the swampy After The Moon with its unexpected coda. (Igor Franjić)
---
Adna – 'Closure' (Despotz Records)
What it is: ADNA has been making waves in the music world since the release of her first album, Night in 2014. Closure marks the third full-length album from the young Swedish artist, who has carved out a well-earned place as a contemporary singer-songwriter. Her particular brand falls somewhere between popular and folk styles and harkens back to some of the anthemic female pop singers of the 90s such as Paula Cole and Sinead O'Connor. She offers a uniquely melancholic quality sound that is at once, introspective and powerful.
Why to listen to it: When I think of contemporary singer-songwriters from Scandinavia, I hear poppy, upbeat cyborgs or calm, ambient voices with a heavy electronic influence. This is perhaps the most interesting aspect of ADNA's music: in many ways, she seems to be more of a musical purist. An unadulterated, honest voice can be heard with all its beauty and imperfection. Simple instrumental lines created by the multi-instrumentalist dot the background without ever really asserting themselves. Following from her first two albums, Closure seems to offer a further step towards simplicity and raw emotion. This will be a great addition to your next 'crying playlist.' (Jesse Freeman)
---
Conor Oberst – 'Salutations' (Nonesuch)
What it is: It has only been six months since CONOR OBERST put out critically acclaimed Ruminations. One of his finest works to date. An album so minimalistic, intimate and full of beauty as well as pain that proved Oberst's undeniable status as one of the most valuable contemporary songwriters. Now, he returns with his follow-up Salutations and once again, a change of sound. The intimacy is replaced with much bigger arrangements making the album a full band recording that goes beyond the acoustic guitar, piano and harmonica Oberst used so well to capture the songs' fragility on Ruminations. As much as the Bright Eyes singer is able to pull of an album like that all by himself, he invited a few guests to help him out on Salutations like his friends THE FELICE BROTHERS.
Why to listen to it: It is not just the fact that CONOR OBERST serves us another round of his songwriting gems within only a couple of months with Salutations and offers us a completely new side of the songs due to their re-arrangements, Oberst adds a bunch of brand new tracks, too. With 17 songs in total, Salutations is a lengthy listening experience that expands the folky singer-songwriter outcome of Ruminations and has Oberst adding an overall touch of Americana and Country to the songs. In a lot of ways, Salutations demonstrates what CONOR OBERST has been all along: a songwriter who strives to approach his own work from as many different angles as possible without being afraid to take risks when it comes to his creative output. Neither as a solo artist, nor as a part of his dozens of collaborations in his career. Whether one prefers the pure and fragile soundscape of Ruminations or the more lively and loud re-imagination of these songs on Salutations, there is a whole lot to discover and thankfully, the gentleman continues to show us why we should approach his latest work from multiple angles with our ears as well. (Annett Bonkowski)
---
Spoon – 'Hot Thoughts' (Matador Records)
What it is: At this point of their career, indie-rock band SPOON from Austin, Texas are an institution. Having released eight albums with a public response ranging from favourable to ecstatic, the quartet around frontman Britt Daniel should have little to prove to audiences or critics – their core sound remained virtually unchanged for more than a decade as the band approached indie rock from slightly different angles with each release. However, with 2014's They Want My Soul, they chose to embark in a slightly more experimental direction. Produced by Dave Fridman, a legend of indie rock himself whose impressive track record spans artists as diverse as THE FLAMING LIPS, NEON INDIAN and LOW, Spoon started to embraced synthesizers, drum machines and the possibilities of studio effects.
Why to listen to it: Hot Thoughts sees the band continue down that route as Fridman's production and SPOON's songwriting become more and more intertwined. What was previously only hinted at with songs like Inside Out takes full effect on Hot Thoughts: occasional textures, synthesizer lines, electronic drums appear not as a sonic makeover, but serve as focal points. I Ain't The One, on paper a classic piano-driven song driven by Daniel's bold delivery, rests on a synthetic thump that morphs into space-consuming percussion. Incidentally, the longest cuts Pink Up and Us are also the ones where saxophones, steel drums and reversed vocals lead the furthest away from the band's guitar-based origins. Fridman's additions, bolder than on They Want Your Soul, provide additional depth to SPOON's arrangements, which brings out new sides in the band's sound although their internal dynamic remains virtually unaltered. The one-two punch of Hot Thoughts and WhisperI'lllistentohearit is easily one of the most energetic album openings we have heard thus far this year precisely because the band skilfully transfer their vigour and relentlessness into a new environment that relies heavily on groove and the interplay between atomic elements. When Daniel sings 'You got me uptight, twisting inside / Hot thoughts all in my mind and all of the time', you are led to believe it is not only a character experiencing an unhealthy attraction, but also his very own bodily sensation, a new-found euphoria for a sound that must seem alien to anybody who learned about the SPOON of 20 years ago. (Igor Franjić)
---
Jarvis Cocker & Chilly Gonzales – 'Room 29' (Deutsche Grammophon/ Universal)
What it is: The collaboration of CHILLY GONZALES and JARVIS COCKER, a bizarre duo perhaps, but one that is such a spectacular meeting of musical minds that you can't help but marvel. From the first sharp piano key to the last note, the pair delivers. Deliver what, I can't be sure. I was left feeling somewhere between happy and sad, inspired and exhausted. Who thinks of recording a pen scratching on paper, a dripping tap and everyday recorded conversations? Cocker and Gonzales. They take musical styles, throw them away and make their trademark.
Why to listen to it: Jarvis Cocker has always been a poet. From the early 1990s Britpop to political satirical snipes, he has always had a way with words. This record is no different. 'You are a real jerk/ A real tearjerk' manipulating words and forming alternative narratives. From the opening track, Cocker's sarcasm coupled with Gonzales' minimalist melody creates a masterpiece. Dry. Cold. Humourous. Gonzales' sparse piano with the PUL frontman's softer voice beckons you. To where? Room 29? Or just a quite special place, indeed. (Hannah Fahy)