---
Algiers – 'The Underside Of Power' (Matador Records)
What it is: Two years ago, ALGIERS left a lasting impression on the music scene with their self-titled debut album. Having lost neither their urgency to address political issues nor their elaborate approach, the band is now back with their follow-up called The Underside of Power. Former BLOC PARTY drummer Matt Tong has become a permanent member of the band in the meantime. Along with Franklin J. Fisher, Ryan Mahan and Lee Tesche, the group recorded the new songs with Portishead's Adrian Utley in Bristol. Despite the band members living in the UK and the US, the musical outcome and its message is clearly one of unity. Sonically, the songs revolve around the traditional aspects of soul and gospel with strong post-punk influences being written all over the album. 

Why to listen to it: The form of protest music is not outdated. At least not when you have a band like ALGIERS that is pouring their heart and soul into songs that are meant to stir up your consciousness and perception of things. In today's political climate it's fatal to be quiet about the state of the world. Thankfully, more and more artists discover the power of their voices and openly address what is on their minds. The four-piece from Atlanta has bundled their pain and anger about what is going on around them and generally in the world into a fierce and vigorous collection of twelve new songs. They address big issues like the misuse of power, racism or social injustices with a musically thrilling and compelling criticism that is clever, loud and most of all never hesitant. The imminent danger we are exposed to as people on a grand scale fuels the album's lyrical and sonic content to a degree that presses hard on our shoulders. At the same time, the weight we are feeling throughout the record only implicates the seriousness we are facing. But it's not all doomed according to the band. In between the overall outcry, despair and numbness there is still room for hope and therefore change that all is not lost. The Underside of Power is exactly the much needed wake-up call that ALGIERS can provide without coming across as preachers of an underground revolution. Instead, they are using their music as a powerful tool to channel the incredible amount of idiocy and bigotry that is all around us into an insightful reflection that goes deep into today's reality. (Annett Bonkowski)
---
Washed Out – 'Mister Mellow' (Stones Throw Records)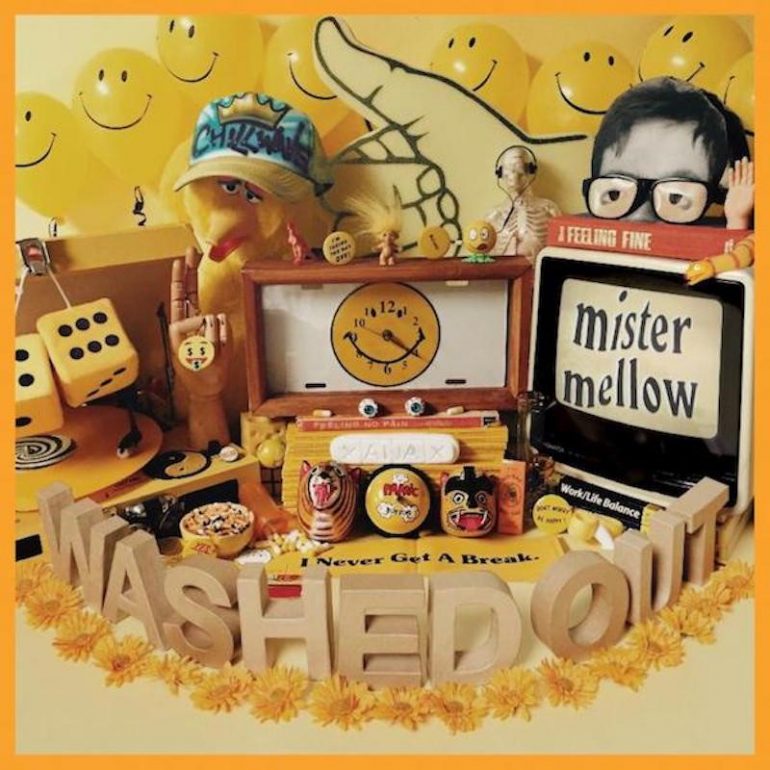 What it is: Mister Mellow is WASHED OUT's first visual album. Eight years after his homemade EP Life of Leisure and especially its song Feel It All Around triggered the 'summer of chillwave', Georgia's Ernest Greene, the man behind the moniker, made a very personal album and – en passant – put the mood of a generation, namely Generation Y, into a multimedia experience: With the help of eleven different artists, every song of the record was turned into a video. The resulting sonic and visual patchworks are 'imperfect and distressed', says Greene, and thus reflect the 'very skewed, impressionistic view of the world' many millennials have.
Why to listen to it: Mister Mellow is a logical consequence of WASHED OUT's work so far as it expands Greene's palette once again. Its incorporation of a wide range of genres, samples and video techniques make for a realistic dive into the feelings of young adults nowadays. From the struggle for time off (Burn Out Blues) over ways to escape (I've Been Daydreaming My Entire Life, Down and Out) to the loss of love (Hard to Say Goodbye): Greene presents a colourful kaleidoscope that not once comes close to falling apart. By merging songs with short interludes full of voice samples, WASHED OUT moves away from the clean and accessible sound of his prior recordings. And because most of the songs have an upbeat and summery sound and visual which stand in contrast to the world-weariness of the interludes, this merging points to some modern-day paradoxes: being unhappy in a privileged life, feeling stressed but acting lethargic, experiencing loneliness in social networks. The individuality as well as the universality/interchangeability of Greene's experiences are mirrored in the subtlety and partial substitution of his vocals and equivalently of his face and body. Mister Mellow displays a fresh and modern handling of a popular topic which makes listening to the record and watching the videos a cathartic experience: The confrontation with the busy and self-indulgent lives we lead is so extreme and absurd at times that it makes you laugh. Greene further explored and pushed the boundaries of songs, albums and videos leaving no doubt that he has survived the trend he set and the imitators that followed. (Jessi Schmitte)
---
Beach House – 'B-Sides & Rarities' (Sub Pop)
What it is: I mostly remember BEACH HOUSE for their 2015 double LP Depression Cherry and Thank Your Lucky Stars, while road-tripping alone in a winterish Scotland. The snow was tenderly falling from the sky, as I was confortably settled in my car, drinking a hot coffee, and having the dream-like melodies of BEACH HOUSE soothing me… but as their 2008 is titled, it Used To Be. The demo version of it – present on this new LP of rarities and B-sides – is a nice banner of what this new opus is about: cherishing the old not because you fear of losing it, but because these cognitive doors on yourself permit the most fascinating maieutic. As if time wasn't linear, but something inextricably more astonishing as you go on fantasizing things so that you renew the sense, until a hidden door on yourself crumbles down, and, in a blissful breath, you finally realise why everything.
Why to listen to it:There isn't any hidden intricacy within this B-sides LP other than that. But perhaps, and mostly sometimes, it is good that way. If you're already a listener, then you will find nice melodies and loops, some you might have even heard before. If you're new to this amazing duo, then you might consider attacking their discography with a more consistent LP narrative (Depression Cherry would be a nice fit). And either way, you can enjoy a beautiful landscape while travelling, or simply smoke a cigarette and look at the life outside your office: the dreamy and talented indie-pop of Victoria Legrand and Alex Scally will do just fine. And maybe, their soft melancholy will mark a piece of your mind with a red-hot iron so that one day, you can dialogue with a younger self. (Bastien Perroy)
---
Various Artists – 'Too Slow To Disco Vol. 3' (City Slang)
What it is: The fourth compilation of DJ SUPERMARKT's acclaimed sampler series (numbered as 'Vol 3' due to last year's all-female The Ladies of Too Slow To Disco edition) is just what you thought it would be: Another selection of soulful and smooth yacht pop straight from the Californian West Coast of the 1970s. Retro lovers can expect 18 tracks between jazz-tinged melancholia and sun-drenched positivity, paired with sensual sexiness and funky delight. That's what the sampler and party series of Mr. SUPERMARKT aka Marcus Liesenfeld has always been about like he previously told us.
Why to listen to it: Aside from the delicate and summerly sound of all tunes you can really sense the gold digging ambitions of Liesenfeld since he usually avoids to simply fall for the big players of this area. Yes, there's a GRATEFUL DEAD tune on it but it also took him about four years to get clearance for this one. Aside from that, a Too Slow To Disco sampler always feels like a trip to a vintage record store where you randomly pick a 7-Inch vinyl single based on its title and artwork and see what comes out of it. Curator DJ SUPERMARKT is kind enough to take care of this job, dig through long forgotten tunes and present them to you in a shimmering and shiny new setting. The tracks come with titles like Do The Bossa Nova, Take It Easy, Silky and Cool Breeze which pretty much speak for themselves. The beauty of Too Slow To Disco lies within its old-fashioned and honest nature. Yes, a lot of these tracks might be pretty uncool pop tunes but they were created with a maximum amount of love, honesty and also musicality. They take us back to simpler times while also channelling the longing for more authentic and organic pop tunes like these. There's a reason why even CALVIN HARRIS is saying goodbye to EDM on his freshly released new LP and is looking for a more human element on the dancefloor. DJ SUPERMARKT has been a pioneer on this field and we're pretty sure the establishment of the Too Slow To Disco brand has just started. (Norman Fleischer)
---
Various Artists – 'The Early Days: Post Punk, New Wave, Brit Pop & Beyond 1980 -2010' (Unter Schafen Records)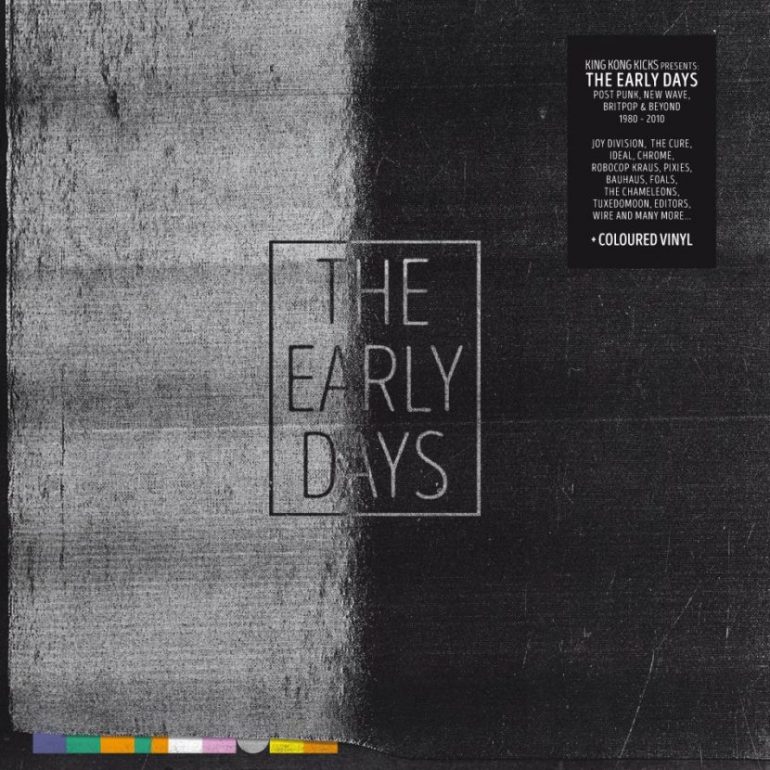 What it is: Our beloved readers may have noticed that the staff of NOTHING BUT HOPE AND PASSION is truly devoted to conscientiously putting together as well as sharing enjoyable playlists. These playlists and mixtapes (that often see invited artists involved) cannot be considered merely a duty we prescribed ourselves to create and deliver. Rather, they embody the dedication and passion we feel towards music; therefore they're not solely products but instead act as an attitude that we'd like to share with a potential audience out there. In this respect, the same could be said about one of this summer's finest compilations, namely The Early Days, curated by the good people of Unter Schafen Records and German indie party hosts King Kong Kicks. The double CD/ vinyl sampler includes 22 songs that saw the light of day between 1980 and 2010 and will make you (re)discover the glory days of indie disco.
Why to listen to it: The role and function of compilations have drastically changed during the last couple of years. In this day and age where music is easily accessible and basically nonstop available for streaming, this once coveted format lost its appeal as a commercial product. Nowadays, 'compiling' a record is a playground for chroniclers, aesthetes, and people who call themselves 'completists' – just think of the fine Cherry Red Records. Compilations reveal developments, depict epochs, or even work as biographies. They're particularly interesting and fascinating because – when presenting retrospectives – they let us feel slightly melancholic and make us remember, possibly even more so than a singular album. The Early Days does the latter and it's additional communicative function is that each song on its own as much as the proper collection tell great stories. The overall narrative, however, is that of those glory days when indie parties still managed to fill clubs. Hence, the impression is created that the curators understand themselves as DJs (not businessmen) who often choose pieces of jewellery over more obvious choices (debut or compulsively successful singles). This makes Early Days house, for instance, Transmission of JOY DIVISION, All Sparks by EDITORS, and Two Steps Twice by FOALS. Chronology turns out to be somewhat irrelevant here as the sampler intends to spread the atmosphere of a brilliant night out. Consequently, it's purpose is not to reconstruct the complex progress of a particular movement. Accordingly, listeners find a collection of early of post punk, new wave, and Britpop that 'flows' particularly well. The Early Days emphasise that compilations are treasures now and they should be treated as such. This is also why the beautiful multi-coloured vinyl version furnished with anecdotes of several artists will probably be the love interest of devoted aficionados. Ultimately, The Early Days contributes to a musical niche with a compilation that serves as a testament to songs that should remain as they soundtracked numerous brilliant nights out. How could NOTHING BUT HOPE AND PASSION not fall in love with such great taste? (Chris Hegholtz)
---