Celeste – 'Not Your Muse'
Sounds like … a mixture of soul and pop carried by an unique voice.

Not Your Muse is a record that makes dramatic shifts in mood. It is the first release by London-based singer Celeste and shaped by her roots in soul music and collaborations with contemporary producers. Songs like Tonight Tonight have a radio-friendly pop vibe but Celeste can also dig deep. The true gems are the stripped back soul songs, like the heart-aching Strange. Examining the steps of entering and exiting from a relationship, the singer's vocals highlight the emotional story by alternating from soaring highs to raw depths.
Her voice is the trademark that makes Celeste stand out. It has a distinct rasp to it, and it has the power to transport whatever emotion the singer wants to communicate. Ideal Woman, the opener, showcases that beautifully. With sparse instrumentation, the vocals take center stage – and they shine. On the more upbeat spectrum Love Is Back is a groovy soul anthem that makes cloudy days appear a little sunnier. Between pop and soul, between sadness and euphoria, and between the past and the future of soul music Celeste's record leaves a mark. (Liv Toerkell)
Stream It: ► Spotify / ► Apple Music
---
The Staves – 'Good Woman'
Sounds like … the comfort of change.
It's been a while since admirers got to enjoy a new Staves' record. If  I Was (2015) was the trio's moment of recognition and Good Woman is their moment of realisation. With the right amount of familiar vocals and folk instrumentalization the listener is lead through the twelve songs, only to stagger in amazement over manipulated harmonies, pop divergences and sharp observations. After self-producing their previous albums, it feels like the influence of John Congleton (who has worked with almost everyone in the industry) also adds a welcomed messiness to Good Woman or this was The Staveley-Taylor sister's plan all along to highlight the messiness of their personal lives during the past seven years.
The title track opens the album and right away, a Staves-fan's expectation is taken by surprise – voices are moving towards distortion and there is more bass. Careful, Kid is an ode to the lessons learned over time to the younger self, it is loud and slapping. Nothing's Gonna Happen and Paralysed are sonically closest to The Staves' previous releases which feels like a kind gesture, squeezing the listener's hand to remind them that – though some things have changed, others remain. On Failure, one of my favourites, the trio reminisces a ruined party and high-fives their failures, taking pride in them because what else is a good woman gotta do? Trying is honest and fragile, it was considered to be the title before decided on Good Woman, and it smoothly moves into the last song Waiting On Me To Change. It unifies the record's topics of loss, self-expression, mourning and conquest and reminds us that everything has to happen in its own time, there is no way to rush healing past experiences. (Anna-Katharina Stich)
Stream It: ► Spotify / ► Apple Music
---
Black Country, New Road – 'For The First Time'
Sounds like … a wild and totally unpredictable mix of post punk, jazz and Jewish folk music.

Black Country, New Road sprung up amongst a spring of new bands rotating around Brixton's increasingly infamous The Windmill venue. They've been causing a stir based on their allegedly excellent live music performances as well as their first two singles Sunglasses and Athens, France, which prompted excellent reviews and established the band as faces to watch out for. Their first album faces not only the challenge of living up to the hype but also a potentially meagre European summer tour schedule – as not only the coronavirus but also new visa restrictions surrounding bands because of Brexit come into play. For the First Time cements their reputation as a band to keep a keen eye on, retaining their 'original' singles sound whilst also implementing a few surprising elements.
Their debut album is more refined in some places that may be expected from a septet with a single such as Sunglasses – a nine-minute trip of a song that covers NutriBullets, Bedales boarding school and Kanye West, amongst other themes. Containing a mere six songs varying between five and ten minutes the album opens with a seemingly unnamed but joyful and excellent instrumental. Hard to tell what it's inspired by the tune builds up before melting away into the albums second song (Athens, France) where vocals enter the picture for the first time. The band's sound migrants between mournful and chaotic, with distorted guitar chords in Science Fair meeting quivering, half spoken lyrics that seem to be discussing a form of heartbreak before descending into chaotic screeching. Track X is a joy of a listen, bringing in female vocals for the first time and borders on melancholic indie music whilst still sounding unique to the band and their sound, which For the First Time seems to establish whilst simultaneously being experimental enough to make Black Country, New Road original. Overall, For the First Time cements these folks as one of England's most exciting new bands. At times, the album could be compared to a collection of mood swings with its discordant jazz and chaotic post punk, but the excellent quality music manages to make the result appear meticulously well crafted as well as explosively unique. As a band, they seem to have enough new ideas to pack them into a single track and move onto the next, no matter if the song is nine minutes long or not and it should be riveting to see how they present their ideas in the future. (Tamsin Paternoster)
Stream It: ► Spotify / ► Apple Music / ► Bandcamp
---
The Weather Station – 'Ignorance'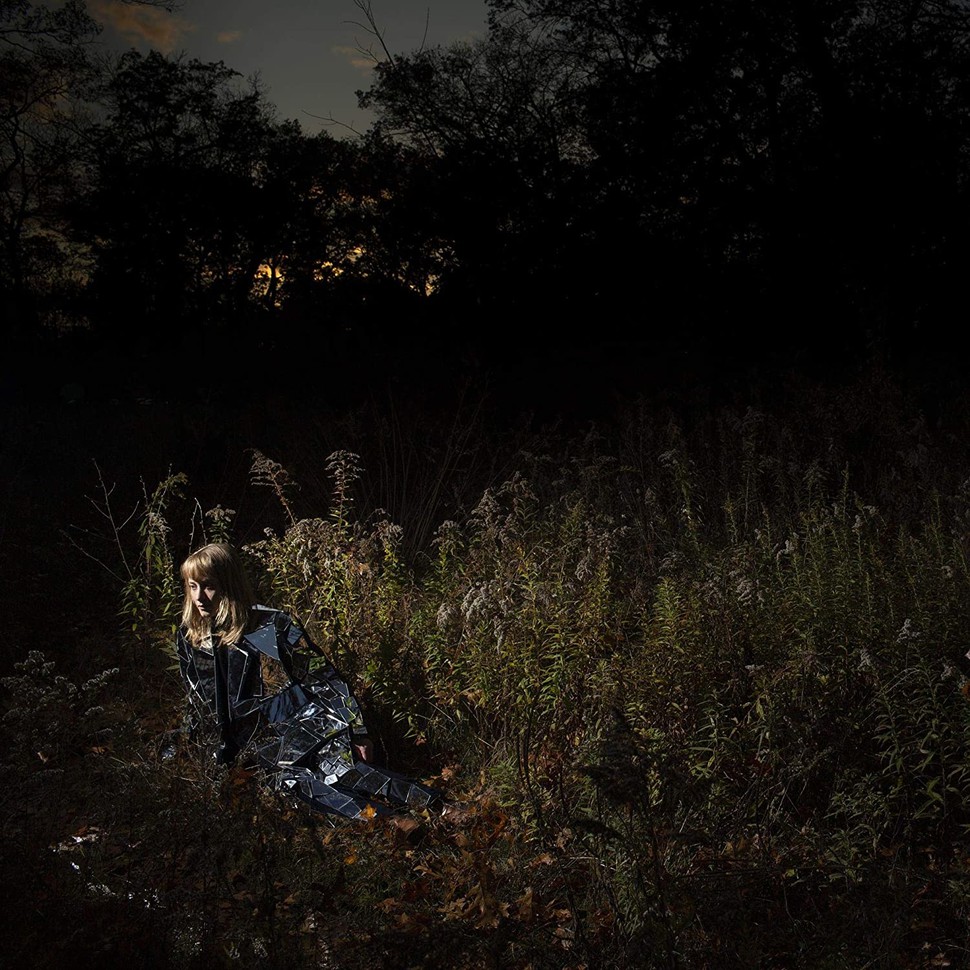 Sounds like … a warm indie-pop record embracing the frenzy of rhythmic dances.

Ignorance, the fifth record by The Weather Station, the musical project of Canadian singer-songwriter and actress Tamara Lindeman, begins as enigmatic and alluring as the bleak scenery of the cover photograph, which shows the artist laying in the woods, wearing a hand made suit covered in mirrors, while the light still peaks through the darkness at the end of the horizon. Robber opens the dramatic curtain with a hissing hi-hat and a stuttering drum beat and it takes a full minute until Lindeman enters the scene with "I never believed in the robber", building up a flowing river of a jazzed-up wilderness of sound. This is true of what is to follow as well and it demonstrates how The Weather Station have broken new ground on this, delivering a pure and uncompromising body of new songs.
Often compared to the likes of Kate Bush or even Joni Mitchell, the sound that Tamara Lindeman is able to create here is one that quickly relates to the underlying intersection of hope and despair that rolls through the music and it is not just the thunderous rhythmic ramifications that characterise this dance between vulnerability and strong expression. Atlantic is following on Robber and sparkles with quivering vibrancy, as much exploring the edge between fear and beauty in portraying a narrator on a cliff while watching a sunset. Tried To Tell You comes in a more fixed rhythmic set and is yet equally delicate. There is remarkable shift towards rhythm as an agent in all of these songs, as Lindeman has admitted herself, emphasising how it liberated her to open up emotionally on Ignorance: "I saw how the less emotion there was in the rhythm, the more room there was for emotion in the rest of the music, the more freedom I had vocally". In that, the songs intertwine and create a stunning aura of introspection, newfound expressivity and the wonders of sound and in what myriad ways it can move you. (Andreas Peters)
Stream It: ► Spotify / ► Apple Music / ► Bandcamp
---
New Ro – 'Late Bloomer'
Sounds like … hiding out in an underground club with a host of 90's pop-stars.
After shedding the horns and shrugging off the devilish persona of Ronya, a new pop-star emerges. Step forward New Ro, the latest reincarnation of Finnish-British artist Ronja Gullichsen. There's a distinct feeling of new beginnings right from the start, with birdsong and choral oooh's and aaah's preceding New Ro's angelic vocals on opening track Bloom. The theme of personal development continues on Me Grow, backed by tribal drums and layered vocal harmonies. From here on in, it's a roller-coaster ride as Late Bloomer takes in a spread of genres. Hero is a club-friendly dance track, laden with squelchy synths and futuristic sounds, whereas Cropcircles, with its tinny percussion and droning bass, is strongly reminiscent of early Nelly Furtado.
Freaky is a particular highlight, which sounds convincingly like it was written for Destiny's Child and produced by Justin Timberlake – a thoroughly badass, doesn't-care-if-you-don't-like-it track, which you get the impression New Ro is spitting out with a snarl on her face and a lip half curled. If it doesn't get its own dance routine, it'll be a travesty. Elsewhere, Oh hey yeah yeah is a trippy 80's throwback, while Control is full on California pop, showcasing New Ro's ability to conjure up a crafty hook. Whilst there might be a slight lack of coherence at times on Late Bloomer, there's also no taking away from New Ro's vocal ability, or her ear for a catchy melody. It's certainly a thoroughly entertaining album, which is no less than what we'd expect from someone as full of character as New Ro. Just don't take it too seriously. (Dan Cromb)
Stream It ► Spotify / ► Apple Music / ► Bandcamp
---