In 2004 FLOW FESTIVAL was born in Finland's charming capital city, Helsinki. Founded by Finnish music producer Tuomas Kallio in collaboration with the Nuspirit Helsinki collective; the friends aimed to focus their theme on urban arts and contemporary music. Through occupying public spaces with concerts, exhibitions, lectures, and film screenings, both from the local and international community, Flow aimed to challenge the way we occupy urban space today while simultaneously starting a conversation on how we can make it more inclusive.
This year FLOW ventured beyond their beloved homeland to explore alternative festival landscapes, and made their international debut in Slovenia's capital city, Ljubljana. The festival set up shop in a re-purposed tobacco factory, Tobačna Mesto, which has become a hub for those working in the creative industries in recent years. Next to the Poligon Creative Center and ZOO bar, Flow Festival Ljubljana opened its doors to over 150 journalists and close to 10,000 attendees who came from around Europe to experience over 120 acts, big and small.
In collaboration with local artists, shops and the city's best alternative club, K4, the weekend was packed with after parties. In addition to re-opening the legendary club, the lineup put a heavy emphasis on Slovenian talent Friday through Sunday. Gallery Bar featured a long list of local DJs, like DISCO DURUM, a Ljubljana duo that combines 'rare disco gems with house and acid elements' and the celebrated Slovenian newcomer, VUKA.
Flow Festival Ljubljana: Day 1 – Getting Into The Flow… slow
The first day started off a bit slow. While there were numerous acts worth seeing the festival grounds felt a bit empty. JOSÉ GONZÁLEZ played to a relatively small crowd, which created an intimate atmosphere, but ultimately made us wonder what direction the festival would go. Yet, things really picked up in the evening when DERRICK MAY and Germany's DJ KOZE took the Ljubljana Backyard stage, drawing a significant crowd.
In terms of atmosphere, the Flow Festival Ljubljana organizers hit the nail on the head. The Tobačna complex was completely transformed into a maze of music, arts installations and mini dance parties around every corner. Attendees walked amongst a lush landscape of deep purple and blue lighting under the canopies of Christmas lights. We had the feeling that we had wandered into a magical midnight garden.
While there were some discussions happening within the local community who were somewhat discontented with the price of tickets, the overall atmosphere was positive, with many people telling us how important it was for Slovenia to have such a big festival.
Other memorable acts we witnessed on Friday included METRONOMY, EDO MAAJKA and THE STUBS.
Flow Festival Ljubljana: Day 2 – Pet Shop Boys Stealing The Show
Saturday began with a torrential downpour, which unfortunately caused problems for some of the afternoon acts playing at the outdoor Gallery Bar. Luckily in the early evening things cleared up and BAD COPY took the main stage. After an excellent performance at EXIT FESITVAL three years earlier, we enthusiastically headed over to watch the Serbian hip-hop trio perform a solid set. Yet, much like Friday, the earlier acts were at a disadvantage, as it seemed that most people were arriving after dark.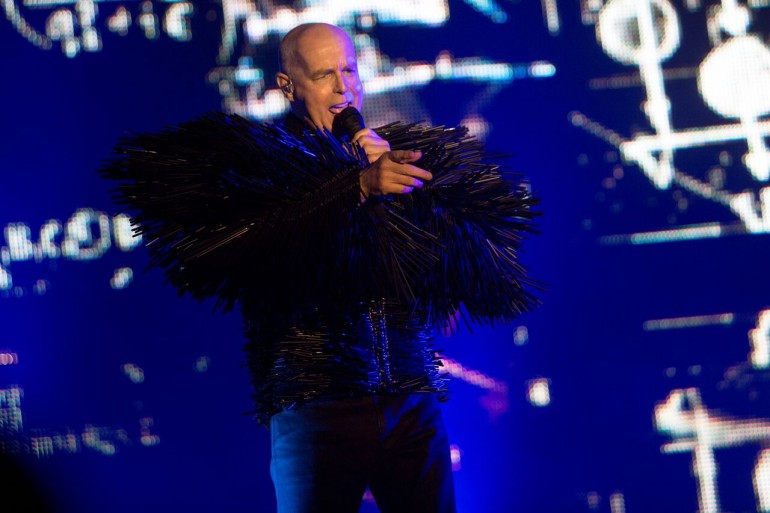 As the sun started set a wave of people arrived to watch BONOBO put on a dreamy DJ set on the Backyard stage, followed by a killer show from one Britain's most celebrated bands, PET SHOP BOYS. The boys took the main stage, and garnered an enthusiastic reaction from the crowd when singer Neil Tennant announced that it was their first ever show in Ljubljana. With an impressive background of visuals and dancers wearing cow skull masks and gyrating on stage, the crowd sang along to West End Girls gearing up for a long night of partying at K4.
Other memorable acts we witnessed on Saturday included RUN THE JEWELS, HUNEE and TREVOR DEEP JR.
Flow Festival Ljubljana: Day 3 – The Big Finale
Known for its gourmet food selection in past years, Flow Festival Ljubljana rounded up some of the tastiest restaurants in the city to feed hungry the festivalgoers. We spent the day enjoying some local DJs at gallery bar, while food stand hopping, trying out the classic burger at HOOD BURGER and pulled-pork at SORBARA. Later in the evening people gathered for CARIBOU, who set the mood for the evening with an amazing set that got the people moving and shaking. Playing an extended version of their hit single Odessa, the crowd went wild dancing.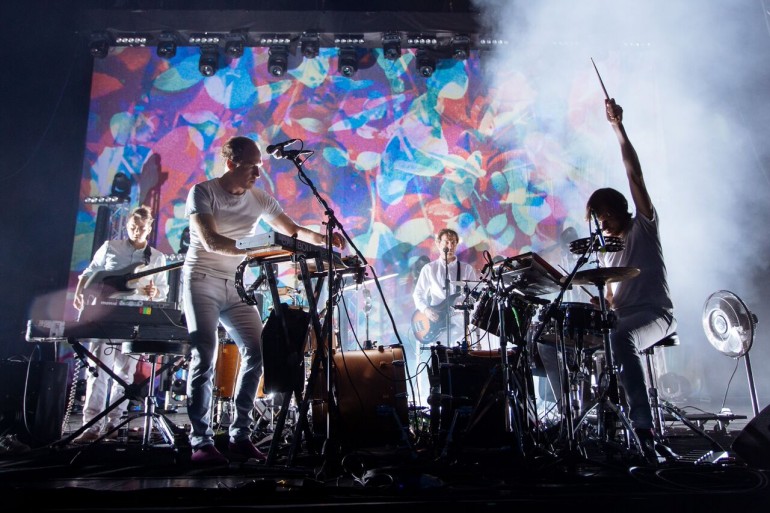 RÓISÍN MURPHY wrapped up the final evening on the main stage, playing a lively electronic set complete with multiple costumes and sweet dance moves. She told the crowd how happy she was to be back in beautiful Ljubljana and proceeded to party on with the crowd at RECONDITE's set at Ljubljana Backyard.
Other memorable acts we witnessed on Sunday included: ÂME, DIXON and Slovenia's own NEW WAVE SYRIA.
While the debut of Flow Festival Ljubljana did receive some negative feedback, mostly due to high ticket prices and the local creative community feeling like they could have been more involved, the positive aspects of the festival generally outweigh the negative. Aside from a sea of happy faces, everyone we had the chance to speak to had a great time and said that they hope FLOW will be back next year. With a growing creative scene, the locals hope that the future organizers will take some time to really get to know the local community so that the Finnish and Slovenian conversation can continue for years to come. There's space to creatively grow in the old tobacco factory, that much is for sure.
All Photos by Matjaž Rušt / Flow Festival
—