Before we start with the annual look back on what the past year sounded like musically we decided to take a look into the future. Yes, that's right, we're going the other way around. We love good music, we support new talent and we hope that the following talents will find a way into your hearts and ears over the next months, as we will definitely keep them on our internal radar.
---
---
Vero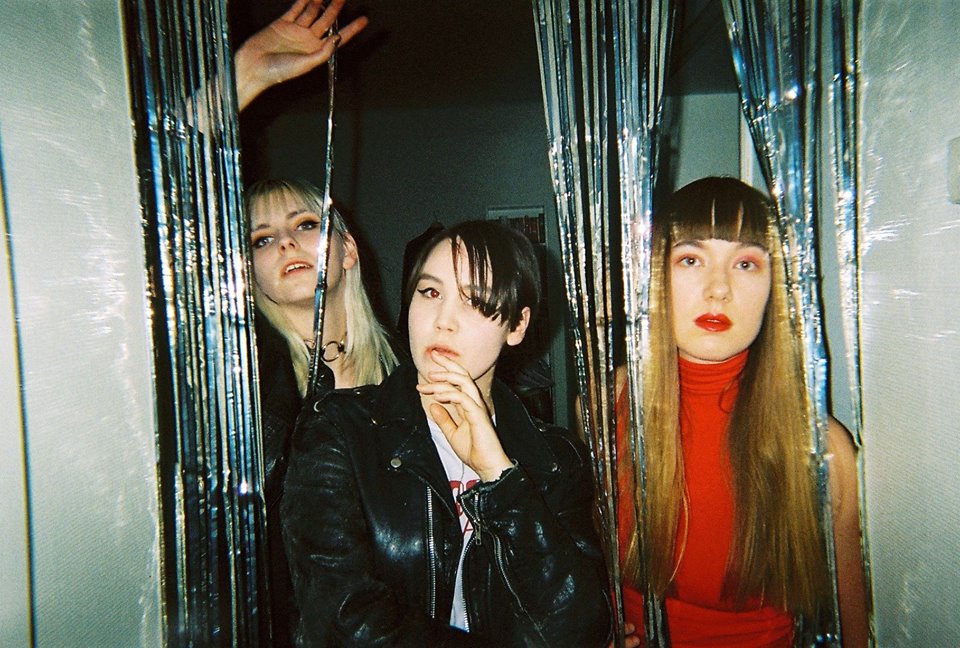 Deep down, we have an image in our collective cultural memory what a rock band should be. And a lot of that image is based on being cool. Stockholm trio VERO (Amanda Eddestål, Clara Gyökeres and Julia Boman) have a solid grasp on this idea, and have built a band that exudes cool. Basically, they look cool, they seem like a gang, and they seem to know how to have fun. What more do you want from a rock band?
Well, good music, ideally. But luckily, VERO have that too. They've got a rich knowledge of rock's musical history, and so bounce with ease between genres on their trio of singles to date (screeching art-rock on Hello, horizon-chasing new-wave on Virtue and euphoric pop on Out Of My Head). And they also know that great pop music is about making your emotions sound big, and that's something they've built their own music around: every VERO song is so intense it sounds like it was written from the end of the world. The last part of the great band formula is ambition. VERO probably won't be the best band ever (this is a world in which the Velvet Underground existed), but it sounds like they're going to try, and that's what any self-respecting band should do. If they can keep up this form into 2018, there's a lot of good to come. (Austin Maloney)
---
---
Closing Eyes
Okay, so Norway's Closing Eyes technically debuted back in 2014 with the Melodies for the Contemporary Mind EP, but that was a different incarnation of the band. What started out as Eirik Asker Pettersen's solo project has transformed into a full band this year with the addition of Magnus Asker Pettersen, Emilie Lium Vordal, Christoffer Gaarder and Anders Emil Rønning, and the foggy experimentalism of the Melodies EP has bloomed into flowing pop music.
Listening to Closing Eyes is close to musically lucid dreaming. These are indie-rock songs filtered through fuzz and haze, melodies buried under effects and echoes to create glowing soundscapes you sink into. Now that they're a full five-piece, they make use of the extra members to create songs that feel perfectly layered and fully-realised, and loaded with detail, where every little touch or trick makes its mark. Sunshiner is the jewel in their pop crown so far, a shining (well, duh), sublime track that goes straight into the pantheon of great songs. Their debut album Soft Years arrives on January 12th on Eget Selskap. (Austin Maloney)
---
---
Mavi Phoenix
It seems as if Austria never runs out of young talented musicians. Newest example: Mavi Phoenix. The 22-year-old musician mixes hip hop, R&B and electro and puts her auto-tuned voice on top of it. In doing so, she sounds a lot more cosmopolitan than for example fellow Austrians Wanda. On stage, she turns into a self-confident and inaccessible performer; she totally lives up to her prominent name which is a tribute to her brother and the family of actors River and Joaquin Phoenix.
Mavi Phoenix' first EP My Fault was released in 2014 and includes the compelling Green Queen. It also brought her Bilderbuch's attention and the band eventually engaged her as support for their Magic Life tour. This year's Young Prophet EP has multiplied her fame even further, not least because of its catchy singles Quiet and Janet Jackson. And as her debut album was announced for 2017 and hasn't arrived yet, we're as sure as excited that there will be new music from Mavi Phoenix in 2018. (Jessi Schmitte)
---
---
Soccer Mommy
Young Nashville-based songwriter Sophie Allison from Nashville and her alter ego Soccer Mommy have been one of my musical summer crushes this year. The mini-album/EP Collection (released via Fat Possum) was a sweet and delicate affair, packed with dreamd and laidback but also raw. Her alternative pop tunes deal with toxic relationships, infatuations, and all the experiences of being a teenage girl in the eroding society of the early 21st century.
Some might claim, the sound of Soccer Mommy feels a bit out-of-date and old-fashioned… or you could simply label it as timeless, right? In a press release, Sophie once said: 'You can't say indie rock is dead. It's just being taken over by women.' I couldn't agree more and I'm pretty optimistic that 2018 will see her taking a lead role in this joyful and ongoing trend. (Norman Fleischer)
---
The Winter Gypsy
Earlier that year I stumbled over 2016's debut EP Page I by Adelaide-based collective The Winter Gypsy and it became a short but quite intense companion for a few months. This years follow-up single Bojke followed similar musical territory and raises the expectations for whatever might happen in the course of 2018. Their is something quite nostalgic that triggers me when listening to these songs. I can't help it but I also find it extremely difficult to put my finger on it and explain why that is the case. However, it surely isn't the worst thing that could happen.
The sound of The Winter Gypsy comes with a summerly warmth but also gentle melancholia, delivering a sense of uplifting power and dreamy haze, in some parts psychedelic, in others just simply beautiful. The Australians got a very old-fashioned away in approaching their indie rock, one that dates back to the early 00s and to a time when that little word 'indie' actulally meant something. I surely can't wait to see what's happening on that sceond page. (Norman Fleischer)
---
Steve Buscemi's Dreamy Eyes
Kids, always take your time when it comes to picking a band name. Well, or just be creative. However, the fact that Steve Buscemi's Dreamy Eyes named their band the way they named it shouldn't distract from the actual music of the Swedish four-piece. And that sound is indeed quite wonderful and dreamy, although I want to raise the question right here if and to what degree the eyes of the beloved actor are actually dreamy. The music of SBDE delivers finest 80s-infected new wave melancholia with a love for darkness, dramatic gestues and hypnotic psychedelia. And singer Siri Sjöberg surely can't hide the Kate Bush influence.
The quartet just released their highly recommendable debut EP Four Winds which features a broad spectrum of their sound and work quite fine as an argument to have a closer look at these guys next year. (Norman Fleischer)
---
Haley Heynderickx
NOTHING BUT HOPE AND PASSION already introduced you to this young lady about a year ago, expecting her to take off this year. But since Haley Heynderickx seems to evolve just as slow and steady as her music, I would like to highlight her once more at this point of her career. With her first EPs out, various shows throughout Europe, a song broadly featured by media in her homeland and the first full-length I Need To Start a Garden expected to appear in early 2018, I think Heynderickx is on a very healthy and promising way. She's organically building her audiences, making 2018 look like it could be her year.
Part of why I think so is because of her musical spectrum which goes beyond the obvious dreamy folk tenderness. What she's also capable of and what her latest single Omm-Sha-La-La proves is a certain tongue-in-cheek slackerism, circa Courtney Barnett, mixed with jazz-infused folk and edgy outbursts. If you've seen her perform and charm the audiences there's really no need to question her musical future. Expect some more coverage of the lovely Haley Heynderickx on here, people! (Henning Grabow)
---
---
Goat Girl
I saw South London's Goat Girl at Kulturkirken Jakob in Oslo earlier this year, and the slight air of the other and the eeriness that a church at night can create was a fitting arena for their music. Goat Girl are a four-piece with a sense of darkness and enigma, with songs that use the darker side of the human soul as their playground.
These songs oscillate between lurking menace and burst of wild guitar violence, tales of scum and sleaze (just two examples of words borrowed from their titles) sinister in their every step. Lots of bands try to play sick and creepy, but Goat Girl know how to pull it off. Their latest outing, Cracker Drool, is an explosive piece of sludgy guitar rock, a song that bites, snarls and howls on the end of its leash. They're signed to Rough Trade, and a debut record will hopefully be along the way somewhere in 2018. (Austin Maloney)
---
---