[one_half last="no"]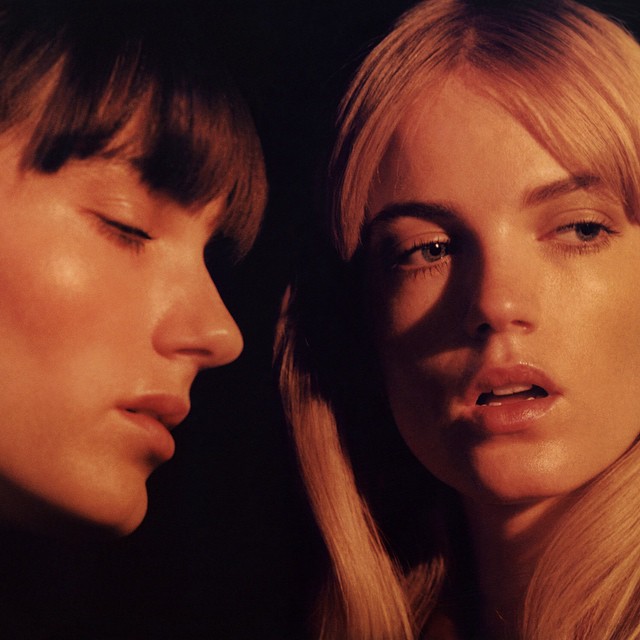 NBHAP Rating: 4,1/5
[/one_half]
[one_half last="yes"]SAY LOU LOU
Lucid Dreaming
Release-Date: 07.04.2015
Label: á Deux/ Cosmos Music
Tracklist:
01. Everything We Touch
02. Glitter
03. Games For Girls (feat. Lindstrøm)
04. Julian
05. Angels (Above Me)
06. Peppermint
07. Beloved
08. Hard For A Man
09. Wilder Than The Wind
10. Nothing But A Heartbeat
11. Skylights
[/one_half]
---
---
A fast ride, the wind blowing through your hair
It's been a long time coming for pop sisters Elektra and Miranda Kilbey. After unleashing their dreamy first single Maybe You back in the summer of 2012 the two women had to change their name, released countless singles, leading up to their anticipated but often delayed debut album. After a short affair with a major label SAY LOU LOU went back to being independent and now the album finally arrives. Two years in the making and packed with familiar singles like Everything We Touch and Julian it proves what we already knew from the beginning: these girls really know how to deliver solid pop songs that might seem a bit shallow on the outside but are packed with substance and passion. From the first to the last track, the two beauties produced not only an electro-pop album, but a musical journey at its finest. It is like you are moving fast through a big city, looking at all the lights, the dark sky of the night. You are not awake, nor are you asleep. It is the dimension between. This dreaming dimension when you just feel well. At the same time you lay yourself down in all kind of emotions. And you start drifting.
Dreamy tunes, light beats
No matter if it is the sexy and seductive Glitter, the instantly catchy power ballad Beloved or the longing Angels (Above Me), Lucid Dreaming consists of light and soft sounds. Never too much to wake you fully up. The girls' voices are always gentle and calm, as if all their songs are little lullabies. The one and only exception might be Games For Girls, their pumping collaboration with Norwegian disco expert LINDSTRØM. Due to its catchy 80's vibe and modern trash sound it brings you back on earth, straight to a small private club. A nice variety in the dreamy setting of the rest of the album. Besides that the sisters aren't afraid to embrace cheesy sounds and big instrumentation in their pop scheme. You can only get away with such a plan when your songs are really good. And in the case of SAY LOU LOU they truly are.
Smooth and refreshing
Elektra and Miranda Kilbey created a fresh example for a modern and timeless pop record. Even when all of the tracks on Lucid Dreaming follow the same structure of dreamy, light beats, it does not get boring at all. It almost feels as if SAY LOU LOU needed that huge amount of time to bring their debut album to perfection. There's no downer on the record, all eleven tracks are well-produced pop tunes. After the triumphant start the middle pieces like Peppermint and Hard For A Man keep the level of quality up. All killers, no fillers. Every song seems to be a statement of its own. The closing track, Skylight, brings our journey even to a perfect ending with a truly epic and orchestral sound. 'We gotta stay strong' sing SAY LOU LOU as they unfold their precious pop magic in a hurricane of strings and big gestures. But they are doing it with confidence and in style. Just like the rest of this record.
Well done, SAY LOU LOU – 'Lucid Dreaming' takes you higher! The sisters deliver a well-produced electro-pop debut with an enormous hit potential; a must-have for all fans of crafted pop music.
—