[one_half last="no"]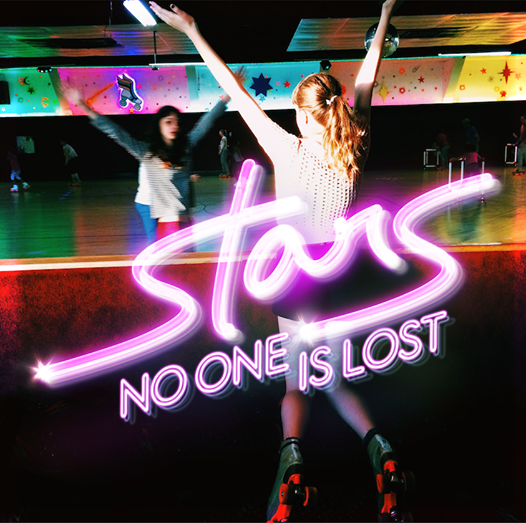 [/one_half]
[one_half last="yes"]STARS
No One Is Lost
Release-Date: 14.10.2014
Label: ATO Records
Tracklist:
01. From The Night
02. This Is The Last Time
03. You Keep Coming Up
04. Turn It Up
05. No Better Place
06. What Is To Be Done?
07. Trap Door
08. Are You OK?
09. A Stranger
10. Look Away
11. No One Is Lost
NBHAP Rating: 3,5/5
[/one_half]
From the kitchen.
STARS are the SPOON of twee-pop. Their songs are stuffed up like roasted goose, but unlike the greasy dish, their pop-kitchen wizardry feels light, almost elegant. And sure, the individual ingredients may feign cheesy textures, heavy on 80s and 90s cholesterol, seasoned with sprinkles of sugar and huge amounts of dripping honey – but patisserie STARS is well educated on their tools, they create excellently balanced courses of love and lonely squalor.
On a date.
As an entrée From The Night looks horrible on the menu: six minutes thirty? Echoing 'no-ohs' like boy-bands on a heartbreak-gone-wild? 'Don't hesitate my dear,' you'll tell the beloved vis-à-vis, 'this scar isn't the only fleck on my porcelain skin, I've tried that dish before. Its springy guitars will just tickle your tongue like a soft delay and it tastes like 'let's pretend that we never will die…' this night is on my dear and STARS will serve us a soundtrack for the highs and lows of love and defeat.'
…
'STARS were always best at conversational duets' you go on. 'Maybe we should try You Keep Coming Up next. It's accompanied by a quote from the maestro, like a self-referencing amuse-gueule: 'I call it poetry, it's called the pop hook', they write. And No Better Place has some nice creepy imagery blended into a romantic stalker's perspective. I think its a sarcastic take on the usual romantic stuff they sell at Italian restaurants. Would you like a desert? We should ask the waitress what she likes – The Stranger? Sounds like a sweet and lonely course with no happy end, 'it feels better and better till you feel nothing at all?' – Great: We'll have two of those and the check please…'
STARS' seventh studio album 'No One Is Lost' is a delicious experience for all 'indie-pop gourmets', as the band returns in familiar strength with eleven joyful tracks.
—