[one_half last="no"]


[/one_half]
[one_half last="yes"]THE SLOW SHOW
White Water
Release-Date: 09.03.2015
Label: Halden Pop Recordings
Tracklist:
01. Dresden
02. Long Way Home
03. Bloodline
04. Testing
05. Brother
06. Bad Day
07. Augustine
08. Paint You Like A Rose
09. Flowers To Burn
10. Lucky You, Lucky Me
11. God Only Knows
NBHAP Rating: 4,6/5
[/one_half]
Some bands never seem to 'fit' their names. Like the SPICE GIRLS were never that 'spicy' and I've never seen GUNS 'N' ROSES with any guns or roses. Manchester band, THE SLOW SHOW are very aptly named. Creating slow and powerful Americana music really creating a show in their debut album White Water. THE SLOW SHOW encapsulate and celebrate their namesake. The Manchester trio act as an oxymoron of their home city, upholding their fame as a great music city but setting themselves apart from their Manchester brothers. A very un-Manchester, Manchester band that are largely successful around Europe, especially in big cities such as Zurich and Dresden but are yet to fuel this success in their homeland. White Water will definitely change that.
Each track tells a different story through the gentle yet powerful music they create. White Water acts an encyclopedia of different genres ranging from, Americana, folk to classical and even church choirs.  The newcomers incorporate all these different genres to create a catalogue of hits that shall be the sound of 2015. The newcomers juxtapose brass sounds with choral vocals and describe themselves as having a 'distinctly Northern' sound. In the first track entitled Dresden, one of the cities THE SLOW SHOW found themselves 'unveiling all' in, these choral vocals are paired gravelly vocals. It materialises a church-like image in the listener's imagination. The track creates an atmosphere of biblical proportions, pun intended. It makes the listener feel the way the artist feels. This is a valuable and powerful weapon an artist can have and the innovative band   use it throughout the record. Dresden combines many sound textures from brass to string paired with vocals from lead vocalist, Robert Goodwin. Starting the track with a monologue, Goodwin sounds vaguely Mancunian yet with a deep oscillation separating himself from typical Manchester vocalists. Repeating 'This is a breakdown' throughout Dresden, Goodwin juxtaposes this mantra with steady, strong vocals.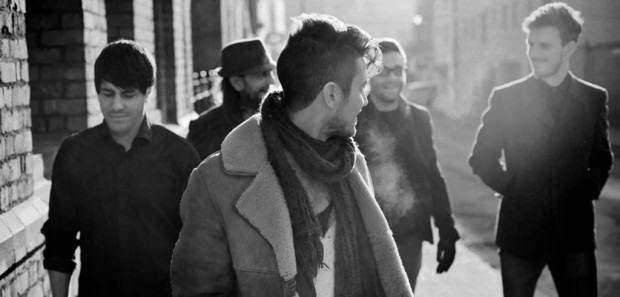 The tracks that follow further the vocalist talents in an emotive style, sometimes depressing and sometimes uplifting, the vocals lay between THE NATIONAL and LOU REED. THE SLOW SHOW, however, do not mimic existing artists, their sound is unique with familiar tone. Long Way Home the second track on White Water, pastiches Reed. The track relies heavily on the vocals backed slightly by minimal piano melody.
A personal favourite track is Bloodline, differing from the other tracks as it begins with an upbeat guitar and melts into a brass band section. Bloodline repeats 'This is the last time I call' and nestled at the beginning of the album, this feels like a heartbroken empty threat. Wonderfully poetic and deeply emotive, Bloodline showcases the relatively new band's talents as musicians and artists. And yes, these are just the three first songs on the album. The quality continues. Each track, to me, is a highlight. The piano-driven epicness of the bittersweet Brother, the string-drunken Bad Day that sees Goodwin sounding like an old bar singer who's about to drown his sorrows in another glass of Whiskey. It's a voice that crawls beneath the listener's skin. Even in a more uplifting piece like Flowers To Burn. From start to finish – the Mancunians materialise their own story and create an anthology of tales on White Water. It's impressive first statement from a band that has just started to reveal themselves to the world. This show will go on… slowly but not less entertaining.
THE SLOW SHOW are set to be a huge name in 2015 and 'White Water' is a record spanning the genres and introducing their talent, it is epic yet minimalist.


—