---
---
Bloc Party – 'Hymns'
Release-Date: 29.01.2016
Label: Infectious Music
You can argue against it how energetically you want but it turns out the line-up change was necessary to keep BLOC PARTY alive. To fully understand what went wrong we not only recommend our recent interview with Kele Okereke but also to listen to Hymns with open ears. The new BLOC PARTY shake things up in a more delicate way as they present the band's most laidback and soulful release so far. Gentle ballads with groove (Only He Can Heal Me, Into The Earth) meet highly electronic tracks like the quiet Fortress, Kele's attempt to record a SOHN track, or the hypnotic Different Drugs which, aside from sounding quite different, might be one of the strongest songs the band ever recorded.
Far more than an alternative draft to 2012's Four, Hymns is a transitional record. The mainly by Lissack and Okereke produced LP works as both, re-start and continuation of the BLOC PARTY legacy. It clearly lacks of all the unravelled rock energy of Silent Alarm and other previous s (with a lot of imagination, Virtue could represent that) and rather functions as a playground for a few new ideas, all bound together by Okereke's lyrical attempt to connect with his own spirituality. This all explains why it partly sounds like one of his solo records. Hymns clearly is the weakest record by the band so far but it still offers a lot of solid material. This wasn't an easy to record LP, you immediately sense that. Still, after ten years a band should be allowed to get away with such a release since Okereke and Co. clearly have their eyes on the future. Album Number Six might bring a bit more clarity on where these guys are heading to. (Norman Fleischer)
NBHAP Rating: 3,8/5
---
---
Get Well Soon – 'Love'

Release-Date: 29.01.2016
Label: Caroline International
Love. It heals, it hurts. Some might say it is all we have. It is no surprise then that especially pop music deals with, discusses, and reflects upon love in a vast number of songs. Very often this is handled in an unbearable, commercial way that bores us, the listeners, to death. It is not easy to write about love – at least if you want to achieve a smart way dealing with that emotional matter. Now, Konstantin Gropper follows and calls the fourth record of his band GET WELL SOON plainly Love. In terms of its sound, the structure of Love makes sense and can be compared to a drama that consists of three acts. Its first four songs form act 1 and appear to be somewhat hesitant and calm. One might guess that, eventually, something bigger and brighter is about to start. It is then Act two – which comprises the next four songs – that gets the record going. The very possibilities of love, its ups and downs and doubt are explored here.
Gropper's music really sounds euphoric here and it is the uplifting Young Count Falls for Nurse that marks the climax of the record. The last act consists of the final three songs whose titles It's a Mess and It's a Fog suggest a more reflective and pessimistic view, revealing that everything might come to an end, a natural conclusion. Ironically, it is precisely this part of record that features quite orchestral songs reminding us most of Gropper's former work and trademark sound. Love, as unusual as it might sound, is a clearly structured and cohesive piece of art. It slowly builds up only to bring us back down to earth in the end. Musically speaking, the fourth record of GET WELL SOON turns out to be his most pop sounding one. However, in the end you will hastily forget about the whole review you might have just read as you will instantly fall in love with the whole record for outstanding lines like 'Petrarca wrote 300 sonnets/ All for a woman that didn't exist' (of the track 33). Thank God we have Konstantin Gropper writing about love. (Chris Hegholtz)
NBHAP Rating: 4,7/5
---
---
Blaue Blume – 'Syzygy'
Release-Date: 29.01.2016
Label: Brillante/Believe Digital/Soulfood
Yes, you're right. We already featured Danish art pop outfit BLAUE BLUME several times, introduced them, learned about their favourite tunes, invited them to the JAJAJA-stage – the buzz around these lads has been apparent all through the last year. But only now we finally get to hear the debut LP that everyone already talked about for so long. Probably, it's even more impressive that Syzygy not only lives up the high expectations but it creates a world in which you immediately forget all you've heard and read before about BLAUE BLUME.
From singles Candy and Thinking Of Roxy to the epic Epoch: Syzygy is a disarmingly consistent piece of high class pop and rock with slices of progressive and ambient. The shiny and escapistic world of their fellow countrymen MEW shines up here and there, also KASHMIR are not that far away. But BLAUE BLUME have grown far beyond the limitations of their homecountry's borders. This is of highest international standard. And the fact, that it maybe seems a little too eclectic at times doesn't diminish its mostly brilliantly compiled character. Believe the hype. (Henning Grabow)
NBHAP Rating: 4,2/5
---
---
Sia – 'This Is Acting'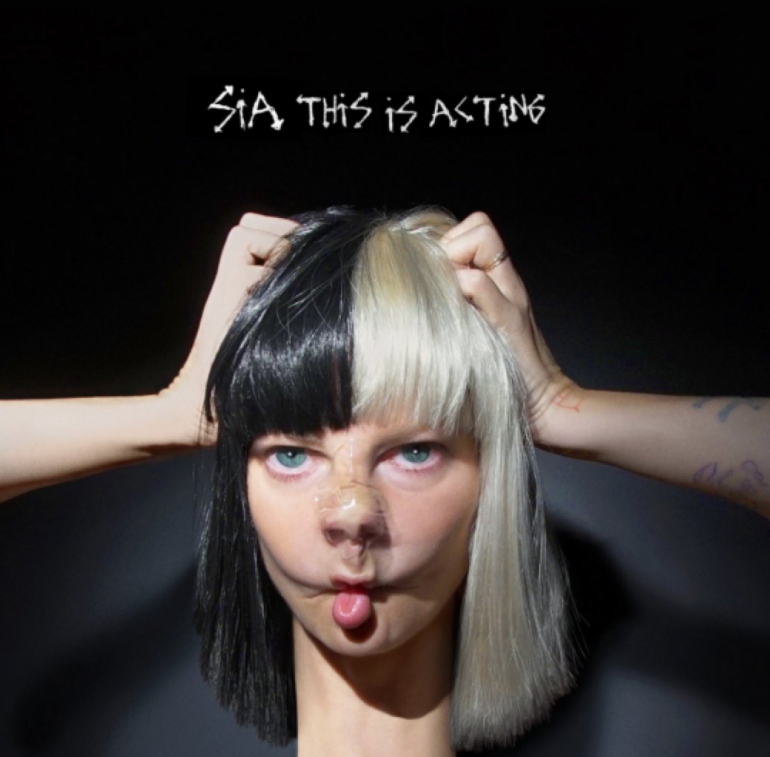 Release-Date: 29.01.2016
Label: Monkey Puzzle Records/RCA Records
Just one and a half years after the highly successful 1000 Forms Of Fear Australian singer and hitmaker SIA presents the next chapter of her musical journey – This Is Acting. Title equals concept: a collection of rejected songs written originally for other artists. Sounds like a recycling project, but this piece of work is filled with first class power ballads. The singer promised a very pop-orientated album and that is exactly what she serves us. Class A pop with that special SIA-note.
A few highlights have been already put out as promotional singles, like the mind-blowing Alive, the uplifting Bird Set Free or Reaper, co-produced by, yeah, KANYE WEST. Still, there are more diamonds to find – Broken Glass will wake up your inner romantic, even when you thought you lost it for good. Not to mention Move Your Body, which has the potential to be the next big airplay anthem around the globe. Good work girl, good work! (Kai Hermann)
NBHAP Rating: 4/5
---
---
FINS – 'Dreamer'
Release-Date: 29.01.2016
Label: From A Mountain Records/ Motor Music
If FINS single Dreamer has a melancholic darkness, then the namesake LP is a light shedding masterpiece for all lovers of gentle pop with 80s influence. Continuing the sweet serenity of thait single is a multilayered LP, packed with sweet little pop gems. Combining chillwave beats with a strong male vocal, Andi Fins creates a modern masterpiece. Perfectly lively yet with a hidden subdued nature. Track by track FINS' manages to sustain a rhythm whether vocally or through melodies.
Glamour boy, a modern love tale with a catchy beat and the titular track Dreamer with its sharp hooks and swaggering vocals reminds us of aural beauty of the German band. And we also haven't forgotten about the instant hit quality of last year's Out Of Sight which is also involved here. Reminiscence of early glam rock with hints of modern themes, FINS perfectly encapsulates the uncertainty of tomorrow with the sweet memories of yesterday. A colourful hidden little masterpiece that will surely be a feature of your spring playlist. (Hannah Fahy)
NBHAP Rating: 4,3/5
---
---