Lykke Li – 'So Sad So Sexy'
It's about progress. The Scandinavian pop princess crowns herself by ultimately leaving the past behind, whether you like it or not.

so sad so sexy is the first studio album since 2014 from Swedish songstress, Lykke Li. I heard whispers of bad press about this record and before I even listened to it I felt a surge of disappointment. Lykke Li had long been one of my favourite artists and I couldn't bear another artist falling in 2018. However, the bad press is misplaced, so sad so sexy  is an electro pop masterpiece with splashes of other genres. Taking pop, rap, electro and dream wave and creating a collage of sounds. Venturing from her norm but staying true to message, it is undeniably Lykke Li with strands of other influences.
Her recognisable vocals are faster paced that previous records and added to deeper beats. A brief appearance by upcoming rap artist, Aminé, in Two Nights is another new direction for Mrs. Zachrisson and it pays off. It is fresh and different, it hints at a new rebranded Lykke Li but reminded us that she is still the queen of Swedish pop. Each track experiments with new sounds, with other artists could be seen as messy but with her talent it creates a coherent space of sound. Bad Woman mixes country infused vocals, dream wave electro building and soft rock drums, sounds like a nightmare plays like a dream. On the face of it staying with the old and introducing new styles. Staying with your vocal style but introducing new sound clips, sounds like a disaster but the Swede is a true artist and the record reflects that. Proving forlorn, wishful vocals and electro beats so sad so sexy lives up to it's name – so sad and so very sexy. (Hannah Fahy)
Song to get you started: Two Nights
Stream it now: ► Spotify / ► Apple Music / ► TIDAL
---
Get Well Soon – 'The Horror'
Dressed in cineastic sounds and 50s orchestral music, The Horror combines a peak into all of our very personal abysses and strong socio-critical statements.
It is probably true what some sociologists claim: The biggest problem of our times is not hatred, is not greed or social isolation. It's fear. And our lack of coping mechanisms for that very basic human emotion. Konstantin Gropper has always been a fan of the more conceptual approach to his records as Get Well Soon. In the past it's been Philosophy, Italian cinema or merely Love. Now we stare with unease at a black dog on the front of his newest artistic angle on things called The Horror. On it, Gropper and a whole symphonic backing band ruminate on the subconscious evil, the things we would much prefer not to think about, nightmares and how all of that still is something we can't and shouldn't suppress. His thesis: It's that suppression, our failure in dealing with what troubles us, that fuels bigger problems in our societies.
Joined by remarkably many guest artists like Tunesian singer Ghalia Benali on Future Ruins or Kat Frankie and Sam Vance-Law on other tracks, Get Well Soon chose an interesting way of presenting their heavy topics. Gropper's had the crooner in him ever since he started Get Well Soon. But never before did he let it loose with such a passion. As a result, The Horror creates an irresistible undertow of heavenly beauty and stark, unsettling irritations. Constructed around three reocurring nightmares of Gropper, The Horror feels more like a score and it's hard to pick outstanding songs from it, to be honest. But it perfectly captures and, more importantly, embraces the feeling of dread that we all face on a daily (or nightly) basis. As it is still a record by Konstantin Gropper, who tends to intellectualize things, this is not a random idea of course. Rarely did you hear him more blunt as in The Only Thing We Have To Fear: 'I don't think I can relax here anyway/ With Nazi bitches speaking at my hood'. The Horror is real, folks, but it's not the only thing out there. So please, please, don't let it be the driving force of our actions. (Henning Grabow)
Song to get you started: The Only Thing We Have To Fear
Stream it now: ► Spotify / ► Apple Music  / ► TIDAL
---
Snail Mail – 'Lush'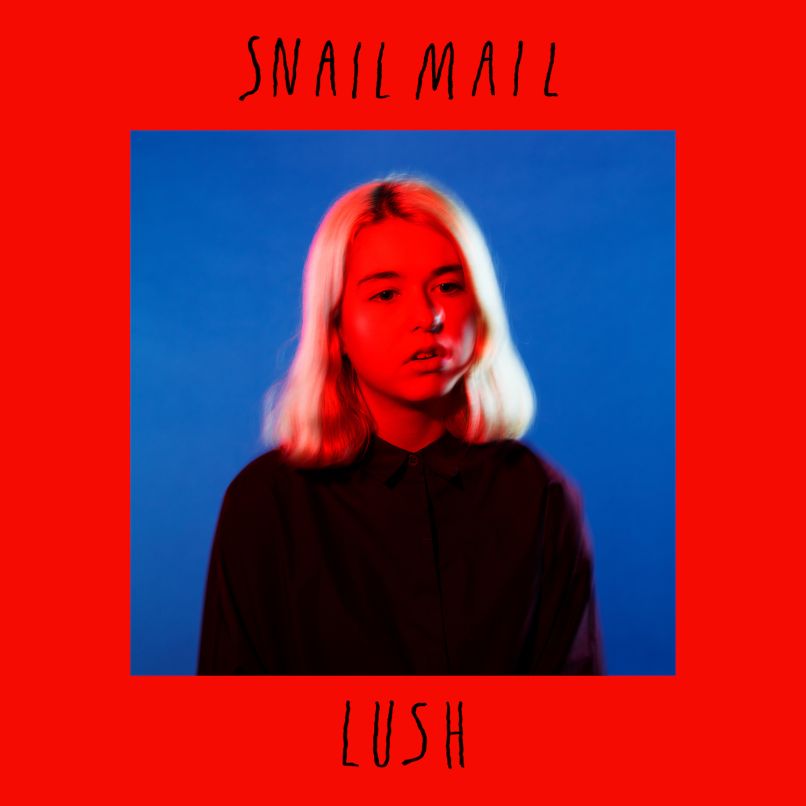 Expect more than the catchy power pop of the previous singles from this exceptional debut album
It's hard to believe that Lindsey Jordan aka Snail Mail has just graduated high school. Growing up in a suburb of Baltimore, she started playing guitar when she was five years old. About ten years later, she regularly performed in Baltimore and started a band. Their first EP Habit was released on punk label Sister Polygon Records in 2016 and quite rightly caused a stir. It was followed by extensive touring, supporting Priests, Girlpool, Waxahatchee and Beach Fossils.
Snail Mail's indie rock is captivating and it's not just the melodies: Jordan writes extremely honest lyrics almost everyone can connect to; thinking about yourself and others is essential but not exclusive to coming of age. On Lush, Jordan presents different levels of involvement, ranging between 'over it' and 'still affected'. Thus, the songs vary in mood, and the power pop of previous singles Pristine and Heat Wave is just one side. Snail Mail's latest release Let's Find an Out and some other songs show a different side: Jordan appears still highly involved in the situation she sings about, yet she is able to find words which pull the listener directly into the song (esp. Speaking Terms, Full Control, Deep Sea). The result of including all these different perspectives and converting them to music is an outstanding record and the fact that it's not an easy listening summer soundtrack makes it the perfect summer soundtrack. (Jessi Schmitte)
Song to get you started: Heat Wave
Stream it now: ► Spotify / ► Apple Music / ► TIDAL
---
Holy Esque – 'Television/Sweet'
The second full-length by the Scottish four-piece dives deeper into 80s goth territory, delivering disturbing listening pleasures.
There are multiple ways on how one can cope artistically with the path our modern world seems to have chose for itself. Some might smile and carry on in a shallow way (Hello, mainstream pop!), others still try to build an utopian society while some just decided to fully give in to the dystopian desolation we're facing. Glasgow's Holy Esque definitely belong to the third group and more than on their great 2016 debut LP At Hope's Ravine they decided to give the current hopelessness a fitting soundtrack. Television/Sweet deals with an ongoing feeling of despair and as singer Pat Hynes told us, facing humanity's ambivalent relationship with technology. 'Internet personas, endless distractions …, losing touch with reality' are just a few of the themes on this bleak release. Although there might be a short supply of hope on the second Holy Esque release they still got all the power from the debut and also add new aspects to it.
The distinctive voice of Pat Hynes is still the element that dominates and carries this album. His rough and fragile vibrato style remains truly unique and feels like the perfect outlet for all the pain, disgust and desperation these songs want to transport. 'The water is heavy' he sings with a cracking voice that is on the verge of giving up. The song, the cinematic Anxiety, is one of many highlights on the album. It shows the enormous emotional power this music can have. Television/Sweet is more diversified than its predecessor. Holy Esque embrace electronic elements as well as calmer moments. The more prominent synthesizer moments give tracks like Image Of Man and House Of Hounds an almost Depeche Mode-like industrial feeling while tracks like the ambient-infected Give Me Your Stillness and the piano-driven To The Cage You Go are profound testaments of deep sadness. However, the Glaswegians are still capable of delivering furious post-punk anthems like I Am The Truth and Filth Or Passion but overall there's more to discover in the twilight it seems. This is the opposite of a feel good record. It's a messy affair, a beautiful testament of life's uglier sides. And that makes it so good because within all that grief lies a big amount of relief. So in a bizarre twist there's still a lot of hope in here. (Norman Fleischer)

Song to get you started: I Am The Truth
Stream it now: ► Spotify / ► Apple Music / ► TIDAL
---
serpentwithfeet – 'soil'
Watch out, Frank Ocean. There's a new R&B sheriff in town and he delivers a truly fascinating debut album.
Labelling the sound of Josiah Wise and his alter ego serpentwithfeet quickly leads the listener to certain limitations. Following the critically acclaimed EP Blisters from 2016 his full-length debut is a clash of everything; a dark-twisted piece of alternative R&B that mixes the traditional blues formula with futuristic soul. And that highly infectious mixture is carrier by the distinctive character of Wise, whose presence is as expressive and it appears to be sensitive. He once named his sound 'pagan gospel' and that might feel appropriate to a certain degree. Soil is a record that doesn't pick sides, it creates its own microcosm in the field of contemporary alternative urban music, similar to Frank Ocean, Benjamin Clementine, Flying Lotus or the recent endeavours of When Saints Go Machine. Whisper and Messy start the record in a gloomy way. Darkness approaches fast and Wise is carrying the listener through all these surprising twists.
From the slow grooving Fragrant to the nocturnal blues of Seedless and right into the cinematic choir-supported vibe of Slow Syrup – serpentwithfeet delivers a journey into the twilight on this album. Despite the overall playfulness of the music with its countless ideas (expect surprising brass sections right next to electronic gimmicks) it's the voice of Wise that remains the emotional anchor, from fragile vulnerability to a powerful roar. The trained singer carries the songs, brings them to live and lifts them to a different level. Soil is a unique listening experience and delivers multiple reasons why this man deserves to stand out of the crowd. An old soul for modern times, that is what serpentwithfeet delivers with bravery. (Norman Fleischer)
Song to get you started: Cherubim
Stream it now: ► Spotify / ► Apple Music / ► TIDAL
---