Folk music is back. And has been for a while. If the name MUMFORD AND SONS does not ring a bell, you missed the memo. In that case, let me tell you that banjos, fiddles, and mandolins are cool again. But whether you just realized folk has undergone a revival, you've been on the folk train since it started running again, or even if you never left the train, there are a few books that can really help your understanding of folk history. Not to mention impress everyone at the coffee corner. Because the idea that everything in folk music revolves around Bob Dylan is a well-kept myth. We picked out three influential books on folk music that sure to broaden (if not change) your perspective. Times they are a-changin'.
Woody Guthrie: 'Bound for Glory'
If the title of this book is in anyway familiar to you, you either know your classics or you have recently watched the music documentary The Big Easy Express, which prominently features the Guthrie song This Train is Bound for Glory. The latter is a must watch if you're into modern day folk, as it follows Mumford and Sons, Edward Sharpe and Old Crow Medicine Show while they travel the country by, you guessed it, train. They play music and make being a (folk) musician seem as the best time every. Which is not far off from what Woody Guthrie does. Playing music and traveling across the United States. But while The Big Easy Express is a matter of sit-back-and-relax, Guthrie's Bound for Glory makes you work for the story. Almost half of it is centered on the dustbowl era in 1930s America, so it is not always pleasant. Vivid storytelling makes you feel the grit and cruelty of working class life. More than once, Guthrie's writing style got compared with that of John Steinbeck or Mark Twain. Bound for Glory is literary road trip through Guthrie's life.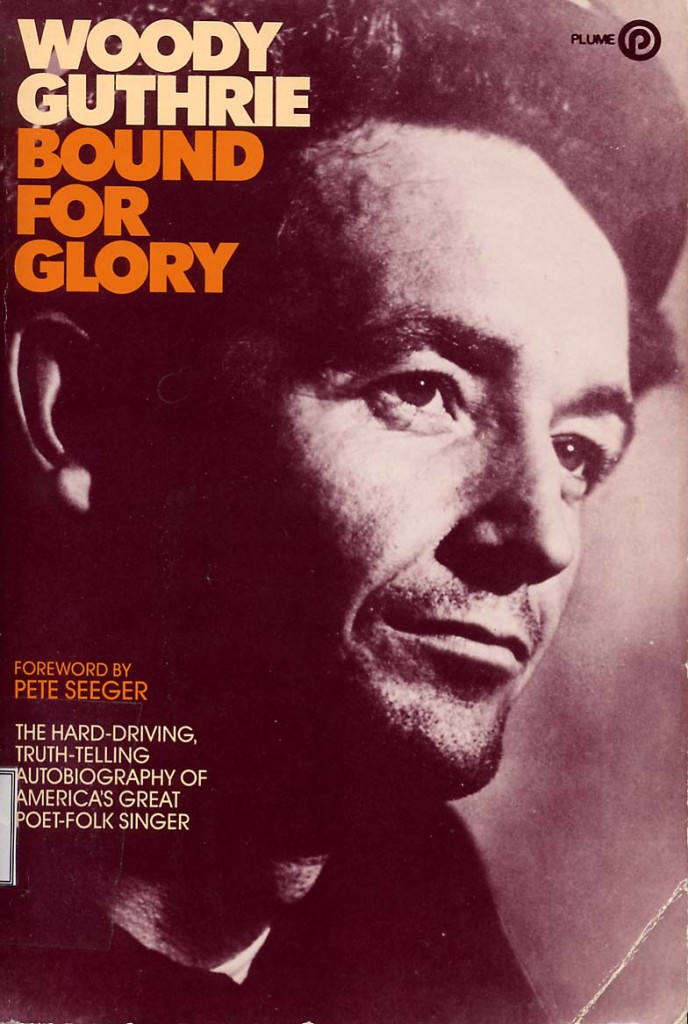 What's the book about?
Bound for Glory is autobiographical, so it tells the story of a young Woody Guthrie. The story starts and ends on a train, which says a great deal about Guthrie. Each time he would be close to success he would leave his life, and get on the road. He wanted to be amongst those that formed the real America, the working class of the 1930s. He would try and lighten up lives by singing about the troubles of poor, an attempt to soften the situation. The book covers three distinct periods, his disrupted childhood where his family goes through tragedy after tragedy eventually leaving Guthrie to care for himself, his life as a young hobo, and his wandering through the United States. The latter was incredibly significant for his music and his personality. He knew how tough and cruel life could be but found idealistic answers through his songwriting. The further you get into the book, the more music takes over.

Why should I read it?
This book is incredibly rewarding. The language is that Guthrie himself, so it uses a lot of slang you'd find in the 1930s. This makes it quite a tough read but one that's worth it. Guthrie immersed himself in the struggle of the working class and used music as a voice for social commentary. So the book is not only Guthrie's life story; it is also an historical account of American society in the 1930s dustbowl era. Whether you are interested in the history of music, the history of America or even interested in a travelogue, this book is an essential.
The most interesting thing I learned from this book?
Music is always the answer.
---
---
Dave van Ronk: 'The Mayor of MacDougal Street'
You may have seen the Coen Brothers' movie Inside Llewyn Davis, and you probably have heard House of the Rising Sun. But what you may not know is that these two things have something in common. And that something is probably the most underrated person in the history of the folk music: Dave van Ronk. The title of his autobiographical book was also his nickname, and should be an indication of his influence in the 1960 folk scene of New York City. And to come back to it, he came across and revised House of the Rising Sun, which was then snatched away by Bob Dylan and later by the Animals. Inside Llewyn Davis was inspired by van Ronk's album 'Inside Dave van Ronk' and the movie, though not a van Ronk biopic, holds some other resemblances. Both the memoir and the Coen Brothers' movie came out after van Ronk passed away in 2002, so he will never by lucky enough to see the growing recognition for his influential work. Van Ronk started writing his memoir in the early 2000s, but he never got further then a few chapters. The rest of the book is largely written by his close friend Elijah Wald, using memoir fragments and interviews.
What's the book about?
Dave Van Ronk's life, basically. The book chronicles forty years of his life, starting when he was still living in Brooklyn and Queens. He moved to Greenwich Village in the 1950s with the ambition to become a jazz musician, but rapidly discovers he can better make a name for himself as a folk and blues artist. He became regular at Washington Square Park, where he gained a following. The book moves through Van Ronk's encounters with 1960s folk stars, many of whom he saw coming, rising, and going as he remained in Greenwich Village. Dave Van Ronk was the big guy (literally, the man was about 250 pounds) that got forgotten. But the book is more then an autobiographical work; it is an ode to Greenwich Village, New York, American life, but especially an ode to music.
Why should I read it?
Dave van Ronk is often seen as the founder of the 1960s folk revival, but for some reason he never rose to the public eye the way for example Bob Dylan or Joan Baez did. But if you are at all a folk fanatic, you owe it to yourself to read about Van Ronk. Might I even say a complete understanding of the 1960s revival is not possible without knowing Van Ronk's contribution to it? But fear not, this memoir is easy to read, and at times hilarious. Van Ronk knew how to tell a story, and this book feels like he's sitting next to you, telling you about his life.
The most interesting thing I learned from this book?
How tragic it is that Dave van Ronk never got the appreciation he deserved. Mayor of MacDougal Street will make you fall in love with the charming, intelligent and musical genius that was Dave Van Ronk.
---
---
Suze Rotolo: 'A Freewheelin' Time: A Memoir of Greenwich Village in the Sixties'
If I would ask you to tell me the most memorable Bob Dylan album cover, chances are you'll give me Freewheelin'. The 1963 album by Dylan features himself and a woman, walking through Greenwich Village. That woman happens to be the author of A Freewheelin' Time and Dylan's on-and-off girlfriend for four years during the 1960s. Dylan and Suze Rotolo met when he was 20 and she was 17. And though they did not work out, Rotolo was a big influence on Dylan's development as a songwriter. After all, Freewheelin' was Dylan's big break.
What's the book about?
The book not only explores Rotolo's relationship with Dylan, but also talks about her upbringing. After all, she was only 17 when she met Dylan. Born in Queens, daughter of two Italian communists, Rotolo grew up to be a passionate civil rights activist with a love for art, poetry, and theater. Her relationship with Dylan did not effect her sense of freedom and she left Dylan in New York to study in Italy. When she came back to New York, her reputation had grown to be that of Dylan's muse, something the independent Rotolo did not like one bit. The book holds wonderful anecdotes about coffee shops, smoky cafes and music venues. And the people that inhabited those places. People with a vision, a curiosity and a will to change the political and social culture that dominated.
Why should I read it?
It gives you the other side of Bob Dylan. Next to the charming folk singer, you get a look into the life of the boy that lied about his name and his origin. There are countless references to Dylan and anecdotes that can be traced right back to his melancholic lyrics. But to say the book is just an ode to Dylan, would be to miss the point. Rotolo is a really good storyteller, and gives you a vivid description of Greenwich Village. It really is a tribute to an era and to the people that lived in it.
What do I learn from it?
While I think the book is a great way to gain some insight on Dylan's other side, I think the most important message the book gives you is that Suze Rotolo was more than just Dylan's inspiration. Even in a neighborhood as progressive as Greenwich, women were still seen as being dependent upon men. Rotolo just sets the record straight. She was more than passive picture. She was her own woman.

—