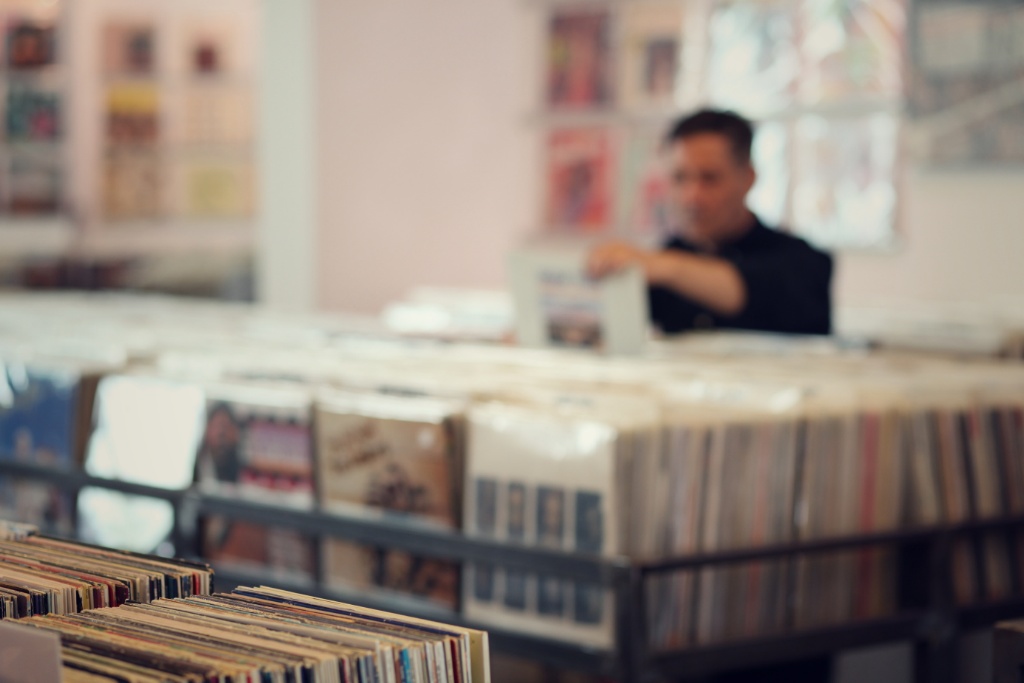 Aydo Abay is still one of Cologne's busiest musicians. He has just released a second album with his main band ABAY and has already recorded a follow-up album to KEN's 'Yes we Ken' (2010). In 2017, Aydo wrote Rhapsody in Red for the 60th anniversary of the Goethe Institute and performed live in Turkey for the very first time in his career. ABAY's new album Love & Distortion is dedicated to the guitar-infused indie and rock sound of the mid-1990 and the 2000s – a time 'where people were fighting and standing up for issues such as equality', Aydo says. ABAY's retro-touched sound might explain Aydo's musical choices when we met him at a neat record store in Cologne where he picked five records that helped influence and shape the sound of Love & Distortion. To our surprise, Aydo chose mostly older records of classic artists such as Bob Dylan or Depeche Mode. So what has he got to say about these records and artists? This exclusive interview recorded at Parallel Records will let you know.
Bob Dylan – 'Time Out of Mind' (1997)
When did you develop an interest for Bob Dylan?
I already stumbled upon him as early as in my teenage years. But it's not that I got Dylan at that time, of course. Still, I remember covering Knockin' on Heavens Door and All Along the Watchtower with my student band. We did a terrible job, though. It was only considerably later that I understood what a genius he is when I read the lyrics for Idiot Wind. That song in particular totally blew me away. Ever since then Dylan's lyrics book is with me each time I've got to write lyrics for my own music. If you carefully look at the lyrics that I've written so far you might actually find references to Dylan's work quite a lot. Dylan's texts have always been inspiring for my own work as a songwriter.
What in particular fascinates you about his lyrics?
Dylan is a fabulous storyteller whose texts often stick to your mind. They often remind me of slogans and accordingly have been used for advertising quite a lot as far as I know. It's remarkable that he's able to write such high-quality lyrics for such a long time. I've never stopped discovering Dylan's texts and music.
What do you think about the late Dylan who now is a Nobel Prize winner?
'There's so much music out there that with aging pop stars it's often the case that at one point I lose interest and want to listen to something new and fresh. Dylan, however, still knows to surprise me every now and then and so I stick with him.'
Out Of of Mind is a good example of Dylan's late work that totally hooked me. It was suggested to me by a diehard fan who really made me get into this phase of his career.
Depeche Mode – 'Violator' (1990)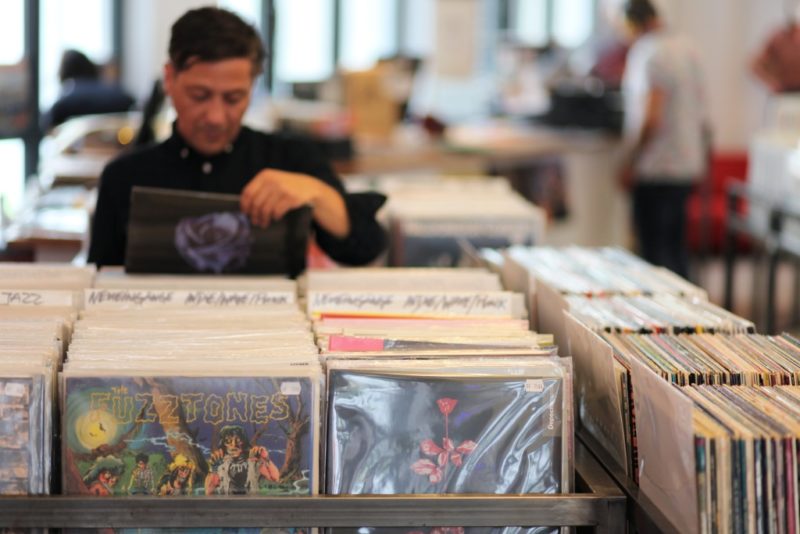 Depeche Mode is a band that has always been interested in the visual representation of their work. How important is that for ABAY?
The artwork and basically the visual part of our music is important to us. With the new record it's a bit of a journey until we found the right concept. An early version for the album cover that I brought into play wasn't favoured by the band so we had to scrap that one. Then we brought in Dirk Rudolph who has already worked with Rammstein and other famous people. He's someone who clearly knows his stuff. Still, even with him the band couldn't come to a conclusion with him. Then we got about 30 suggestions from the graphic designer who did the artwork for Everything's Amazing and Nobody is Happy but we weren't satisfied with these either. So it's really been at the last second that our video editor got the material of a photo shoot and send over the concept that has now become the finalised version of the album cover. It's hypnotic somehow. And it's remarkable because it's the first time ever I appear on the cover of one of my records.
Depeche Mode are known to belong to your musical heroes.
They're most definitely heroes for me. I do remember that particularly the teenage girls at my school liked Music for the masses and Black celebration and so I started listening to them as well. So I must have been between 10 and 13 years old when I first listened to Depeche Mode. It all appeared quite dark to me. And, once again, I didn't get the music at that young age. It was only with the release of Violator that the band started to really fascinate me and captured my interest. I listened to Violator a lot when I went to the studio in order to record our new album Love & Distortion. It sort of got me into the mood for work. So actually they've been pretty important for the creation of the new album. Violator is classic. Its music is still great. Doesn't sound old at all.
Depeche Mode are all about progress. Love & Distortion is your second record with ABAY. What's different now?
'We still haven't found what we're looking for. The first record was all about the question what we wanted to sound like. With our sophomore record we again started to question our identity as a band.'
The process of the recording showed that everyone in the band wanted to try everything they can and as best as they possibly can. So the album feels like a compromise for me. And we just let that happen. When you're a band it naturally is the case that you need time to find your identity. Blackmail, for instance, only found their sound with Friend or Foe? And that has been our fifth record.
Frank Zappa – 'Sheik Yerbouti' (1979)
Why Frank Zappa?
I've got to say that it's been a hippie uncle of mine who really introduced me to Frank Zappa. However, there have been encounters considerable time before. We listened to Zappa when we started smoking as teenagers; and Booby Brown Goes Down is a song that I listened to as a kid. I'm not sure about his personality but I've always liked his music. He's one of those artists who wrote songs that I'll listen to forever. And he's also a role model for me when it comes to writing lyrics.
'The text for Bobby Brown inspired the video clip of our new single Plastic. For me, with our new video it feels like Bobby makes even more sense.'
What fascinates you about Zappa most?
It takes his movie 200 Motels (1971) to really get that Zappa was probably a difficult persona but also a dedicated musician. Then again it's his humour that I find interesting. I wouldn't describe myself as Zappa-affine, though. He's done some great music but you really need to be in mood for it. Music-wise, his endless solo parts are impressive, too. He's got an impressive style.
Zappa was a charismatic performer. How do you see yourself as a musician?
I've got to say that I don't really to present myself. As a musician it's surely good to be noticed but then again I like to step out of the spotlight. I'm more interested in the atmosphere of a show and an audience that somehow feels connected and shares an experience. So I don't focus on my own performance that much. In my view, light, sound and the people who surround you, be it the band or the audience, in combination ideally contribute to the atmosphere of a show. Still, I'm getting more and more used to my role as the so-called frontman of a band.
Bohren & der Club of Gore – 'Sunset Mission' (2000)
Christoph Clöser's saxophone can be heard on the new track Lemonade.
I'm a massive fan of Bohren & der Club of Gore. Sunset Mission is their first record to feature Christoph Clöser on saxophone. I like listening to their records when I read, cook or just talk to people. It's very intense music that still works when it's played quietly in the background. That's amazing! However, what's always strike me as odd is the sound of the saxophone in their music. Generally speaking, I'm not known to be a big fan of that instrument.
'Christoph Clöser's style of playing the saxophone is very sexy and hot. So, I wanted him to play at one of my records and I'm happy that on Love & Distortion he did.'
Our song Lemonade was especially written for a contribution of Christoph and so we're glad that he came over and filled the song with his saxophone play. It's something I'm totally satisfied with.
How would you characterise the sound of Love & Distortion?
Love & Distortion is reminiscent of indie, primarily guitar-based music that's happened in the 90s and 2000s. It's what we can do best and it's what just what happened when we were writing and recording the album. We know that we're completely out of time with such a record. And we know that this could lead to difficulties. During the recording there were also discussions about getting rid of ballads and focus on a more specific sound but then again circumstances in life like deaths led to these songs and so we decided that we wanted them to be included on the album.
Apart from Clöser, other guest musicians have helped shape the sound of Love & Distortion.
Right, we've had other guest musicians that contribute to our album as well. One of them is Eva Briegel of Juli who we've worked with before and who we basically like to work with. She sings on Plastic which is one of the record's singles. Chris Stiller, once the keyboardist of the early ABAY, took over co-production duties and played all keyboard parts on Love & Distortion.
Barış Manço – '2023' (1975)
You've got Turkish roots. Does that shape your identity as a musician?
'My Turkish roots haven't played a big role for me as a musician so far. Nonetheless, I've got to say that the older I get the more important they seem to become.'
Maybe it's got to do with the fact that more and more people are currently discovering Turkish psychedelic pop and rock from the 1960s and 1970s. When we played with Interpol a couple of years ago their bassist came along and dropped a number of Turkish musicians he suggested to us. So, I started listening to a lot of Turkish music some of which I remembered listening to as a kid because my parents were playing the same stuff, too. The more you listen, the more you realise that Turkish psychedelic rock must be an influence for bands such as King Gizzard. It's really close to the music of their Turkish predecessors. It's just interesting to dig deep and get to know some Turkish music as there is plenty of good and unheard stuff around.
You've already played in Turkey. How's it been?
I played in Turkey for the first time only last year when I was invited by the Goethe Institute which celebrated its 60th birthday. I wrote Rhapsody in Red for it and played it to the Institute. However, there have been quite a few older people in the audience and they didn't get the song. One day later we played at a club and when we finished the audience required us to play a Turkish song. We'll do that the next time we get there (laughs). So, everything stays exciting.
ABAY's second full-length Love & Distortion is out now via Lovers & Friends Records / AL!VE.
All Photos taken by Felix Weichelt for NBHAP.com