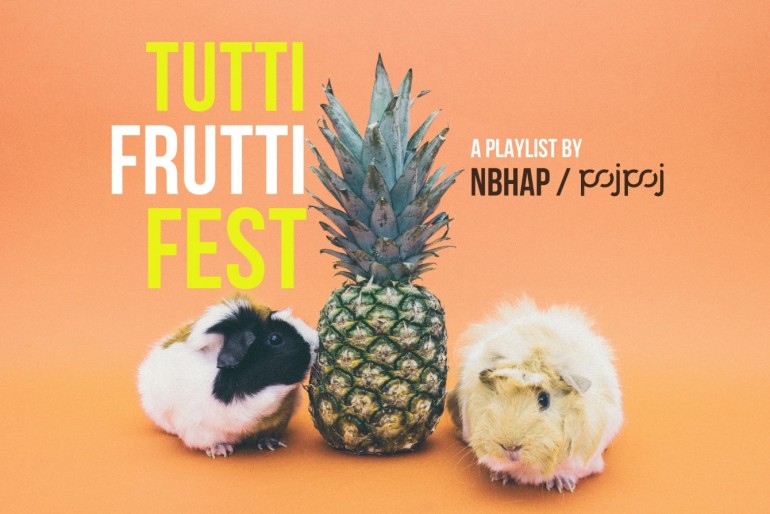 By now you should know that we are about to have a good time next weekend in Berlin. Why? Well, because the second Tutti Frutti Fest is about to happen at Urban Spree on December 10; brought to you by NOTHING BUT HOPE AND PASSION and the creative efforts of booking agency pøj pøj. Expect a night of psychedelic and funky extravaganza with performances by buzzing new acts like ODD COUPLE and FAI BABA, plus DJ-Sets by ΩRACLES and KLAUS JOHANN GROBE. The latter one already gave us an exquisite second part of their 'Erotic House'-Guestmix series to warm us up for tonight but we're not done teasing yet.
No, in combination with the pøj pøj lads we're happy to unveil a crazy and wild Tutti Frutti Fest Playlist, compiled by all the bands from the evening and ourselves as well. But, of course, to keep the mystery alive we won't tell you who picked what track. Or as BOUNTY ISLAND put it: 'Knowledge is knowing a tomato is a fruit. Wisdom is not putting it in a fruit salad.' Clear enough?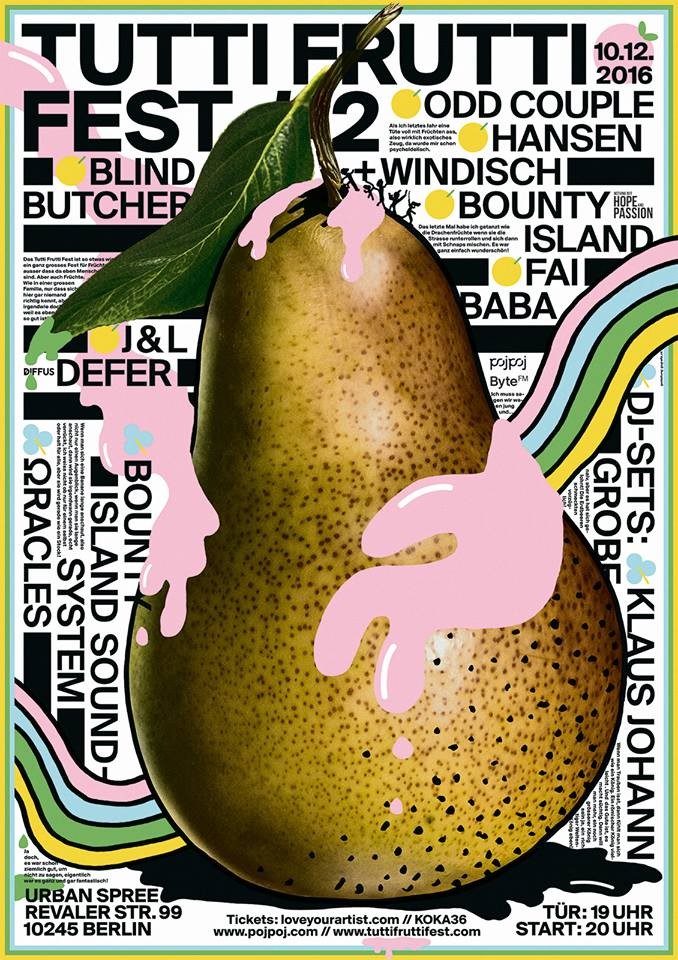 The Tutti Frutti Fest Playlist is packed with odd hits, psychedelic pleasures, funky lo-fi beauties and plenty of hidden treasures that couldn't be further away from the mainstream. There is no attempt to be contemporary and in that premise lies a huge amount of creative freedom. This selection isn't interested in pleasing everybody but provides a perfect alternative party playlist, dedicated to the power of the groove. 'There're a lot of fruits but our fruits make you frutti' told us the ODD COUPLE guys. And if you don't believe them, trust the wise words of ΩRACLES about it:
Transpirant dew drips down a perfect pair of tanned cellulitefree shanks, one drop a breath. A lady, or merely the distant promise of an exciting silhouette in fine white linen and silk. See her delicately manicured hands clutching a sphere that effortlessly becomes the very focus of our gaze. 'A treat this good doesn't even contain chocolate! Five a day!' It soothingly oozes from beyond. Soft music sounds.
Get your tickets for Tutti Fest Fest 2016 right here.

—