---
---
Flume – 'Skin'
Release-Date: 27.05.2016
Label: Transgressive/ [PIAS] Cooperative
You're 24, you're one of the most sought after electronic producers in the world, you're working with a plethora of musical greats including, BECK and RAEKWON and you've been likened to the COCTEAU TWINS amongst others. So the fact that Harley Streten, stage name FLUME , suffered writers block whilst producing this record is hardly surprising. But trust me, it was worth it. Each track is exploring a different genre from chill pop track Innocence with an ever recognisable ALUNA GEORGE vocal to the hip hop royalty RAEKWON's input on You Know reminding you that FLUME takes genres and personalises them.Whilst this record proves the Australian born producer's musical dominance, it's not just the collaborations that make it a contemporary classic. Pika is a track that sits between chillwave and trip hop.
The record could be liken to APHEX TWIN but it wouldn't give it the unique credit it's due. Much like the first studio record, Skin captures a soulful electronic sound and showcases the young producers musical aptitude. Combining trip hop, chillwave, electronica and everything else the 1990s started and perfecting it in a hype deserved second record. Breaking the second record curse and creating a record that will last the summer festivals and beyond. Because when it's the last day of the festival and its 4am, you're on come down and you've lost your friends, Kai's lyric 'I'm a fucking fool' on the ever sassy track Never Be Like You will resonate. And also remind you what being young is anyway. (Hannah Fahy)
---
---
Band Of Skulls – 'By Default'
Release-Date: 27.05.2016
Label: Liberator Music/ BMG Recordings
It's been two years since English rockers BAND OF SKULLS have graced us with an album. Now, finally, the band have released new material for us to binge listen to. Their new LP is goes by the name By Default and straight off sounds like a new beginning for BAND OF SKULLS. The record was produced by Gil Norton (the infamous producer behind records by PIXIES, Patti Smith, and the FOO FIGHTERS), and parts of the album recorded in churches which also served as inspiration for the songs on the new LP.
By Default is a definitely a new album era for the band. Now, don't let the church fact defer you, the sound is actually quite fun with those rock 'n roll vibes BAND OF SKULLS are known for. All the songs mesh together exceptionally well, the first track Black Magic immediately setting the vibe for the album. Then the fun just goes on from there. Tracks like Bodies, Love By Default, Tropical Disease or even the quieter track Singing Erounds at the end of the album are quite catchy, their beat sticking to your mind till you catch yourself nodding and humming the tunes even after you've stopped listening. Fans of hearing bassist Emma Richardson sing: Richardson lends lead vocals on the funky song, So Good. All in all, By Default has been so worth the wait and it'll really be interesting to see how the songs carry themselves live. (Marla Geesing)
---
---
Camp Claude – 'Swimming Lessons'
Release-Date: 27.05.2016
Label: Believe Recordings
In the end it's the song that matters. When I first had the pleasure of discovering CAMP CLAUDE back in December at a tiny club in Rennes it was the melodies and the songs that got stuck in my head. Well, and the tempting voice of singer Diane Sagnier. The band's first full-length release celebrates that strength and unfolds itself as a sweet hidden gem for all fans of dreamy synthpop with an undeniable love for the sinister magic of the 1980s. Swimming Lessons spreads the feeling of those golden pop days in the form of gentle lo-fi instrumentation, combined with irresistible melodies. The lead single Don't Hold Back is exactly such a piece of music; an epic little pop anthem that isn't afraid of big gestures. All This Space is heading for similar direction.
Aside from that CAMP CLAUDE have no problems in getting a bit dark and twisted within their pop microcosm. In The Middle unfolds an almost hypnotic vibe while Mrs. Sagnier plays the cool vamp. The band is not even afraid to do a little rap detour in the title-track. 'We just go where the night is' is the fitting statement given in this song. Swimming Lessons is packed with sweet nostalgia, tender melancholia but also intelligent stories within the songs. The production is tight but the trio also manages to create a certain imperfect live vibe with their debut full-length which has been an intention by them right from the start. CAMP CLAUDE celebrate the human element and emotion within synthetic structures and I can – once again – highly recommend you to follow them on their path into a brighter but hopefully still dark future. (Norman Fleischer)
---
---
Holy Fuck – 'Congrats'
Release-Date: 27.05.2016
Label: Innovative Leisure
So, HOLY FUCK are around for over a decade now already as well? Obivously time's running and so are we, trying to catch up with these ten new tunes that are Congrats. Like always, it's hard to pin them down. Often lighter and more danceable than BATTLES, too edgy for the whole !!!-cosmos, yet not that over-the-top-arty than you might suspect from a two-to-four piece that established themselves as a leading act of an experimental art collective from Toronto. HOLY FUCK, that is and remains to be foremost the more organic, physic side to EDM.
And just like on their last, 2010 output Latin, their songs increasingly tend to be exactly that: songs. Weird, screeching, wild, unpredictable ones, but still. Thus, Neon Dad comes close to be a really decent ambient pop tune (close, I said), while House Of Glass really is a nod into BATTLES' direction. But HOLY FUCK wouldn't be the aptly called HOLY FUCK if they wouldn't make clear right from the beginning what's going to start here: Chimes Broken, dudes and duderettes. (Henning Grabow)
---
---
Gold Panda – 'Good Luck And Do Your Best'
Release-Date: 27.05.2016
Label: City Slang
The third album from London-based electronica act GOLD PANDA, Good Luck And Do Your Best, offers a soundscape layered in playful experiments. Acknowledging that a trip to Japan was the album's inspiration, GOLD PANDA explicitly harks back to this influence throughout. The inspiration often emerges through juxtaposition between a (sometimes) subtle series of electronic sounds and classical instruments, notably, the koto. In Autumn Fall this contrast allows for a compelling balance, where Japanese string instruments slip under a pacey House beat to create an interesting tension in the track. However, in Chiba Nights, this same dichotomy between mechanized beats and softer strings prevents the song from progressing. Both music styles are vying for the place as the track's foundation, rendering the piece somewhat confused.
The album's strongest moments show themselves when GOLD PANDA steps back from his root inspiration. Pink and Green softly interprets the album's brief without spelling out its origins. The result: an intriguing track that allows diverse instrumental additions to carry the prominent melody. Similarly, the quiet rhythm that underpins Halyards places a spotlight on the track's subtle inventiveness. When GOLD PANDA allows for the classic and modern to dance around each other, rather than come to a head, he creates a softly-spoken yet powerful atmosphere for the listener. (Agatha Cantrill)
---
---
Arthur Beatrice – 'Keeping The Peace'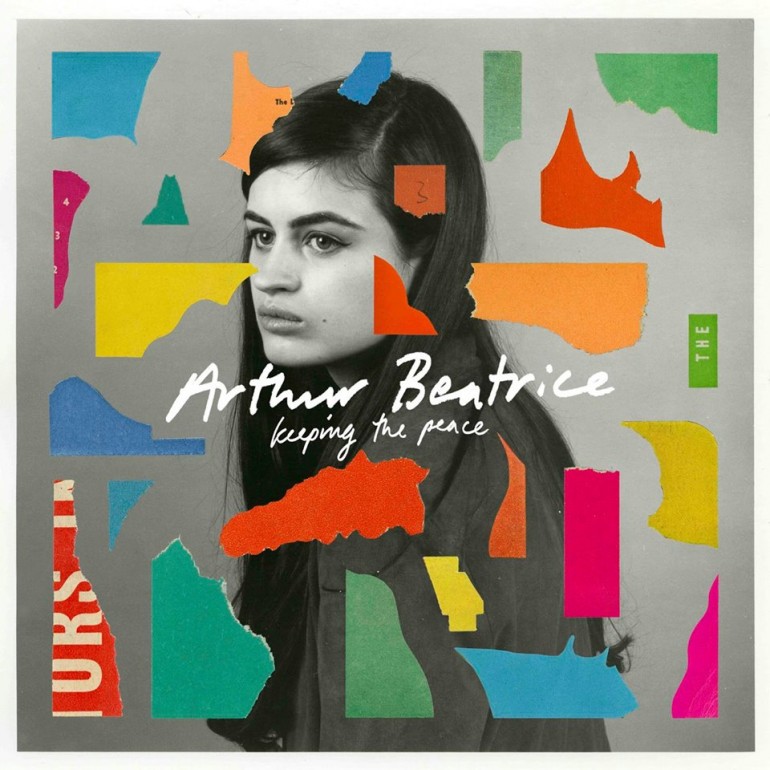 Release-Date: 27.05.2016
Label: Universal Music
ARTHUR BEATRICE – the indie-pop band that grew to fame via word to mouth promotion and remained an ultimate secret must follow tip for the longest time – finally properly debuted to the world back in 2014. Then it grew a little more quiet around the band again. That is till now. ARTHUR BEATRICE have finally returned with their second album and a somewhat newer sound.
Keeping The Peace is the name of this highly anticipated LP. The album includes previously released singles Real Life and Who Returned, the latter featuring the London Contemporary Orchestra playing along side them. Keeping The Peace, is a solid album with a range of musical styles such as jazz vibes, dream pop and rock throughout but alas, lacks that special gripping note. It definitely lives from its highlight tracks such as the enrapturing Every Cell, or the dreamy and somewhat sad I Don't Get That Chill to the empowering sounding tunes in Real Life. What one is heavily reminded it of however, listening to the various songs, in the uncanny resemblance towards bands such as LONDON GRAMMAR and FLORENCE + THE MACHINE. Still, Keeping The Peace is worth the wait for fans out there.(Marla Geesing)
---
---
PUP – 'The Dream is Over'
Release-Date: 27.05.2016
Label: SideOne Dummy Records
When PUP lead singer Stefan Babcock was told 'the dream is over' by doctors on the grounds he'd shredded his vocal chords it could of been the end for the Toronto pop punk band. But as with all great musical journeys, it wasn't. A band reshuffle and a change in vocal power and PUP return with their second studio record The Dream is Over. It's a pop punk storm but not how you'd expect. It has the usual catchy guitar riffs with scream-y angsty vocals but it has a dark edge. Born from a tragic almost death of the band, it combines grunge with the meaningful.
The tracks tend to talk to the psych of fan of this genre. Sleep in the Heat especially hones in on this 'everytime I go back to my apartment/all I wanna do is get stoned' to the profound My Life Is Over And I Couldn't Be Happier. Encapsulating the youthful 20-something disillusionment, a time when everything is changing but feels the most stagnant. It taps into that and then puts it into a pop punk package we've all grown with. A band aware of their fan base and their fans concerns, this record speaks to people in a we-just-have-to-say-it-even-if-you-ain't-listening way. If you take one thing away from this record let it be 'everything you do makes me wanna vomit'. (Hannah Fahy)
---
---
—