---
---
ANOHNI – 'Hopelessness'
Release-Date: 06.05.2016
Label: Rough Trade Records
Pop and politics. Two completely different things often used and just as much misused in each other's context. Not many musicians these days dare to sing about critical political themes because it's always a delicate matter. But there are a few who don't care to criticise and call things as they are. One of those is ANOHNI, the new alter ego by Transgender artist Antony Hegarty, formely known under his moniker ANTONY AND THE JOHNSONS. The British artist decided to be completely herself from now on, embracing her female nature. With this personal change a musical one naturally evolved. There aren't the dramatic strings and piano tunes which defined her former sound anymore, but rather wide-ranging electronica soundscapes combined with ANOHNI's very unique voice.
To create that kind of sound on her debut record Hopelessness, she got two praised producers on board: HUDSON MOHAWKE and Daniel Lopatin, better known as ONEOTHRIX POINT NEVER. Emerged is a sometimes danceable but also pretty serious album that contains three messages: care more about the world we live in, start questioning things and accept people as they are. On the first half of the record, ANOHNI charms her listener with potential dance hits, mainly the catchy singles Drone Bomb Me and 4 Degrees, which discuss war and the climate change. A few songs later, it gets slower and more experimental. There is for example the harsh track Obama – that of course is about the president of the United States – where untouchable electronic sounds are combined with ANOHNI's twisted voice and the album's sad title track Hopelessness where ANOHNI honours the hopelessness of the world we live in. After having listened to the whole record, an uneasy feeling in the stomach arises and you start to question yourself whether you really care enough about our planet and the other creatures that share it with you. Even though you get away with some kind of uncomfortableness, it's exactly what the artist wanted to achieve with her music. Give people something to think about which may cause a change in their minds and also in their actions. And that's definitely something we need more often in pop music: real messages that strike people's nerves and have the power to make a difference. Only true masterpieces can achieve that. This is one. (Miriam Wallbaum)
---
---
James Blake – 'The Colour In Anything'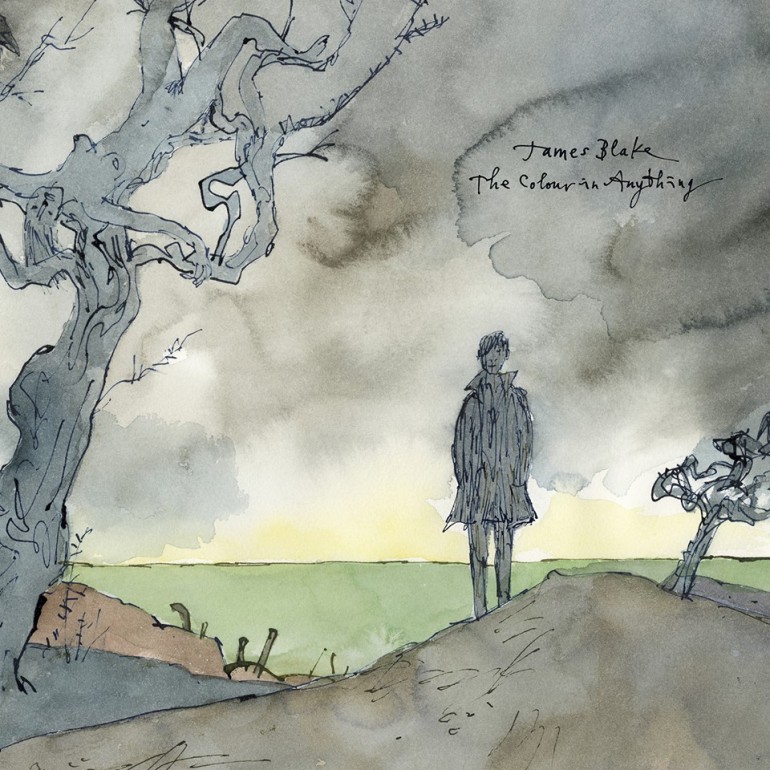 Release-Date: 06.05.2016
Label: Universal Music
Although it's been long time in the making you can't really say that JAMES BLAKE's third album comes as a surprise. He's been working on it for ages, teased it multiple times and the fact that he picks one of those trendy 'out of the sudden'-release just might be the logical final step after we've been waiting for The Colour In Anything far too long. Some rumours turned out to be true (BON IVER's Justin Vernon joins his friend for I Need A Forest Fire), others don't (No sign of KANYE WEST) but the result is indeed epic. Consisting of 17 songs with a total length of 76 minutes the new JAMES BLAKE record is mainly a testament of the songwriter's newly gained confidence and position in contemporary pop. Within five years he turned from a hipster insider tip to an important and appreciated character in pop that can even pull off a collaborative track with BEYONCÉ while being an equal partner on it. In a more traditional time (you know, with long-term promo plans instead of overnight releases) The Colour In Anything would have been a double album; an ambitious but also quite difficult format.
From a musical point of view BLAKE remains on safe territory. Right from the opener Radio Silence we're back at familiar environment. Piano-based neo soul with electronic playfulness while the artist sensually states: 'Right in my heart there's a radio silence going on'. The first songs feel strangely familiar. Tracks like Love Me In Whatever Way or Timeless could have equally been part of this record's two predecessors. In the course of the almost 80 minutes, JAMES BLAKE allows himself a few gentle experiments. Tracks like Put That Away And Talk To Me and Noise Above Our Heads deliver a grooving R&B vibe in which his beloved piano doesn't remain the centre. May these are the ones where FRANK OCEAN was involved? Still, the jazzy reduced songs like F.O.R.E.V.E.R. and the title-track might be the strongest and most honest moments on the album as they show JAMES BLAKE's ability to transport those authentic emotions also in a more classical and pretty much analogue way. Waves Know Shores with its brass section is another example of this very traditional approach. Aside from that a futuristic understanding of soul music dominates The Colour In Anything. BLAKE adopts elements of gospel (Choose Me), string patterns (My Willing Heart) to his idea and mixes them with his familiar love for experimental and electronic sounds and vocal effects. The six-minute long and partly quite unusual Two Men Down might be the most obvious track to showcase the clash of those different musical worlds. It's pretty much impossible to define The Colour In Anything less than 24 hours after its release. Clearly, JAMES BLAKE's new album is a bit too long (13 tracks would have worked way better) and the ideas on it need our time to fully understand them. Thank god, we know probably have two to three years to 'get it' … (Norman Fleischer)
---
---
Klaus Johann Grobe – 'Spagat Der Liebe'
Release-Date: 06.05.2016
Label: Cargo Records
Ah, these lads. KLAUS JOHANN GROBE – the duo that, with just one debut album, managed to make Kraut sexy again are back. With their light-hearted, slightly dadaistic vocals, funky bass-lines and repetitive rhythms the two Swiss gentlemen finally achieved to get rid of the way-too-serious approach some nerds turned the legendary Krautrock movement into. KLAUS JOHANN GROBE take the listener by the hand again, they aim for involvement rather than exclusiveness and distinction. And they are back to invite us all to do the split of love (Spagat der Liebe).
But don't be afraid: These guys are gentle. They let you take your time and they warm-up your heart until you can't help but sweat along with them. Ten songs of sometimes tricky but never overwhelming beat-beauty await you. Always accompanied by those soothing vocals telling you stories about love on the beach, past love, future love and love that's just imagined. Cheesy you say? Yes, but in a good way. KLAUS JOHANN GROBE once again manage to marry the best of the overly intellectual Kraut and the tongue-in-cheek NDW (Neue Deutsche Welle). You can't help but love them for that. (Henning Grabow)
---
---
Julianna Barwick – 'Will'
Release-Date: 06.05.2016
Label: Dead Oceans
At times, JULIANNA BARWICK's music seems so fragile, you're afraid to even touch it with words. Nonetheless, her third full-length Will demands for a word or two in order to grasp its really masterful approach towards a lush ambient folk. BARWICK has created herself a sound trademark that's unrivaled – often, she's just layering her own voice via loops several times up to the point at which you can't separate the song from the voice anymore. But if she happens to use a singular piano, a solitary synth sound or some guest vocals, these elements add up to an experience for which the terms otherwordly and ethereal have been created for.
Will is a strange mixture of ENO-like, puristic ambient and song-oriented structures. Whereas BARWICK's last album Nepenthe has been written and produced within few weeks in the creative isolation of Iceland and under the influence of SIGUR RÓS'-associated producer Alex Somers, Will came into being in three pretty different locations from Asheville to Upstate New York to Lisbon. And these places also result in perceptible different mindsets on the record: From the majestic Same featuring guest vocals of MAS YSA to the minimalistic meandering of Nebula. Will is so enjoyable and infectious, you nearly forget its ambient character. If anything, that is the real achievement here. (Henning Grabow)
---
---
Ry X – 'Dawn'
Release-Date: 06.05.2016
Label: Infectious Music
It seems like everything the Australian artist Ry Cuming touches instantly turns into gold. Okay, maybe not literally but at least all his musical efforts. His first appearance with the tender techno piece Howling which he recorded with Frank Wiedemann – one part of the DJ duo ÂME – grew to a celebrated hipster-hymn in only a few days. About one year later, he draw attention to himself with his gentle ode to Berlin and ever since this point managed it to get himself in the hearts of many music lovers. It was followed by the record Liminal, the debut of his collaborative project THE ACID. Still, no sign of a RY X solo LP yet, since he first focussed on the really satisfying debut album of his HOWLING project with Mr. Wiedemann.
You could think that the always-busy man would need a break after having released two albums in only two years, but it seems like he never stands still. Now the music world finally gets what it was longing for: the pure Ry Cuming experience without any collaborators to hide behind: it's Dawn, the long awaited solo debut of his pseudonym RY X. And it definitely fulfils all the expectations his fans could have: it combines deep tenderness with dark and light elements to reflect the fragility of life. Surely without forgetting Ry's beautiful sensitive falsetto voice. Dawn is a highly emotional record which proves that RY X exactly knows who he is and that he doesn't shrink from showing his true feelings, resulting in some almost hurtful pieces. One exmple might be Hold Me Love, where he admits that even he as a man sometimes just wants to rest in the arms of somebody. One particularly outstanding song is the at some points danceable Haste, where the songwriter works with atmospheric techno elements and wide soundscapes to show that he's also able to do that kind of music without any help from other artists. The quintessence: RY X's debut Dawn is beautiful music for people who think a bit more about life and appreciate the fragile moments that make it worth living. (Miriam Wallbaum)
---
---
White Lung – 'Paradise'
Release-Date: 06.05.2016
Label: Domino Records
Recorded in LA WHITE LUNG's fourth album Paradise is dripping with cool and it's hardly surprisingly given it will be released on the iconic label, Domino. Angsty, grunge and pop filled, it's a great progression of sound for the Canadian four piece. Creating rock goodness by combining 1990s grunge pop vocals with rock inspired drum solos. Below,which is also a release from this record, is a fast paced prism of sound. Sounding like it was lifted from a 1990s teen movie, but one with a relatable lead that is both parts sass and cool. It's a aural journey, from 1990s grunge to late 2000s indie, it maps the genre I've grown with.
Even the imagery of Kiss me when I bleed is cinematic. 'I will give birth in a trailer/Huffing the gas in the air' , it allows you visualise the music. It combines many genres and images without authentically capturing any, which is only a good thing. It's bending genres and in itself creating a new one. One of the best things about the new WHITE LUNG record is that it's available in a glitter cassette case. If that doesn't scream 1990s sass pop I don't know what will. (Hannah Fahy)
---
---