---
---
The Avalanches – 'Wildflower'
Release-Date: 08.07.2016
Label: XL Recordings
'At times we thought we would never make it through' Indeed the last full length by THE AVALANCHES – their second one actually – is close to be a miracle. No less than 16 years after their acclaimed debut Since I Left You, we really thought it would stick as a one-night stand. But these kind of one-night stand you never really forget because it was poetic and powerful. And eventually, with life hazardous events, you come to experience it again in all its beauty. So is your experience with THE AVALANCHES. Let's say it directly: THE AVALANCHES' new LP is a mesmerizing and beautiful vaudeville that'll gently take your hand through a forceful journey.
One of the main characteristic of their first adventure was the highly-numerous samples they used to create their universe. Something that did stick with time as this new LP is 21 tracks long, and we can't even count and recognized all the samples over there. Of course if we go technical there still are the things you liked about the Australian trio: it's between hip-hop, electronic, It can get heady and dancy or cinematographic and psychedelic. In the end it's natural, because the small collective worked on it for more than 10 years with lots of collaborators. 40 tracks were considered to figure on the album, but only remain the ones that would help writing this particular story: more importantly is what this can make you feel. Listening to it is like driving. Because you cross so many landscapes, because It is so joyful, because you feel free and living-full. Be careful, it can get very tempting to pull over your car, turning the speaker full-up, and start jumping in fields of wildflowers. 'How the sunlight refracts differently through the atmosphere can make the world look different, changing colors and feelings.' as they described it. (Bastien Perroy)
---
---
Metronomy – 'Summer 08'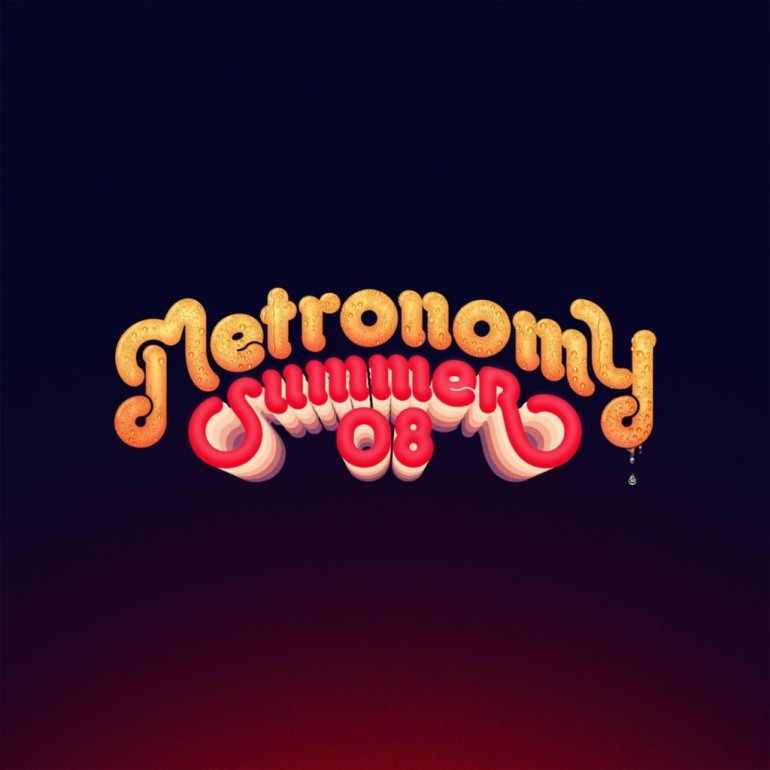 Release-Date: 01.07.2016
Label: Because Music
Shouldn't it be fun as well? There comes a moment in pretty much every musician's career when the simplicity (or naivety) of the early days seem to be gone; victims of the steady progress, increasing knowledge and ambitious new goals. But wouldn't it be actually more fun to get back to those early days in combination with the gained knowledge? That's exactly what Joseph Mount did on the fifth METRONOMY album. Following the polished pop of The English Riviera (2011) and the analogue but laidback retro romanticism of Love Letters (2014), the new album is an ode to the beginnings of Mount's project. Summer 08 is not a coincidentally picked name as he somehow wants to reactivate the carefree craziness of the band's breakthrough album Nights Out from that year. Right from the moment the slightly foolish Back Together opens the LP you get a sense what to expect here: This is the return of the funny and grooving METRONOMY you once came to love eight years ago.
Summer 08 is driven by a reduced groove, dominated by funky basslines and a general spirit that is aiming more at your feet and less at your brain. Tracks like Miami Logic and Night Owl spread finest 80s synth-funk vibes while the single Old Skool (with scratches by BEASTIE BOYS' legendary DJ Mix Master Mike) and 16 Beat come with good old METRONOMY simplicity that you can't really resist. The ROBYN feature Hang Me Out To Dry might not even be the finest moment here. Slower tunes like Mick Slow and the closing Summer Jam feel like well-placed moments to catch your breath during the ongoing pool party. Summer 08 sees Joseph Mount full of adventurous hunger as he takes one step back and two steps forward on his ongoing goal to establish METRONOMY as one of contemporary music's most colourful and reliable sources for intelligent and catchy pop. (Norman Fleischer)
---
---
Blood Orange – 'Freetown Sound'

Release-Date: 28.06.2016
Label: Domino Records
It's a balmy Wednesday afternoon as I sit in my apartment, idly flicking through social media and I see BLOOD ORANGE, in true idgaf style, has released Freetown Sound early. And why shouldn't Dev Hynes enjoy a Beyoncé moment? His music certainly smacks of the same cool and the same incorporation of a multitude of genres. Hip hop, rap, R n B, chillwave pop and of course, soul. After reinventing himself several times and guiding you through his different artistic ventures Freetown Sound, his third album under the name BLOOD ORANGE, seems a creative marathon.
Squash Squash samples pop, rap and uses a female viewpoint and vocal. It's easy to be a man and make music from a woman's point of view and be smug or disconnected. Dev Hynes is far from this. He knows his audience and knows his appeals. He deals with feminism in a completely knowledgeable away. Desiree samples many genres and coherently drags them together. Freetown Sound comes just in time for summer. It's drips of sexual energy and cool. If you hit up one record this summer make it the trusty Dev Hynes. Unfailing summer cool. (Hannah Fahy)
---
---
Bat For Lashes – 'The Bride'
Release-Date: 01.07.2016
Label: The Echo Label
Love stories are not always fairytales. Sometimes, they are cruel, painful and come with a lot of surprises. On her fourth album, The Bride, Natasha Khan alias BAT FOR LASHES explores what it means when grief and joy as well as hope all come together. In the songs lies the story of a bride whose fate sees her losing her groom on their way to their wedding. Set out as a soundtrack to a movie, this is a tale that not only bears a big tragedy in it, but also feeds the listeners with an intimacy that is wrapped in a sonic warmth and tenderness.
Conceptual records are risky, but BAT FOR LASHES' portray of a love drama unfolds carefully and seems, indeed, like the 'roadtrip through the heart' how Natasha Khan described the bittersweet story. Her hauntingly beautiful falsetto adds an even greater sensuality and fragile feeling to an already tender pop setting in which the bride comes to terms with the harsh reality. It's an emotionally challenging ride. (Annett Bonkowski)
---
---
Róisín Murphy – 'Take Her Up To Monto'
Release-Date: 08.07.2016
Label: PIAS Records
Seasoned Irish songstress RÓISÍN MURPYHY expands her captivatingly strange range with the new album Take Her Up To Monto. The work comes across as a simmering menagerie with a markedly handcrafted feel to its elaborate yet subdued beats which compliment (what seems to be) the highly personal, at times brutally honest content streaming through Ms MURPYHY's ever-hypnotic vocals.
Whatever fans may miss of her romping, go-to dance jam tracks from years past – this album has none – they very well may be soothed into submission by the richess of this album's content and quality, and that fact that it doesn't 'sound like' techno pop doesn't sacrafice anything, rather it is the grown-up work of a complex creative force, a bizarre creature whose output only gets more interesting with time. (Paul Thomas)
---
---
Nils Frahm & Woodkid – 'Ellis'
Release-Date: 08.07.2016
Label: Erased Tapes
We're confronted with it every day but quite often people just look away and suppress the images. They don't want to occupy themselves with it because they are afraid. It's exactly what neo-classical composer NILS FRAHM recently said in a press statement: 'We are not facing a refugee crisis. We are facing a crisis because we do not embrace, we do not sympathise and we cannot give up fear'. To fight against that fear and everyone's displacement we need ways to show people that there is nothing to be afraid of. Art can be one of them. German pianist NILS FRAHM, French director and singer WOODKID, famous actor Robert Deniro and acclaimed artist and director JR are aware of that and recently teamed up to create the outstanding short-film Ellis. It's a special piece of art which is about a migrant who tells his intense immigration story whilst wandering around the abandoned Ellis Island hospital complex – in front of New York. It has been the first shelter for refugees until the 1960's. The migrant is played by Robert Deniro and the soundtrack consists of only two tracks: Winter Morning I and Winter Morning II, in which Robert Deniro narrates the captivating story.
The first piece is a timid and beautiful piano song which achieved exactly what WOODKID had in mind: 'I wanted the listener to hear the mechanisms, the breathing of the instrument. I wanted it to be imperfect, to sound like a ruin, a trace, an echo, the way the pastings on the walls seem to be ghosts, almost imperceptible.' For Winter Morning II FRAHM spent one day – which he could take off because he had to cancel a trip to Brussel due to a terror warning – in front of his harmonium and just improvised to Robert Deniro's narration. When emerged, it is an oppressive and dark sound that fits perfectly to the depressing story. Even without the images of the movie, the song manages it to make you feel kind of uncomfortable and encourages the listener to think further more. And that's not the only positive characteristic about the EP: all of its proceeds go directly to the Sea Watchinitiative, a non-profit charity dedicated to the protection and rescue of civilian refugees. So, watch the movie, listen closely to its soundtrack and start to think what you could do to take away your own fear. (Miriam Wallbaum)
---
---
Shura – 'Nothing's Real'
Release-Date: 08.07.2016
Label: Universal
Debut albums are tricky. Many artists prefer the 'Wham, Bam, Thank You Ma'am!' approach, blasting out an LP as soon as they emerge to make the most of the heat and hype around them. For others, the process can be a little more prolonged, taking the time to make sure that debut statement is exactly as they want it to be. And that's the road taken by Aleksandra Denton, aka SHURA. Denton first broke through in early 2014 with Touch, a soft-focus electronic ballad about the sadness in distance and drift, and was subsequently listed on the BBC Sound Of 2015 poll, but it's only now that we're getting her debut full length, Nothing's Real.
The trouble with a long gap between breakthrough singles and a debut LP is that without lots of fresh material, your audience's image of you can solidify around those early tracks, meaning that it can be difficult to move on from that sound in people's perceptions. The opening tracks of Nothing's Real are therefore dedicated to showing that there's an awful lot more to SHURA than simply the audio template she established on Touch. After the spacey intro (i), we drop straight into two BIG, radio-ready songs, the 80s groove-disco of Nothing's Real and shimmering shape-up-or-fuck-off anthem What's It Gonna Be?, which may be the catchiest things Denton's ever written. Elsewhere, we've got the electro-funk of Make It Up, and the dreamy anxiety of Kidz 'n' Stuff. And all those early singles (Touch, 2Shy, White Light etc) are here too, just to remind you why we've spent the last year and a half waiting so eagerly for this album to drop. Given the space of a full-length record to show what she can do, Denton displays an impressive grip of different sounds and styles, from big-hitting pop to slow, soft music for wet-eyed dancefloors.
The record ends with The Space Tapes, a ten-minute long adventure that swings from trip-hop to floaty ambience and warped samples of title track Nothing's Real. It's perhaps the most impressive thing on here (which is high praise indeed) and feels like a statement song: if SHURA can do this, who knows what's coming next? Anyone who listens to Nothing's Real will be looking forward to finding out. (Austin Maloney)
---
---
Beyond The Wizards Sleeve – 'The Soft Bounce'
Release-Date: 01.07.2016
Label: Phantasy Records
BEYOND THE WIZARD'S SLEEVE is the side-project of EROL ALKAN and his friend Richard Norris – but for sure it's the honest gutty part of EROL ALKAN that fully involves itself in it. It isn't really electronic, but it isn't totally rock either. The duo released their debut EP over 10 years ago, and now they're releasing their long-awaited debut LP. The name of the project says it all: ALKAN and Norris are wizards within it, casting different kind of spells and incantations. You can go from a very rocky melancholic piece as Black Crow and directly wandering in your abstract soul with the minimal-ambient piece that follow, Tomorrow, Forever.
The Soft Bounce is a representation of every musician fantasy within their inner guts: being able to fully project yourself into an artpiece with the codes that influenced you from your childhood onwards, but never feeling secluded or stuck with them because you switch methods of expression and codes – without any regard on how the final piece would be coherent. The most striking fact about that: in the end, it's a coherent piece. Not an easy-accessible one, as it can be rough for the listener to switch on and off radically different influences to fully emerge himself into a diverse set of genres. You basically can't extract a song from the album and says: 'it's the sound of the album'. The Soft Bounce has no sound if not the imagery that its story suggerates. It has no identity if not what your basic senses will define – soft yet triangular, stinging yet addictive. If you let your soul drown into this, It'll be a singular and inexplicable experience. If you resist it, you'll find it unexceptional and bad-tasty. Both ways are accurate synthesis. (Bastien Perroy)
---
---
—